Which Is The Best Android Emulator For PC
Which Android emulator for PC you are using right now?
There are many reasons why someone wants to use an Android emulator to run apps on their PC. For example, app developers want to test the application before releasing it, or only want to play games that are only available on Android.
No matter what the reason is, using the emulator is always a good selection to install and runs Android apps on your computer.
In case you don't know, the Android emulator is the software that allows us to install and run Android apps on Windows 7, 8, 8.1, Windows 10, as well as Mac OS.
However, there are many Android emulators for PC available that you can easily find on the Internet. Choosing the best Android emulator for PC isn't an easy task. It's critical because if you pick a good one, your overall system's performance will not be impacted. So if you don't select properly, those Android emulators might affect Windows' performance and slow down your PC.
That is the reason why I'm writing this post, to tell you about the eight best Android emulators for your computer. Take a look at the list below and pick one that suits your situation.
Which Is The Best Android Emulator For PC?
1. Bluestacks
When we talk about an Android emulator, Bluestacks is always the first choice. It's one of the most popular Android emulators for PC that has a lot of unique and useful features.
Bluestacks is very easy to use and comes with all necessary functions for an Android emulator. If you are looking for an Android emulator for PC to play games, Bluestacks is a good selection.
However, if you use an old computer that has not much RAM and a weak CPU, you shouldn't use Bluestacks. It uses a lot of your computer's resources when running Android apps.
2. MEMU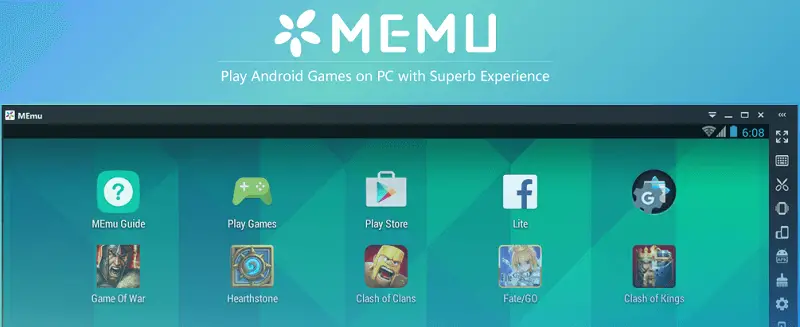 If you are looking for Bluestacks alternatives, MEMU is the best replacement. What's good about MEMU is that you can create multiple virtual devices to simulate multiple Android devices in one PC. You don't need to use VirtualBox or Vmware to build virtual PCs and install Bluestacks on each.
Moreover, it won't use much of your computer's resource. So if you want to run multiple Android simulations on a PC, MEMU is a good solution.
3. Nox App Player
If you like MEMU, you also should try Nox. It's quite similar to MEMU and has most useful features that support Android simulation.
Nox App Player also support multiple simulations and doesn't use too much RAM or CPU like Bluestacks.
4. Droid4X
Droid4X is new brand amongst all of the popular Android emulators for PC. What's good about this program is that it comes pre-rooted and pre-installed for the Google Play store. Therefore, you can easily find and install any favorite Android apps.
Also, Droid4X allows you to set your keyboard as a controller for Android games. So if playing games is the purpose of using an Android emulator, Droid4X is another good choice.
5. AndyRoid
AndyRoid comes with some unique and useful features, such as using your mobile phone as the controller while playing games, supports ARM, directly install apps from desktop, camera & microphone integrated, and much more.
It also can be installed and run on Mac OS, along with Windows 7, 8.1 and Windows 10.
[full-related slug1="android-file-transfer" slug2="free-tip-calculator-apps"]
6. WindRoy
Unlike other Android emulators, WindRoy uses the Windows kernel to run itself and doesn't need any Virtualbox support. It's quite lightweight and handy to use.
7. GenyMotion
GenyMotion is an advanced Android emulator for PC and may be arranged as a worthy alternative to Bluestacks. It has advanced features like OpenGL and hardware acceleration support. It is based on the x86 architecture, therefore GenyMotion is faster than BlueStacks.
8. Xamarin Android Player
You might have heard about this Android emulator before, but it's quite good, which provides you the best Android experience on your PC or Mac for free.
However, like AndyRoid and GenyMotion, Xamarin Android Player needs VirtualBox to run the simulation.
These are popular Android emulators for PC that many users often use. Just read the list, consider and pick one that suits your situation. I often use Bluestacks for playing my favorite Android games, and choose MEMU when I need to run multiple simulations to test apps.
If you have any questions regarding these Android emulators, let me know by leaving your comment below. In case I've missed any useful Android emulator for PC, share it with me.