Disclaimer: This post may contain affiliate links, meaning we get a small commission if you make a purchase through our links, at no cost to you. For more information, please visit our Disclaimer Page.
The iPhone is a ubiquitous mobile device seen not only in the hands of everyday users, but in film and television across the globe as well. No matter what version of the phone you're running, it remains a popular staple with a dedicated and proprietary user interface. For both security and functional purposes, Apple rolls out updates to its operating system, the iOS, with regularity.
Because these updates can be large or take some time to complete, many users have common questions about how to handle them. We've surmised some of the most typical questions everyday iPhone enthusiasts might have about updates, and we've worked to compile some of the most straightforward answers here.
We will take you through different methods for being able to update your iPhone's iOS via Wi-Fi or data, and we'll go over how you might be able to update the phone without access to a good network, too.
Is It Possible To Update an iPhone Without Wi-Fi?
There are some ways that you might be able to update your iPhone without Wi-Fi. If you've been using an iPhone for some time, you may have realized that it is Apple's policy to suggest only updating the system over Wi-Fi.
For the most part, this is because such an update can make use of a stable and high-speed connection for a smooth download from one version of the iOS to the next.
Other methods of downloading the updates may not be as stable, and Apple wants its users to have the best experience possible.
For these reasons, downloading via means other than Wi-Fi is not typically set to happen automatically.
However, there are a few ways you might be able to do it. Some of the steps involved might only use the iPhone device itself, and others may ask you to link your mobile phone to a laptop or desktop that has Apple's iTunes installed and ready on it.
In either case, you'll still want to get the smoothest experience that you can. It's also important to be mindful of any possible data limits that your plan might have in place before you try anything without Wi-Fi.
Can I Update My iPhone Using Cellular Data?
Along with your cell phone, you signed up for service with a carrier that included a data plan. This plan allows you access to the provider's cellular network in order to perform functions on your iPhone using data as long as you are within the appropriate coverage range.
Because you have cellular data, you might wonder if it is possible to use that in order to update the iOS. After all, you might update plenty of apps already just by using cellular data.
In most cases, Apple recommends only using Wi-Fi to update the iOS on an iPhone.
Primarily, the company suggests that the size of the update could be difficult to deal with if you're just relying on a cellular data connection.
Furthermore, a Wi-Fi connection should provide more stability and better speeds for getting the update done, particularly if you are on a home network that does not have a lot of other traffic on it. Therefore, it is the better of the two choices as far as Apple is concerned.
However, that doesn't mean that you are unable to use cellular data in order to download an update for the iOS. Before we get into that, we should note that downloading updates to the system via cellular data is not a native function of the iPhone.
In order to do it, you would need to adjust some settings so that you could then use a workaround that some users go for when they can't perform an update within range of a good Wi-Fi network.
If you would like to explore the workaround, you can see more detailed steps in our section about updating the iPhone without Wi-Fi later in this article.
It is important to note that you'll need to change some settings in your iPhone prior to installing the update without Wi-Fi. Because this is a workaround that involves changing things, it is a good idea to think about whether you might prefer to wait until you're in Wi-Fi range or hooked up to a computer with iTunes in order to perform the update that way.
However, these settings are minor, and you can change them back once you are finished with the iOS update.
Can I Update an iPhone With a Hotspot?
A hotspot is one way you can turn a device into something that another device can connect to for the purposes of using the internet or downloading things.
In such cases, one would assume that the latter device doesn't have a way to connect to the internet via Wi-Fi or other conventional means.
Therefore, you can turn one device with a data plan into a hotspot, allowing it to use its cellular data as a way to give internet access to the other device of your choice.
With that in mind, does making a hotspot work as a way to update the iOS on an iPhone? It seems that it can depend on which generation of the iPhone's iOS you are working with and which one you are upgrading it to.
Some users who were on iOS systems that were a few years old were able to select options that allowed them to connect to a mobile hotspot for the purposes of updating their systems. Once iOS versions beyond 13 came on the scene, it became harder or impossible to do system updates via a hotspot.
In such cases, you may be able to get to the screen for updating the iOS, but it may be stuck on text reading 'update requested' and stay within a loop that does not complete.
While it seems to be difficult to update the iOS using an Apple hotspot, it may still be possible to use a hotspot to update your iPhone if you connect to an Android device rather than an Apple one. In these cases, the iPhone may recognize the Android as something that is just another Wi-Fi connection rather than a dedicated hotspot.
You should still have the option to turn on 'Personal Hotspot' in your iPhone. You can check whether this might work with the version of the iOS that you are running or switching to. If not, you can make a different hotspot via an Android device from another user.
How Do You Update an iPhone Without Wi-Fi? (2 Methods)
We've touched on using cellular data to update your iPhone to the latest iOS, and we've gone over how you might do the same thing via a hotspot. The methods for using a hotspot could be dependent on your phone version or current iOS, and different features will be present depending on which one you use.
However, there are some specific steps to get into in order to do the cellular data workaround. We'll cover the procedure for using cellular data here, and we will detail how you can make the phone update from a Mac as well.
If you would like to use the workaround to facilitate an update without Wi-Fi, please follow our general steps here.
1st method
1. Go to your iPhone's 'Settings' section and find the 'General' tab.
2. From there, you can go to the 'Date & Time' section and toggle the option to 'Set Automatically' so that it is turned off.
3. Once this is done, you can set your date and time to be at some point that is at least six months ahead of the current date.
4. Once done, go back to your 'Software update' section, which is already in the same 'General' subheading that you went to in order to change the date and time.
5. Tell the iPhone to 'Check for updates' and have it download them. You may need to tell the phone that it is okay to use cellular data in order to get this started.
6. Once the update over cellular data is complete, you can go back to the appropriate section for 'Date & Time' to set the function back to automatic.
7. As long as you enable the use of cellular data and give your iPhone the okay to start downloading, you may not need to adjust the date and time settings beforehand. However, it is one part of a workaround that you might need to go through.
2nd method
If you would prefer to connect your iPhone to your computer in order to get an update that way, you just need to use an appropriate cable to tether the two devices together.
Your computer needs to have iTunes on it, and you will use this program to check for updates that could be downloaded to your phone that way.
If this standard method does not work for any reason, you can download iOS firmware files from Apple and transfer them to your phone that way. You may need to put the phone into recovery mode to do this.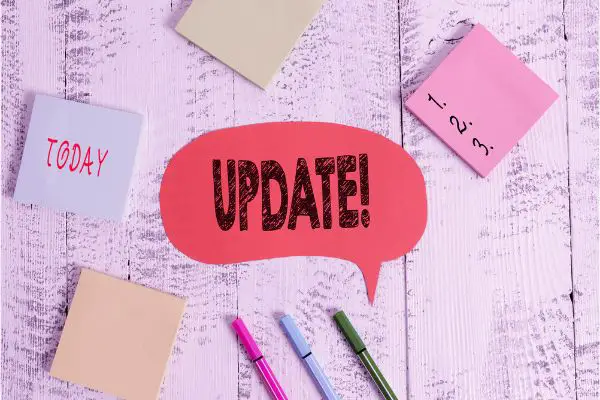 Are iPhone Updates Necessary?
Some people don't like constant updates to system data on their phones. While this is understandable, iPhone updates are usually there to give users the latest in security and features at the same time.
Even from just a security perspective, it is a good idea to update your system as frequently as you can. New bugs or problems are discovered by expert teams all the time, and you want to keep your data safe.
Before updating your iPhone, make sure you have a backup ready in case an issue with the newest update occurs. It's recommended to wait a bit before updating to the latest version to see if any other user has issues with the newest update.
Conclusion
iPhones are excellent mobile pocket computers that can do much more than just make calls. However, they rely on Apple's sophisticated iOS operating system, and it is one that has relatively frequent updates.
Wi-Fi is one of the best ways to perform these updates, but there are a few other ways at your disposal in a pinch. If possible, update your iOS whenever a new version that is compatible with your phone comes out.