Review of True Image by Acronis 2023
Disclaimer: This post may contain affiliate links, meaning we get a small commission if you make a purchase through our links, at no cost to you. For more information, please visit our Disclaimer Page.
Acronis True Image
has just been released with some exciting new features including full Windows 10 Certification. It allows you to take an image of your hard drive to the cloud and do full incremental backups directly to the online storage service.
This review is from a slightly older version however the newest version has most of the same features with a slight change in the interface. See the newest review of True Image here.
In past reviews we showed how easy it is to image, backup and restore a computer and create a backup scenario. True Image online backup was also reviewed here. This review of True Image will mostly focus on the new stuff.
The user interface has not changed much from the previous version. The Get Started tab gives you access to instructions on how to backup, when to recover and how to backup and sync data with the Acronis Cloud. The Cloud allows you to store your backups in the safe cloud storage and use it to sync all of your devices and use your favorite browser to manage the data stored. The Acronis Cloud also allows you to share your files to friends or the whole world if you so desire.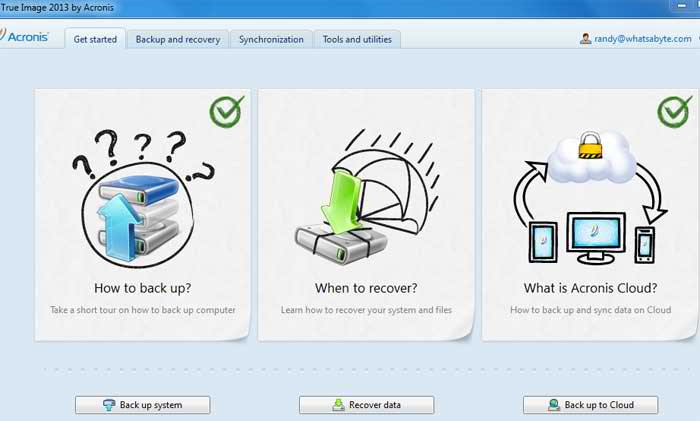 The backup and recovery tab shows previous backup created by an older version of Acronis True Image and I can easily use those backups proving that True Image is fully backwards compatible. This tab is where you can edit online backup settings, create a bootable media, and all that fun stuff that has made Acronis famous.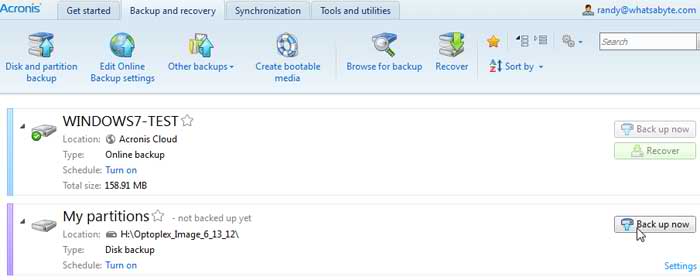 The first step of this review would be to create a new backup image of this computer with the new version. Clicking on Disk and Partition backup brought up the following screen to configure the disk backup process. I made a few changes from the defaults by telling it where I wanted to store the backup, changed from incremental to full and changed the file name then I smacked the Backup Now button.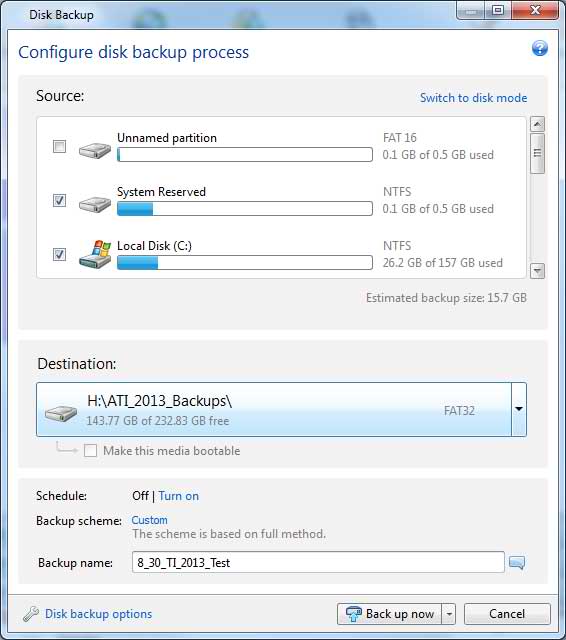 To recover the True Image backup I simply click the Recover button on the backup just made to bring up the following screen. Then just click on the recover now button. If this computer were to crash, I would simply put in the bootable media that True Image creates and run the program from the media. I feel confident that I can recover this PC at anytime using this image.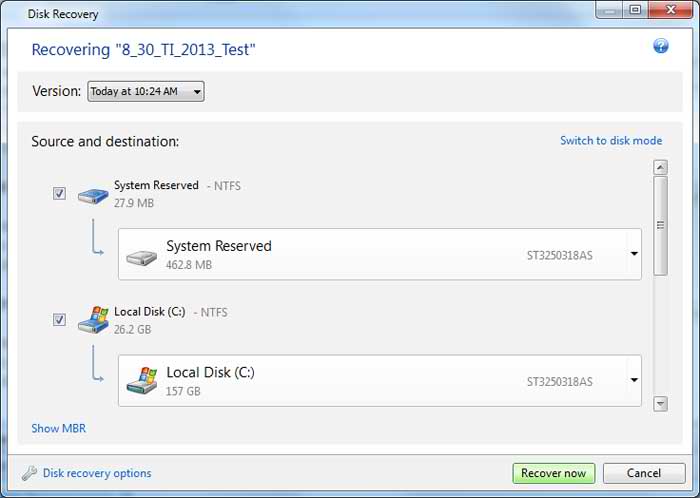 The next step would be to create an incremental backup of the same disk and put that on a schedule as was covered by this review.
Another great feature integrated in True Image is the ability to do online backups to the Acronis Cloud. Online backups should be used for important files that could get lost forever in the event of a major catastrophe such as a fire, flood, tornado or hurricane. Acronis True Image Online is available for $49.99 a year and it is essential to keep important files safe and easy to use.
After clicking on the Online Backup button, I configured the program to backup a very important folder called WWW. That is where What's A Byte is stored. This can also be scheduled to run at various times and days to suit your backup needs. Once configured, click on the Backup Now button to get things started.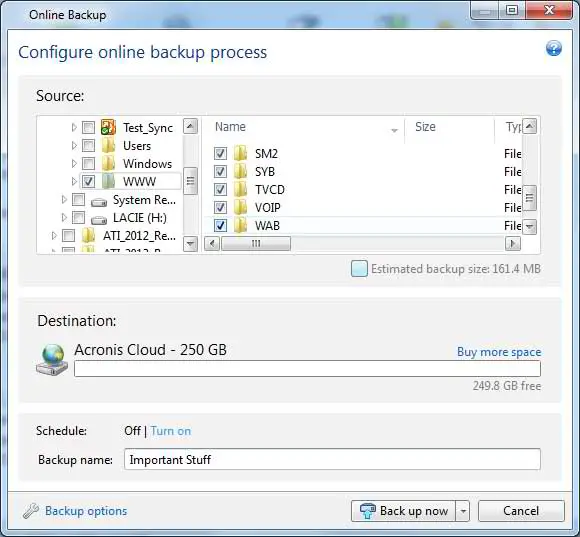 When the online backup is complete, it can be accessed online from different computers and devices that you choose simply by logging into the Acronis Cloud from any browser.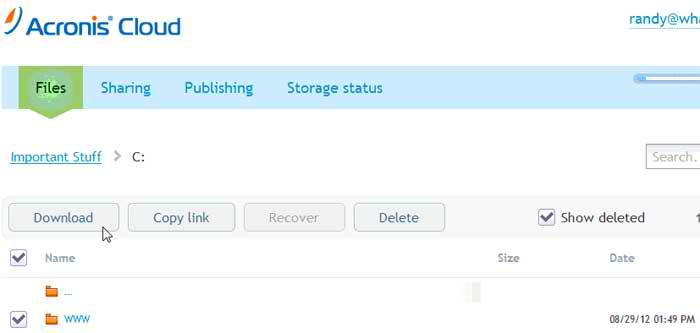 Sharing files from the Acronis Cloud is as easy as copying a link and posting it to the web or sending an email to your friends. I put a document up there called, A Shared Document, copied the public link and made it available to everyone. Here is the link to the document in case you want to try it out: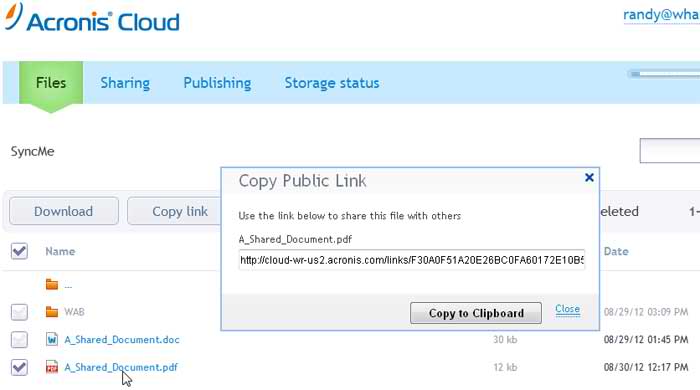 This program is easy to use and is constantly improving over previous versions. For that reason True Image gets an honorable Brontobyte on a scale of Bytes to Brontobytes. This is a recommended program to keep your data safe and secure.
Acronis True Image 2017
has been released and it makes it easier than ever to back up your computer and devices. With just 2 clicks of the mouse, you can do a full image backup of a computer. It doesn't get much easier than that. This version added many new features including the ability to backup an unlimited number of iPhones, iPads, and Android mobile devices with Wi-Fi to your computer, it even backs up your Facebook stuff. It is 3 to 6 times faster than the completion when backing up to an external drive and 25% faster than the previous version when backing up to the Acronis cloud. The 2017 version still has all of the other useful features that are essential in a complete backup program. Clone Disk, Try&Decide, Bootable Rescue Media Builder and Startup Recovery Manager are readily available. A True Image 2017 coupon code will be posted when it becomes available. See our full review of Acronis True Image 2017.
$49.99