Review of Acronis True Image 2023
Disclaimer: This post may contain affiliate links, meaning we get a small commission if you make a purchase through our links, at no cost to you. For more information, please visit our Disclaimer Page.
Acronis True Image 2017 has been released and we have a review of it here. It still works with previous versions of Windows. Most of the utilities from the past versions of the backup software are still available with some improvements as well. Try&Decide has been brought back to the program by popular demand allowing you to Try potentially unsafe tasks and Decide whether to keep the change or discard it altogether. True Image Cloud is the program needed to backup to the Cloud and to external devices.
This review of True Image
will focus on taking an image backup of an Entire PC and take a look at some of the other useful tools included with the program. You can also back up files and folders with the program.
Backing up an entire PC to an external drive is the easiest thing to do using the new True Image interface. Simply plug in the external drive, open True Image 2016 and smack the big green Backup Now button and that is what I did.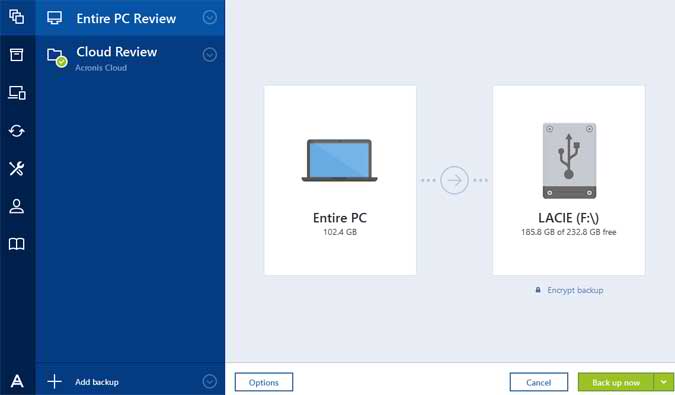 When it was done it did not tell me so because I didn't ask it too. I could have though. Through the options button on the main screen there are all kinds of things to set up with the backup job including getting notifications. The disk backup options screen is where the backup job can be scheduled, set up a backup scheme, get notifications and set exclusions from the backup task.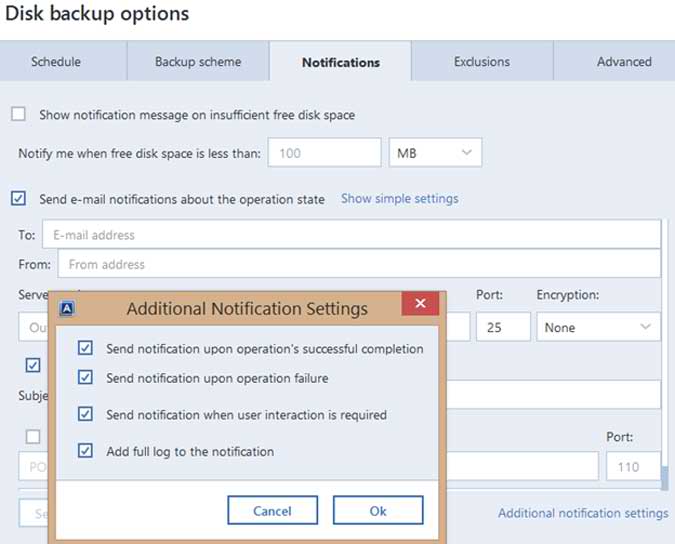 The restore process is just as simple. If you need to recover your whole PC or just a file it doesn't matter. All it takes is a couple of clicks depending on what you want to do. You notice that there are a couple of extra buttons that were not there before the backup was started. Recover PC or Recover Files are the options. If something happens to the entire PC configuration you would want to recover the PC. Need a file back? Click Recover files. It does not get much simpler than that.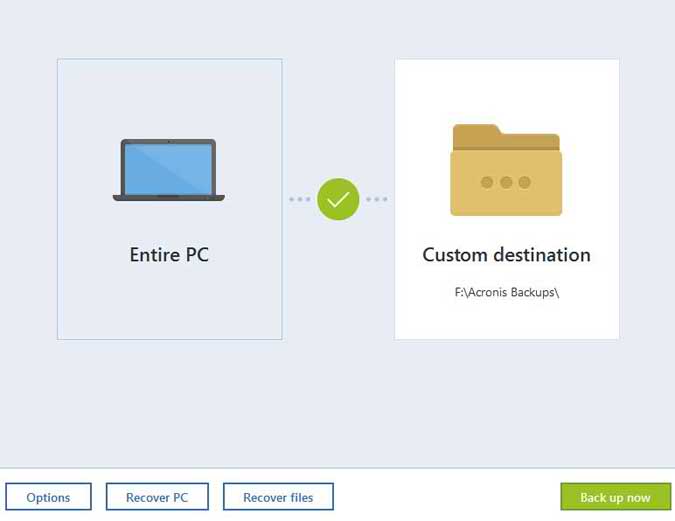 If Windows does not start use bootable media to restore the Entire PC. You find the Rescue Media Builder in the Tools section of the program along with a few more goodies. This section is also where you will find the Clone Disk utility, the Universal Restore media builder in case you want to restore to dissimilar hardware, Try&Decide, Startup Recovery Manager, Acronis Secure Zone, System Cleanup and DriveCleanser are all available.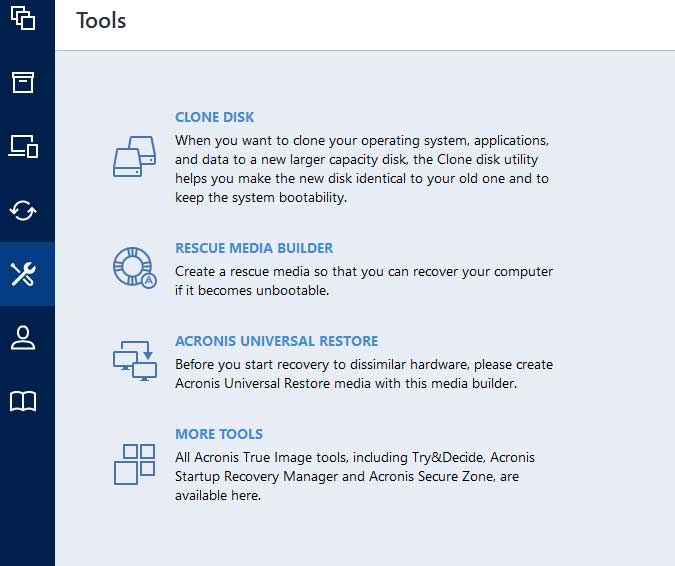 True Image also comes with a very helpful and easy to navigate help section that tells you everything you need to know to get the most out of the backup tool.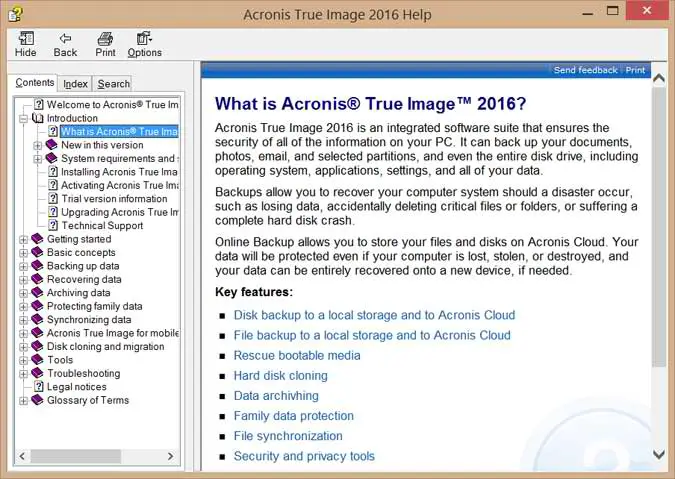 This review of Acronis True Image shows just how easy it is to keep your PC data safe and secure. We have been reviewing True Image for many years and are still amazed at the progress it makes every year as far as ease of use and stability. True Image gets a big thumbs up or as we like to put it, a Brontobyte on a scale of Bytes to Brontobytes.
Acronis True Image 2017
has been released and it is optimized for Windows 10 and the most recent Mac OS X versions. This version is between 3 times to 6 times faster than the competition. Through the years, True Image has been making it easier and easier to keep your data safe by backing it up. The 2017 version has simplified the process even more. 2 clicks is all it takes to do a full image backup of your entire computer. This version combines the features of the previous versions which includes dynamic disk support and Universal Restore allowing you to restore data to a different PC even if it has different hardware. Wi-Fi support has also been added when backing up to the Acronis Cloud even to a bare-metal PC. It easily backs up Windows, Mac, iOS, Android and even Facebook. Gotta keep up with the times. See the 2017 version in action.
$39.99 for 1 Computer Subscription
$69.99 for 3 Subscriptions
$79.99 for 5 Subscriptions
More True Image Reviews
Review of the Acronis New Generation
Clone a Laptop Hard Drive with True Image 2017
Acronis True Image 2017 New Features
Acronis True Image Cloud Review

Create a Bootable Rescue USB Drive with True Image 2017
Acronis True Image 2017 Review
Acronis True Image 2014 Review
Create a Backup Scenario with True Image