Disclaimer: This post may contain affiliate links, meaning we get a small commission if you make a purchase through our links, at no cost to you. For more information, please visit our Disclaimer Page.
Selecting a new laptop device is not an easy thing to do. It involves a lot of research and effort because everyone tries to choose the best possible machine on the market. The most common mistake users make in this process is the selection of a laptop brand based on its hype in social circles. However, that is not the right thing to do.
To that end, this post aims to help my audience understand the expected lifespan of multiple brands on the market. It also discusses in detail the factors that affect the lifecycle of numerous laptop brands. After going through the guide, you will be able to make a wise decision based on the reliability and performance of the machines instead of any social influence.
However, it is pertinent to mention that the lifecycle of any particular brand mentioned in the guide is based on an estimated average. The average lifespan is calculated based on many individual factors that may not happen in your case. That said, you can expect your selected brand to fluctuate near these average lifespans.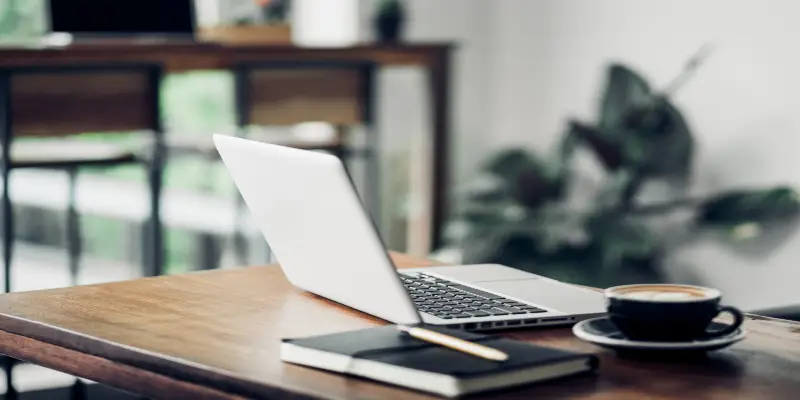 The Average Lifespan of Multiple Laptop Brands
It is common to compare multiple devices based on their lifecycles. The lifespan comparison tells a lot about the reliability and operational efficiency of the device. You can have a realistic idea of how a device will react after years of use if you study the average lifespan chart properly.
Everything from hardware configuration to maintenance and user requirements to laptop customization plays a vital role in determining the average lifespan of any laptop. Below is a comprehensive table that describes the average lifespan of the most popular laptop brands on the market.
| | | |
| --- | --- | --- |
| Rank | Brand Name | Estimated Average Lifespan |
| 1 | APPLE (The Best-One) | 6 to 7 years |
| 2 | LENOVO | 5 to 7 years |
| 3 | DELL | 5 to 6 years |
| 4 | HP | 5 to 6 years |
| 5 | MICROSOFT | 4 to 6 years |
| 6 | ACER (The Worst-One) | 3 to 5 years |
All in all, you can expect your laptop to at least last for 5 years if you buy from a top-rated brand. This average expectancy comes from the quality of hardware configuration in the machine.
No one can deny the fact that some brands are more reliable than others when it comes to the reliability and working capacity of laptops. However, there are other things too that significantly impact the performance and resistance of these machines.
Regular maintenance and proper use of any brand's laptop can cause your device to outperform the expected performance.
People who often handle their laptop devices with utmost care utilize their machines for years. That is why I always recommend the audience take proper care of the device after buying one.
How Long Do Laptops Last on Average?
Many factors impact the average lifespan of any laptop. The most important one among them is the quality of the hardware. Any computer with high-end hardware configuration outperforms laptop devices with inferior hardware.
In particular, the type of RAM, processors, Graphics card, and system memory define the useful life of any laptop device.
In general, a good-quality laptop lasts for 5 years on average. However, you can increase this lifespan if you practice care and proper maintenance.
Following are the average lifespans of popular laptop brands:
Average Lifespan of Apple MacBook
Apple outperforms every other brand on the market when it comes to offering a dependable product. Apple MacBook devices are popular for their utmost reliability, operational efficiency, and convenience. The designers at Apple ensure the delivered products exceeds customer's expectations in every regard.
The average lifespan of Apple laptops is 6 to 7 years. However, if you take proper care and avoid misuse, these devices will undoubtedly last longer than this average. The opposite is true if you do not care about the maintenance of the machine.
The Apple MacBook series is prevalent everywhere. You will notice Apple MacBooks in libraries, hotels, offices, shopping centers, coffee shops, and homes.
The reason behind the popularity of these devices is the combination of style and performance.
These laptops look stunning from the outside and offer top-notch performance from the inside. They come in slim shapes with high-end hardware configuration.
What are the Different Models to Consider in Apple Laptops?
Compared to other manufacturers on the market, Apple offers a limited series of laptop devices to maintain perfection in terms of quality and brand equity. Following are Apple devices you can choose to buy:
MacBook Pro
As the name suggests, MacBook Pro is ideal for high-end jobs that require a solid hardware configuration coupled with a stylish outlook. Everything from processors to RAM and Graphics card to the high-end screen makes this device a never-losing beast.
There are multiple models in the Pro series of MacBooks with slightly different features. You may select the one that best meets your needs.
MacBook
MacBook is the basic model of Apple that is famous for its stylish look and top-notch functionality. It maintains a perfect balance between the weight and size of the device to deliver the best performance. The machine is lightweight and easy to carry, yet super functional.
However, you can no longer buy a new MacBook from Apple as the company has discontinued this version of the laptops. That said, you can find countless used MacBook devices if you want to buy one.
MacBook Air
The only reason why people ignore highly efficient Apple devices is price. Apple devices are highly expensive. Many potential customers who love the functionality of these devices cannot afford the company's premium-priced products. To target that segment of customers, Apple launched an affordable laptop series under the tag of MacBook Air.
MacBook Air series is famous for its affordability. The quality of the processor and RAM used in this series is a little less than other premium machines of the company. Still, the MacBook Air offers top-notch functionality and reliable working efficiency.
You can use this model for light to medium use. This machine works better than many high-end models of other brands.
Average Lifespan of LENOVO
Lenovo laptops make the ideal choice for people who are looking for the perfect blend of performance and affordability. The Chinese manufacturer uses top-notch build quality to ensure competition with premium brands, including Apple, HP, and Dell.
The average lifespan of Lenovo's laptop is 5 to 7 years if you use the devices carefully. What makes Lenovo stand out from the rest is the availability of a vast range of laptop models. The company offers multiple series and models to capture a wide variety of customers.
You can find Lenovo models that cost nearly $7000 currently. At the same time, other models only cost $200. This diversity of choice is the defining aspect of this Chinese company. Anyone can find the best possible laptop for him if he researches properly.
For the first 4 years, users generally do not have any issues on the hardware side. However, you might start noticing some lag in terms of processing speed on cheaper models in the 5th year.
All in all, Lenovo offers a perfect range of diversified models to meet the needs of multiple segments. Regardless of the machine's price, you can expect it to run flawlessly for the first five years.
However, if you can handle your Lenovo device with the utmost care, you can use these devices anywhere between 7 and 8 years.
What are the Different Models to Consider in Lenovo Laptops?
Lenovo outperforms many others on the market when it comes to offering a diversified range of laptops. The company tries to capture customers from every segment of the market by providing multiple models and series. Below are the most famous series of Lenovo laptops:
IdeaPad
The IdeaPad series from Lenovo targets people who want high value for money. These laptops are the perfect choice for people who want an affordable computing solution for their light to medium jobs. There are many models with multiple price tags to help users select a model that perfectly meets the needs.
ThinkPad
ThinkPad laptops are the defining product of the company. These machines make the perfect choice for people who are looking for a high-end laptop device for business use. The processor and RAM configurations in this series outperform models from the other two series.
Yoga Series
Yoga Series laptops from Lenovo use a hinged series to offer dependable convenience to users. The ability to position the screen in multiple directions is the defining aspect of this series from Lenovo.
Average Lifespan of DELL
Dell is not a new entrant in the market and knows how to produce quality products that last longer. It has a long history of creating viable computing devices to capture multiple segments of the market.
Dell also offers a vast portfolio of laptop devices to offer intelligent solutions to people's problems.
The average lifespan of Dell laptops varies between 5 and 6 years. Most of the devices work flawlessly over the years without compromising operational efficiency.
Everything from highly ergonomic design to budget-friendliness and high customizability to innovative features makes buying Dell laptops worthwhile.
Most of the Dell models work fine for the first 6 years. However, you may start noticing some issues with the screen after this period.
The picture clarity and image details on the screen get cheaper on those cheaper models. As a result, you have to either replace the entire screen or dump it for peanuts.
What are the Different Models to Consider in Dell Laptops?
Like any other top-notch manufacturer of laptops, Dell also offers a wide range of laptop devices to capture a huge chunk of the market. The 4 most famous and renowned series provided by Dell are as follows:
XPS Series
XPS Series from Dell offers premium laptop devices that compete with high-end devices such as the Apple MacBook Pro. Everything from processors to RAM and stylish outlooks to seamless operational efficiency makes this laptop series stand out.
Contrary to many other Dell models, there is a lot of improvement in the XPS machines' weight aspect. XPS devices are usually lighter than other devices of the company.
Latitude Series
The latitude series from Dell targets the business community. The models from this series often make perfect choices for Dell lovers who want a business laptop.
The hardware configurations on these devices suit medium to high-end computing and administrative jobs. Moreover, a high-end model from this series can efficiently run any enterprise software solution.
G series
No one can deny the popularity and prevalence of online gaming these days. The company recently launched a separate series of laptop devices for gamers. The G Series from Dell contains robust hardware configurations that meet the requirements of many online gamers.
In particular, the graphics card used in the G Series models is better than the ones on Inspiron and Latitude Series. As a result, users can enjoy a better visual experience.
Inspiron Series
The Dell Inspiron series targets users who want affordability. These laptops pack essential hardware and software configurations to meet the needs of everyday users. There is a massive variety of models within this series to capture customers with varying needs.
For instance, you have the option to go for a touchscreen model or not. Similarly, there are multiple screen sizes to meet the needs of various customer segments.
However, you may not go for a model from this series if you are looking for stylish and modern-looking laptop devices. To that end, the XPS series may be the best choice to consider within Dell.
Average Lifespan of HP
HP has a long history of making reputable computing devices for decades. HP laptops these days are way more innovative and high-end than the previous models of the company. That is the reason why this company holds more than 25% market share in the US.
The estimated average life of HP laptops is between 5 and 6 years when it comes to high-end devices. However, budget-friendly and inexpensive HP models last 3 to 4 years on average.
These laptops will last longer than expected if you can handle HP devices with proper care and maintenance. Another thing that distinguishes HP from the rest of its competitors is its top-notch online presence.
What are the Different Models to Consider in HP Laptops?
Envy Series
Laptops from Envy Series make the best choice for HP lovers who want an affordable laptop device. The machines from this series can sustain medium to light use with no lag. These devices pack sturdy hardware configurations and outstanding software support.
Spectre Series
The laptops from Spectre Series are expensive and use premium-quality components for enhanced reliability and operational efficiency.
These devices are famous for the speed and top-notch response rate. All the efficiency in these devices comes from a top-notch combination of the latest processors, graphics card, RAM, and other impressive hardware components.
Pavilion Series
Pavilion Series from HP is designed for casual users with little portability. The machines in this series are relatively heavier than the Spectre Series. The operational efficiency and processing speed are also less impressive compared to the models in the previous series. However, Pavilion Series also comes at a lower price tag that justifies some of these shortcomings.
Average Lifespan of Microsoft
Microsoft is a newcomer to the laptop market. The company offers a limited variety of models to compete and capture some market share of Apple MacBooks and other premium devices. All laptop machines provided by Microsoft use premium quality components to offer a reliable user experience.
Microsoft laptops have an estimated average lifespan of 4 to 6 years because of their sturdy build quality and relentless hardware configurations.
The surface laptops from the company are top-performers and meet users" expectations in terms of reliability and ergonomic design.
Within a brief period, Microsoft has become one of the best 5 PC manufacturers on the market. This thing depicts the sturdiness and top-notch build quality of these devices that translate into customer retention.
However, one thing that may trouble you after years of use is its battery. The company certainly needs to upgrade the quality of the batteries used in laptops.
After some 5 to 6 years, you may have to replace the graphics card to enjoy a hassle-free visual experience on the device. Another option would be to replace the existing laptop with a new appliance.
What are the Different Models to Consider in Microsoft Laptops?
Surface Series
Microsoft currently offers the Surface Series only. The latest version of the series is a 4th one from the company, namely Surface Laptop 4. It makes one of the best choices for business use.
You can easily rely on the device for multiple business presentations and managing the company's data in sheets.
However, I do not recommend Surface Laptop for gaming or other high-end usages.
Average Lifespan of Acer
Acer has been serving customers across the globe for decades. The company has a long tradition of providing competitive devices at an affordable price tag.
As a result, they are one of the top 10 PC suppliers in the US. The company also offers a wide range of multiple laptop devices to capture a significant portion of the market.
The estimated average lifespan of an Acer laptop is 3 to 5 years. This is the worst figure for any company on the list. However, that does not mean Acer laptops are useless.
An average lifespan of 3 to 5 years with high-end use is a justified thing, given the price of most Acer devices.
Additionally, if you are a careful user of the equipment, you will be able to use these devices for at least 7 to 8 years.
The advancement of technology demands some element of future-proofing in every laptop device. The biggest problem that starts spoiling the performance on many Acer laptops is the unavailability of future-proofing.
As a result, devices become unable to meet the users' requirements when technology wants them to utilize better quality processors and other hardware setups.
What are the Different Models to Consider in Acer Laptops?
Below are some models that you can consider within the Acer lineup:
Chromebook
Budget-friendly Chromebook models from Acer are for people who want a laptop device for extremely lightweight use.
Swift Series
The models from this series are relatively expensive and feature high-end hardware configurations.
Aspire Series
The Aspire Series models are inexpensive laptop devices for regular use. You will find impressive hardware setups on these devices, too, to meet the varying demands of users.
Conclusion
Apple laptops are the most durable devices on the market, with an impressive expected lifespan of 6 to 7 years. The average life for other brands fluctuates around 5 years.
However, the most important thing is the proper care and maintenance of the device that helps your machine serve longer than your expectations.