Disclaimer: This post may contain affiliate links, meaning we get a small commission if you make a purchase through our links, at no cost to you. For more information, please visit our Disclaimer Page.
Laptops are practical because they're portable and you can carry them everywhere, but they're bigger than tablets and mobile phones. If you're like me, then you carry your laptops everywhere. While purchasing a laptop, choosing the size can be a challenging task. There are many sizes available, but how are laptop screens measured the right way?
To measure your laptop screen the right way you will need to measure it diagonally, from the bottom corner of one side of the screen to the top corner of the other side. It's important to point out that you only measure the screen without the surrounding plastic edge.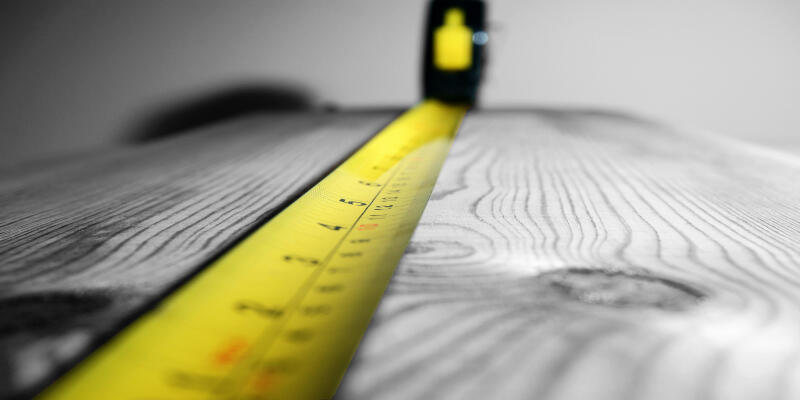 Even though two laptops can have the same screen size that doesn't mean their overall dimensions are identical.
Stay tuned and you will find out the standard laptop screen dimensions and how to know their size without measuring them and a few tips on how to choose the right laptop bag.
Laptop Screen Dimensions
With laptop screen size, it's a personal preference. Screen dimensions are measured in inches. They can vary from 11.1 inches to 17.3 inches. Most laptops are from 13 to 15 inches because of convenience. The smaller ones are very practical and portable.
| | |
| --- | --- |
| Laptop screen size in inches  | Laptop screen size in cm  |
| 11.1 inch | 28.2 cm |
| 13 inches | 33.02 cm |
| 15 inches | 38.01 cm |
| 17 inches | 43.04 cm |
Every laptop is made for a purpose regarding its size. Laptops with screens from 11.1 to 13 inches are easy to carry and lightweight. Laptops with screen sizes ranging from 14 to 15.6 are a little bigger and heavier and they are meant as workstations or multimedia and gaming.
The biggest ones, up to 17.3 inch displays, are very heavy and considered as desktop replacements.
The size of your laptop screen dictates the resolution quality. Laptop screen consists of pixels. Pixels are small squares of color forming a grid and more pixels mean better image quality. The resolution is the number of pixels on a display.
| | |
| --- | --- |
| Laptop screen size | Recommended resolution (in pixels) |
| 13 to 15 inches standard | 1400 x 1050 |
| 13 to 15 inches widescreen | 1280 x 800 |
| 17 inches widescreen | 1680 x 1050 |
How Are Laptop Screens Measured?
Laptop screens are measured diagonally, from the bottom corner of one side of the screen to the top corner of the other side. Screen dimensions are measured in inches. 1 inch equals 2.54 centimeters.
I will explain how to correctly measure your laptop screen with a few simple steps.
First, get a tape measure. Standard tape measures measure in inches but if you are in a different region where you use the metric system, just convert centimeters into inches afterward.
Then pick a starting point. It's not important whether you start in the top or bottom corner, the key thing is to measure it diagonally. You only measure the actual screen, not the plastic edge, so start measuring at the visible part of the screen.
Expand your measuring tape to the opposite corner of where you started and that's it. If needed, convert your measurements.
Laptop, television, and monitor screens are measured diagonally to sound bigger and more impressive. You can use a ruler if you don't have a measuring tape at the moment.
It's important to know the dimensions of your laptop screen but keep in mind that screen dimensions aren't the same as overall laptop dimensions.
In the following, I will also explain how to correctly measure the entire laptop body when buying a laptop bag.
How to Know the Screen Size of a Laptop Without Measuring?
If you don't have a ruler or a measuring tape, there are a few ways to finding out your laptop screen size.
You can search for your laptop specification on the web. There is a lot of other useful data about your display and other laptop hardware.
In order to find your laptop specifications online, type the exact brand and model of your laptop because even if you know the brand that doesn't mean you will find the correct information.
Search for the label on your laptop. The label contains information about the brand and model. It's usually located on the bottom side of your laptop close to the battery.
When searching for the needed information on the web look for the terms Product information or Specifications. It will provide you with a lot more useful information about your hardware.
If you're not going to search the web, you could find the relevant information in your laptop settings as well.
To get to the settings the easiest way is to search the keyword Display in your search panel. When you reach and open Display settings, you will see all the information you need.
There are also online apps that help you measure virtually. You either enter your screen specifications such as display resolution and they calculate the rest or you drag the cursor of your mouse diagonally from one corner to the other.
Online apps are a pretty good option because you can calculate and convert measurements in a second.
The last resort is using an object whose size is familiar to you. For example, you know the correct dimensions of a notebook and just compare it to your laptop screen.
This method is not exact and can provide false measurements, so I don't recommend using it.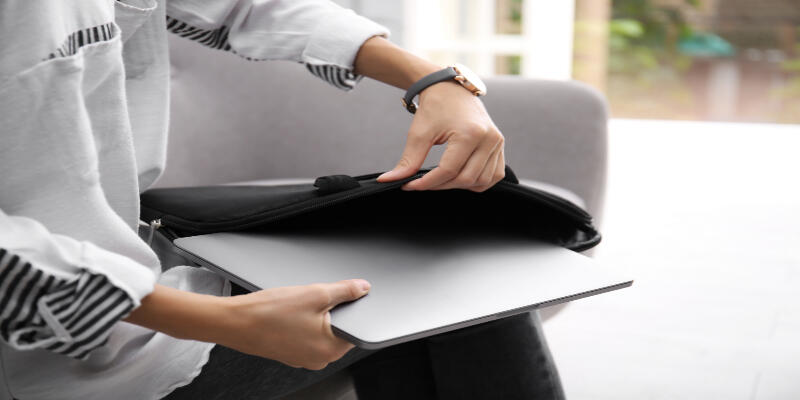 How to Choose the Right Laptop Bag?
Laptop bags are essential for transport and protection. There are a lot of varieties of laptop bags on the market, from backpacks to one-strap bags. But how do you choose the right one?
Size is very important. The laptop bag has to fit your laptop and all of its accessories.
We have learned how to find out the dimensions of our laptop screen but that isn't enough in order to buy a proper laptop bag. Measure the dimensions of the entire laptop – its width, depth, and height.
To measure the width you will have to place the measuring tape horizontally across your laptop. For depth, place the tape vertically from top to bottom and for the height, measure your laptop from the side while it's closed.
When you get the correct dimensions – time to shop!
There are laptop backpacks which are suitable for bigger and heavier laptops where you can store other things in them as well. My favorite is a one-strap laptop bag. It's easy to manage, not too heavy, and more accessible than the backpack version.
It's important to keep in mind that your laptop shouldn't be moving around in the bag. It should be secure and well fitted to prevent damage from bumps.
Elegant and slick laptop sleeves are very popular. It's a cover without straps and you carry it in your hand. It's best for a lighter and compact laptop because it could be a big issue carrying around a big and heavy laptop in a sleeve.
I would highly recommend laptop bags with compartments and padding. I carry my laptop to work every day, so I need space for a computer mouse and power cables. A wallet, notebooks,pencils and work related stuff are essentials, so they should fit in the bag as well.
Padded laptop bags act as cushions and absorb every shock from a fall or bump. A great piece of advice is to look for a laptop bag with a padded bottom. This helps protects your laptop from a fall if you happen to accidentally drop it.
The quality of the material of the bag is also very important. Choose a durable material to protect your laptop but not too heavy. One popular material is plastic because the plastic casing is hard and durable but not too heavy.
One of the most critical things is to keep your laptop secured and locked so look for quality zips. Metal zips are a better choice than plastic zips since plastic ones could easily break and expose your laptop.
If you opt for the one-strap bag make sure it has an adjustable strap for easy carry. Avoid the shoulder strap cutting into your shoulder and keep the pressure from your spine as much as you can.
And last but not least – I recommend choosing waterproof material for your laptop bag. Imagine going home from work and heavy rain starts.
You would want to protect your laptop from water damage. Electronic devices are very vulnerable to water so choosing a waterproof material is a good idea.
The most important things when choosing a laptop bag are comfort, practicality, and protection. But some people would like to give it a personal touch.
Classic black laptop bags are boring and formal so you can choose from an incredible variety of colors and patterns. Think of it as a representation of your style.
Laptop bags with a warranty are available on the market. Even though the bag protects the laptop, it needs to be protected, too. When it breaks, you can return it and take a new one. But keep in mind that most warranties don't cover the usual wear and tear that comes with time.
There are several factors you should take in mind when buying a laptop.
The size of the screen is definitely one of them. If you use your laptop often for work or gaming, you should opt for a larger screen with a better resolution to avoid eye discomfort.
It's important to point out that the laptop screen size is the size of the display without the plastic edges so you will need to take more measures when buying a laptop bag.