Disclaimer: This post may contain affiliate links, meaning we get a small commission if you make a purchase through our links, at no cost to you. For more information, please visit our Disclaimer Page.
Windows 10: release date, price, news and features
Microsoft unveiled Windows 10 on September 30, 2014, as a successor to Windows 8.1 and as part of theWindows NT family of personal computer operating systems.
Microsoft introduced Windows 10 to the world in April 2014 at the Build Conference, the purpose of Windows 10 is to bring users a more friendly operating system and improve the user experience. It also brings back the Start menu, which was ubiquitous with Windows 7 and earlier version. It also has a virtual desktop system and can run Windows Store apps within windows or full screen.
Windows 10 is multiplatform and runs on desktop & laptop, tablet, and smartphone. It's not just about User Interface (UI), it's about one product family, with a tailored experience for each device.
---
Microsoft Windows 10 official release date
The Microsoft Windows 10 is expected to be officially released sometime in 2015. We are sure how it will be distributed, maybe you will get a free update to Windows 10 as Windows 8 or must be purchased to upgrade.
---
Windows 10 Technical Preview release dates
Here's the list of Microsoft Windows 10 Technical Preview release dates. Which version number has a release date is officially, and the one was marked "Leaked" is just leaked, not an official release from Microsoft.
6.4.9841, October 1, 2014
6.4.9879, November 12, 2014
New 'Task View' and 'Search' on Taskbar
New 3 finger gestures
OneDrive to be default backup and synchronization
10.0.9888, Leaked
Windows version number was changed from 6.4 to 10.0
PC Settings have new options
10.0.9901, Leaked
New User Interface changes
New apps: Cortana, Windows Store Beta, Camera Beta or Xbox
App improved: Photos, Sound Recorder, Calculator, Settings, Windows Feedback
New Command Prompt with more features
10.0.9926, Jan 24, 2015
New Start menu and faster Search's speed
More icons
Enhanced Skype and Spartan browser
New action center & quick settings
---
Download Windows Technical Preview
For now, you can download the Windows 10 Technical Preview version to install on your computer to test a new operating system. Following steps to download and burn it into a DVD to install Windows 10 Technical Preview:
You must have the Windows Insider Program account. If you haven't, sign up for one.
Make sure you have read the system requirements and compatibility.
Follow the link at here and select the right version with your language pack to download the ISO file.
Transfer the ISO file to a USB flash drive or burn it to a DVD to install when the download is complete.
Double click on the setup.exe file from installation media, and follow the steps.
---
Microsoft Windows 10 Spotlight Features
Microsoft Windows 10 comes with many new features for improving User Interface and the operating system that make it a friendly and 'easy to use' operating system.
A new Start Menu
It looks Microsoft has brought the Start Menu back to Windows 10 with more features such as live tiles and can be resized.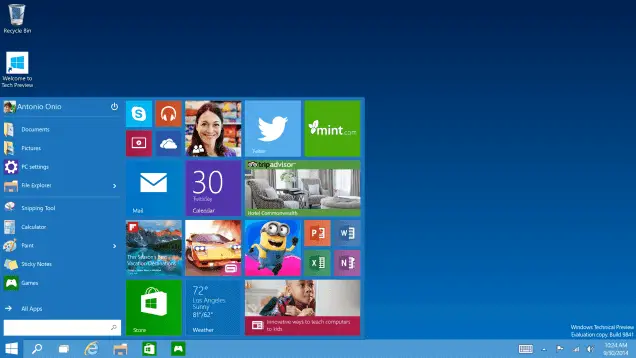 Updated Command Prompt
Microsoft has updated the Command Prompt which now supports Ctrl + V hotkey instead of right-clicking and select "Paste" in the menu.
Improved Multitasking and Multiple Desktops
Microsoft has added two new popular features to Windows 10: a multitasking feature called "Task View" to see all open windows at once and the ability to create a new desktop like Spaces on the Mac, help you easy to organize your Windows.
Pin the Recycle Bin to The Start Menu and Taskbar
In the Windows 10, you can now able to pin the Recycle Bin to the Start Menu or Taskbar with a simple right-click. All you need is open the Explorer windows, click Desktop under Favorite and right-click the Recycle Bin icon and pin it.
Improvements to Windows Explorer
A new Windows 10 Windows Explorer has a Home and a Share button.
Microsoft Windows 10 review
The Windows 10 review will be available when the official version is released by Microsoft.