Disclaimer: This post may contain affiliate links, meaning we get a small commission if you make a purchase through our links, at no cost to you. For more information, please visit our Disclaimer Page.
A gaming laptop does not look any different from a typical business laptop, apparently. However, it is totally different inside a perfect gaming laptop. The CPU, high-end RAM capacity, memory, cooling mechanism, and top-notch Graphics card are the factors that make it stand out from the rest. That said, what is the right way to build a gaming laptop?
Building a gaming laptop from scratch is not something I would like to endorse as it involves a lot time and technical knowledge. However, anyone can make some customizations in the hardware configuration of an existing laptop to create a gaming computer that offers a relentless gaming experience.
This post aims to help you make essential customizations to a laptop that boosts its capacity and operational efficiency for a high-end gaming experience. By following the things mentioned, you will enjoy games with top-notch frame rates and high detail settings.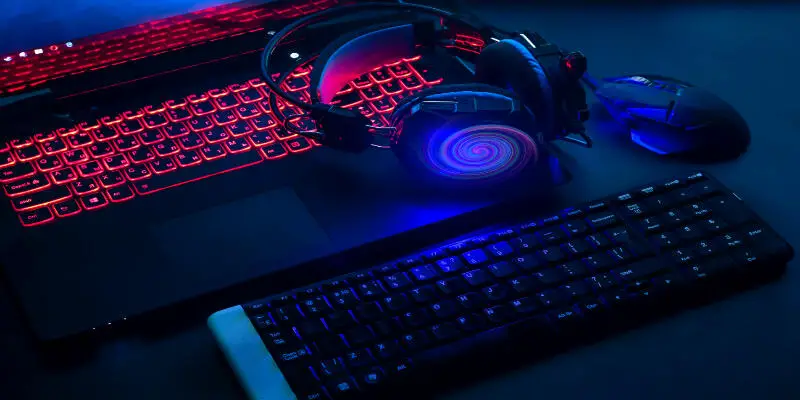 How To Build a Gaming Laptop?
The only way to boost your laptop's performance and gaming experience is to make some serious adjustments to its hardware.
As a result, you will have a computer that replicates the power and sturdiness of a desktop gaming PC. Nonetheless, what are the things that you can change or replace in your existing laptop to make it a high-end device?
Customizable Components Of A Gaming Laptop
The good thing about customizing a gaming device is that we only include things we need. For instance, if you are a power-intensive user, you will definitely get a high-performing CPU. When you upgrade your PC yourself, you always try to plan things that are well within your budget.
There are multiple components on your existing laptop that you can replace for a dependable gaming pursuit. It includes replacement of the following things:
GPU (Graphics Processing Unit)
CPU (Central Processing Unit)
RAM (Random Access Memory)
System Memory
Graphics Processing Unit or GPU
No one can deny the significance of using a high-end graphics card for seamless gameplay. The quality of the image and video display on your laptop is directly related to the efficiency of GPU.
The good thing about GPUs is the availability of multiple cores in them that help deliver a dependable multitasking experience with minimal drag.
With selecting the proper GPU for gaming laptop customization, there are two preferred choices you should consider:
Discrete GPU
Integrated GPU
The only significant difference between the two types is how they use the memory for their functionality.
Discrete GPU
A discrete GPU depends on a separate card and does not burden the internal processor to deliver the desired graphics quality. In this way, it works independently without disrupting the working capacity of the processor.
That is why I always recommend a discrete GPU if you are looking for a premium experience.
Integrated GPU
An integrated GPU depends on the memory of the system for delivering the desired graphics performance. It somehow shares internal memory with the processor to provide quality graphics.
Central Processing Unit or CPU
CPU is a key performance indicator for any laptop, whether a business laptop or a gaming one. A high-quality CPU in the device translates into a faster processing power and relentless functionality.
So, you will have top-notch productivity with minimal lag if you equip your machine with a high-quality CPU.
Random Access Memory Or RAM
Having 16 GB or higher RAM can boost the gaming experience as it helps you avoid lag during extended gaming. You can quickly play games with high system requirements if you have the right RAM in place.
However, you can also choose an 8 GB RAM if you play games with low system requirements.
Multiple companies on the market offer high-quality RAM for PC customization. You should select the one that best meets your needs.
System Memory
For storage, users usually have two options to consider for a dependable customization process. They can either go for a traditional HDD drive or a modern SSD. You can go for both options based on your budget and gaming requirements.
SSD drives outperform the typical HDD drives as because it features a non-volatile flash memory. The SSD drives also have a better processing speed and top-notch functionality.
However, if you are low on budget and intend to choose an HDD drive, always go for one that has a faster spinning rate. For instance, consider a HDD drive with a spinning speed of 7200 rpm over a drive with a rate of 5400 rpm.
After you have read details about the replaceable components of a gaming laptop, you should now be fully aware of what things you need to get the job done for you.
However, it is pertinent to mention here that you should always check beforehand if your laptop supports changes in the hardware configuration or not.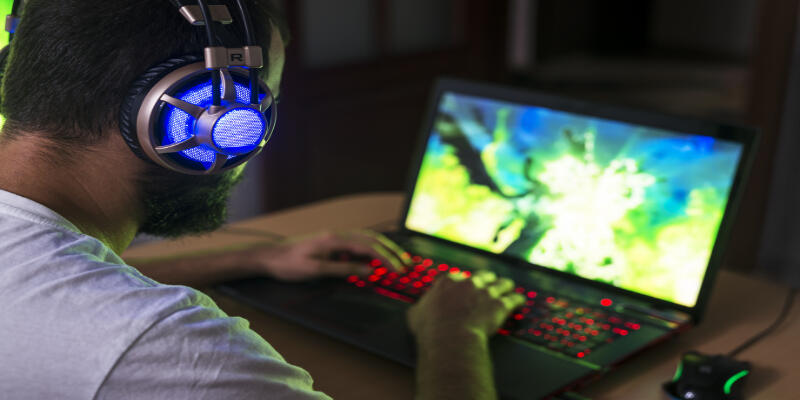 What Laptop Type Should I Own For Gaming Customization?
You do not need to worry if you already have a business laptop with some excellent specs. However, take care of the following things if you do not have a computer for building a gaming-specialist machine.
All you need is to have a barebone laptop that has some competitive features.
The laptop you need to build a high-tech gaming laptop device should support replacement of its parts. More specifically, you need a laptop with a replaceable CPU and GPU.
The barebone laptop should support changes in the hard disk interfaces.
There is always a limit on the supported memory capacity. For this, analyze the memory requirements of the game you usually play.
Always go for that laptop that can at least support the required memory of that particular game or set of games you typically play.
Some laptops on the market only support HDD drives, while others support both SSDs and HDDs. Always look to see if the selected laptops support the hard disk type you want to use on your gaming laptop.
Another critical factor in selecting a barebone laptop is the quality of the screen and the maximum resolution it supports.
You should carefully check to see if the screen size is convenient for regular use. You should not select a laptop that is bigger or smaller than the size you wish to have for perfect gameplay.
Gaming laptops use an excessive amount of power and processing capacity. As a result, you will usually notice heating issues with these machines. However, a good laptop always has a perfect cooling system in place to counter heating issues.
Another excellent feature of modern laptops is the multi-screen interconnectivity. You can check for this feature if you are looking to build a gaming laptop that supports multi-screen connectivity.
What If You Already Have Purchased A Barebone Laptop?
If you have already purchased the barebone laptop, all you need to do now is to buy those components that are compatible with the computer you have bought.
For instance, you cannot accept an SSD drive if the device you have purchased does not support SSDs.
How To Group Everything Together?
You are all set to go for assembling once you buy every component of the system.
Step 1
The first step involves opening the outer case of your existing laptop to install the components you have bought.
Step 2
Find the relevant sockets for GPU, CPU, RAM, disk memory, and a Wi-Fi card. You can take help from the user manual if you cannot find them in the first go. In the with no manual, you can consult many web sources, including YouTube and Google.
Step 3
After finding relevant sockets on the motherboard, the next involves installing those hardware components into their respective sockets. This step is the most crucial part of the entire assembly procedure. Therefore, it needs utmost care and patience.
Step 4
Install the desired operating system on the device once you have finished installing hardware components on the motherboard.
Step 5
The last step requires you to reverse the action you performed in the first step.
It is pertinent to mention here that assembling is not a complicated job. By following this straightforward procedure, anyone can quickly assemble the entire machine within minutes.
However, the selection and analysis of replaceable components are the most challenging jobs to do.
That is why I always recommend focussing on "What to replace?" instead of "How to replace?"
Pro-advice For Certain Customizable Components
You can further follow these guidelines that can help you build a relentless gaming device:
GPU
The graphics card on your gaming laptop can either ruin or boost the gameplay. That is why you should always select a quality graphics card that delivers the best image and video quality. It also affects the picture clarity of the screen if not chosen correctly.
You need to take care of two things before you purchase a Graphics card. The first thing is to analyze its compatibility with the screen resolution.
There is no need to buy an average quality card that does not match the screen resolution of the barebone laptop you selected to build a gaming machine.
The last thing in selecting the Graphics card is to check the refresh rate of the Graphics card. You are good to go if the selected GPU has a refresh rate compatible with the screen.
This directly impacts the picture quality and graphics experience of gameplay.
Video Memory
The video memory of the graphics card also plays a significant role in delivering an impeccable graphics experience. It is common to find a graphics card with 4 and 8 GB VRAM these days.
Try to match the VRAM requirements of the game you play with the video memory of the card you intend to buy.
Central Processing Unit
You need to consider a few things before you make the final choice of buying a CPU for your gaming laptop.
Always check the cores of the CPU. An Octa-Core processor has better productivity and operational efficiency than a Quad-Core processor. The greater the number of cores in the processor, the greater the efficiency. You can choose any processor between 4 to 12 cores based on your needs and budget.
The clock speed or clock rate of a CPU is another crucial aspect of any CPU. You should prefer a CPU that has excellent base speed and boost speed. The clock speed of many CPUs starts from 2.6 GHz and goes all the way up to 5 GHz and beyond. You should try to maintain a balance between your budget and the frequency you demand from the CPU.
Try to match the frequency requirements of the games you play with the available CPU choices. Always select a processor that meets or exceeds the frequency requirements of the games you enjoy.
Another thing that worries many buyers is the inefficient thermal design of the CPU. You should carefully read the thermal design before you make the final decision.
This will help you find the best possible cooling mechanism for the processor you purchase.
Storage Drive
Never underestimate the power of a high-end storage device for the perfect gaming experience. If you love multitasking and want an excellent boot time, buy a storage device with at least 512 GB of disk space.
However, you can opt for 256 GB memory if you only play games with minimal hardware requirements.
There are two choices for changing the storage device on your existing business laptop or a barebone device. You can install the new device in the additional drive bay provided by the manufacturer or replace it with the one already on the system.
The ideal choice for a storage drive revolves around 1 TB SSD disk space.
What If You Intend To Use The Gaming Laptop For Streaming Too?
Everyone prefers tools and devices that are versatile because it is the only way to enjoy more value for money. Similarly, it is not uncommon for gamers to use their gaming devices for streaming too.
However, using a gaming laptop for streaming further burdens the operational efficiency of both the CPU and GPU, besides other things.
The only solution is to buy a CPU and GPU that is well beyond the minimum requirements of the games you play. In this way, you will have a hardware configuration on the device that sustains the additional burden of streaming too.
How Much Would It Cost To Build A Perfect Gaming Laptop?
There is no specified limit on how much it costs to build a perfect gaming machine. However, it can cost you anywhere between $1500 to $3000 if you are looking for an ideal device that makes the ideal choice for high-end gaming professionals.
A device with this much budget can be termed as the perfect gaming laptop with premium functionality.
What Specifications To Expect In A Perfect Or Ideal Gaming Laptop?
If you are looking for an ideal device with a budget of $1500 to $3000, it should have the following specs:
CPU
A perfect gaming laptop should have at least an Octa-Core, 11th Generation processor to provide the speed and operational efficiency of a premium machine.
The clock speed of the processor should be greater than 3 GHz in the base model.
GPU
A perfect gaming laptop does not compromise the graphics experience of users. That is why, within the said budget, you can expect an NVIDIA RTX GPU with a dedicated VRAM of 8 GB.
RAM
It should pack a high-end DDR 4 RAM of 64 GB that signifies future-proofing considering the RAM requirements of modern games.
Disk Space
An ideal gaming laptop should at least offer a 1 TB SSD. This much disk memory is sufficient for multitasking and faster booting.
However, you can also install a disk space of 2 TB SSD if you are willing to spend anything over $2000. For average gaming pursuits, 1 TB SSD seems sufficient.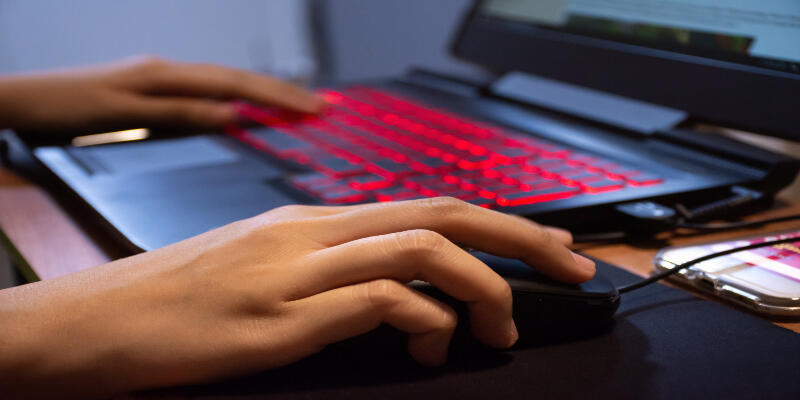 How Much Would It Cost To Build A Cheap Laptop?
The positive side of the story is that you can also build a satisfying gaming laptop if you do not have deep pockets. There is no exact limit on what makes the ideal budget for a cheap gaming laptop.
However, it varies between $400 to $800 to build a budget-friendly laptop without compromising the desired performance.
A perfect gaming laptop has premium features that signify future-proofing in that device. However, you can use a mid-range machine for a variety of games out there. You will certainly not have a premium feel and experience, but the overall functionality of the budget device does the job for you in most cases.
What Specifications To Expect In A Budget-friendly Gaming Laptop?
You can expect to have the following features in the cheap gaming laptop that costs up to $800.
Processor
You can expect an intel 9th Generation processor within the said budget. There could be two options with cores. You will most probably buy a Quad or Hexa-Core processor for building the gaming laptop within the budget of $800.
For clock speed frequency, you can expect a base power of 2.4 GHz with sufficient boost capacity.
GPU
A GTX version of the NVIDIA graphics card is the most suitable option for a budget-friendly gaming laptop. You can go for a GTX model that comes with a VRAM of at least 4 GB.
RAM
A budget gaming laptop should have a DDR 4 RAM of 16 GB that is sufficient to handle many games on the internet.
Disk Space
You can expect a disk space of 512 GB for a cheap gaming laptop.
Is It Cheaper To Build Your Own Gaming Laptop?
There is no absolute answer to this question as it involves a lot of complications. For professional gamers who know everything from motherboard sequences to multiple requirements of the system, the answer is YES.
As they know all the relevant details about gaming laptops and potential customization, they can do it efficiently and inexpensively.
However, if you are a newbie in the field and do not know the ABC of the game, I would suggest you gain some knowledge before you dive into building a gaming laptop.
Conclusion
Building a gaming laptop is not a big deal if you do it in the right way. However, I always stress understanding the requirements before you start your project of building a gaming machine. High-end professionals definitely require heavy specs compared to average users.
They also have strong chances of making a foolproof device because of their extensive knowledge of the field.