Disclaimer: This post may contain affiliate links, meaning we get a small commission if you make a purchase through our links, at no cost to you. For more information, please visit our Disclaimer Page.
If you've got a M.2 SSD, you've probably been wondering if filling it up slows it down.
Filling up an M.2 will slow it down, but the rate will depend on the manufacturer. For some, if it is remaining at about 10%, and then it will automatically start slowing down, while for other SSDs, they will function with the right speed until they are like 99%. But it is best not to go over 80%.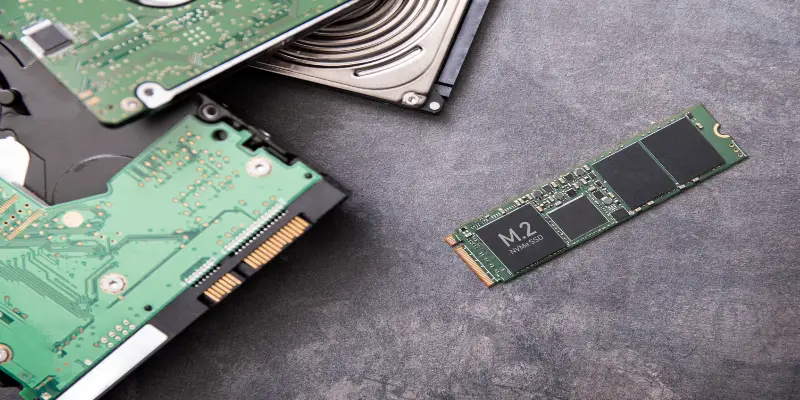 Currently, most people are opting to store their data in M.2 solid-state drives since they are much smaller and technically have more space. In this article, I will be discussing the M.2, whether or not you should partition it and if the partition may affect the speed of its performance, and much more. Read on!
Is partitioning M.2 Bad?
An M.2 drive is one of the fastest drives that you may require for efficient functioning in your computer. Even so, you may find the need to partition it and make one part for storing your everyday work and the other one for your most sensitive staff that you cannot afford to lose.
While partitioning is an option, most people may not recommend it since it may limit the performance, especially when the partitions are not in line with each other.
Well, making a partition on the M.2 drive may be a great option. But before making the partition, ensure you examine the software you are using since it is the one that will determine the space each division will be taking.
Also, it would help if you realized that partition revolves around making changes in your Windows Operating System which can affect the data in your computer.
It is important to note that the partitioning does not impact the performance of your drive, as most people claim. Usually, what makes the performance slow down is the space on the SSD. For instance, if you fill up the SSD to close to 100%, you give little room for the OS partition to perform, making it slower; it is best to leave 10% of the M.2 drive unpartitioned to keep up with the performance.
Does Partition Slow Down M.2?
You may be partitioning the M.2 for many reasons, but no matter what pushes you to do it, it is essential to note that partitioning will not in any way affect the performance of the computer.
With partitioning, the hard drive maintains its top performance as long as you optimize it regularly. But if you are going to optimize it, it will be best to deal with a smaller partition than a large one which technically performs much better.
Also, if you are going to partition, ensure that you do not create a small boot partition since it will slow down the functioning of the machine.
Ensure that the boot partition is more than 100 GB, especially if you will be dealing with a windows machine; ensure you leave enough free space for it for your temporary files not to slow down. It is best to ensure that you have close to 20% free space even after partition so that the speed does not slow down.
The M.2 depends on many factors such as the cache memory, seek time, the operating system, and the system hardware, among other factors. If you choose to partition, you can only do so in a specific way, such as creating one small partition and another big one. If you make many sections all at once, then the performance may slow down.
Usually, performance deprives since reaching a specific data in a particular partition takes longer than usual, which affects the seek time. Moreover, the performance of the processor and the cache may be affected since the application is complex. As such, always ensure you have few partitions, if possible only two, and have about 10% to 20% space available on all the drives.
You can use your partitions for different purposes; say you have two of them, you can use one to store user files and the other for the operating system and the application programs.
If you make such a partition, you can be sure that it will not slow down the performance of M.2. It gives you a quicker way to retrieve data and better recover your data and drive from system failure.
Do I need to Partition my M.2 Before Installing Windows?
Installing new windows in your computer can be so problematic to your laptop, and usually, if you have a drive, you cannot put anything in it unless there is a partition.
When installing Windows on the M.2 Drive, it may partition and format it just as it usually does during the installation process. The division will take place if, from the word go, you did not have any other sections on your M.2 drive.
Typically, you may not need to partition the M.2 before installing the windows, but it is best to format the primary drive first before installing anything. The primary is the internal disk C, of which failure to format it will leave some data from the previous windows installation causing hogging. As such, you may need to create several partitions on the M.2.
But even though this is a viable option, ensure you only partition about 125GB of space on the primary partition and leave the rest.
Through this, you need not erase all your data, or instead, you will only be dealing with data on the C partition when installing windows. Remember that it may prompt you to select the drive where the installation will go as you install new windows.
In such a case, ensure you select the drive, say the C drive, and at this point, you can create partitions in it. Also, you may get an option on formatting the C drive, which technically depends on your computer.
In some cases, the formatting option may not arise, and for such a case, it is best to ensure that you delete the data and come up with new partitions.
Partitioning the M.2 before installing the windows may not be as necessary. Even if you choose to do it, you will have to delete it to install the new Windows. Moreover, the installation may tamper with your ready data in the partitions by creating new divisions, so go for the quick-reformat option.
Should you partition M.2?
You can partition your M.2, and there are many benefits for doing so. If you have your windows in a separate file than the rest of the data in your computer, it makes it easy when you need to format the partitions or reinstalling new windows.
In such a case backing up, your data should be the least of your concerns since you save your data on a different partition, but it is always essential to create a backup for your most important files.
Also, in some cases having two drives may be a better option than partitioning. If you choose to go the partitioning way, then a single partition should work well for you not unless you intend to carry out a multiboot. With this, I will take you through the advantages and the disadvantages of partitioning an M.2.
Pros
It helps to improve the performance of your computer
Through defragmenting, the M.2 gets to perform better and may not fracture so easily. One partition will store your data and the other the operating system; hence it is easy to recover your data.
Makes formatting easy
If you want to delete or format your data, you are safe and need not copy since it will be in the other partition.
Better security
Your data is safer since it is on the other partition
Cons
Slow down performance
It may be relatively slower if you are moving your data, unlike when moving it within the same partition.
Lesser space
Once you partition, you will lose some space
Inconvenience
Partitioning may impact your work, and you have to follow some steps so that your OS can use the other partition, which is time-consuming.
Conclusion
If your M.2 is exhaustive, it will slow down its performance. As such, you should ensure that you leave about 10% to 20% space on it so that it does not slow down. Also, you can always partition the M.2, but it may also impact the performance of your computer.