Disclaimer: This post may contain affiliate links, meaning we get a small commission if you make a purchase through our links, at no cost to you. For more information, please visit our Disclaimer Page.
Dns_Probe_Finished_Nxdomain or DNS Probe Finished Nxdomain are the same and pointing to a common error on your Google Chrome browser. When this DNS error occurs, you won't be able to access the Internet.
It's an annoying error, right? But there are a few simple tips you can use to fix this DNS error quickly, and gain the Internet access back.
Firstly, you need to check and verify your Internet connection to make sure it's connected and in a good status. To do that, use another browser on your affected computer and visit any website, like www.google.com.
If you are unable to visit other websites with other browsers, such as Mozilla Firefox or Microsoft Edge, the cause of this error is coming from some factors on your computer, not from the Google Chrome browser. In this situation, you have to diagnostic and troubleshooting on your computer or move to the method #2 and start there.
If the website is loaded completely and there is no issue at all, so the problem only happens in the scope of your Google Chrome browser. In this situation, move to the next step.
Fix Dns_Probe_Finished_Nxdomain Error In Google Chrome
Method #1:
Before expanding the scope to diagnostic the whole computer, you can try to clear cached files and cookies of your Google Chrome browser. Sometimes, a few expired cookies or cached files could lead to this DNS issue.
To solve this unexpected problem, flush all cookies and cache on your Google Chrome browser. To do so, copy "chrome://settings/clearBrowserData" and then paste it into the address bar of your Chrome browser and press the "Enter" key.
Choose options like the image below and click on the "Clear browsing data" button. All of the selected user data will be removed.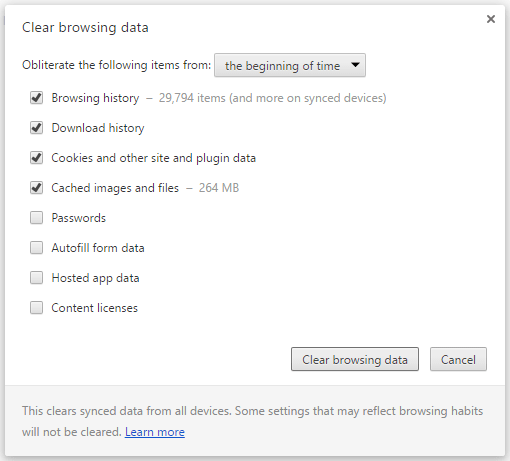 After clearing cookies and cached files, the error still exists, you should try to "Reset all to default" by copying "chrome://flags/" and paste on the Google Chrome's address bar and press "Enter".
Look at the top right corner and click on the "Reset all to default" button. After that, close your Google Chrome and relaunch it to check if the error remains or not.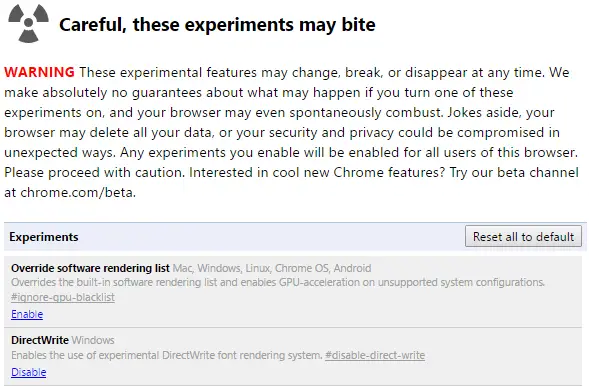 Change Your DNS Server Address To Fix This DNS Error
Method #2:
If clear cookies and cached files or reset all settings to default couldn't help to fix this unexpected DNS problem, we would recommend you to change your DNS server addresses on your computer. There are many DNS server services out there to use, but we always recommend users to use Google's DNS or OpenDNS.
Google's DNS address: 8.8.8.8 – 8.8.4.4
OpenDNS address: 208.67.222.220 – 208.67.220.222
To change your DNS server addresses, right-click on the Network icon on your desktop and select "Properties".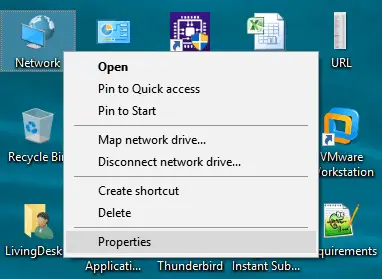 Select "Change adapter settings" on the left side.
Right-click on your current active network connection, such as Local Area Connection, Wireless Network Connection or Bluetooth Network Connection, and then select "Properties".
Find "Internet Protocol Version 4 (TCP/IPv4)" and double-click on it.
A new window will be shown up. Just select the "Use the following DNS server addresses:" option and add your preferred and alternate DNS servers, and then click "OK".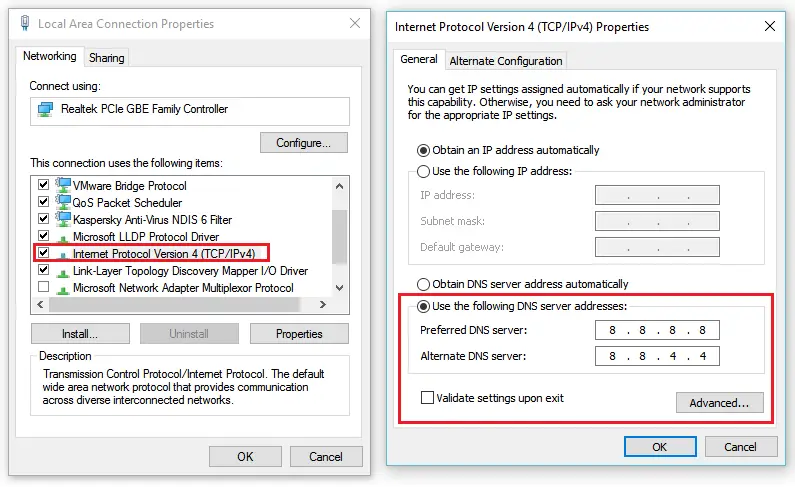 In this case, we are using Google's DNS with following DNS server addresses:
Preferred DNS Server: 8.8.8.8
Alternate DNS Server: 8.8.4.4
Use Command Prompt To Fix DNS Probe Finished Nxdomain Error
Method #3:
If after changing your current DNS servers to the new one, the DNS error still exists, you should try these commands, which could help you to resolve the issue.
Firstly, press Windows + R keys, then type cmd.exe and right-click on the cmd.exe and select "Run as Administrator". Windows will ask you to launch the Command Prompt with the administrative privilege. Just choose "Yes" to proceed.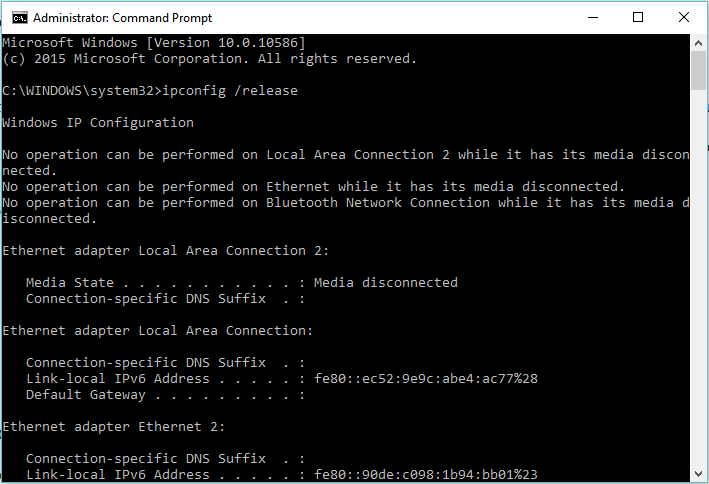 Or if you are using Windows 10, you can press Windows + X and then press "A" to launch Command Prompt with administrative privilege.
Next, execute all commands below on Command Prompt.
ipconfig /release
ipconfig /all
ipconfig /flushdns
ipconfig /renew
netsh int ip set dns
netsh winsock reset
After executing these commands, reboot your computer and see the result. As we said, there are many reasons could lead to this DNS error. If you have tried all above methods, but the error remains, we would suggest you to reinstall your Google Chrome browser.
However, only try this method if the error comes from your Chrome browser. How do I know that? Well, it's quite easy. You can test if other applications can access the Internet or not? If only your Google Chrome browser can't access the Internet, then it's. Remember to backup your browser data before reinstalling.
The Dns_Probe_Finished_Nxdomain is one of the most common errors in Google Chrome. We collected several helpful methods, which listed above, to help you fixing the Dns_Probe_Finished_Nxdomain error.
If you found this guide is useful, let share it with other users through social media to assist them in fixing their problem.