Disclaimer: This post may contain affiliate links, meaning we get a small commission if you make a purchase through our links, at no cost to you. For more information, please visit our Disclaimer Page.
The HDMI version 1.4 became a talk in the tech community nowadays because of its huge upgrade in terms of its specs, compared to the older HDMI versions. This is a promising upgrade as it aims to provide a convenient user experience. After all, convenience through experience is exactly what we demand from technology nowadays. With that being said, note that the HDMI 1.4 has a new feature, which includes ethernet connectivity.
The HDMI 1.4 aims to eliminate the need to use an ethernet cable for your home entertainment system. Data streaming can now be done without the need for a separate ethernet cable thanks to its HDMI Ethernet Channel.
With this brand new feature, you may have a lot of questions in mind. I made this article to answer all the questions that are coming out of your mind.
I will explain all the mechanisms behind the HDMI Ethernet Channel, how it is plugged from your device to the router, and what it is used for. In this way, you can become more familiar with this new technology meant for your entertainment needs!
Is HDMI Cable The Same As Ethernet Cable?
The old HDMI cables are way different than ethernet cables because they serve a separate purpose years ago. Based on the appearance of the two devices, they look separate and seem incompatible with each other.
Televisions and monitors do not have an ethernet port before because of the differences between HDMI and ethernet cables.
Gladly, technology also made sure that it will work efficiently so then it won't overheat or suffer permanent damage while it provides more work than its previous, separate versions.
To simply put it, the HDMI cables serve as a means to allow HD resolution when connecting a monitor or a television to a home entertainment system, game console, or PC. The television or monitor then displays very clear images like all the things you see on the screen are literally in front of you.
On the other hand, the ethernet cable provides data streaming by plugging the first end to a router or a modem and the other end to a computer.
You can also use the ethernet cable to connect two computers, or when connecting a group of computers to a router to share data altogether. This is the cable responsible for wired internet connection and how Local Area Networks function.
Because of our demand for wireless connectivity, as evidenced with our smartphones and WiFi connections everywhere we go, we also demand fewer cables to be used on our computer.
That's why some prefer to use a wireless mouse and a WiFi receiver to the computer. But since cables are still needed for most of the equipment that needs to be connected to the processing unit of the PC.
Because of this, makers of the HDMI decided to make things more convenient instead to lessen the use of wires. And thus, the HDMI 1.4 was developed to ensure that you will be able to maximize your home entertainment system without the need to use too many wires.
In this way, you will find it very easy to set up nowadays. It is also made with a very fast speed of 100Mb/sec with duplex bandwidth.
The HDMI 1.4 makes it similar to HDMI and ethernet cables of old because of its HDMI Ethernet channel. It is a technology wherein the wires used for HDMI and ethernet connection are fused.
Take note that the HDMI Ethernet Channel is also a new feature found in new entertainment systems and PC components nowadays. This is the only way for you to connect this cable.
Trivia: HDMI with ethernet is a new trend, but not newly made. HDMI 1.4 was made in 2009. However, the release of gigabit ethernet cables and huge upgrades in wireless technology kind of shrugged it off from being noticed at that time.
Some even assumed that it might overwork and get easily damaged due to providing two tasks in one. Gladly, technology also makes advancements to make electronics efficiently work.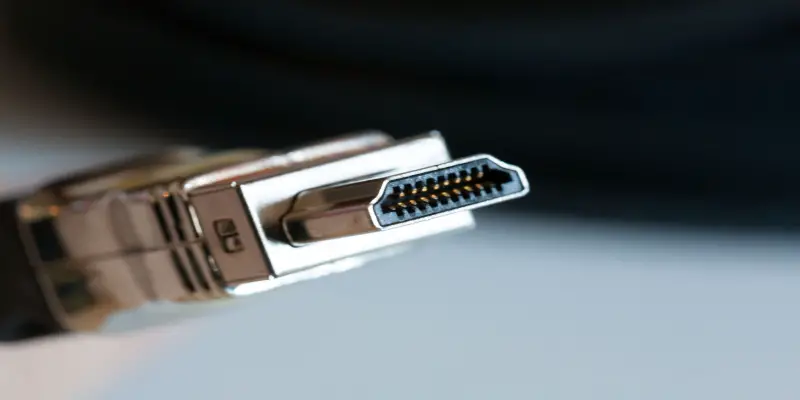 What Is The Use of HDMI With Ethernet?
The HDMI with ethernet works just like the standard HDMI cables. It provides upgraded support for higher video resolutions such as 4K due to having mandatory updates.
It also provides a deeper color to make it more realistic to the view, and also provides a 3D video channel and an improved audio channel.
The HDMI Ethernet channel present in it provides 100Mbps/sec duplex bandwidth speeds, which makes data transmission consistent for smooth streaming.
What Devices Can You Connect With It?
As mentioned earlier, the HDMI with ethernet only works if the device has the HDMI Ethernet Channel feature present as well.
Gladly, most devices have this feature nowadays, since the HDMI version 1.4 was invented back in 2009. For sure you will never have a problem using this handy device for your entertainment needs.
To give you a clearer explanation of what devices work with this cable, here is a list of the known devices that have the HDMI Ethernet Channel:
PlayStation 4 and 5
You may enjoy playing online using your PlayStation 4 or 5 with the help of the HDMI cable with ethernet. This lets you stream without any worry if you want to play online games with your friends. It also lets you enjoy the same quality that these awesome gaming consoles have in store for you.
Xbox One
The Xbox One is no exception for having the HDMI Ethernet Channel installed in it. This lets you stream the finest online Xbox games with high resolutions.
This is also great if you happen to be a streamer who wants to share your gaming sessions with people on social media.
PC
PCs are not an exception to having this huge upgrade. After all HDMI cables were also built for computers so then you can enjoy high-quality videos and surrealistic graphics in games.
The latest GPUs have the HDMI Ethernet Channel installed so then you can just plug in your HDMI cable to the GPU's HDMI port at the back of your processing unit, straight to your monitor.
You can also install several monitors to your PC using multiple cables.
Roku
For those who love to stream the latest movies and series, the Roku device is known to have the HDMI Ethernet Channel feature present.
This lets you enjoy the best quality sounds and images that you can ever see on your television.
At the same time, you will never experience any interruptions because of the fast data transmission that its ethernet can stream to your Roku.
Blu-Ray Player
Blu-ray players can be hooked up to the internet for more exciting features. The HDMI cable with ethernet can provide you smooth internet connectivity. It was a resolution to known issues in blu-ray players where the WiFi connection often disconnects.
More devices are capable of connecting via the HDMI Ethernet Channel. If you want to find out more details, all you have to do is search for the specifications of the product you're planning to buy.
You may either ask it at the store where you found it, check the reviews online, or contact the manufacturers for further details.
How Does HDMI With Ethernet Work?
WiFi has become an ongoing issue for smart TV manufacturers. The same goes with Blu-ray player brands all over the world.
This was also an issue before with most handheld gadgets, PCs, and laptops when WiFi was just newly developed. Ethernet cables provided a stable connection over the years.
This is why it was a great decision for manufacturers to apply the HDMI Ethernet Channel for entertainment systems.
HDMI with ethernet works just like how a normal internet device works. Once it is plugged in, it will instantly provide the data streamed to the entertainment system or PC to the TV or monitor.
The instantaneous speed provided by the HDMI for optimized streaming is thanks to the 100Mbps/sec duplex bandwidth speed, which guarantees smooth speeds.
With enough internet connection, transmitting data between the entertainment console and your HDTV and monitor will become a very smooth process.
Do not worry if the cable gets damaged as it does two jobs in one. New demands in technology also required manufacturers to improve the specs of the cable for it to last for a very long time as it does its job.
Pros of HDMI With Ethernet
Below are the advantages that I have experienced when switching to the HDMI with ethernet:
Fast Streaming Speeds
You don't have to connect your TV to WiFi anymore because the ethernet connectivity provided by your entertainment system, gaming console, or PC is lightning-fast guaranteed! This is excellent for those who want to perform a live stream session while playing games.
Fewer Wires, Cleaner Space, Save Money!
You will benefit from having a clean space in your room if the wires are diminished. The help of an HDMI Ethernet Channel avoids the need to spend extra money on an extra wire and instead uses that money to buy a spare HDMI 1.4.
Durable
The HDMI 1.4 is a very durable cable, capable of withstanding prolonged use. It can last as long as the standard ethernet cables and HDMI cables.
What was falsely assumed before is that these cables are not durable, and some even branded them as fake. After all, gigabit ethernet cables were introduced around the time these were made.
Save Money, Once Again!
It may have fancy features, but the price isn't so! It is a very cheap product that costs the same as a regular HDMI cable. This is why you can set up multiple monitors using multiple HDMI 1.4 cables.
The Only Disadvantage of HDMI With Ethernet
If there is any disadvantage you can get with this type of HDMI cable, it's the fact that it is only a single device.
If ever it gets damaged like some critter bit the wire, or if it got torn by some sort of accident, then that means you lost an HDMI and ethernet cable. But to resolve this, all you have to do is just buy a spare cable instead.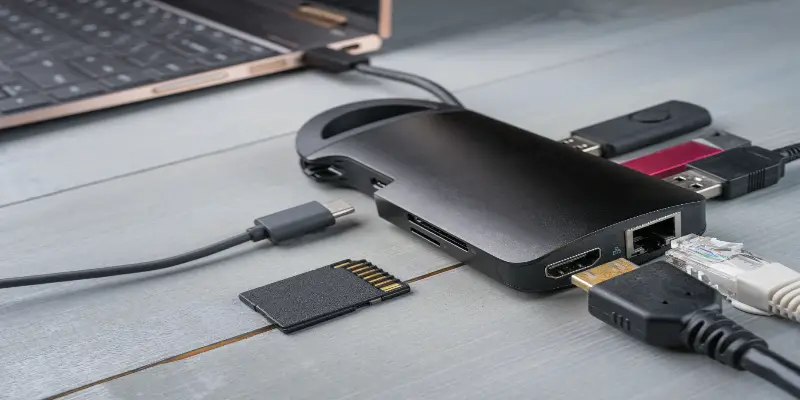 Conclusion
People need better experience with everything they have nowadays when it comes to electronics since technology has vastly improved over time.
HDMI with ethernet is just one of those wonders of technology that aim to provide user-friendliness at its finest, and for your entertainment!