Disclaimer: This post may contain affiliate links, meaning we get a small commission if you make a purchase through our links, at no cost to you. For more information, please visit our Disclaimer Page.
SSD and HDD are two of the most commonly used storage devices nowadays. If you're a PC builder, you might have thought about using a M.2 SSD and a SATA SSD together. So is this possible?
It is possible to use M.2 and SATA SSD at the same time if you can successfully install the SSDs in the respective spaces on your motherboard. Go to the settings and enable the Bios. Proceed to the windows disk manager and select the installed SSD.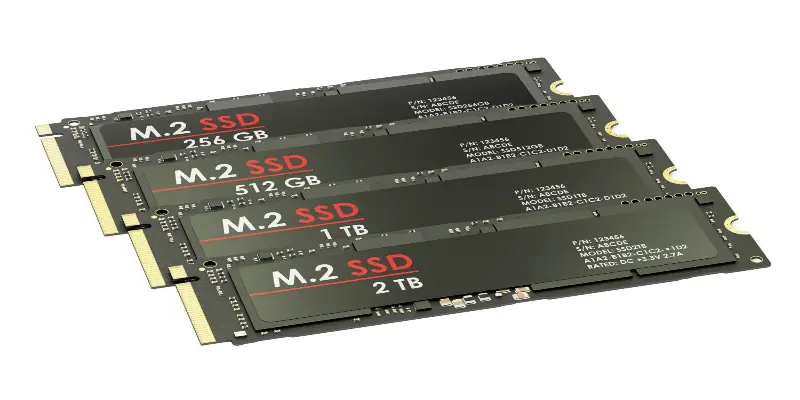 Can You Use M.2 And SATA SSD Together?
Some laptops with M.2 slots feature a bigger battery that covers the entire space to make it difficult for you to use the slot and SATA SSD together. Therefore, buying a smaller battery may allow you to use M.2 and the SATA SSD easily.
You may also install your operating system on the M2 SSD to allow you to store data on SATA SSD. This will allow you to use the SATA SSD as an external SSD or even replace it with a higher SSD later.
But if your motherboard supports the drives, you can use both M.2 and SATA SSD together.
The advantage of using SATA SSD for storage is that it allows you to store a significant amount of data. Besides, you can replace it with a bigger SSD at any time.
However, notice that the M.2 is quickly replacing various devices since it consumes less power and is faster. Specifically, it has replaced mSATA. Also, M.2 interfaces pretty well with SATA3.0 as well as USB. 3.0
Thus, you can buy both SATA and M.2 PCIe for anyone planning to enjoy gaming on their PC. It means that you will have a drive for your OS and store other files on the other drive.
But it depends on your price point and how intensive your tasks are on the machine. Perhaps the best thing you can do is to have the OS files stored on M.2.
The reasoning is that it enhances response and will allow you to load programs in a record time. You will then store other files on SATA SSD.
However, you need to note that M.2 slots are always limited on some motherboards and may even make another port, especially SATA, unavailable when in use.
So, it may force you to work through a PCI-E 3.0 connection instead of SATA, which is not a big deal since our goal is to get the maximum throughput.
Such a combination will avail a vast storage space of maybe 6.0Gb/s on SATA while giving you 2Gb/s on M.2 SSD.
The end result is that you enjoy the fastest speed and robust storage capabilities by having both M.2 and SATA SSD on the same PC. It will allow you to store files of any size and back up your data and even videos.
How To Use M.2 And SATA SSD Together?
M.2 devices transfer data from 50-650 % faster than any standard SATA. Of course, this will depend on the SATA and the type of M.2 you are using. It explains why you can use the two on both laptops and desktops.
A computer with enough space can only support the length card, while the key variable requires that the card connector matches the plugin slot.
To use M.2 card, you only need to install and enable it through the settings on your computer UEFI or BIOS. But if your PC does not have a slot and is compact, you may not get a chance to enjoy this since there is no allowance for such expansion.
However, if you own a desktop, you can use the two together since they have enough adapters to set M.2 drive.
The adapters use a PCle x4 slot; however, if your motherboard cannot boot via PCle, it may be difficult for you to set M.2 drive meaning that you will not enjoy the speed associated with M.2.
You may also expand your computer storage by mounting both SATA and M2 SSD in your computer. You can do this using the PCI Express adapter.
If you do it correctly, it can greatly enhance the performance of your computer. Notice that the SATA slot has a pass-through design, meaning that the drive will connect to the SATA ports on the PC and the M.2 drives. It enables you to expand your computer storage capabilities considerably.
You can also use a card to help expand your PC storage capability. The card has a platform that allows you to connect three M.2 SSDs to any computer.
You can add it virtually if it features a PCIe slot that supports M2 SATA SSDs. Also, you can use the highest performing M.2PCle drives to help optimize your computer.
Also, you may install the M.2 PCIe SSDs in the computer; it is a high-performing card that will allow you to get more work done in less time. M.2 drive is vital in helping you recover data when your computer fails. T
herefore, you may install the drive to use it for data backup purposes and boost your storage capabilities.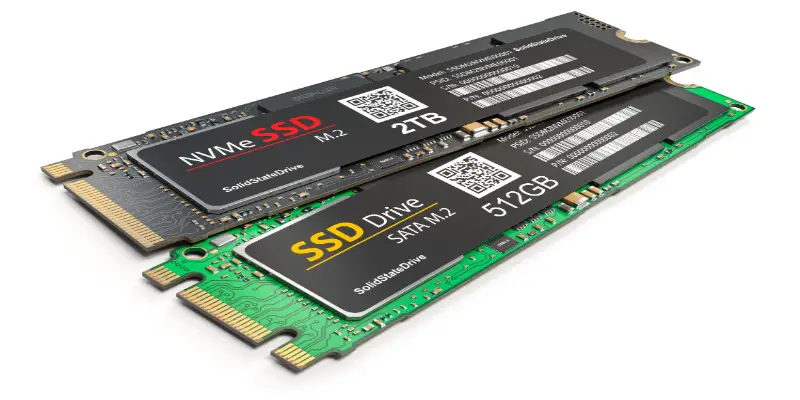 How Many M.2 And SATA SSD Can You Install?
It depends on the CPU you are running. If it is a high-end motherboard, you may use a PCI-E bridge which allows you to have the two.
Also, it may be necessary to check and ensure that your PC is compatible with the M2 or SATA SSD. For M.2, you need a new PC that can accept the new SSD version.
Typically, you may need to look for an M.2 connector, which is usually an inch wide with a label such as SATA or PCIe. It means that you will need to buy a matching M2 SSD.
Installing the SSD
Typically, the manufacturer chooses where to place the M2 connection. As such, you may want to check your motherboard carefully for the connection. If the connection is not visible, it means that the motherboard does not support it.
Therefore, you will need to locate the M.2 slot on your motherboard beforehand. Check between GPU and CPU at the lower right end of the motherboard.
Also, check if there is any particular place that you can use to cover the M.2 drive. If it is present, unscrew it to get started.
If your PC features an M.2 slot, it will be easier for you to install M.2 slot or SATA in your PC through the following steps.
Remove the screws at the M.2 slot
Insert M.2 SSD
Push the M.2 in the slot as you keep an eye on the notch. If you insert it carefully, the SSD will stand at an angle. Push the SSD in place and secure the M.2 SSD using a mounting screw. Y
ou will then press down and hold M.2 SSD and replace the screws to secure SSD in place.
At this point, you have successfully installed your SSD. You can now install the SSD on your computer. You can do this by following the manual installation process through the BIOs once the motherboard recognizes it.
Also, you can boot the computer while holding 'Delete' to allow you to enter the BIOS. While in BIOS, click on advanced settings, then onboard configuration. Check for the PCIe slot option and set up the M.2 Mode. Save and Exit the BIOS
Conclusion
Of course, you need both M.2 and SATA SSD if you want to enjoy your gaming endeavors, store your data, and back it up appropriately. If you own a modern PC that can allow you to install and use both M.2 and SATA together, the better.
However, you will need to learn how to install and plug your M.2 drives, and you will be good to go. It is easier for anyone to use the new M.2 drives to plug them into your PC and get started.
But you may still encounter challenges if you are still on the older PC version. So, buying M.2 and SATA SSD will make your journey painless.