Disclaimer: This post may contain affiliate links, meaning we get a small commission if you make a purchase through our links, at no cost to you. For more information, please visit our Disclaimer Page.
Since Microsoft released the big update for Windows 10 in November 2015, we can install apps and programs to an external SD card or another drive instead of the C:\ drive (system partition). This feature appeared in Windows 8 but has been removed in Windows 8.1.
Not only SD card or another internal drive, but you can also install new apps and programs to a USB drive and external drive too. This feature is very useful for users who are using a computer with a limited of internal storage as well as tablets and other devices with little storage space. All you need to do is just change some default settings and then insert an SD card into the card reader or plug a USB drive into your computer and then start to install new apps and programs.
Install Apps To An SD Card In Windows 10
Firstly, your device must have an SD or microSD card reader. Also, you will need an appropriate memory card to fit the card reader. If you don't have any memory card yet, visit Amazon.com to find and grab one at an affordable price, starting from $10 for a 32GB of storage. Usually, the microSD card is sold with an SD adapter. You can buy a microSD card and then use on devices that having an SD card slot.
When purchasing a new memory card, not only focus on the price but also need to consider the class of the memory card. You would not want to go with a low-quality memory card that delivers a slow speed, which will slow down the apps or programs.
After you have inserted an SD card, USB drive, or any other external storage source to your device, click on Settings from the Start menu.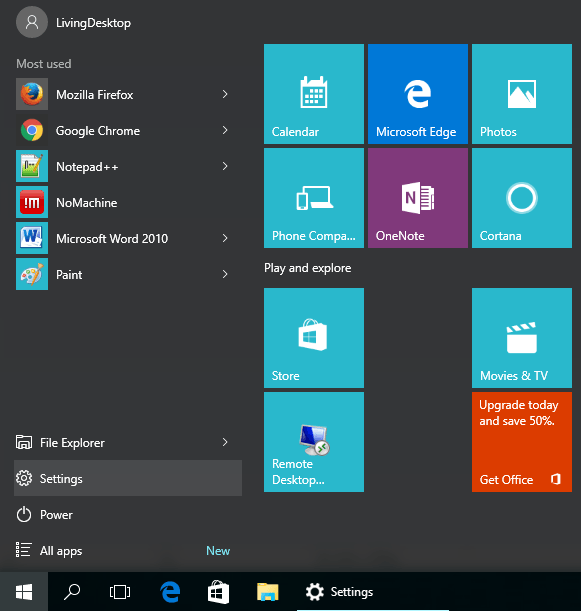 In the Settings window, select "System" and then select "Storage" in the left panel. If you have a memory card inserted correctly, you will see it in the list at the top of the "Storage" screen.
Under "Save locations" section, tap on the drop-down list of "New apps will save to:", and then select your SD card or any other storage solution that you want to keep your apps to. A new "Apply" button will appear beside the drop-down list, click on it to save the change. You can select another internal drive as a new storage source instead of the C: drive (system partition) as well.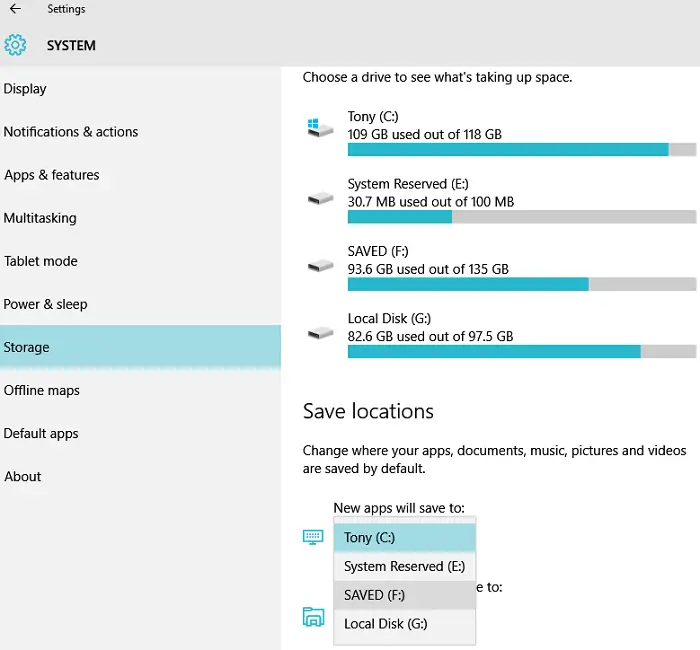 In this section, you can also choose new places to save your documents, pictures, music and video.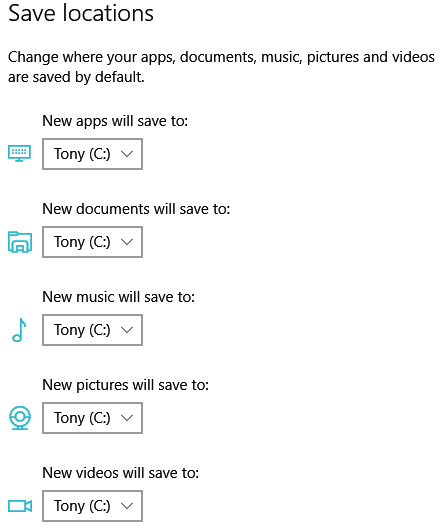 Now you can install new apps and programs, and it will be directly stored in your new storage source (SD card, USB drive or whatever you have selected). This move will help you save storage space on your device and allow you install large apps when you don't have enough internal storage space to keep them.
Move Installed Apps To The New Drive
By enabling this feature in Windows 10, all new apps and programs will be installed and stored in the new storage source that you have selected. But all existing apps will not be able to move to the new location.
If you want to move any app to a new place, just remove it from your computer and reinstall it again. In this installation, it will use the new location to keep your app. To remove any app from your Windows, go to Settings > System > Apps and Features and then click on the app you want to delete and select "Uninstall".
What If You Unplug The SD Card Or USB Drive?
If you unplug your SD card, USB drive or external drive from your computer, where you have installed new apps, you will not be able to open the apps to use. The shortcut of the apps still stay on your desktop or Start menu, but it won't respond or open anything when you click on it. To make these apps work again, you need to connect the storage source to your computer.
How To Stop Apps To Install On The New Drive?
If you don't want to install apps in the new location and want to keep your apps in the system partition (C:), go to Settings > System > Storage. Change "New apps installed to:" option back to the drive that started with C: character, and then click on the "Apply" button.
As I said above, you won't be able to move existing apps that have installed on your computer to a new location. In this case, you won't be able to move installed apps from the SD card back to C: drive. To move these apps, you need to use the old way – remove and reinstall.
Have something to add to this article? Let me know!