Disclaimer: This post may contain affiliate links, meaning we get a small commission if you make a purchase through our links, at no cost to you. For more information, please visit our Disclaimer Page.
Nowadays, we can not imagine our lives without an Internet connection. In the digital age, having no service is limiting and basically cuts you off from your school, work, and social life. Our days would not be complete without checking our social media, email, making some Zoom calls or meetings, or watching some YouTube videos.
There are some situations where your telecommunications provider doesn't work, so you can't connect to the internet using your data. For example, you decided to go camping in the countryside, where you have no service, so is there a chance to get the internet somehow?
It's possible to get the internet where there is no service. There are many helpful methods. These include using a Wi-Fi USB dongle, satellite internet, cable network, mobile router, etc. They require planning beforehand and can not be used last minute.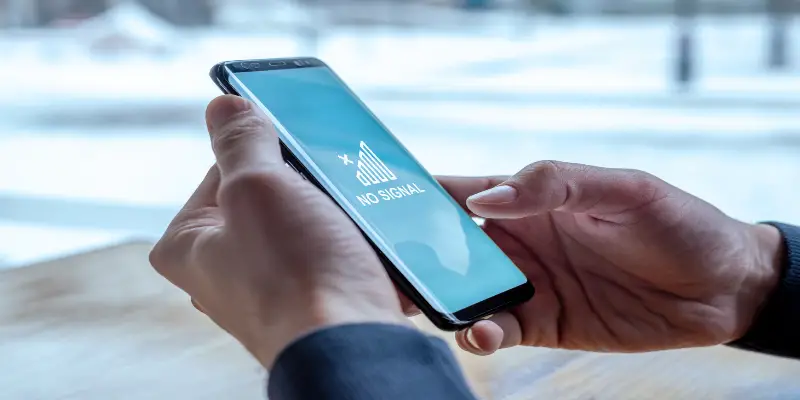 If you're stuck in a situation where you just can't connect to the WiFi at home or use your data on the phone, as there is no service, it can be quite complicated to find the connection to the internet.
You still can try the following methods or consider these options, as they may be very helpful.
Tips On Having The Connection Without Service
There are certain circumstances, where you just don't have service, but you need to connect to the internet. Here are some practical tips and methods that might help you to solve this issue:
Try To Find Public Wi-Fi
This fully depends on your location. There is a chance that you may find nearby public WiFi. The places that usually have free Wi-Fi include public libraries, cafes, restaurants, shops.
You can try to find these places in your area or do research before going somewhere, where you know there might be problems with the internet.
There are also some apps that help find free Wi-Fi, like Wi-Fi Finder for iOS, and WiFi Master for Android.
It's good to remember that if you join public Wi-Fi, you need to make sure the connection is secure and your privacy is safe.
Use A Wi-Fi USB Dongle
You can use a WiFi USB dongle with your laptop, tablet, or phone to connect to the internet no matter where you are.
It serves as a portable internet modem, when you plug it into your laptop, it is automatically connected to a modem.
A Wi-Fi USB dongle is very useful for those who are in places with bad or no service, as they always have access to the internet through this dongle. It's an accessible and cheap version of your mobile hotspot.
It's small and lightweight, so you can definitely take it with you wherever you go. However, there are also downsides to using a Wi-Fi USB dongle.
You will not have a very strong signal and speed compared to using a hotspot.
Bring A Mobile Router With You
Continuing the mobile modem topic, you can use mobile broadband, so you don't need to rely on your laptop to use the mobile hotspot. This is also a great option if several people want to use the internet.
Mobile routers are very helpful in this situation. There are many brands to choose your mobile router from.
Everything depends on your preferences, and how fast the connection should be. Hotspots have roughly a battery life of around 10 hours. Luckily, they can also be used when plugged.
Some of the models have touch screens for configuration. The newer models even have a display that shows the data consumed.
Connect To Someone's Internet
Someone you are spending time with may have a device connected to the internet. In this case, they can share the bandwidth with a laptop.
To do so, they need to go to settings on their computer and find "Network and Internet". Then they need to choose "Mobile Hotspot". After that just choose the connection to share and click On. This works on Windows computers.
Mac users can share Internet connection by simply going to System Preferences and selecting Internet Sharing. Once you have done that, you can choose your connection from the drop-down menu under "Share Your Connection".
Try Using A Cell Phone Booster
A cell phone signal booster is often known as a signal amplifier, cell phone booster, or a cell phone range extender. They have the ability to increase 4G LTE signals across all major North American carriers.
A cell phone booster can help you to improve a signal from the cell tower that is very poor. It boosts the signal, making it stronger in the rarea where you are. A cell phone booster is generally three major components:
● The Antenna – It's typically an outdoor antenna mounted a pole or near the house's roof. These antennas are often directional, meaning they should be aimed directly towards the cell phone tower. An app can help you locate the nearest cell phone tower. It's known as a "Open Signal"
● The signal booster – The signal booster is in charge of enhancing the weak signal from the antenna. The signal is then sent to the indoor antenna via the booster.
● Indoor antenna – This positioned some place inside your home. For a signal, your cell phone will connect to this indoor antenna.
Fortunately, cell phone boosters are not a subscription service. This means that when you buy this device and set it up, you will only pay once, as there are no additional services to be paid for.
You just need to pay for your cellular service to your provider, however, there are no service charges for using the cell phone booster.
If you're looking for a cell phone booster, weboost is the most popular. They also have a money-back guarantee, so you may return the device if it does not function properly for you.
There are many different models and brands of cell phone boosters, you need to decide the reason you need it and what features work best for you.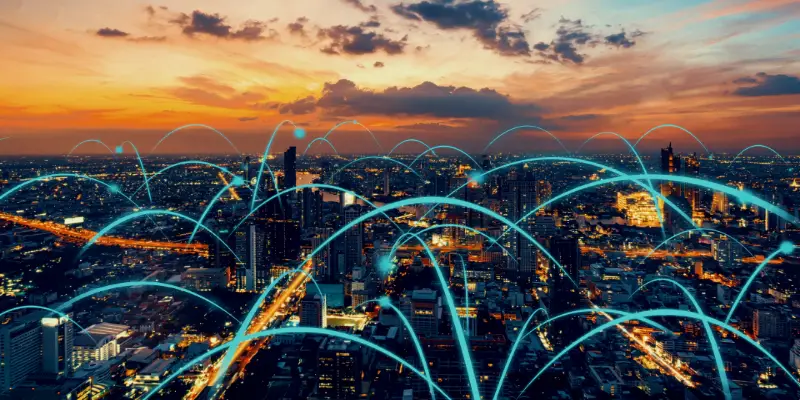 Subscribe To Cable Networks, Like Xfinity
In the United States, there are several cable networks. Cablevision and Comcast's Xfinity are the most popular. Subscribers get access to thousands of Wi-Fi networks throughout the United States. If you're traveling throughout the United States and need a solid and dependable internet connection, this is a great alternative.
In select urban regions, the firms indicated above have their own hotspots. You can have access to such hotspots if you subscribe to their services.
For example, for Xfinity to connect to the internet, you just log into Xfinity Wi-Fi by using your Xfinity login and password.
Many residential communities have lately benefited from the broad deployment of Comcast's WiFi networks, which use separately allocated bandwidth that does not interfere with the services of other home customers.
Due to the fact that cable providers are nearly entirely focused on their markets, the larger firms enable customers from other companies to use their hotspots as well. When you connect to a cable provider hotspot, your browser displays a Wi-Fi login page where you may input your account details.
Put in your login information and log in once, and then you would not have to log in anymore. This means that anywhere you go, you have access to the internet.
This is because the network stores the numeric identity of your computer's unique Wi-Fi adaptor in its database.
Use Fixed Wireless Broadband
In order to be connected to a Wi-Fi network from multiple devices connected to a traditional internet connection. What do you do in this situation? The solution would be using fixed wireless broadband.
Fixed wireless broadband is a high-speed, dependable internet service for rural and underserved locations. This is not satellite internet, and it does not require a cell phone network.
Companies that operate big antennas distributed over rural areas provide fixed wireless internet connection.
Installing an antenna on or near your house may be the first step in setting up this service. But it must be in line of sight with the host's antenna. This will help your antenna to run a Wi-Fi router inside your house.
This is an excellent alternative, particularly if this service is offered in your region. However, you must evaluate the costs of this service and plan ahead of time.
Also, it's good to know that your internet speed will not be very fast compared to the usual internet speed from a mobile hotspot.
That's why you need to consider why you need an internet connection and if your work requires high speed or not. Moreover, there is a chance that there are no companies providing this service in the area where you're going or currently located.
Get A Membership At Unlimitedville
Another way to get internet, where there is no service is getting a membership at Unlimitedville. It is a membership based organization that provides unlimited wireless data to members in various areas throughout the country.
So, if you're in an area without service, it may be a terrific choice for you to utilize. This organization does not resell its data plans with the four main carriers, instead allowing you to utilize their limitless routers and hotspots for the duration of your membership.
This organization states that all carriers with 'unlimited' phone plans are actually very limited. Carriers usually only provide 'unlimited' for data used for phones.
However, hotspot usage is capped at 5-10 GB per month when you use your phone as a hotspot.
Wireless hotspots and routers are available through Unlimitedville to provide unlimited wireless connectivity to any connected device, which can include whatever crosses your mind, including gaming consoles, smart devices, laptops, and other devices.
Unlimitedville hotspot speeds are entirely dependent on what carrier you are using, and how close your location is to cell towers in the area. Unlimitedville offers three different monthly plans, so you can choose the one that suits you best.
Their plans do not require plans, as they offer month-to-month plans, meaning you can cancel your membership any time. Every monthly payment prepays for your next 30-day membership. Because Unlimitedville offers hotspots and routers, the only thing you need to do to cancel your membership is to return the device you were using.
It is critical to note that the monthly payments will remain until the devices are returned. Unlimitedville also has a 14-day money-back guarantee, allowing you to check out their services without fear of financial loss.
If the services provided don't meet your expectations, youneed to return the device to complete a refund of your order.
Unlimitedville is a great option as you're not attached to any contract. As mentioned above, they just offer monthly plans that will prepay for the next 30 days.
It's an amazing option if you're traveling somewhere, where you know you will have no service, for a long period of time.
Unlimitedville offers three membership plans which are the pink plan, the blue plan, and the red plan. You can definitely find the best coverage plan for your circumstances. Their hotspots and routers connect to the cellular towers, which allows the connected device to have an LTE data connection.
This is perfect for those who need a strong and reliable connection for work.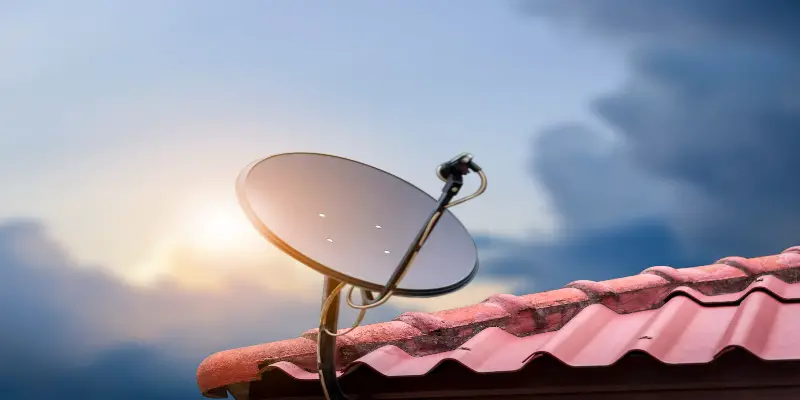 Use Satellite Internet
Another possibility is to use satellite internet. It is a connection where your internet service provider, also known as an ISP, uses a satellite to get the internet signal to you.
Satellite internet works by the provider sending a fiber internet signal to the satellite in orbit. Your satellite dish then captures the internet signal and connects it to you.
Of course, you should not expect satellite internet to be the fastest internet connection and it will not be unlimited. In dire circumstances, it is usually the best option. Viasat (formerly Exede Internet) and HughesNet are two of many satellite internet providers.
There are many different reviews about both providers. Viasat offers faster speeds, more data, and better price plans. And HughesNet offers not a lot of speed, but still, it has very affordable prices.
If you need satellite internet, HughesNet is a great option for a budget-friendly plan that doesn't come with a lot of data or speeds faster than 25 Mbps.
Try The New Gen5 System
The Gen5 satellite internet system is arguably the best satellite internet service that is currently available, and able to deliver service speeds up to broadband levels. EchoStar XIX is also used as a power source.
The provider mentioned above, HughesNet offers the Gen5 system. It has plans ranging from 10 GB to 50GB per month.
You also receive the following with every Gen5 plan:
Fast speed & Upload Speeds- 25 Mbps download and 3 Mbps upload speeds respectively, enabling you to stream your favorite movies and music.
A 50 GB bonus of additional data is generally included with your monthly plan.
Integrated Wi-Fi – Wireless Internet access is included with the HughesNet modem. Therefore, you can connect all your gadgets and stream music and movies from anywhere.
You can also use a mobile app to stay connected to your plan by giving you access to your account information and adjust settings straight from your phone. Other features include:
Usage Meter that allows you to rapidly monitor data usage with the status meter, so you can keep see how many days are remaining in your data cycle.
You can use a fingerprint to access your account information, so you can quickly manage your current plan and see if there's any updates.
Video Data Saver allows you to view more videos while using less data.
Simple Ways To Get Internet Without A Service
There are also some easy ways to get the internet if you don't have a service, that doesn't require any changes in settings or something like that. Here are the most common ways to connect to the internet:
Find The Places Within The Walking Distance From Where You Are That May Have Wi-Fi
This option is quite self-explanatory and easy. There might be a coffee shop, library, or gas station that may have Wi-Fi within the walking distance from where you are.
That's why it's worth trying to find those places if you really need to connect to Wi-Fi. You can also try to find other public places, as most of them should offer free Wi-Fi in the common areas.
Try To Connect To The City Wi-Fi
There is a free city Wi-Fi option. But it's only relevant for those who are in the city that offers Wi-Fi. so your location plays a big role in this case. City Wi-fi also can be slow sometimes, so keep that in mind.
Usually, cities with many tourists offer Wi-Fi. If you're in the countryside, then it's definitely not an option for you.
See If There Are Hotspots Available In A Hotspot Database
There are several apps that have collections of free wireless hotspots available in different cities. You can check that if you really can't find any Wi-Fi to connect to.
Ask Somebody For The Hotspot
If you really need to connect to the internet, but there is no free Wi-Fi nearby, then it's worth trying to ask someone, for example, your neighbor to use their Wi-Fi for a few minutes.
Depending on your situation, you can ask the neighbor to share their hotspot, if they have service. Just explain why you need the WiFi, and why this is an emergency, and they will definitely help you out.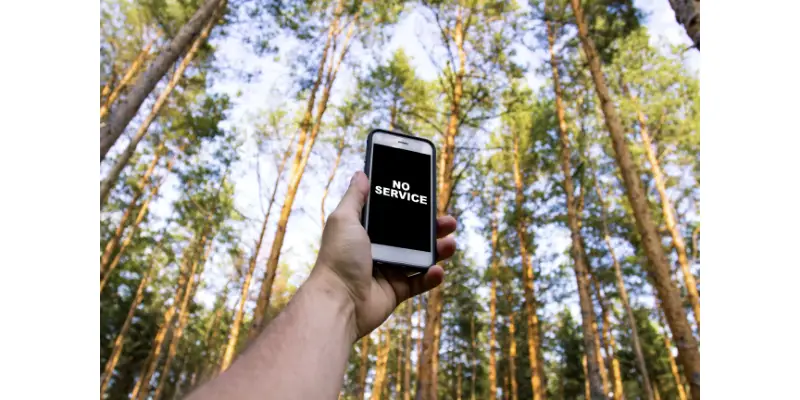 Conclusion
In conclusion, as you see, there are many options you can use in situations you don't have service and can't use your data on the phone. However, these methods require action before you go somewhere, where there might be no service.
You need to consider what internet speed you need and what you are going to use that internet connection for.
There is always an option to take a break and don't connect to the internet. However, if you have an emergency, you should definitely try some of these methods and tricks.
Depending on the length of your stay in place with no service, you can determine which option will suit you best out of those mentioned above.