Disclaimer: This post may contain affiliate links, meaning we get a small commission if you make a purchase through our links, at no cost to you. For more information, please visit our Disclaimer Page.
Whether you're a new Apple user or just a casual user, there's always some application or function that can be confusing. When faced with a new problem on the iPhone, there's a tendency to be stumped.
One of the most effective ways to solve this issue is resetting the network settings on your iPhone. Here you will have to reenter the WiFi passwords, but it's easy. When you can't connect to 5GHz WiFi, it's important to first identify the cause of this problem and then use the right solution.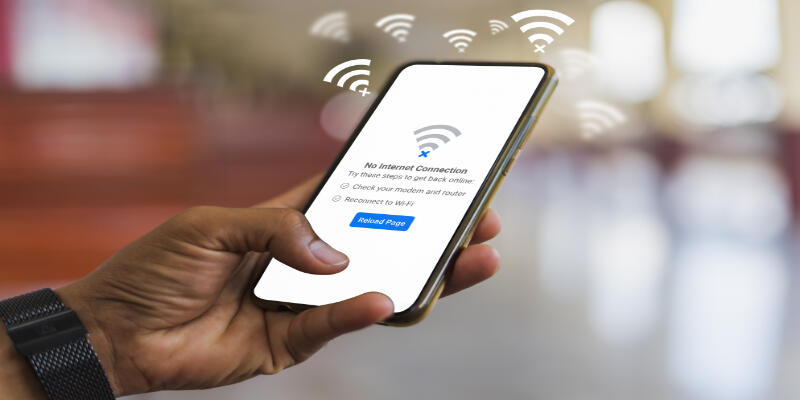 Can An iPhone Connect To 5GHz WiFi?
Yes, you can connect your iPhone to the 5GHz WiFi. Users have shared online that they were able to connect iPhone 5s to the 5GHz network, so if you have an iPhone 5s or newer one, you should not have issues connecting to the network.
It's important to check if your WiFi router supports 5GHz because sometimes this can cause the problem and not your phone.
When you checked everything and made sure the router supports 5GHz, then you can move on to changing some network settings on your iPhone.
What Is The Difference 2.4GHz vs. 5GHz Speed
There are several key aspects that make 2.4GHz and 5GHz very different. 5GHz is known for being much faster than 2.4GHz at closer distances. 2.4GHz is slower, however, it covers longer distances.
The limited range is one of the main downsides of 5GHz. The 2.4GHz WiFi is more popular, however, the number of people using 5GHz increases every day.
So another difference between 2.4GHz and 5GHz is that fewer people are choosing to use 5GHz than they are using 2.4GHz.
The 2.4GHz WiFi gives you an opportunity to gain access to the access point at more further distances. This means you are able to fill larger areas with a good uninterrupted WiFi connection, while for 5GHz you need more access points for the same coverage.
More and more devices become compatible with 5GHz WiFi channels, so soon the situation with the popularity of 5GHz will change.
For now, fewer people are using the 5GHz channels to connect, so they aren't very crowded. It also means that users are able to use the WiFi connections with less interference which means faster connection speed.
Also, another important thing to mention is that a 2.4GHz connection can transmit through hard objects like walls, while 5GHz doesn't penetrate objects, which influences the range of the network and makes it smaller compared to 2.4GHz.
It's good to know that Apple has created a certain way to cover more distances with 5GHz by placing Captive Apple Portals at popular stores and coffee shops like Starbucks. This technology allows users to access free fast WiFi wherever they go.
The 5GHz technology is relatively new, as the WiFi Alliance certified 5GHz devices as "WiFi Certified" only in 2016.
In conclusion, the 5GHz is an amazing option for speed. The choice between 2.4GHz and 5GHz completely depends on your preferences and the work you do.
5GHz is less congested, providing fast speed, while 2.4GHz covers long ranges and provides good transmission through walls. The best option will be having 5GHz WiFi for those who use it for multi-purpose work.
Why Is Your 5GHz WiFi Not Showing Up On The iPhone?
IEEE 802.11 allows the iPhone to connect to the Wireless Local Area Networks (WLAN). There are 17 different versions of IEEE 802.11, but the most common are 802.11 a/b/g/n/ac.
The 802.11 a/ac work with 5GHz WiFi, meaning they are compatible with this connection.
If you have an older model of an iPhone, the chances are that your phone will automatically connect to the 2.4GHz network, but not to 5GHz. However, even older iPhones are compatible with both 2.4GHz and 5GHz.
The problem with connecting to older models of iPhones, like for example, the iPhone 5s is because when this model was released the 5GHz channels were rare.
Even if both 2.4GHz and 5 GHz networks are turned on, your iPhone is going to connect to the stronger connection. If you are located close to the 5GHz network, your phone will connect to it. If your phone is not connecting to 5GHz, and you tried to even move closer to the router, there are some simple methods that will help.
You can force your iPhone to use 5GHz connections. To do so, you will have to add some changes in the settings on your wireless router.
You can also do this under the device's settings, and advanced settings. You should set your WiFi router to use 5GHz channels only.
This works if you have access to your wireless router, however, there are no options on the iPhone to force a 5GHz connection.
Also, if you've bought or are buying the new iPhone 12, you can enable the WiFi hotspots over 5GHz. With this feature, the users will be able to use their laptops or iPads to WiFi and take advantage of the fast speed of 5GHz bands.
The hotspots are not meant for powering the whole house, but they are usually used for connection sharing with other devices.
Users should also note that 5GHz will be enabled by default when you turn on the hotspot feature. you will also be able to turn it back to the 2.4GHz. Then you will need to add changes in the network settings.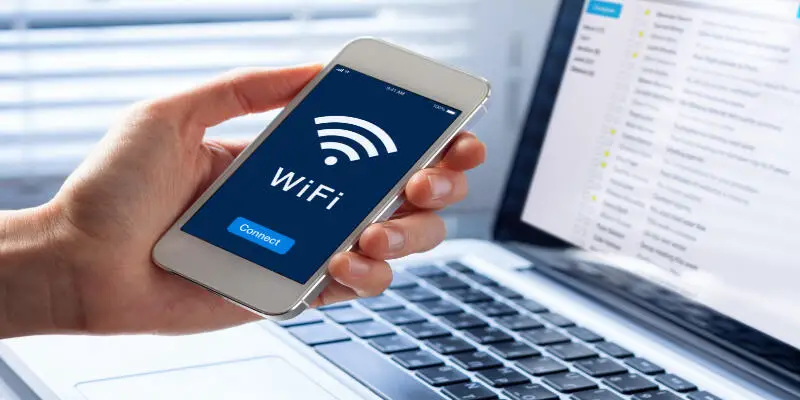 How Do You Enable 5GHz WiFi On iPhone?
You for sure can take advantage of using 5GHz WiFi channels on the newer models of iPhones, but if you have older models like iPhone 5, it is still possible.
There are low chances that you own an older iPhone than iPhone 5. If you want to use 5GHz WiFi, you need to upgrade to a newer phone model.
If you have a new model of the iPhone, but still faced this issue, you should add some changes in the settings.
It's recommended to go to Settings on the phone. Then choose Wireless Networks and go to your wireless network to DTIMModifying the DTIM period: one can use a default DTIM period of 1 for compatibility.
But many devices, as well as iOS and Android phones, will show better performance and battery life if this period is set to 3. That's why you need to change the DTIM period from 1 to 3 to connect to 5GHz.
The issue may also appear when the WiFi router is set up, and then instead of detecting both 2.4GHz and 5GHz bandwidth signals, it only sees the 2.4GHz bandwidth signal.
You need to make sure there are different names for your 2.4 GHz and 5 GHz bands, as then you will be sure that your device chooses the right network.
Here is what else you can do to connect your iPhone to a 5GHz network:
● Restart your phone and try to connect again
● Tap on the network name and then click on forget it
● Reset the network settings
● Restore the iOS through iTunes on your computer (before doing that, make sure you made a backup).
At first, Apple has only built support for 802.11n WiFi on the 5GHz band into their computers. But now the iPhones also have this support.
To set up the network, you need to go to settings and try resetting network settings. Here you will definitely need to reenter the WiFi password, so make sure you have it somewhere close.