Disclaimer: This post may contain affiliate links, meaning we get a small commission if you make a purchase through our links, at no cost to you. For more information, please visit our Disclaimer Page.
Protecting your sensitive data is of the utmost importance. Whether you are a professional who deals with classified or sensitive information, or a private person that has a need for privacy, it is important that you take steps to protect yourself.
SD cards have the ability to protect your data from erasure or alteration, as well as prevent unauthorized users from accessing it. You'll need to use a program with the necessary security features to password-protect and encrypt your data for this.
Unless you secure your SD card with a password and encrypt it, anyone could remove your memory card from your digital device and misuse it.
With access to your data, such as images or videos, one can post your photos on third-party websites or share your sensitive details on public websites without your consent or awareness.
It is often advisable to use the utility that the vendor provides to secure your micro SD card.
Can You Password Protect A Micro SD Card?
By encrypting each folder on your SD card, you are password protecting it from potential misuse and preventing people from accessing your information without your consent.
For one to access your encrypted files and folders, they must have the right password. As a result, if you lose your computer or phone, no one will be able to access the data on your storage card.
Password protecting your microSD is particularly important if you have confidential documents or personal images on your SD card.
You won't have to worry about personal exposure or your company's confidential documents landing in the wrong hands.
How To Password Protect A Micro SD Card
Encryption is a popular method of securing data automatically. This procedure necessitates the use of a software program that encrypts the data so that people won't have access to it without your authorization.
It will prevent others from accessing the file, ensuring that no one without the right password or key code can access the data that you've stored in the SD card.
The most widely used SD memory card encryption software is the Free Password Protect SD Memory Card.
To prevent unauthorized access, you either choose to encrypt the entire SD card or to only encrypt your confidential files and make the others accessible.
Can You Put A Password On A Micro SD Card Using Windows / Mac software/ Android?
Do you have Mac, Windows PC or an Android Phone? You can easily and conveniently put a password on your microSD card using either of them. I have outlined the steps to follow in each of the devices below:
Putting a password on a micro SD card using Windows
Step 1: Plug in your micro SD Card, Download, Install and Run USB Security software
To begin locking an SD card, you'll need a USB SD card reader or a device with a Windows operating system. Once you have that, download "USBSecurity.exe" software and choose a drive to install it on.
Step 2: Input your preferred password and lock your SD Card
Launch the "USBSecurity.exe" software from your SD drive. In a new window, enter your preferred password and confirm it. You can provide a password hint if you think it will help you remember the password in the future.
Then, to lock the SD drive, press the "Protect" button.
Putting A Password On A Micro SD Card Using Mac
This process erases everything on the SD card. Therefore, ensure that you copy all your files on the card to your local storage before you begin the encryption process. After you have encrypted your SD card, you can copy it all back.
Step 1: Open Finder, then right-click on the SD card listing in the left pane.
Step 2: Select the Encrypt entry from the menu.
Step 3: You will receive a prompt to type and verify your preferred password and then add a password hint.
Step 4: After filling out the necessary information, click Encrypt Disk.
Step 5: When you complete this process, you can add your files back to the disk and then eject the card from the computer.
You have successfully encrypted your SD card!
Putting A Password On A Micro SD Card Using Android
Setting a password for your microSD on your phone will require you to set up a phone password.
If you don't protect your phone with a password, you won't be able to pick any files to encrypt from the Encrypt SD card menu.
Set up a pin, password or pattern lock, then follow the steps below.
Step 1: Tap the "Settings" icon on your Android phone.
Step 2: Tap the "Security" button and then "Encryption."
Step 3: Tap the "Encrypt External SD card" button located at the top of the menu to begin the encryption process.
Step 4: Follow the on-screen instructions to create a password for your SD card. Your password must have at least one letter and be at least six characters long.
Step 5: Add your password a second time to confirm it. It's a good idea to write down your password for your safety. Keep it in a safe place where other people can't access it easily.
Step 6: Return to the external SD card menu after you've set your new password.
You should be able to pick and choose which types of files to encrypt on your SD card. If you want to encrypt media files, be aware that the process will take some time, depending on the number of files on your phone.
Your phone will show you a few pages of details that will walk you through the encryption process.
Step 7: Check that you've read the specifics, and the encryption process will begin.
Your phone will return you to your home screen once it has completed the operation.
To confirm that the encryption process was a success, you can check in the "Notifications" section. You will receive the message or a modification of the message "Encryption Complete".
The password or key that you set is usually saved in the Random Access Memory (RAM) of your mobile device (RAM). In theory, once you access a file from your encrypted SD card, Android first searches the RAM for the key, which it then uses to decrypt the file.
This is why dealing with encrypted data takes longer than dealing with non-encrypted data.
In addition, when you encrypt your SD card in one android device, you will not be able to read the SD card on another device.
Since the RAM will be different for the new device, it won't have the key to open your encrypted files and folders. If you wish to change your device, you'll have to decrypt the files then encrypt them again in the new device.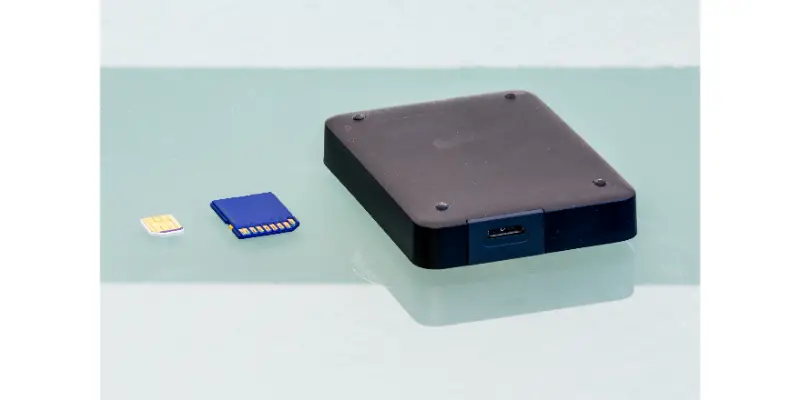 What Programs Can You Use To Put A Password On A Micro SD Card?
There are several SD card lockers available on the Internet, so getting one is not a problem. You, however, want one that is both reliable and appropriate. There are a few free and paid software options for the Windows platform, such as BitLocker and USB Security.
You can encrypt the SD card in Windows with this program. The encrypted SD card, however, will not work on any other device.
If you are using Android, you can use the File Encrypt app, which enables you to encrypt a file or folder and apply a password. For complete protection, delete the master file. You will later use the same software to decrypt the encrypted file.
To encrypt a folder with a password, long tap it. After encryption, it will give you the option of automatically deleting the master file. If you don't, you'll have to manually uninstall all of the originals after encryption.
Conclusion
SD cards aid significantly in the memory management field of digital items. They are small and compact yet have a great storage capacity, allowing them to store numerous photos and media files. You should therefore secure it from data leakage breach using the ways above.