Disclaimer: This post may contain affiliate links, meaning we get a small commission if you make a purchase through our links, at no cost to you. For more information, please visit our Disclaimer Page.
It is without a doubt that the advent of technology has made our lives easier. This includes portable devices such as flash drives, HDDs, and even pen drives, enabling us to carry data with us. However, as much as you enjoy the benefits of increased portability, also consider all the privacy risks involved. Thus, there is a need to protect your hard drive to ensure that your privacy cannot be compromised even if it falls into the wrong hands.
You can use several software programs such as VeraCrypt, or BitLocker, which include encryption, password protection, and access control that enable you to limit and prevent unauthorized access to the data stored in your hard drive.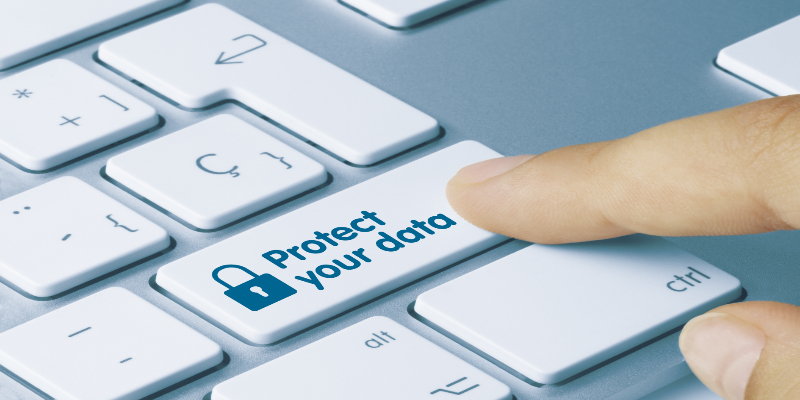 While some people may not know the advantages of securing their hard drive if it stores crucial data, a more significant percentage don't know how to password protect the hard drive and instead assume that it is a very involving process.
However, this post will focus on some ways you can password-protect the hard drive, thus ensuring that its content remains safe.
Can You Password Protect Hard Drives?
Since portable hard drives are prone to theft or virus attacks when they fall into the wrong hands, some manufacturers include locker software in their program.
This way, you can use the program to password protect the drive, thus restricting unwanted access.
Alternatively, you can use third-party applications such as StorageCrypt, which requires password authentication to display the drive's contents.
Besides password protection, using third-party software applications avails many advantages such as seamless encryption and decryption mode, software portability, and hidden drives.
How Can You Put A Password On Hard Drive?
Using Third-Party Solutions
Since most hard drives don't feature built-in security software, you require third-party solutions to secure the data. I resorted to such solutions not because it was the last option but because the solutions offer versatile options.
I use StorageCrypt to secure my hard drive since it features a seamless encryption and decryption process that you may find convenient.
The following are some advantages of using StorageCrypt.
Password protection: This includes encrypting your hard drive with a password
Hidden drives: Automatically unmount protected drives hence protecting the drive from formatting since it prevents access to data.
Speed: Features quick encryption and decryption mode while also supporting deep encryption mode, which is more secured but takes longer to encrypt.
Software portability: Although the portable mode works on Windows only, it enables you to encrypt and decrypt hard drives independently.
How to Put a Password Using StorageCrypt
Use the steps below to encrypt your hard drive with a password.
Download the StorageCrypt software and install it on your device
Connect your hard drive and start the StorageCrypt application.
 Select the device you wish to encrypt from the Choose Disk Drive option
Under Encryption mode, select the type of encryption you need. Quick encryption is relatively faster but is less secure compared to deep encryption mode.
Enter and re-enter your password before clicking the Encrypt button to lock your drive.
You should hear a beep sound that confirms whether the operation was a success. If it succeeded, your hard drive is now encrypted and password protected.
Multi-Layered Protection
Before everything else, ensure that you are comfortable using all these programs before implementing multi-layered security protection.
Even though it doesn't require any tech-savviness, I recommend you attempt the procedure below if you have a basic understanding of these programs.
This process involves partitioning the hard drive before encrypting each partition independently. Afterward, using the StorageCrypt software, assign private and public access to each of the partitions.
Consider having one private partition for your personal files, one public partition for general files, and another public partition that allows you to transfer files among different devices.
Now, you can encrypt the private partition using StorageCrypt and use USB copy protection to secure the other two public partitions.
However, ensure that you assign read-only access to the available partition and provide write access to the partition that allows data transfer.
Finally, you can use your computer's built-in software to offer overall protection to the hard drive. Implementing such layered security protects your hard drive from common threats.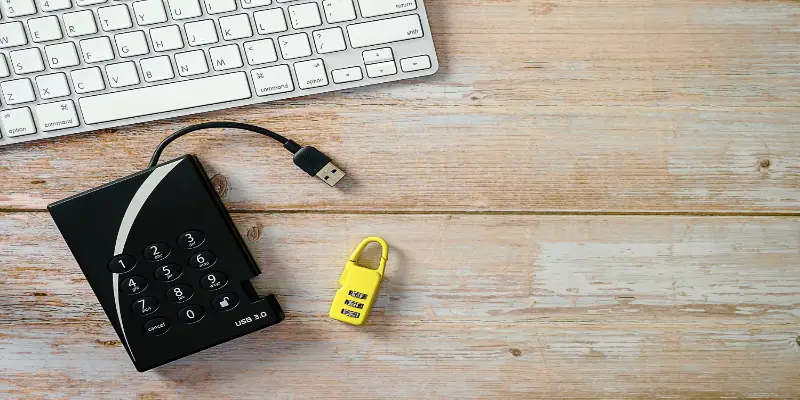 How Can You Put A Password On External Hard Drive?
USB Copy Protection
USB Copy Protection, a third-party software, works similarly to StorageCrypt but offers multiple user access levels in addition to encryption. This feature allows you to disable the write access on external hard drives, thus protecting the drives when mounted on infected systems. USB Copy Protection features advantages such as:
Copy Protection: This prevents unauthorized alteration of the contents in your hard drive, such as the read and write actions.
Multi-Format support: It involves restricting access to several formats, including DOC, PDF, Flash, TXT, PSD, CAD, EXE, PPT, and XLS, among others.
Portability: Offers protection on your external hard drive without having to install any software on other devices.
Encryption: USB Copy Protection uses AES 256bit encryption to secure data.
How To encrypt Your External HDD Using USB Copy Protection
Download the USB Copy Protection software on your computer and install it
Plug in the external hard drive and launch the software.
Check for the hard drive's name in the Select Drives tab. Refresh the page if your drive doesn't show up.
Select the Permission tab, which allows you to assign different levels of access to each user. You can assign different access levels using the Custom, Full, Read or Write operations. Moreover, you can set passwords for different users.
If you selected the Custom access, you can overtly define particular user access permissions
Proceed to the Options tab, which allows you to configure the Client title and name and the encryption strength.
Click the Encrypt Now option to complete the encryption and enter your password and confirm before clicking on Protect.
Your hard drive is fully protected with the configured access permissions. To log in, enter valid administrative credentials.
Using A Third-Party Encryption Program
You can also encrypt your external hard drive with a reliable third-party encryption program.
In the best of your interest, you can download encryption software such as AxCrypt, TrueCrypt, or VeraCrypt that helps to password protect external drives.
However, unlike BitLocker, most third-party encryption software does not offer a recovery key. So, ensure that you backup your password manually or choose a password you are unlikely to forget.
Thus, windows users should use BitLocker to password-protect their external hard disk drives.
Can You Put A Password On Hard Drive Using Windows / Mac Software?
Since hard drives are accessible to anyone, it is vital to encrypt yours to guarantee maximum protection of your data. Encrypting your hard drive ensures that it prompts for a password before permitting access to its contents.
So, if you still haven't secured your hard drives, here are some ways to do so in both Windows and Mac OS.
Password Protecting Hard Drive Using Mac Software
Mac OS features two built-in software to help you encrypt the hard drive, thus eliminating the need to install external software.
Although I tried these methods on my macOS High Sierra MacBook Pro, it should work on older versions such as macOS Sierra as well.
Using Finder
Start the Finder window and search for your hard drive
Right-click on the drive icon and select the Encrypt option from the pop-up menu
This prompts a dialogue box to open, which asks you to create a password and password hint as well. Enter the password which you will use to decrypt the hard drive once you encrypt it. Next, write the password hint, which will be visible to all users.
This procedure encrypts your hard drive in the background. The time it takes to complete the encryption depends on the size of the files in it. Thus, if you have a big hard drive, it is probably better to let the encryption process run overnight.
Using The Disk Utility Tool (DUT)
Since using the built-in Disk Utility Tool on Mac erases all the data before encrypting the hard drive, it is advisable to use it on new hard drives or after a backup.
The DUT also allows you to partition your drive before encrypting the partitions you want encrypted.
Password Protect Hard Drive On Windows Software.
Similar to macOS, Windows also features an in-built encryption software known as BitLocker Drive Encryption.
Available in Windows OS editions, including Windows Vista, BitLocker is designed to secure data by providing encryption for the entire hard drive.
Alternatively, windows support third-party programs for those who don't want to use the built-in software to encrypt their hard drives.
Some of the software is free, while others may require you to pay for the premium version.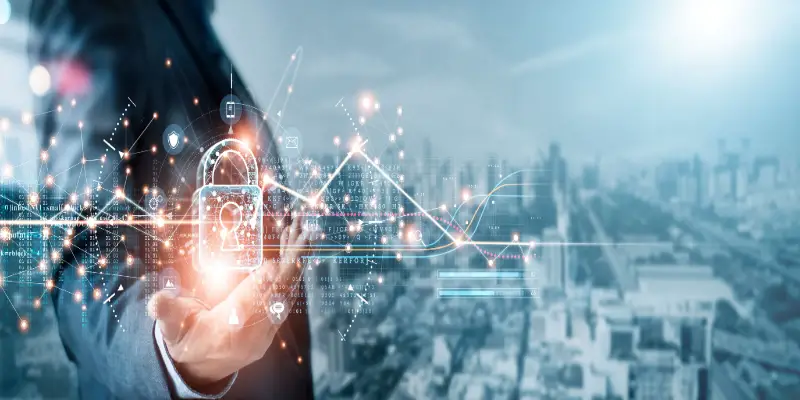 What Programs Can You Use To Put A Password On Hard Drive?
BitLocker
Windows 10 features a built-in encryption tool that works on the Enterprise and Pro versions.
This means that you will have to go for third-party software to encrypt your hard drive if you are using the home version.
Bitlocker encrypts your hard drive and allows you to choose where you can save the recovery key if you forget the password.
VeraCrypt
You can also use VeraCrypt, advanced third-party software to put passwords on your hard drive.
In addition to password protection, VeraCrypt also enhances security for algorithms that carry system and partition encryptions.
As a result, it still offers security after severe attacks such as brute force assaults.
Also, since it is not limited to encrypt the external drive only, you can also use it to encrypt windows drive partitions.
DiskCryptor
Although it works on both Mac and Windows OS, DiskCryptor is open-source encryption software that makes it unfit for securing highly confidential information.
However, you can use it to encrypt both system disk partitions and external hard disk drives.
Cryptainer LE
This is a reliable software that you can use to protect your external HDD with passwords at no cost.
Similar to VeraCrypt, you can also use Cryptainer LE to encrypt confidential data on any device. I use it on my drive to protect my folders and files that contain media.
SafeHouse explorer
SfaeHouse explorer is available for those who need to password-protect their hard drives.
Besides being able to secure any drive, which includes memory sticks and USB flash drives, you can use the SafeHouse encryption program to secure servers, networks, CDs and DVDs, and iPods as well.
What makes it a top choice for many is that it uses a 256bit advanced encryption system that protects your files from brute force attacks.
BoxCryptor
Last on the list is the BoxCryptor encryption software. It features both a free and premium version that you can use depending on the level of protection you seek.
Besides being one of the advanced software in the current era, it utilizes an advanced AES-256 and RSA encryption to secure your external hard drives.
Conclusion
Encrypting your hard drive helps to secure your data against virus attacks or theft. Depending on the level of protection you wish for, most encryption programs allow you to define the layers you want to protect.
With the above information, you can prevent unauthorized access to your information.