Disclaimer: This post may contain affiliate links, meaning we get a small commission if you make a purchase through our links, at no cost to you. For more information, please visit our Disclaimer Page.
Printers have been our means to convert soft copies of a document or image, into a fine hard printout. The printer has been a trusted device in companies in homes, schools, offices, and many more businesses around the world. Upgrades to printers have been endless, to the point where you can also print something out of your tablet.
Printing from a tablet to a printer is possible, and it is very easy to do. Modern add-ons to technology such as adapters and wireless connections play a huge role in allowing printers to operate with handheld devices.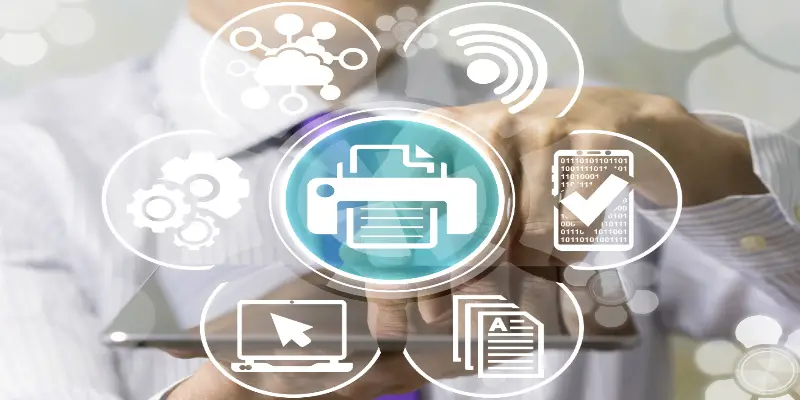 I am going to explain the complex mechanism of how the tablet works in printing out documents saved in it. In this way, you will never have to transfer files to a computer just to print them out.
Can You Print From A Tablet To A Printer?
Printing a document from a handheld device is a very surprising feature, knowing how printers are built to connect with computers only. This is a brand new feature that has created its very own set of advantages that printing on a computer does not have.
You don't have to worry about the quality of the printout because it will be as clear as the file itself when displayed on your tablet.
Tablets are known to act like our computers, just like smartphones. Smartphones and tablets have almost the same components, with the tablet having a larger and broader screen and build.
Tablets act as a handy tool for doing office work such as reading documents, viewing systems such as PoS, and editing spreadsheets.
This is much better to use for serious work than phones which are usually meant for communication and entertainment due to their build.
Because of the way tablets are being used, people can use them just like a computer for doing work. Some even buy a keyboard meant for tablets for them to easily type, while others even have a device that acts as a mouse.
Tablets are great to have accessories added with them to make it work as a small laptop. After all, the specifications of the latest tablet models made it as fast and reliable as a computer.
As a result of the usefulness of a tablet to perform tasks that a computer can do, printer manufacturers have made tablets even better to operate.
This time, even printers understand how the tablets communicate with other devices for it to mimic what a computer can do. In this way, it can easily let you print out documents in just a few taps on your screen.
Advantages Of Printing With A Tablet
Here are the unexpected benefits of printing using your tablet:
It can greatly save you some time because you don't need to turn on your computer and spend a few minutes transferring the files from a tablet to a PC. Just print out the file, and just forget about turning on the PC anymore.
Printing from a tablet is great for emergencies where you suddenly need to print something, but you're outside and on the way to somewhere. You can just pass by an internet cafe or a shop that offers a printing service, and connect your tablet over to the printer. After all, most modern internet cafes have printers that integrate well with tablets.
This also saves you a lot of money, especially if you don't have a laptop at home. This also eliminates the need to buy a separate flash drive just to save your documents for printing.
It is also good for your privacy because you don't need to transfer confidential files to another device, which you might leave there before printing it out.
Most modern printer models have it. The leading brands in the market made sure that they are added to all the latest printer models.
Disadvantages Of Printing With A Tablet
Sadly, there are still drawbacks as there is no such thing as perfect technology. Gladly, these are just minor problems that are worth reminding you for:
If the tablet gets lost or stolen, you will never be able to retrieve the files you're going to print out. So be sure to back up the documents if they are very important before or after you get them printed.
There are a lot of steps that you need to take to accomplish this feat, unlike in PCs where all you need is to install one driver before printing documents out.
Printing with a tablet does not work with all printer models, particularly the older ones. Some manufacturers have not added this nifty feature yet.
A Good Tool With A Bad Fate
Printing using a tablet works with different methods. Before, the main method that people use when printing files out of a tablet is through Google Cloud Printing.
Unfortunately, Google ended the cloud printing service before the end of 2020. It was a very handy tool that can let you connect to a printer for wireless printing.
Google Cloud Printing was a very handy feature for wireless printing and to avoid the need to transfer files to a computer. It is meant for Android devices and only requires you to have an internet connection to get everything done.
It is also extremely affordable. It is just too bad that this tool was depreciated by Google since other printing methods with tablets have been developed.
Printing with a tablet saves a great deal of time to many busy people around the world. Do not worry if Google Cloud Printing is gone (or if you are used to it).
Gladly, there are other methods that you can consider to achieve this wonderful feat. As we go further, I will provide you various steps on how to connect your tablet to a printer through easy, user-friendly steps.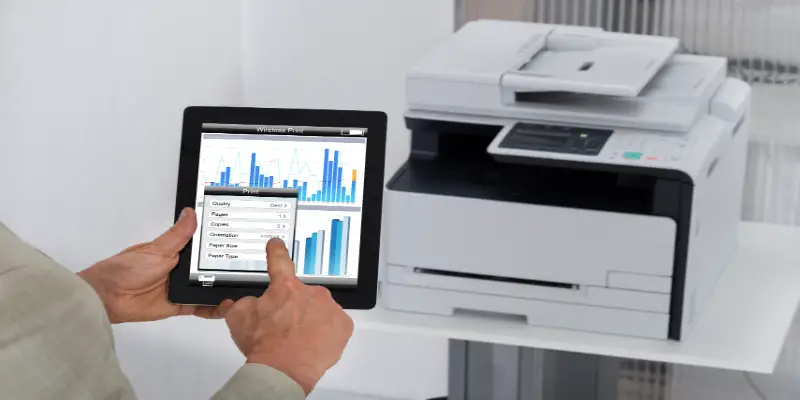 How Do You Connect A Tablet To A Printer?
Before you go ahead and start printing, you have to provide a connection from your tablet to the printer.
PCs work the same way, where you use a USB cable to connect the printer to the keyboard for it to transmit the data that will be printed as a hard copy. To get started, here are the methods that you can try out:
Connect Via App
Since some manufacturers have an app for phones that can integrate into their printers, the newest printer models have apps that can be installed through a computer, and one app for the phone or tablet.
The most famous brands such as Canon and Lexmark have these nifty apps prepared for your needs in wireless printing. You can easily search them in the Play Store, App Store, or just by searching it online.
Connect Via Email
You can also do email printing so then you won't have to download an app to a computer and phone, and you don't need special accessories anymore.
All you have to do is send or forward the email with the file as the attachment, then send it to the specific address of your printer.
To set up an email address for your printer, and due to different steps for varying printer make and models, be sure to follow the steps on the printer manual or contact its manufacturer.
Connect Via WiFi Printer
WiFi printers are one of the main reasons why it's possible to print documents from a tablet. The WiFi connection provided by the printer allows it to transmit data with wireless devices such as smartphones and tablets, making it way easier to print.
The data transmission is also fast with this, thanks to the WiFi receivers of the printers that act the same as high-performance phones of today.
To do this step, just connect the WiFi of the printer and device to the same network. Then on your tablet, go to Settings > Connected Devices > Connection Preferences > Printing or Printing Service > Default Print Service. The Wi-Fi printer should come out at this point.
As you can see, setting up your printer and tablet for wireless printing is not a very hard task at all.
After I discuss the different steps on how to print after connecting to each device, you will also learn that you can also do a wired connection for your tablet when printing.
How Do You Print From A Tablet?
Now that everything is connected, you can finally print out the documents on paper. Take note that there are requirements that you need to install on your tablet, much like how printer drivers should be installed on your computer.
In that way, the data you're transmitting to the printer will be understood by the output device. Here are the steps to finally get that document printed out:
Via Printer App
You can go ahead and use the printer app to print out certain documents. However, you might need to use a PC for this if the printer is connected there. The app of the PC and the tablet will connect to transfer the data to be printer via the internet. To correctly do the steps, refer to your printer app's manual or contact their customer service for further details.
Via E-Mail
Once the e-mail of your printer is set up with your e-mail, your device will receive a code to confirm the print that's queued on the system.
The code that was mentioned earlier, which you will receive in your e-mail, must be entered on the phone once prompted. If all the steps were done correctly, you may print using this method.
Via WiFi Printer
Once connected to the printer via WiFi network, go to any app where your desired photo or document is, look for its menu button, then choose the print.
You will be prompted to select a connected printer. Just choose the one you set up earlier. Just tap that printer icon to gets started.
Printing using a wireless connection is fun and convenient to do in the office and at home. All you have to worry about is your internet connection if it's good.
That's how awesome technology has become in integrating devices, making it seem like every electronic is connected to the internet nowadays.
How Do You Connect Tablet To A Wired Printer?
It is also possible for you to connect the tablet to a wired printer, just like how the old technique is done to a computer. Thanks to the power of adapters and modern device drivers, almost any device can be connected. Here are the steps that you need to take:
Connect a USB converter to your tablet or smartphone.
Use a USB Type-B cable to your printer and the converter.
You will receive some plug-ins. These are just like the drivers for PC once you connect your printer. Install them on your device to get started.
Adapters and converters have played a huge role in making different devices compatible with each other. Gladly, you can also do this on your smartphone, not only on the tablet.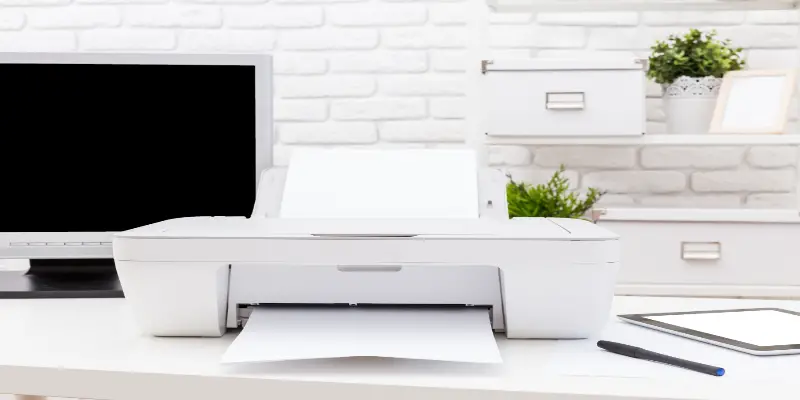 Conclusion
Technology has become a bridge to connect devices that everyone did not expect to work well with one another. Printing with a tablet is something that should be amazed upon because it unexpectedly made our work easier than before.