Disclaimer: This post may contain affiliate links, meaning we get a small commission if you make a purchase through our links, at no cost to you. For more information, please visit our Disclaimer Page.
PlayStation does not make a one-handed controllers. There are, however, one-handed versions of the PS4 controller available to buy, but no PS5 ones. Third-party companies, such as Evil and Ben Heck, built PS4 one-handed controllers to ensure that gamers with limited mobility can enjoy the game.
Is there a one-handed ps5 controller for the disabled?
There is currently a one-handed PS5 controller that was created by a YouTuber. PlayStation, on the other hand, has shown little or no interest over the years in producing modified versions of its controllers.
The information about the PlayStation 5's accessibility features was released by Sony to underline that the game is designed for everyone. The development team made efforts to add these features so that impaired gamers can start playing right away.
Despite being one of the leading firms in terms of in-game accessibility features, Sony is unquestionably behind in terms of hardware.
The gaming community, on the other hand, has found a solution to the disabled's problem. Even though attempts have been made, I believe that much more may be done, primarily by game makers, to address mobility issues for game fans.
Furthermore, a gaming community and 3D printers organized a controller mod contest to assist those with physical limitations in playing video games. Akaki Kuumeri, a YouTuber, designed a fantastic one-handed controller adapter for PS5's DualSense.
In a YouTube video, Kuumeri explained how the controller works. The one-handed controller comes with 3D prints that snap onto the DualSense on the PS5. In addition, depending on the player, the controller can be changed for both right and left hands.
The second analog can be controlled by balancing and moving the controller on a flat surface. With the help of a rubber shoe that sits beneath Kuumeri's one-handed controller, it balances the entire controller when it's on a flat surface or when placed in the lap.
In addition, the shoulder buttons have been relocated to the opposite side, so you may press all four with your index finger. They're positioned so that pressing L2 & R2 at the same time is doable.
Big thanks to Prusa Printers for hosting the recently finished Prusa Printers 3D Contest: Snap-On Controller Mods, which was designed to assist the disabled in playing new games.
Prusa Printers has the Kuumeri 3D DualSense attachment print available for download here. Also, the DualSense is symmetric, you can print the mirror pieces to build a left-hand controller.
Does a PS4 have a one-handed controller?
Many people in the gaming business have adapted PlayStation game controllers to allow persons with limited movement to enjoy the game. PlayStation does not make a one-handed PS4 controller, although a customized version of the PS4 controller that is generally one-handed can be acquired.
This works by moving the Inputs that are unreachable on the main PS4 controller to the opposite side on the one-handed controllers, where they may be reached with the user's dominant hand. Below are some of the adapted PS4 One-handed controllers.
PS4 one-handed controller by Evil
Evilcontrollers is well-known among serious gamers for its customized controllers and custom visuals. They are dedicated to making gaming accessible to disabled players. The company, on the other hand, does not produce a line of ready-to-use controllers. Instead, it works with pre-made PS4 controllers, which it modifies by adding extra Paddles and Buttons to suit the user's preferences based on demand.
Evil demonstrated the one-handed controller in a YouTube video. The controller was built, according to the developer, so that all the controller's inputs may be controlled with just one hand. As a result, all inputs are moved to a more accessible location near the dominant hand.
Two paddles sit beneath the middle and ring fingers on the back of the PS4 one-handed controller. The paddles can be adjusted to any of the controller's inputs. For example, by setting the paddles at L1 & L2, you will be able to press L1, R1, L2, and R2 simultaneously with just one hand.
The second analog is likewise formed and can be relocated to a more mobile location on your body. For example, you can place the analog button beneath your foot and use your foot to control it. It can also be controlled by the wrist, shoulder, elbow, mouth, or chin.
The analog key on the PS4 one-handed controller can also be mounted on a handle provided by the Evil. Hence, the analog key can be mounted beneath the pad using the handle mount. As a result, you can control it with just one hand simply moving the controller across your lap.
Check here for the PS4 one-handed controller by Evil information and price.
PS4 one-handed controller by Ben Heck
Benjamin Heckendorn, a YouTuber and modder, created yet another PS4 one-handed controller. Ben Heck has a series of videos in which he breaks up a PlayStation 4 controller and modifies it using 3D-printed pieces to make it single-handed.
Ben Heck has successfully moded a one-handed controller for the Xbox 360 and Xbox One, in addition to the PS4. He did, however, contribute his creation to the Able Gamers Foundation, a charity that works to make video games more accessible to people with disabilities.
The theory of operation, like with practically every one-handed controller, is to relocate all controls to one side of the controller. As a result, a person with only one hand can access everything.
The 2020 model is by far Ben Heck's best one-handed PS4 controller. It was an upgrade over the modded controller before it. It featured a redesigned and upgraded lower analog stick that acts as an additional handle grip on the new one-handed controller.
Ben uses a Hori Mini USB wired controller that can be connected by plugging it into your PS4 and pressing the PlayStation button. It can also be used with a computer in the same way.
More information regarding Ben Heck's one-handed PS4 controllers, their price, and how to get them can be found here.
What is an accessibility controller?
Accessible controllers are specially designed controllers for gamers who may not always be able to approach gaming in the same way, and who may have limited mobility, allowing them to participate and compete at a level that would otherwise be impossible.
The idea is to move the buttons that aren't functional to the side of the controller that is accessible. Depending on the individual, the designs can range from simple to complex.
For instance, an individual with a right limb but no left limb can utilize the accessibility controller to play a game. The left analog, L1, and L2 can be shifted to the right hand so that such a person may readily reach those functions.
Even though this form of accessibility controller is desperately needed, game makers have made only minimal efforts to ensure that the disabled can also enjoy the game. PlayStation, for example, could have created an accessible controller for gamers with limited mobility. However, due to the limited demand, they may incur losses.
Third-party firms such as Evil and Ben Heck, however, make accessible controllers based on demand.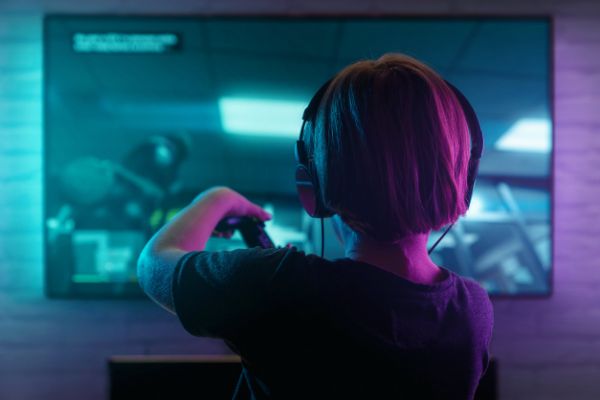 How do you use a controller with one hand?
For persons with physical impairments, playing video games might be a bit difficult. If you can't use both hands, you might also want to get a one-handed controller.
Undoubtedly, playing video games is easier with the one-handed controller. You can acquire a one-handed controller for accessible gaming depending on your favorite console.
For instance, if you want to play PS4, the Evil one-handed PS4 controller and Ben Heck's PS4 one-handed controller are, no doubt, fantastic choices.
If you have a PS5 and a 3d printer, then the one-handed DualSense design by Akaki on PrusaPrinters is a great option.
References