Disclaimer: This post may contain affiliate links, meaning we get a small commission if you make a purchase through our links, at no cost to you. For more information, please visit our Disclaimer Page.
Did you just get a fancy new solid-state drive (SSD) and wondering whether or not to throw the old one away? If yes, I'll advise you not to throw the device away, as you can still benefit from it.
So, here's a burning question that many people ask; what should I do with my old SSD that's no longer in use?
What you'll do with your old SSD will depend on whether the device is still functional or dead. If it's active, you can convert it to use it as an external backup drive; or you can use the old SSD as a secondary drive on your computer. You can also sell it on and make a few bucks.
There's no point trying to dispose of your old solid-state drive, as so many things exist out there that you can do with it. Read on, to find out everything you need to know about how to make the best out of your old SSD Drive.
What Should I Do With My Old Solid-State Drive?
SSD or solid-state drive is a new generation storage device, which is used in place of the common hard disk drive (HDD) for computers. The device offers tons of benefits to us.
First, SSDs utilize non-volatile memory – this feature contributes to why the devices can access data more quickly than the hard disk drive. According to experts, the random access latency of solid-state drives is approximately 100 times better than that of HDDs.
Furthermore, SSDs don't have moving parts and read arms. Since that's the case, they are durable to drops and resilient against data loss. That's not all; the lack of moving parts also contributes to why they operate more quietly and efficiently.
There are lots of reasons why people would want to replace their solid-state drives. One of the reasons is if the storage device starts misbehaving or becomes dead. Apart from that, most people also choose to replace the SSDs with more powerful ones so they can deliver the best service. Irrespective of why you changed your SSD storage device, you need to understand that you can always use the old ones for a lot of things.
For instance, if you replaced the solid-state drive with a new one because you needed to upgrade your PC, that means the old SSD is still working well. In this case, there are three major things that you can do with the drive.
First, you can convert it to an external backup drive for your daily use. Another thing is, you can always sell your solid-state drive on eBay and make cool cash in return.
Furthermore, an old SSD Drive can function as a secondary drive on your computer. To do this, all you need to do is plug in the storage device and convert it to secondary storage the same way you do for HDD.
However, this option isn't always the best, there are a couple of other things that you can do to achieve secondary storage. One of them is to use flash storage for operating systems and some games, while the drive should function for mass media storage.
List of Ways to Use Your Old SSD
If you're still confused as to what to do with your solid-state drive, you can check below to find a new use for it.
Convert the old SSD drive to an external drive for backup purpose
One way to reuse your old solid-state drive is to convert it into an external backup drive. This method requires that you buy an external enclosure for the SSD Drive.
Sell the old solid-state drive
What's the point of throwing away your old SSD when you can always sell it and make money off it? Yes, you heard me right, many people are out there looking for old drives that can fit perfectly into their systems.
One of the most popular e-commerce platforms to market your old SSD is eBay. However, before going ahead to do that, make sure you're careful with the way you wipe the storage device.
The best way to destroy your data on your old solid-state drive so you can sell it is to encrypt and format it. To encrypt your data, you can always choose FileVault for your Mac or BitLocker on Windows. After successfully encrypting the data, go ahead and format it. This way your data won't be retrieved when you sell it to strangers.
Use it as a secondary drive on your PC
You can also consider using your old SSD as a secondary device on your computer system. Although this method isn't the best you can do, it's way better than throwing it away.
Can I Reuse My SSD In a New PC?
To answer this question, I'll say it depends on the type of SSD you're using. However, that's not the only factor that determines whether or not you can use your SSD in a new PC. Another thing you need to check is whether the SSD Drive is compatible with your PC.
The two most common SSDs disk interfaces are SATA and M.2. If you're using a SATA SSD, it means the new PC needs to have SATA as its disk interface. However, if the SSD Drive is M.2, it means you can reuse it with your new system if it has M.2 disk interface, SATA slot, or PCI-E slot.
The bottom line is, you can always use your solid-state drive with your new computer if they both have compatible disk interfaces.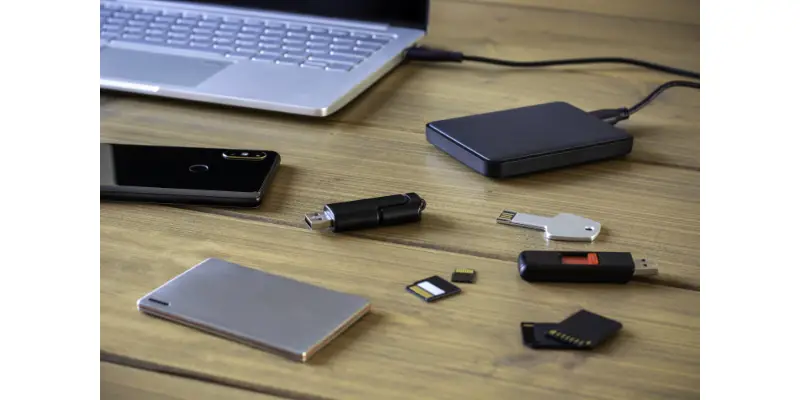 How to Turn an Old SSD Into External Storage?
Earlier, in this post, I mentioned that one of the few ways to reuse your old SSD is by converting it to an external backup drive. That's not all; I also mentioned that you'll surely need to get an external enclosure to make this process work out. But here's a question; how exactly can I turn my old SSD into external storage?
For you to turn your old solid-state drive into external storage successfully, here are a few simple steps that you can follow:
Start by transferring all your data from the old SSD into the fancy new solid-state drive.
As earlier mentioned, you need to buy an external enclosure. So, I'll assume you've already purchased the accessory. Next, open the case and slide in the old drive. Some enclosures utilize latch while some use screws. So, depending on the type you're using, ensure to keep the SSD fitted well to the case.
Now, add a thermal pad layer to the top of the drive. This will help the device in terms of heat dissipation.
That's all about how to mount your old solid-state drive into an SSD enclosure. Now, you're almost ready to start using the drive as an external backup drive. In the beginning, I mentioned that you need to transfer your data to the new drive. Now, you need to format the device and get it ready for your backup use.
Conclusion
Now you know that throwing up your old solid-state drive isn't the only thing you can do. If the storage device still works perfectly, one of the best things you can do is to convert it to an external backup drive.
You can also consider selling the drive to friends or strangers on eBay and other relevant platforms. However, while doing this, ensure to encrypt your data before wiping them off the drive.