Disclaimer: This post may contain affiliate links, meaning we get a small commission if you make a purchase through our links, at no cost to you. For more information, please visit our Disclaimer Page.
Looking to buy a PSU for your computer but not sure which one? With so many models to choose from, it can be hard to know which one is right for you.
From fans and warranties to energy efficiency, we're breaking down everything you need to know before you buy your next power supply unit.
Check out our list of the five best PSUs on the market today.
What Are PSUs and Why Do They Matter?
So what exactly is a PSU?
A PSU, or a power supply unit, regulates and delivers power to different components that make up a computer. Standard power supplies turn incoming 110V or 220V AC into various DC voltages.
The incoming alternating current must turn into the suitable direct current to power the computer. It affects all components of the computer and is a critical part of the function of the machine.
Power supply units play an important role in the reliability of a computer, so it's important to select the right one for your device. Models and prices vary, but it's best to look for a high-quality PSU that can protect your computer in many ways.
Before we dive into the best models, we'll focus on the different types available and what you need to look for to find the right power supply unit for your needs.
---
What Are the Different Types of Power Supply Units?
Different PSUs run on different power supplies, so it's important to understand the basics of how a power supply works. The type of computer you have will determine what type of power supply you need.
As a general rule, the more sophisticated your device is (e.g. if it has many CD/DVD drives, hard drives, etc.), the more power you'll need. The two most common types of power supplies are AT and ATX.
The AT power supply is known as the original power source and is usually found in older computers. It includes a single power button that generates or kills the power. It doesn't matter if the machine is ready for that power or not.
While the AT power supply uses a hard switch, the ATX power supply uses an electronic switch. The ATX power button is a sensor input monitored by the computer itself.
This allows the operating system to control the final "off" signal to the power supply. It gives the OS time to save all information and complete any updates or important tasks. Newer versions of this technology exist in most computers today.
---
What to Look For When Buying a PSU
Avoid Low-Cost PSUs
When it comes to buying a power supply unit, don't skimp. You can find cheap ones for under $30, but it's always better to invest in a long-term solution.
Compare models to find which ones have the best prices and the features you need. There are four key things to keep in mind when shopping for a power supply unit.
Know The Wattage You Need
Determine the number of watts you need. You can find a PSU calculator online to help you determine the requirements for your system.
Keep in mind that power supply units lose power over time, so it's always best to buy one that surpasses your system's requirements.
Pay Attention to Efficiency
Look at the efficiency rating. A good efficiency rating is above 80%. Power supply units don't last forever, and with time, they lose energy efficiency.
The higher the efficiency, the less wattage you'll lose as heat. For example, a PSU with 80% efficiency means that you're losing 20% of your wattage in heat.
Keep the Dimensions in Mind
Size does matter. The physical dimensions of a power supply unit are important. This is because you need to make sure it fits inside your PC case along with the other components. Look for one that will allow you to do the proper cable routing of all components.
How Much Noise Can You Handle?
Don't ignore the noise factor. Internal fans make some PSUs noisy, so it's best to have an idea of how much noise you can tolerate before buying. PSUs with larger fans can move more air through the unit at a slower rate.
There are also fan-less options that produce little to no noise. Depending on how much noise you can handle will determine the type of fan you need.
Now that you understand the importance and the difference between the various types of power supplies, let's look at a few specific models. 
These are our top five recommendations if you're looking for the most efficient and functional PSUs on the market.
---
The Top 5 PSUs
1. Corsair SF450
With SFX Form Factor, the Corsair SF450 provides high-end performance in a small form factor. Equipped with 100% Japanese 105 electrolytic capacitors, it's fully modular. This design makes your builds and upgrades easy to complete and maintain.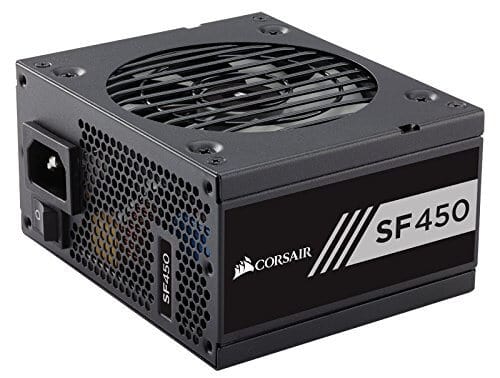 Detachable DC cables let you use only the cables you need, allowing you to save internal space and improve system airflow. It has all the features of a full-size unit in a small form, making it a favorite for anyone looking to build a neat, clean system.
Premium internal components ensure solid power delivery and provide long-term reliability.
A zero RPM fan mode makes it quiet, and a seven-year warranty guarantees years of reliable operation. It's perfect for anyone looking for a power supply unit that will last across several system builds.
By being 80 PLUS Gold certified, this model is highly efficient in operation, producing less excess heat. Less excess heat means you can enjoy lower operating costs.
The Corsair SF450 features one ATX connector with ATX12V version v2.4. The continuous output rated temperature is 40°C, and it provides continuous power with a 450-watt power supply.
It includes a low profile black cable, one EPS connector, two PCI-E connectors, and four SATA connectors. This power supply unit also comes with cable ties and a DC modular cable storage bag.
2. Corsair RM550x
Like the Corsair SF450, the Corsair RM550x is an efficient and fully modular power supply unit designed to provide long-term reliability.
It includes the same 100% all-Japanese 105 capacitors as the SF450, and it features zero RPM fan mode. At low and medium loads, it's a quiet operator.
This fully modular design makes your builds and upgrades easy and delivers clean-looking results. It's 80 PLUS Gold certified with a high-efficiency operation for less excess heat and lower operating costs. The casing measures 160mm long, so it fits into almost all modern PC cases.
The fully modular power cables allow you to connect only the cables you need so you can create a clean, neat build inside your PC case.
It includes the RMx Series ATX power supply, the necessary mounting screws and cable ties, and is compatible with ATX12V v2.4 and EPS 2.92 standards.
With the Corsair RM550x, you'll enjoy 550w of continuous power, low profile black cables, and a continuous output rated temperature of 50°C.
The Corsair RM550x comes with a 10-year warranty that ensures years of reliable operation. It's an excellent choice for anyone searching for a PSU that will last across several system builds.
It includes one EPS connector, two PCI-E connectors, and six SATA connectors.
While not as powerful as the Corsair RM750x (750w with a 12V rail), the RM550x comes at a much more reasonable price tag.
3. Seasonic Flagship PRIME 600 Titanium Fanless SSR-600TL 600W 80+ Titanium Full Modular ATX12V & EPS12V
This Seasonic model is one of the best power supply units available. With a fully modular cabling design, it offers a flexible solution to optimize cable management. It also reduces the amount of clutter inside the computer case.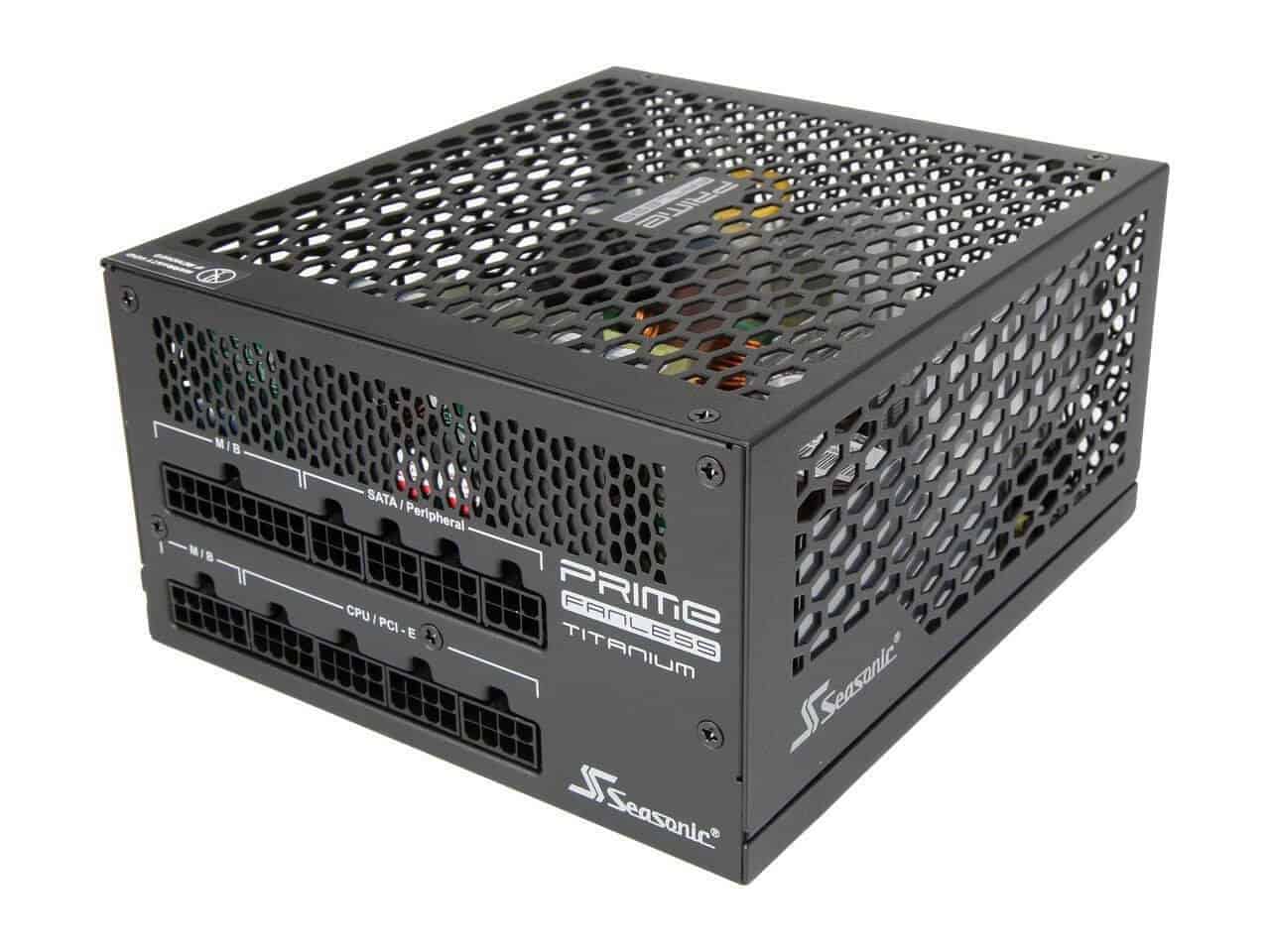 Reliable aluminum electrolytic solid capacitors offer top-grade function. These Japanese-sourced components extend product life. They also ensure operation stability in extreme conditions.
For micro tolerance load regulation, this model keeps the output voltage within a very tight range. This allows it to achieve an under 0.5% load regulation.
With impressive electrical performance and stability, it's ideal for high-performance systems.
The Seasonic Flagship PRIME 600 model is the first 80 PLUS Titanium certified fanless unit on the market. It uses a PRIME Titanium fanless system that utilizes passive cooling to cut fan noise.
This PSU offers ultra-high efficiency. It achieves the highest level of 80 PLUS Titanium certification on the market with 94% efficiency and a 50% system load.
Other features of this model include a DC to DC converter design, gold-plated connectors, and an impressive 12-year warranty. It features an Intel ATX 12V form factor with webbed and flat cables.
These cables include six SATA connectors, one floppy connector, and five peripheral connectors.
4. EVGA SuperNOVA 850 P2, 80+ PLATINUM 850W
The EVGA SuperNOVA 850 P2 boasts an impressive ten-year warranty. From 6/5/2018 to 12/31/2018, you can take advantage of two extra years of warranty protection (with product registration).
It offers platinum performance and is fully modular to reduce clutter and improve airflow.
This model is 80 PLUS Platinum certified. With 115VAC it boasts 92% efficiency. With 220VAC-240VAC, it offers 94% efficiency or more under typical loads. With both overvoltage and under voltage protection, this model is top of the line.
Your system will be extra safe with over current protection, over power protection, and short circuit protection.
This unit features 140mm double ball bearing fan size. The 100% all-Japanese capacitors ensure long-term reliability. Award-winning P2 power supplies and an ECO Control fan system allow for nearly noiseless operation during low to medium loads.
5. Corsair AXi Series AX1500i Digital 1500W 80 PLUS TITANIUM
The Corsair AXi Series AX1500i is an excellent option for your ultra-high performance PC. It defines state of the art for enthusiast-grade PC power supplies on the market today.
This model offers 1500 watts of continuous, digitally controlled power on 15 amp circuits of 115 or higher. It also features an 80 PLUS certification with an impressive 94% efficiency rating.
The zero RPM fan mode allows you to enjoy nearly silent operation at low and medium loads.
A fully modular and low profile cable set makes it easy to install and allows for great looking builds. Corsair Link integration allows you to check for efficiency and customize performance.
The performance can be easily monitored right from your Windows desktop. In short, the AX1500i has it all.
Compatible with Corsair iCUE, this power supply unit will provide clean and stable power so you're system always runs up to full capacity. It boasts a digitally-controlled power that provides for tighter voltage regulation. It also features excellent electrical specifications.
With its DSP-based design, the Corsair AX1500i reduces the internal component count. This allows it to better control ripples and noise.
This model is compatible with ATX12V v2.4 and EPS 2.92 standards. You'll find a Corsair Link USB cable, as well as an accessory bag with mounting hardware and cable ties.
It also features fluid Dynamic fan bearing technology, a fan size of 140mm, and low profile black cables. It is C-Link ready and includes two EPS connectors, two floppy connectors, ten PCI-E connectors, and 20 SATA connectors.
---
You want your system to perform its best, so it's crucial that you understand the importance of PSUs. Different models have different features to offer, so before you buy any PSU make sure you do your research.
Before you buy, you'll need an understanding of what makes a power supply unit important. Spend some time researching wattages, noise levels, sizes, and efficiency ratings.
Consider the type of power supply you need. Look at the fan temperatures, the fan sizes, and their functions. Determine the efficiency ratings. Compare sizes and configurations to know if the PSU is fully modular.
Determine if it has extra protections, such as overvoltage and short circuit protection. If you intend to do many system builds, make sure it has a lengthy warranty that will cover you over an extended period of time.
The Corsair, Seasonic, and EVGA models mentioned above are some of the absolute best power supply units you can buy today. Regardless of which one you prefer, it's important to invest in the device that's right for your particular computer.
There are dozens of PSUs on the market with varying levels of power. Choose one of the five best PSUs listed above and you're sure to be happier that you invested in a power supply unit that offers more power.