Disclaimer: This post may contain affiliate links, meaning we get a small commission if you make a purchase through our links, at no cost to you. For more information, please visit our Disclaimer Page.
Tablets have become very popular in the market these days. They are portable and do not take up much space. People mostly use them for entertainment, but some use them as a primary personal computer. Newer tablets have prominent features and users wonder if they can use them instead of a laptop.
You can use a tablet instead of a laptop. It depends on the type of activities you plan to do. Newer tablets with detachable keyboards are suitable for both entertainment and business. However, you cannot upgrade them, and memory is low. Always consider the activities you want to do on the tablet.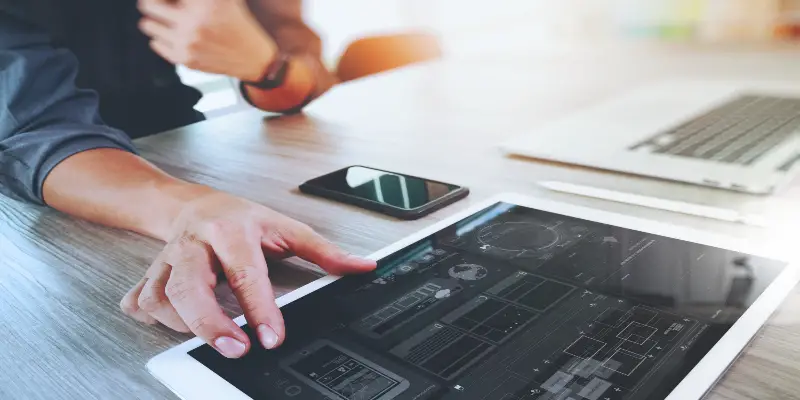 Some of these limitations should not hold you back when choosing a device for yourself. Tablets have many excellent options for all kinds of tasks you want to perform.
Keep reading to learn more about the differences between a laptop and a tablet, what you can do on a tablet, and which operating system is right for you.
What Is the Difference Between a Laptop and a Tablet?
The first difference between a laptop and a tablet is appearance. Tablet is a smaller, portable device that does not have a keyboard.
Tablet is a notebook with a mobile operating system and is smaller and lighter than a laptop. When users want to do something on their tablet, they need to use a touch-screen.
Another difference is that laptops are more prominent in education, healthcare, offices, and similar environments. People can carry them around and work on them all the time. Besides, they are convenient for traveling. Tablets are also useful for traveling.
However, it lacks many features and technology the laptop has. For instance, the tablet does not have CD and DVD features.
The battery is important, and it is sometimes the deciding factor when choosing a device to use. Tablets' battery lasts longer because it does not use much power, unlike laptops whose battery drains quickly. After all, the laptop uses more power to run all applications and devices to work properly.
Also, the battery laptop is bigger and removable. You can replace it whenever you need it, unlike a tablet battery which is not detachable.
Laptop and tablet differ in memory as well. Because of its smaller dimensions, a tablet uses SSD as a way of storing data. Their capacity is smaller, up to 128 GB, depending on the device.
Tablets come with hard disks with a capacity of up to 500 GB or even more. Besides, they have more USB ports that allow transferring data easily.
Software capabilities of the devices differ significantly. Tablets and their Windows capabilities differ from what users can do on their laptops. Laptops have RAM that allows them to upgrade. You cannot upgrade tablets, only buy a new one.
The last difference between tablets and laptops is the price. The prices of these devices vary in the market. Laptops are usually more expensive, especially those for gaming.
Of course, it all depends on the quality of the device, but in any situation, a laptop will be more expensive than a tablet.
Can Tablets Be Used as Laptops?
Tablets and laptops have taken off, and people are using them for a variety of reasons. However, some people wonder if you can use a tablet as a laptop and if it is a suitable alternative at all. The truth is tablets are useful, easy to carry, and do not take up much space.
Unfortunately, if you need it for your work, where you often type a lot of documents all the time, and you need a device you can rely on, the tablet is not the most reliable. It is good for everyday surfing and fun, but not really for business.
If your needs are entertainment, then tablets are convenient options, as scrolling is much easier. The job requires a laptop on which you can run various programs and do tasks quickly.
As said before, the laptop provides you with services that tablets do not have. Of course, it is not the same for all tablets. There are newer tablets whose features are so high-quality that the line between laptops and tablets is blurring.
There are some tablets with a removable keyboard on which you can work in the same way as on laptops.
You can be pretty productive with a laptop but limited by the number of ports or software. It is possible to use the tablet as a laptop in any situation, but if you have to access all the features and do more, tablets are not the best option.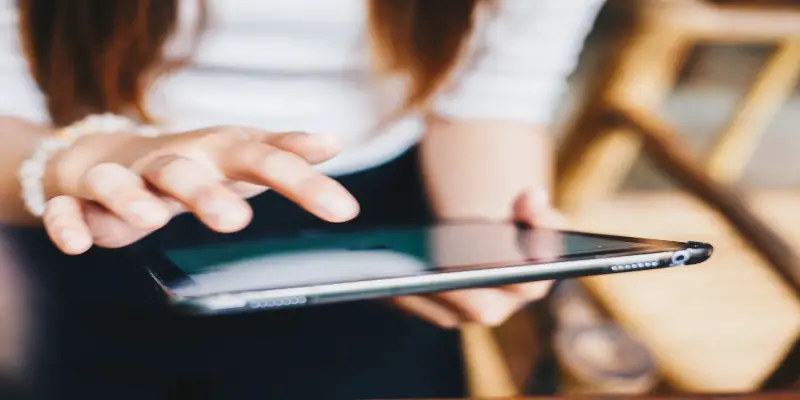 What Will You Use A Tablet For?
Tablets are amazing devices you can use every day. People mostly use them for scrolling social networks or entertainment. Also, most people use them to read books because tablets are great e-readers.
You can also use the tablet for meetings. When you have a business or any meeting, you can take notes quickly with the tablet. People that work in graphic design will use laptops for drawing and showing their work to others. With a tablet, you can also use it for showing designs or mockups.
When you go on trips, bringing your tablet is more convenient than a laptop, since it is lighter and does not take up much space.
Tablets are great for kids. Not only will they be able to watch cartoons, play games and listen to music on them, but also educate themselves and get to know the world of technology.
What Can You Do on a Tablet?
With a tablet, you can do everything you do on a laptop. The difference is that sometimes it will be slower, especially if you run programs that require more power.
Tablet is a great device for more relaxed use such as watching videos, reading news, and scrolling the internet. You can carry it around and always have access to your mail and social media.
You can project your tablet on your TV with no problems. Some modern tablets already have an app for doing that, and for other models, you need to get an adapter to connect it to your TV.
Another significant thing you can do on a tablet is transferring data from your laptop to your tablet and vice versa. That way, you will always be able to access your important documents from your tablet anytime and anywhere.
You can also use your computer from your tablet via the application. Just make an account and log into both accounts so you can have remote access.
Musicians are increasingly using devices to create music or tune their instruments. There is no better device for this than tablets. With your tablet, you can download apps to tune your string instruments.
These are just some things you can do on your tablet. It can do the same job as a laptop, but it will sometimes go slower if you type documents and do not have a modern tablet with a detachable keyboard.
For everything else, the tablet is an amazing device, especially for entertainment. It is affordable, which is an additional convenience.
How Powerful Tablet Must Be?
Before you decide which tablet to use, you first have to consider the type of tasks you want to perform. Every activity requires a particular memory, and that is why you need to take that into account.
If you want a tablet for social media or entertainment, 2GB RAM is fine for you. However, if you use it as your primary PC, and plan on doing more than entertainment, then 4 GB to 8 GB would be ideal for most users.
Some tablets, especially convertible tablets, offer a memory of up to 16 GB, which is enough for running everything.
On any other tablet, 4 GB will allow you to open quickly your favorite apps and be productive. For anything else that includes gaming or editing, you will need at least 8GB.
I recommend you avoid tablets with 1G memory because it is limiting. You will experience slow performance with this type of memory, so you better opt for at least 2GB for your everyday activities.
Keep in mind that you cannot upgrade your tablet's RAM. You cannot remove it or replace it. You can download some dedicated software that will help you increase your RAM and clean unnecessary files, but other than that, nothing.
Everything else would require a lot of tinkering for which you need a professional. The only thing you can do is to buy a new one with better performance.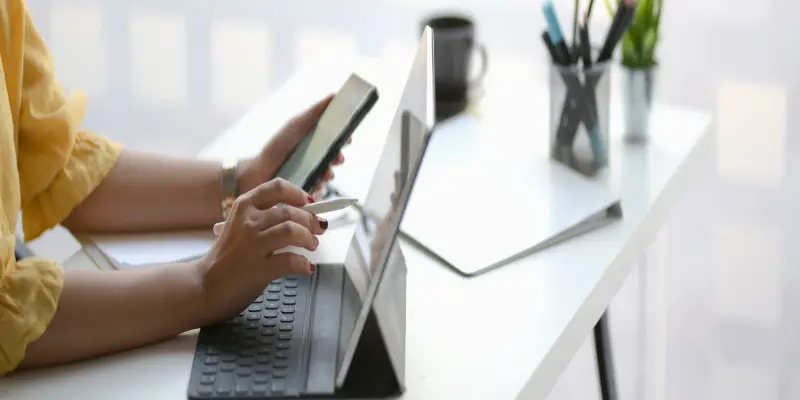 Can You Connect the Keyboard and Mouse to the Tablet?
It is possible to add a keyboard and mouse to your tablet. Many tablets have USB ports that are compatible with USB accessories such as external keyboards and mice.
Also, you can connect the keyboard and mouse wirelessly, using Bluetooth, which is the most common method. Some Android tablets do not have proper ports for connecting devices, and because of that, you need to get a USB cable.
This cable converts USB micro ports into standard ones.
If you want to use a wireless connection, there is a variety of keyboards and mice you can connect in that way. To connect a mouse or keyboard via Bluetooth, open your Bluetooth settings and search for devices.
When you find the name of your device, choose it. Then, follow the instruction on your screen to pair it with your tablet.
If your keyboard or mouse cannot connect, make sure you enable Bluetooth. Also, check whether the keyboard has proper batteries that work and whether it is close to your device. Another thing to check is if you enabled connection mode on your keyboard.
Android vs Apple
Both Android and Apple devices have their pros and cons. Deciding which tablet to use is not a simple job. You should consider what benefits each of the operating systems offers.
For instance, Apple allows you to connect to more devices than just a keyboard. Although performance is smoother on Apple devices, it is sometimes restrictive.
Android has a variety of products and brands to choose from. Once you buy an Android device, you can customize it. You can download widgets from the Google Store. Apple does not have this option.
If you want to use your tablet for more than media, then go for Apple. The iPad has great applications for making movies and music and writing books.
Also, Apple is simpler than Android devices, and it has less customization. It means you will not waste your time learning how to use your device. It also offers a lot of games.
Apple tablet would be a brilliant companion if you already own another Apple product. In that way, you can quickly share photos between two devices.
Android is for users who want to customize the device to get the best out of it or use it for playing games, listening to music, watching videos, and scrolling through social media.
Conclusion
Tablets are very popular devices and I believe they will improve even more. They have some limitations, but that does not stop users from choosing them for a variety of purposes, as they have proven to be devices they can rely on.
Now that you have learned everything you need to know, it will be easier for you to decide which device to use for your needs.