Disclaimer: This post may contain affiliate links, meaning we get a small commission if you make a purchase through our links, at no cost to you. For more information, please visit our Disclaimer Page.
If you want to view a movie or a video from your tablet on a larger screen, the option you have is to connect it to a monitor. Tablets are versatile and can really enhance your productivity. Unfortunately, the display may not be enough to allow you to share work in progress with your co-workers.
Fortunately, technology allows you to display anything from your tablet on a monitor via the video port. It is the same port you charge the tablet with. If you are using a newer version, you may connect your tablet to the monitor through a USB-C port or micro-B port.
You can connect the tablet to your monitor through the tablet's video port using cables or adapters with either USB-C on one side and HDMI, VGA, or DVL on the other side. All you need to do is to connect the adapter or cable to your tablet and then plug the HDMI cable into your monitor.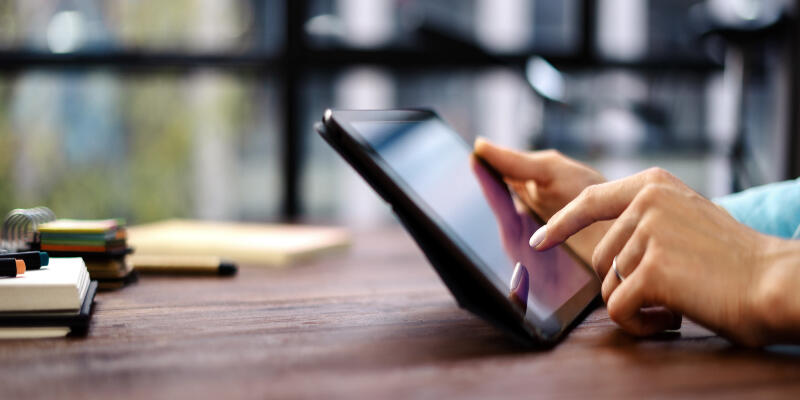 Notice that tablets are quickly replacing laptops and desktops. Unfortunately, they are not too large, and so it may be challenging to share the things you are doing or pictures on the tablet with your friends.
However, by connecting them to monitors and TV, you will share them with ease. Read on to see how you can connect your tablet to a monitor.
Can A Tablet Be Connected To The Monitor?
Option A – Cable
To connect your tablet to your monitor, the first thing you will need to do is look at the manual. Specifically, look for the video input port. If it is not present, you may use the same port you use to charge the tablet to connect it to the monitor.
Also, you need to take a bit of your time to examine your monitor and check if it has VGA, DVI, or HDMI as the display video port. Thereafter, you will need to buy a cable with a USB-C connector and VGA on the other end for a tablet and monitor.
Alternatively, you will need to buy a USB-C to VGA adapter or whatever specification depending on your needs. Once you have a suitable cable, connect the adapter to your tablet. Ensure to plug your HDMI or VGA cable into your monitor.
Note that you will only use the display or HDMI port on your tablet because the other ports do not support audio.
Alternatively, you may connect the tablet's headphone jack to an external display. You may buy these audio cables separately, depending on who manufactured the tablet.
Option B – Wireless
The wireless option is becoming popular and could help you to easily connect your tablet to a monitor without the hustle of buying cables and connectors.
The Amazon Fire TV Stick and Google's Chromecast can allow you to stream video between the two devices through some network.
To do this, you will need to plug into the display HDMI port and connect to the wireless network to feed the monitor with the content.
Option C- Google Chromecast
Sometimes, your Android tablet may not have the options discussed above, and yet it may be necessary to display photos or videos on a bigger screen.
Therefore, you may choose to connect it via google Chromecast.
To do this, you will need to connect Chromecast to the screen and cast the screen from the Google Home app.
Press the menu at the left of the screen and click on screen audio casting, you can then Chromecast it so that it streams the image of the tablet on the monitor.
Can You Use A USB Port To Connect To A Monitor?
Working on a tablet is an excellent thing since it allows you to keep in touch with friends, watch movies, and play games.
Unfortunately, it features a smaller screen which makes it difficult for you to optimize watching and enjoy it just as it is for a person watching it on a giant TV or monitor screen.
But you can still enjoy your movie or game by transmitting the videos through a USB type C port to your monitor.
So, depending on the tablet you own, you may use a USB-C port, USB 2.0 micro-B port, or mini–Displayport. To send videos to the monitor, you will need to use an adapter cable with VGA to connect the two devices.
But it would help if you bought the correct connectors to use in connecting USB type C to the HDMI monitor. It allows the cable to pick the signal from the tablet and transmit it to the monitor.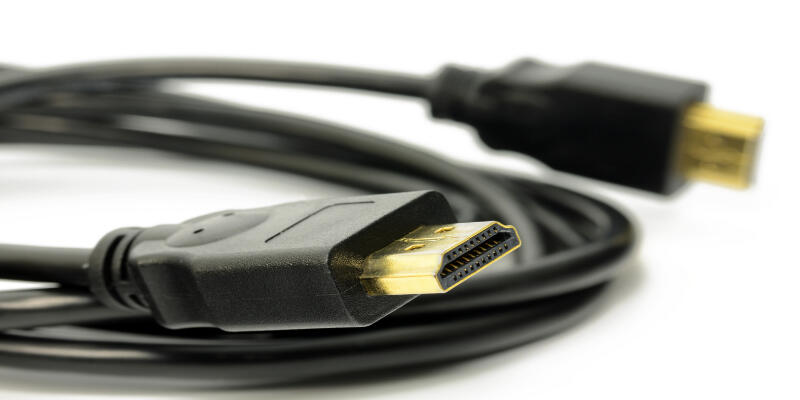 Can You Use Some Other Port To Connect The Tablet To A Monitor?
To connect your tablet to the monitor, you need an adapter or a cable that can link the tablet's audio port to the monitor's AVG. A cable converter may extend the video port to the monitor to allow you to easily share your work in progress with colleagues.
Luckily, the modern monitor comes with a variety of ports designed to serve different functions. So, knowing what ports the monitor comes with and the use to which you can put them is critical.
Of course, you will mostly need some modern ports which are fast enough. But having a few older-style ports could come in handy at some point.
So to connect your tablet to the monitor, you will need the following ports.
HDMI – they are referred to as High-Definition Multimedia Interface abbreviated as HDMI. The ports are suitable for video games and technology manufacturing companies. They could be the HDMI standard, HDMI High speed, HDMI premium high speed, and HDMI Ultra High Speed.
Display port (DP)- they are found on premium-level monitors and are ideal for video editing and gaming. They are suitable for visually intensive tasks. The DP ports allow for transmission to multiple monitors using a single cable.
VGA- they are referred to as video graphic array ports. Unfortunately, the ports are being faced out and are quickly being replaced with HDMI. But you may still find them on legacy devices.
So, if you are going to use an adapter to connect your tablet to the monitor, you may consider buying monitors with this port. Also, the ports can come in handy if you will be playing games from older video game consoles.
USB-C- the ports are found on versatile monitors and are quickly replacing the traditional USB ports. These ports are critical if planning to connect your tablet to the monitor.
They are reversible, meaning that you can plug them in either way. It allows you to use the monitor on different devices. The port is versatile and perfect for people who want to connect a tablet to a monitor or to view images on larger screens.
Is There Any Other Way To Connect The Tablet To A Monitor?
To connect the tablet to the computer screen, you will need to select an adapter or a cable with matching connections to your monitor.
A commercial cable with matching connectors on either side could be the best option for you. For instance, to connect your tablet to your monitor, you need a USB 2.0 connector on one end and to HDMI on the other end.
However, this option requires that you buy cables and adaptors. But you can connect the tablet to the monitor through the wireless connection method. The option allows you to cast your tablet's screen on an external display, including monitors through the same network.
To get the best results, you will need a dongle that connects to the tablet through HDMI to feed the wireless network with the signal you want to view on your monitor.
How To Connect Android Tablet To Monitor
If you want to display android games or any other program on an Android tablet on a big screen, you must connect the tablet to a monitor. To do this, you will need to buy a connector with both Micro USB and HDMI. You will also need to buy an HDMI cable or an adapter.
Buying an adapter could enable you to connect the two devices wirelessly. But if you are not prepared to buy the expensive connector, consider Android's screen stream Mirroring app.
All you need to do is to select and use the media player on the app's menu. But you will get better results if you use the apps Stream Play.
It provides valuable features that include network discovery bookmarks management, background stream, and stream recording. You should be able to start streaming as soon as you connect your target device's media player.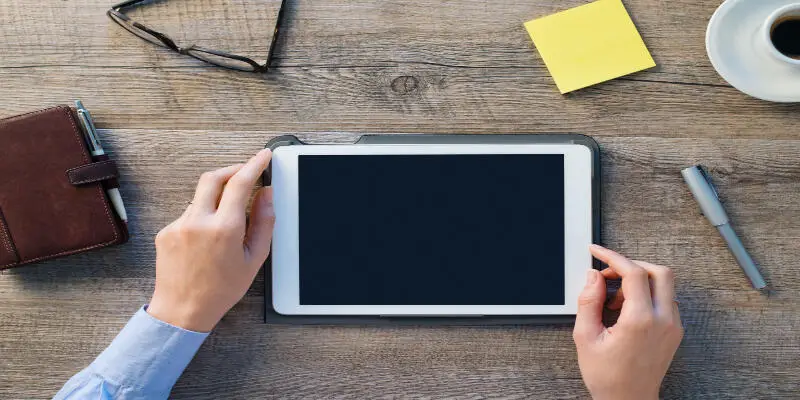 How To Connect The iOs Tablet To Monitor?
You can also connect the iOS tablet mostly known to people by the name "iPad" to a monitor if you are interested in bigger images. Connecting the tablet to the monitor allows you to show videos and photos to a larger crowd of people including students.
You have a couple of ways of doing this. Either you can choose to use the wired or the wireless option. If you chose the wired option, you might need to buy a couple of connectors.
Firstly, you need a display adapter and a video cable, for monitors that have the VGA port, buying the VGA adapter will work. However, if it features an HDMI port, you may need a Lighting to Digital AV adapter. It is a special adaptor that will allow you to transmit both sound and video to your monitor.
Once you have assembled all the needed connectors, connect the lighting plug into the Lighting port on your tablet and the HDML or VGA cable to one end of the adapter.
Notice that buying Apple's adapter is good since it features an extra Lightning port that allows you to charge the tablet even when the adapter is plugged in. It is convenient and will allow you to work without worrying about your devices running out of power.
But connecting your android tablet to the monitor can be done using an HDMI or USB cable, depending on the model of the monitor you will be using. So, buying a cable and connecting it to the screen's HDMI port can help you view larger images.
If the tablet features a connector and supports a Mobile High-Definition link, it is okay. All you need to do is to buy an adapter that connects to the tablet's USB port.
Then you will use the HDMI side to connect to the monitor. But for displays that support HDMI, you may connect the devices using USB.
Conclusion
Tablets provide a convenient way of accessing whatever content you want on the go. But sometimes, you may want to view the images or the photos on a large monitor screen.
This could happen if you want to share or view the same images with a larger group of people. So, knowing how to connect your tablet to the monitor is vital.
To do this, you need connectors and adaptors. Of course, this is something you can do on your own. However, if you find it challenging to have the videos transmitted on the monitor screen, feel free to seek help from a technical person.