Disclaimer: This post may contain affiliate links, meaning we get a small commission if you make a purchase through our links, at no cost to you. For more information, please visit our Disclaimer Page.
Most, if not all, people know what happens to your device if too much water gets inside it. While a few raindrops are harmless, there are many ways how water can get into your device and ruin it.
For starters, if your device falls into or gets fully submerged in water, it has a higher risk of getting damaged. But if this happens to you, it's not the end of your phone.
You can take some steps to save your device from any permanent damage. And we will explore some of those options in our article today. We'll also touch on phone accessories that might help you mitigate this problem.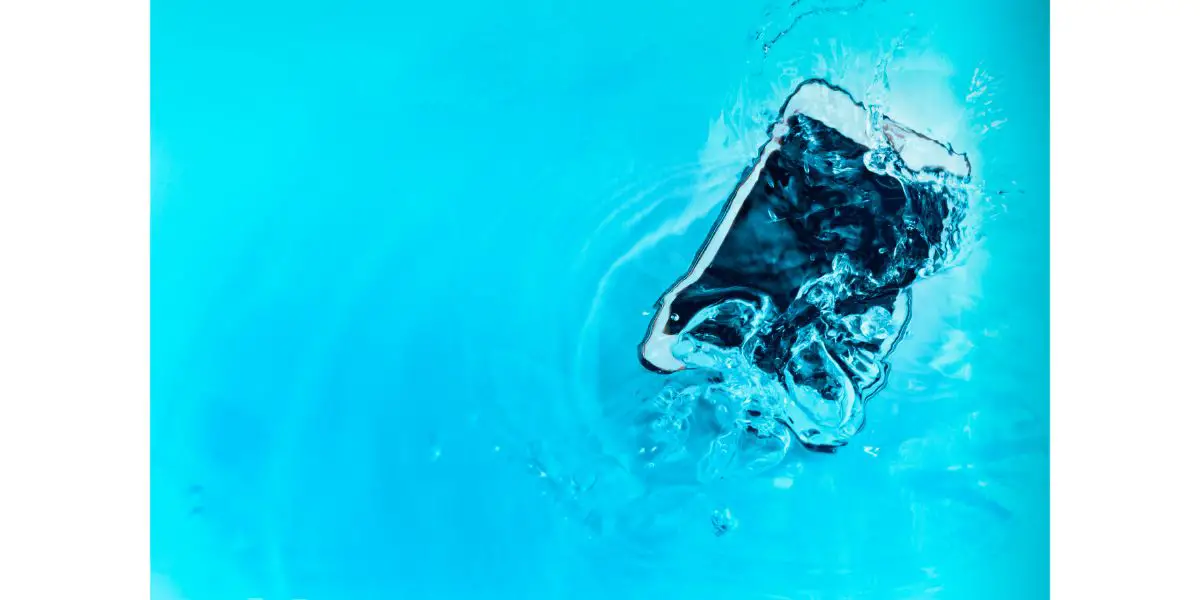 Dos and Don'ts if My Phone Falls in Water? 
We'll divide this section into two parts. Each part will deal with what you should and should not do once the phone gets wet. We will also share some general guidelines to keep in mind in both categories.
This section may not have every step on what to do when your phone gets wet. But it will have some of the most common things you can do or avoid to make sure that your device still works.
What To Do
1. Get the Phone Out Immediately
Take the phone out of the water immediately. It may seem like an obvious tip, but some users think they need some kind of device to do it.
It is partially true if you accidentally drop your device into a toilet bowl or an undesirable area. Even in these cases, waste no time retrieving the phone.
Total water immersion is not the same as a few drops on your phone. No matter what kind of water you drop the phone, get it out as soon as you can.
2. Dry the Phone Thoroughly
Once you've taken the phone out of the water, dry it with a clean cloth. If you don't have one, find something similar to get all the water off.
Dry the whole phone vigorously. Check each surface for more water buildup. Some water may leak out of the phone during this process. If so, you may need to dry different areas of the device more than once.
3. Remove Its Battery
Most smartphones we have today have batteries that can't be removed. If you have this kind of phone, you will need professional help to remove its batteries. 
However, removing the battery is easier if you have an older model. If this is the case for you, remove the battery from the back panel. Similarly, you should be able to eject the phone's memory card and SIM.
4. Shake It
After drying the phone, shake the device a few times to remove any excess moisture. Note, however, that there will still be water inside the phone after you perform this step.
If there's water coming out of the headphone jack or charging port, wipe down the different surfaces of the phone once more.
5. Use a Desiccant
A desiccant is any substance that can absorb moisture and dry things out. Commonly, people may use rice for this purpose.
Although rice can do a decent job, you'll need to ensure that you have enough to submerge your phone in a bowlful. If you don't want to use rice, put the device in a closed container with gel packets.
Silica gel is something many companies use as a desiccant for goods that need to stay dry during shipment or storage. You can pop a few packs of these into an airtight bag with your phone. Leaving everything for a few days will give the gel time to absorb moisture and help the unit dry out completely.
What Not To Do
1. Don't Leave the Phone On
If your phone is on when you drop it, turn it off as soon as you get it off the water. Excess moisture is always bad for phones, especially if your device is on.
When there is power running through the phone, contact with water can burn things out and make some of its parts unusable. There are still risks to dropping or submerging an inactive phone, but those risks are lower when it is in this state. Similarly, keep the phone powered off until you know that it is dry inside and out.
2. Keep It Away From Heat
Using a device that can blast heat at the phone sounds awesome to some users. In theory, heat should help evaporate excess moisture from the device.
While this may be true, concentrated heat can also damage the sensitive parts inside the phone. As much as water does not play well with electronics, high heat is no friend to these kinds of devices either.
3. Don't Push Keys or Buttons
Even though you turned the phone off and dried its surfaces, some buttons might still have water underneath them. Don't push these buttons while the phone is still wet.
Doing so may force the water further inside the phone, getting it stuck in places where it could do more damage to the device's circuitry.
4. Be Truthful About the Circumstances
Your phone might be under warranty when you drop it in the water. If so, that warranty might help you restore or replace it. Don't hide the truth about what happened to the phone. The company needs to know the specific circumstances for professional repair work.
If you're upfront about what happened to your device, the manufacturer may be able to fix some of the damage. They may offer at least a partial refund that can help you replace a phone that will not work. The specifics here would depend on the kinds of agreements you have.
Can Your Phone Still Work After Getting Wet?
Yes, there is a chance that a phone can still work. However, to maximize your chances of success, you must follow the guidelines above. Avoid the things that could lead to further damage. That includes trying to charge the phone's battery.
Even if you cannot remove the battery from the phone, leave it alone to dry. Connecting a phone to a charging source while still wet can short-circuit your device. On the other hand, letting your phone dry completely could save it.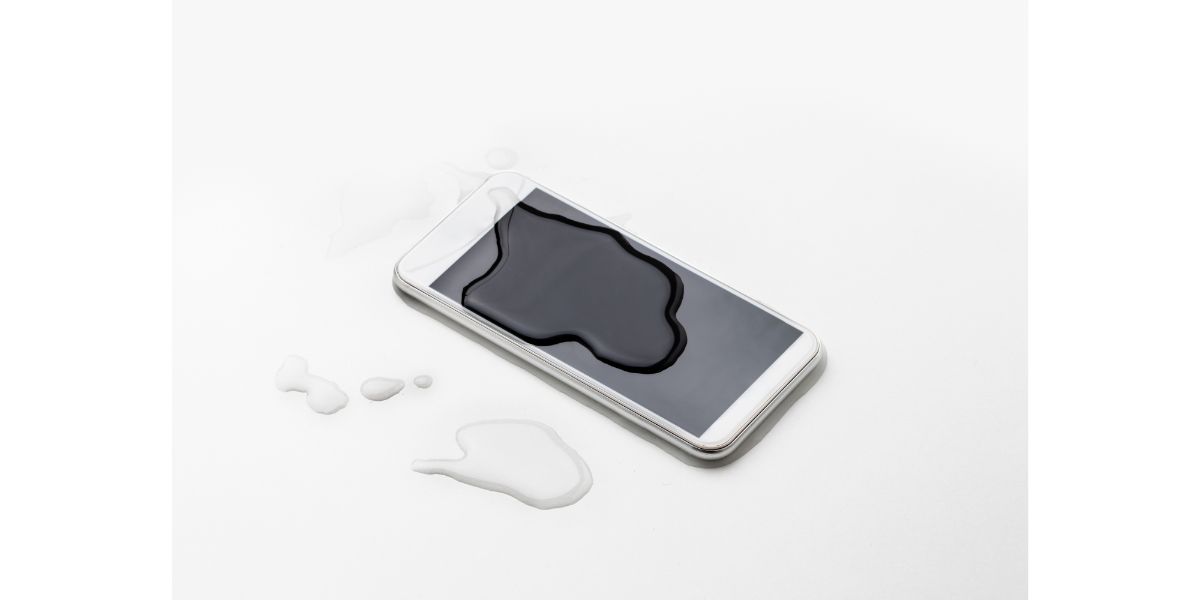 Do Screen Protectors Protect Phones From Water?
Generally, a screen protector might shield a phone from water damage. However, such protectors go on the front panel of the phone as a way to protect the display. Therefore, they are only effective at diverting water away from the phone screen.
Full submersion could be a problem with which a screen protector cannot help, though. In this scenario, a phone case surrounding the unit might be able to keep some water out. However, it is also likely that some moisture will stick in between the frame of the phone and the part of the case.
Conversely, some phone cases might be able to help waterproof the device, especially ports and other areas where water could get inside the unit. These accessories have special ratings that tell you the specific level of water protection.
For example, some manufacturers develop cases that can withstand full water submersion up to a certain level for a short time. These kinds of phone cases are not usually friendly to the average screen protector, but some of them may have screen guards of their own as part of their water ratings.
Can Water Get Under Your Screen Protector?
Yes, water can seep underneath the screen protector of your phone. Most protectors will provide a decent seal that goes around the frame of a phone's screen. However, the seal itself may not be watertight.
Full submersion into the water may mean the phone can take on excess moisture, even if a manufacturer markets a screen protector as such. The openings in your phone represent the main pathways through which water enters your device.
That said, a screen protector with a full adhesive layer should be waterproof. However, it does not mean that the whole phone is now waterproof. It only applies to the front panel display of the phone.
Further, one must apply the screen protector properly for its adhesive layer to create a watertight seal. But that's next to impossible because many phones have particular curves around the edges of their frames. If the screen protector's seal is off, water could get underneath it.
Will Water Under the Screen Protector Dry?
In most cases, the water trapped under your screen protector should dry out completely. However, this may not be a quick process. Letting the water evaporate naturally may take a day or two before you notice any results.
We don't recommend using like hair dryers to speed up this process because concentrated heat is not good for phones. If it is just a matter of a few water droplets underneath the screen protector, you should be able to clear them up in a few days.
If the phone got submerged in water, it would be a whole different scenario. When this happens, the water may dissolve some or all of the adhesive layer that holds the protector in place.
If so, removing the old guard, wiping the water away from the screen, and putting a new protector on it later may be simpler. A screen guard that doesn't function as it should can't protect the phone from dust, debris, or more cases of moisture buildup.
Conclusion
Dropping your phone in water is a terrible experience, but it doesn't have to be the end of one of your favorite devices. Instead, you can switch it off and use desiccants to help remove the moisture inside the unit. For the best results, wait a few days to ensure the phone dries completely before powering it on again.