Disclaimer: This post may contain affiliate links, meaning we get a small commission if you make a purchase through our links, at no cost to you. For more information, please visit our Disclaimer Page.
When it comes to gaming, having the right audio setup is just as important as having a high-quality visual display. But if audio is so important, how is it that some gaming monitors don't have speakers at all?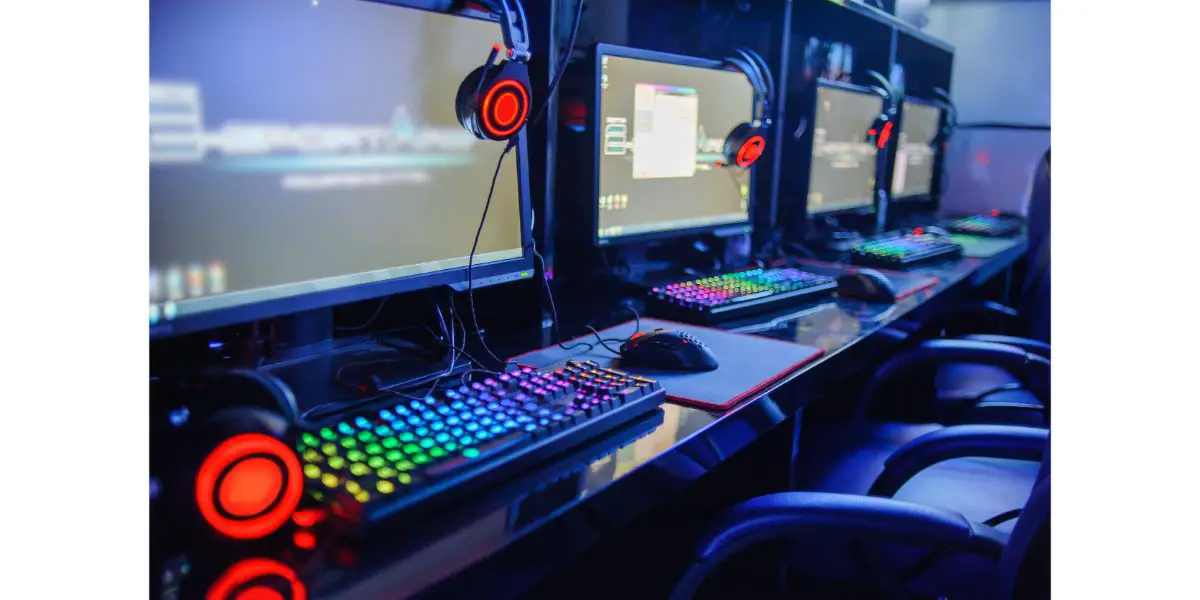 How to Tell if My Gaming Monitor Has Speakers
Some gaming monitors don't have speakers because it increases their weight, size, and cost. However, it's common for monitors to have an audio output, allowing you to connect external speakers or headphones via a headphone jack, 3.5mm audio out, HDMI, or wireless connection.
However, it's much more common to simply connect your headphones or speakers to your PC rather than the monitor.
In any case, before you decide to get a pair of speakers, you'll want to know if your gaming monitor has speakers. There are a few ways to determine this.
Check the Manual
If you want to check if your monitor has built-in speakers, you can consult the datasheet or specification manual that comes with it. This handbook will provide you with information on the monitor's features, including its audio capabilities.
If you no longer have the datasheet, you can also check the specifications online by searching for the model number of your monitor.
Manually Inspect the Monitor
Another way to tell if your gaming monitor has built-in speakers is to look at the physical design of the monitor. On the front of the monitor, you may see mesh-covered circular or oval-shaped openings. These are typically where speakers are located.
Check for Audio In/Out
Additionally, you can check the back of the monitor for any audio input ports, such as a 3.5mm jack or RCA inputs (left and right). If your monitor has these input ports, it means you have the option to connect external speakers or headphones to it.
How To Get Sound From a Gaming Monitor Without Speakers
Here are some options to experience great audio while using a gaming monitor without built-in speakers.
Headphones
You may prefer using headphones for a more private gaming experience. You can plug them into the headphone jack on your monitor or connect them wirelessly via Bluetooth to enjoy audio without any external disturbance.
This allows you to fully immerse yourself in your game and focus on the action without distractions from outside sounds.
If you're experiencing issues with the volume of your Beats headphones, be sure to read this article to understand the possible causes.
HDMI
To enhance your gaming experience with a surround sound setup, you can use the HDMI port on your monitor to connect it to a home theater system or external audio device.
This will allow you to output the audio from your monitor to your sound system, giving you a more immersive and enjoyable gaming experience.
This setup can also be useful for watching movies or listening to music on your computer. The HDMI connection will allow you to enjoy high-quality sound through your home theater system or external audio device.
3.5mm Audio Out
Using a monitor with a 3.5mm audio out port lets you connect to external speakers or headphones, allowing you to customize your audio setup to suit your preferences.
With external speakers, you can enjoy a more powerful and dynamic sound that can help you immerse yourself in the game.
On the other hand, using headphones can give you a more personal and intimate audio experience, allowing you to focus fully on the game and pick up on subtle sounds that may be drowned out by external speakers.
Additionally, with a 3.5mm audio out port, you can connect your PC to high-end audio equipment, such as amplifiers and equalizers, to fine-tune your audio experience.
Optical Out Connection
Some gaming monitors may also have an optical out connection (S/PDIF), which you can connect to a home theater system or external audio device for an even more immersive audio experience.
SPDIF transmits audio only, and it works over relatively short distances. This can be especially useful if you want to keep your setup clean and simple.
It's also great for those who want a dedicated audio connection for high-quality sound.
Wireless Connection
If you prefer a clutter-free setup, you can use wireless audio connections such as Bluetooth to connect your gaming monitor to a Bluetooth-enabled device such as speakers or headphones.
This can be done in various ways:
A Bluetooth adapter
A USB-to-Bluetooth cable
A wireless hub
Bluetooth allows for flexibility and ease of use, as you can move around your gaming setup without being restricted by the length of a cable.
USB Multiport Adapter
Some monitors may lack a 3.5mm audio out port. In this case, you can use a USB multiport adapter that can convert USB to 3.5mm audio out. This can be a great solution for getting audio output without additional cables.
If you want USB-to-Bluetooth, we recommend the Cable Matters USB to Bluetooth 4.0 Adapter from Amazon. This adapter turns your computer into a wireless hub, connecting up to 7 devices, including speakers, headsets, and keyboards with built-in touchpads or mice.
Best Gaming Monitors With Speakers
Sometimes, having a clutter-free setup is key for an enjoyable gaming experience. One way to achieve this is by investing in a monitor with built-in speakers. This eliminates the need for external speakers, leaving more room for your gaming setup.
Below are some of the best gaming monitors that come with speakers, all available on Amazon.com.
The ASUS TUF Gaming monitor delivers an unparalleled gaming experience thanks to its built-in speakers that produce high-fidelity sound.
These speakers are engineered using unmatched resonance technology, which improves audio clarity and precision. This feature makes the monitor an ideal selection for extended gaming sessions.
The Acer Nitro VG270 27″ (2.25 ft) Widescreen LED-Lit Monitor provides an exceptional display. The monitor has decent built-in speakers, but investing in a better sound option is recommended if you value sound quality.
The monitor has thin bezels and a small footprint, which gives it a sleek and modern look.
Immerse yourself in stunning sound and visuals with the Dell S2419H S Series Monitor. Featuring dual 5-Watt speakers that have been expertly tuned by Waves MaxxAudio, this 24-inch (2 ft) black monitor provides a realistic sound experience, dynamic music, and a cinematic feel.
Whether playing games, viewing photos, streaming videos, or creating content, this monitor is ideal for daily activities.
Experience premium sound and sleek design with the BenQ GW2780 monitor. The built-in speakers enhance your audio experience, and the HDMI, DP, and VGA ports allow for seamless connectivity to multiple sources.
The GW2780's line-out feature provides flexibility for external speakers.
When it comes to monitors, bigger is often better, and the HP VH240a 23.8-Inch monitor delivers room-filling sound with a 2.1 speaker solution with a down-firing subwoofer.
Enjoy clear dialogues and crisp sound effects with integrated speakers that pump out 2 watts per channel. The dynamic contrast enhances the colors on your display.
Conclusion
Manufacturers often leave out speakers on gaming monitors to keep costs down and avoid making additional compromises. You can use external speakers or headphones, depending on your preference.