Disclaimer: This post may contain affiliate links, meaning we get a small commission if you make a purchase through our links, at no cost to you. For more information, please visit our Disclaimer Page.
If you are in the market for a new laptop for college, then you've probably been looking at how much space you can get with a laptop. A lot of people argue that 256GB is enough, but is it really?
256GB is enough for a college laptop, but it also depends on the course you major in. For instance, an engineering course may need extra space. Moreover, if you are not planning to have unnecessary files on your laptop, then this storage size will be enough throughout your college studies.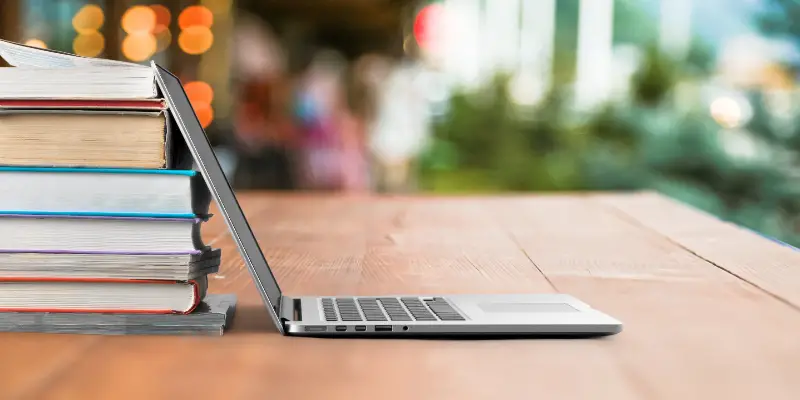 How many GB should a college laptop have?
It's advisable to have a storage space ranging between 256-512 GB. A college laptop may require extra storage space depending based on the course you choose to major in.
If you take a course dealing with tiny file sizes for your assignments and essays, then you'll likely need a laptop with less storage. However, it's best to have enough storage since you'll be taking many courses throughout your college career.
Majors like engineering and computer science may require more storage because of the the projects or homework may be large files. And also the number of programs that are required to download to accomplish the task. You can however make it through the entire study period in college with 256 gigabytes.
You can still have space for many images and some games. This all relies on whatever you prefer to use the laptop for when you are in college.
Every learner requires a laptop for college education these days, though, unlike the cheaper supplies, like paper and pens, these gadgets are lasting investments.
Taking time to explore different laptops can enable you to unravel the type of machine which will operate reasonably for your lessons and one you can pay for. New devices give various benefits over conventional laptops. They are categorized by two major designs.
One is using a rotating hinge or a separable keyboard enabling you to fold a keyboard at the back of the screen. The flexibility of the current two-in-one laptop gives some noticeable benefits. The learners may use the appliance as a common laptop for note-taking during the classes and change to a tablet mode.
This will help you read through a digital textbook for assignment or help take notes if you prefer using a stylus. If you travel more often a portable modern laptop can give considerable flexibility. The given features do come at an elevated price compared to the traditional laptops.
Also, a two-in-one laptop may have low-end hardware because of its decreased size and intensified flexibility.
What You Need To Know Before Buying A Laptop
You need to have the correct size of storage space in your device for its operations. Although additional space always implies a laptop is somehow expensive, the extra storage can be of help at times. Mostly if you deplete it faster.
You will not have to interfere with an external drive and have files in diverse spots if you reckon on the space you'll require. Here are the characteristics you need to consider;
Space
A laptop's storage capacity ranges from 128 gigabytes to 15 terabytes. Despite this, the typical amount of space for a majority of the average laptops is approximately 256 gigabytes.
It's always hard to define how huge a GB is or the amount of space it can take.
And in case you have plans of using the device for lighter file storage, then 256 gigabytes is enough space and can make the laptop durable.
Type of Drive
You can keep your data in either a solid state drive or a hard disk drive.
The HDD has a slow reading speed compared to an SSD and this is because of the drive having moving parts. For the SSD, there are no parts in motion and they are more recent.
SSDs however cost roughly twice the price of the HDDs. The drives can carry larger files and their access is quicker than hard drives. Solid state drives store data on the microchips instead of the spinning disc.
Hence it has an inbuilt processor for accessing data. Hard drives have substantial storage for up to sixteen terabytes and are beneficial if you need more space. On the other hand, solid state drives are small and can be up to 4 terabytes.
However, they have instantaneous loading time and they are perfect for you if you are ready to compromise the price for the speed.
Cost
You will often pay extra cash for additional storage space and the new drives. The price of a laptop varies depending on the hardware it has inside. Generally, you'll spend more on extra space.
Solid drives are more common and always need high prices for their prompt speed. However, they are tiny based on the storage size. The hard drives are less costly all-around and give larger storage for slower loading.
What programs would a student use?
Adobe Reader/ CutePdf Writer
This is for document creation and reading. The program can help you read the pdf files. The ones utilized as virtual documents which you can complete by using a computer.
A CutePDF writer can create pdf files, and you can be able to write documents or change the picture files to pdfs. You can do this by choosing to print the files as pdf, hence turning them into virtual documents.
Microsoft Word
This program helps with word processing. If you need to write a paper then it is necessary for you. For instance, Macs do have a pre-installed version though they are just compatible with the Macs.
This enables instructors to utilize Microsoft Word anytime they write and email documents.
PowerPoint
This is also a Microsoft program and you can use it for presentations. It has several smart objects, charts, backgrounds, and formats you can use in the customization of projects.
It is common in workplaces and understanding how it's used when you attend college is great.
Microsoft Excel
It's also important when you are in college and even after you graduate. It's used for inputting data that is supposed to be computed more easily and analyzed efficiently.
And though it can be complicated at times, there are lessons you can take to understand the way this program works.
Snipping Tool
A student may need to take screenshots at some point when in college and also in their professional undertakings. The program gives a reasonable capability to snap the relevant part of your screen.
This saves you time from images cropping in photoshop or perhaps any other place.
3D Builder
As a student who uses a 3D Builder, you will learn the essentials of a 3D design. This can be of help to you even after college.
OneNote
This is one of the fascinating hidden Microsoft programs. It's similar to a virtual scrapbook. This is the one in which a student can drag every type of material when planning for a project.
It's an incredible place for gathering sketches drawn using a digital pen, personal notes, images, and web pages. Besides, you can organize everything in structure for composing a multimedia assignment or a visual essay.
Windows 10 Program Usage
| | | | | | |
| --- | --- | --- | --- | --- | --- |
| Programs | System | Microsoft Content | Skype | Windows Search | Chrome |
| Size | 2.6GB | 7.00GB | 2.50GB | 1.50GB | 9.30GB |

Is 256GB Enough for a College Laptop?
A 256GB storage is enough for a college laptop. However, there are factors you can consider. Like the courses you are taking and if you need some nonessential files on the same laptop.
The most significant decision you need to make when purchasing a laptop is figuring out the storage you prefer according to your major. The price will always be different depending on the internal space.
For instance, the configuration of a MacBook Air can have 256 or 512 gigabytes of storage.
In case you get a valuable model, it will cost extra cash and this is much.
The truth is, an internal storage of 256 gigabytes will be sufficient for a college student who isn't thinking of having lots of unwanted files and applications. Like music or video games stored locally and cannot be simple to off-load to a backup drive or cloud.
Conclusion
Before you embark on a search for a laptop, you need to identify the essential features that can be of help to you while in college.
You'll also have to be well versed with the normal resale value or market pricing of certain models. Remember to be extra cautious when making purchases from online stores.