Acronis Server Backup Utility
Disclaimer: This post may contain affiliate links, meaning we get a small commission if you make a purchase through our links, at no cost to you. For more information, please visit our Disclaimer Page.
If you have ever had a server crash on you, you know that setting up a new server and getting it to function exactly like the one that crashed is one huge job. If you had any plans for the next several days, they are automatically canceled. You and the server room are to become good friends for at least two days. Maybe you just need to upgrade your server hardware. Plan on spending the weekend at the shop. Those days are over thanks to the Acronis True Image Echo Server. With the Echo server package in place, a server reinstall or hardware upgrade can be performed in literally a matter of minutes.
The Acronis Backup Server for Windows is the long-awaited new version of the already renowned Backup & Recovery series of Acronis Corporate products. The Acronis Backup & Recovery 12 Server for Windows is a perfect solution for protection of all data stored on Windows server, including the Server Operating System. Acronis Backup Server for Windows simplifies and automates the data recovery process, even when the need arises to recover to dissimilar hardware platforms. See our review of the Acronis Backup & Recovery Server for Windows.
Acronis Server for Windows creates a precise image of a Windows server including the operating system, applications, and configurations. The image that the Server creates can be restored in a matter of minutes. The image includes critical applications and databases. There is no need to reinstall anything even if you are just upgrading your server to different hardware. This Acronis product is impressive to say the least.
Check our review and tutorial of the previous version of the Acronis Server Imaging process. See how easy it is to schedule a Windows Server Backup with Acronis.
Check out our walkthrough of the Acronis True Image Server Image Restore process.
The following screenshot shows the Acronis True Image Server management console. The Acronis management console can be installed on multiple computers, allowing you to delegate all the members of the IT staff control of the backup and recovery. It has the same intuitive control panel as any other Acronis product. The main interface gives you two major functions; backup and recover your servers.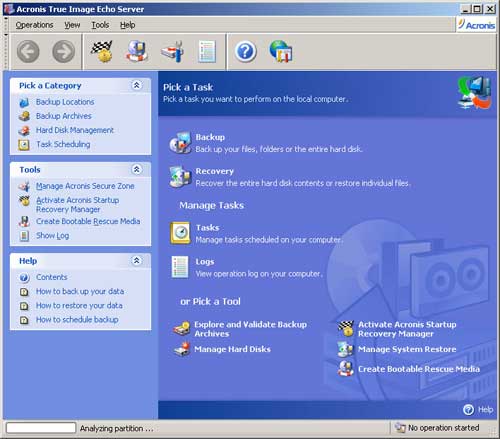 The Acronis Echo Server backup software has an intuitive backup wizard to help you choose the backup location. Notice that you can backup to a local drive, an FTP connection or to an Acronis Backup Server.
This screen shows how you can throttle the data transfer of a backup or recovery job.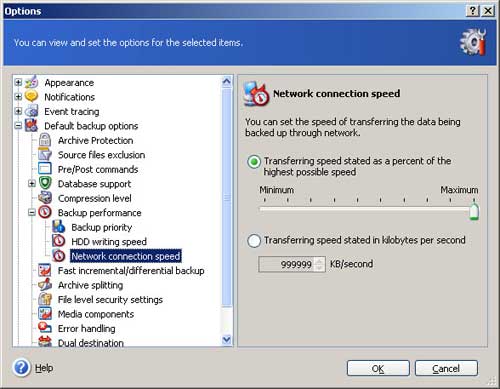 The Acronis True Image Server has its own event log to view the status of all the backup and recovery processes.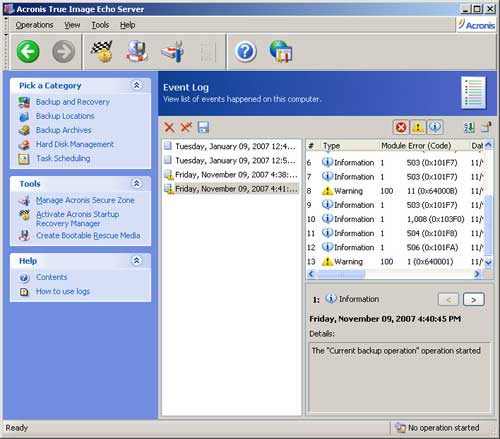 So far the Acronis Server looks like an impressive product that will save countless hours for an IT shop. Just the fact that you can restore entire servers to different hardware is a lifesaver when it is time to upgrade your servers.

The Acronis Backup for Windows Server
creates an exact image of your Windows server including the operating system, applications, and configurations. This remote backup and recovery utility can also back up mission-critical databases. Anyway, both your machine and special files or folders will be successfully restored in case of system failure. What is important to an IT administrator, backup procedures run without interrupting server operations. See our review of the Acronis Backup Server for Windows.