Review of Acronis True Image Home 2023
Disclaimer: This post may contain affiliate links, meaning we get a small commission if you make a purchase through our links, at no cost to you. For more information, please visit our Disclaimer Page.
This review is from a slightly older version however the newest version has most of the same features with a slight change in the interface. See the newest review of True Image 2017 here.
Acronis True Image has just been released with some exciting new features including full Windows 8 Certification and is compatible with Windows 10. True image allows you to take an image of your hard drive to the cloud and do full incremental backups directly to the online storage service.
This review of Acronis True Image Home will mostly focus on the new features of the already renowned computer backup and recovery software. New to this version is the ability to sync files and folders with multiple computers, improved network backup capabilities and a way to take advantage of an excess of 2 terabyte drives that some OS's do not allow. There looks to be many improvements to True Image that makes this backup software even more robust than ever.
The installation of Acronis True Image
was uneventful. The first impressive thing to note about the new version is the new interface. I thought it was kinda neat anyway. It shows little page diagrams giving you the option to learn more about the different aspects of the program. You can take a short tour about how to back up your computer, learn how to recover your system and files and check out a simple slide show about the new file sync module. Here is a screen shot of the new True Image Interface.
Each of the pages gives you a tour of the backup subject in a cartoonish, easy to understand kind of way. If you want to learn about the new sync feature, click the page and it shows you a little slide show of how it works. This slide shows how you can sync data on your computer with your other computers, computers of your friends, local devices and online backup. This could be a very useful new feature.
There are tabs on top that give you access to the Backup and Recovery tools, the Synchronization utility and other tools and utilities that are available. I was shocked to see that it had found backups and drive images that had been done years ago with older versions of the program. Acronis True Image Home is obviously backwards compatible with older versions. This screen is also where you will find tools like Disk and Partition backup, Online Backup, Create a Bootable Media, Browse backups and recover from your choice of older backups. This is what you will see under the Backup and Recovery tab.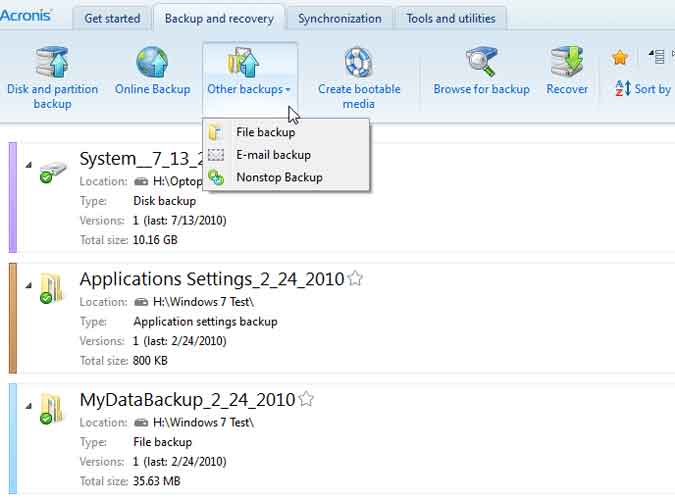 The next tab is the synchronization screen where you can sync data between one or several computers. This is new to True Image Home 2012. The option is available to Sync files with friends, family or co-workers over the Web, or simply sync with local folders, including USB flash drives or external hard drive devices. Clicking on the Synchronization tab told me that I did not have any syncs yet. The obvious choice was to click on the New Sync button as shown here. I couldn't resist.
Clicking on the New Sync button brings up the following box where you can specify a folder to synchronize. I chose a folder called WWW where I store a variety of websites.
Clicking next gave options to select other computers, online storage or a local folder to sync with. For this review, I chose the local folder option where I had a backup copy of the folder on an external drive. Once the job is setup, you can invite collaborators, Sync with other PCs, store versions online, etc. This is what the sync job looks like with the available options.
The Tools and Utilities tab has all of the usual handy tools that we have come to rely upon from the True Image backup utility.
More True Image Reviews
As you may know from our reviews of previous versions of True Image, this software is a solid tool to help you keep your data safe on your computer. Here are some of our popular previous reviews that show how well True Image performs on various backup and recovery tasks:
Clone a Laptop Hard Drive with True Image 2017
Acronis True Image Cloud Review
Image a Hard Drive with True Image 2017
Create a Bootable Rescue USB Drive with True Image 2017
Acronis True Image 2016 Review
Acronis continues to develop True Image Home to the point that there should be no excuses not to keep your data backed up. With the new sync feature and the ability to integrate Acronis True Image Cloud into the program, files are always synchronized, safe and secure while using a very intuitive easy to use backup program. As with all of the previous versions we have reviewed, Acronis True Image Home gets an honorable Brontobyte on a scale of Bytes to Brontobytes for this review.
Acronis True Image 2017
has been released and it makes it easier than ever to back up your computer and devices. With just 2 clicks of the mouse, you can do a full image backup of a computer. It doesn't get much easier than that. This version added many new features including the ability to backup an unlimited number of iPhones, iPads, and Android mobile devices with Wi-Fi to your computer, it even backs up your Facebook stuff. It is 3 to 6 times faster than the completion when backing up to an external drive and 25% faster than the previous version when backing up to the Acronis cloud. The 2017 version still has all of the other useful features that are essential in a complete backup program. Clone Disk, Try&Decide, Bootable Rescue Media Builder and Startup Recovery Manager are readily available. A True Image 2017 coupon code will be posted when it becomes available. See our full review of Acronis True Image 2017.
$49.99