Review of Acronis True Image 2021
Disclaimer: This post may contain affiliate links, meaning we get a small commission if you make a purchase through our links, at no cost to you. For more information, please visit our Disclaimer Page.
The newest version of True Image has been released and with the release comes some very nice improvements to the easy to use computer backup software. All of the features of the older versions are still available however; they have added some key components to make it even more flexible and intuitive. This version is also Windows 10 Certified. This review of Acronis True Image will focus mostly on the new components that are now available while touching base with some of the many other features that make this backup utility so popular with home PC users. If you are looking for a review of Acronis True Image about how to take an image of a drive, see the review here
Online Disk Imaging and Incremental Backups
Take an image of your PC directly to the cloud. That is an image of your entire system not just individual files and folders and restore it from anywhere there is an Internet connection. You True Image allows you to run incremental and differential backups directly to the cloud as well.
Choose What to Restore
This version allows you to choose what to restore including restoration of the entire disk or just a few files backed up within a disk image. This can be done over the Internet or with a local storage device.
The new interface startup screen gives you access to short tours to teach you how to use the program. Here is a screenshot of the Acronis True Image interface.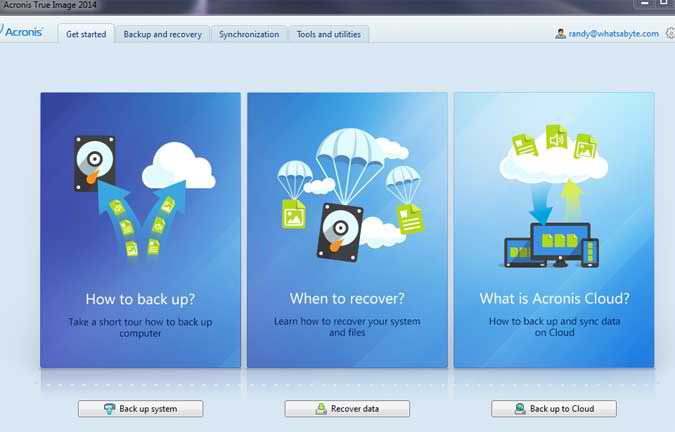 For instance, if you are not sure how to backup your computer, simply click on the "how to Back Up" screen for a short tour. This shows you to click the Backup and Recovery tab and then the Disk and Partition backup button as the following screen shows.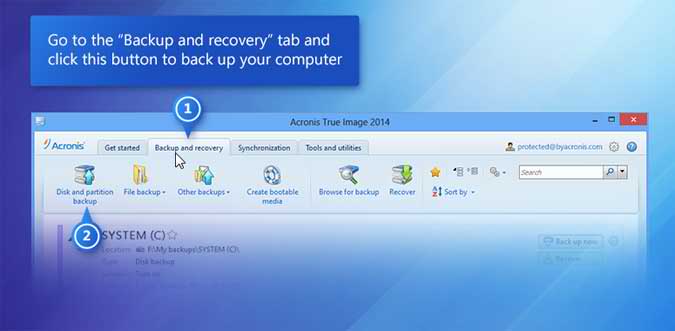 The Disk and Partition backup button allows you to choose what to backup and where to put the backup files. You can choose local devices including external hard drives, Network Attached Storage, USB Flash Drives or the Acronis Secure Zone. You also have the option to back up directly to the cloud.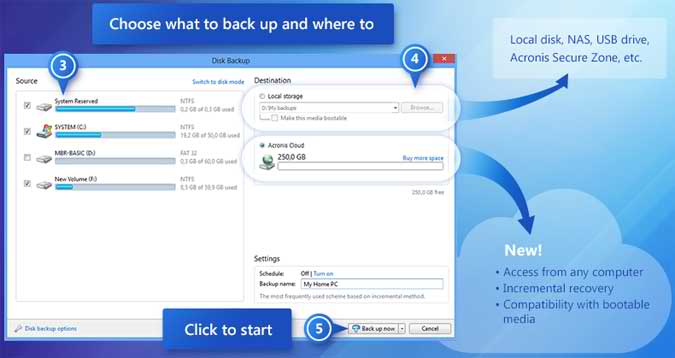 Once the backup job is finished, you can manage it from one convenient location allowing you to update, recover, edit or delete the job altogether.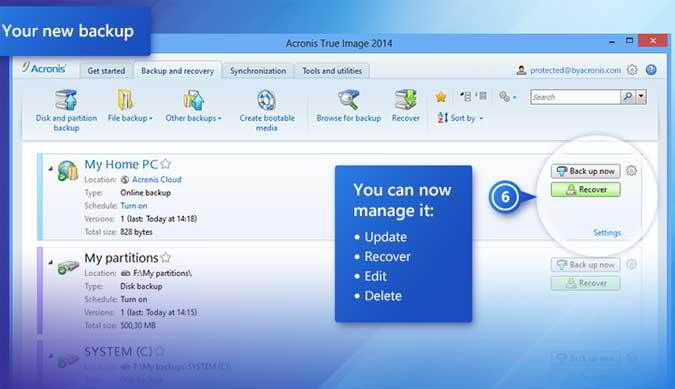 Other options on the start up screen are the "When to Recover" button which explains the options for file and disk recovery and the "What is Acronis Cloud" button that explains how to backup and sync data to the Cloud. Here is a quick tour: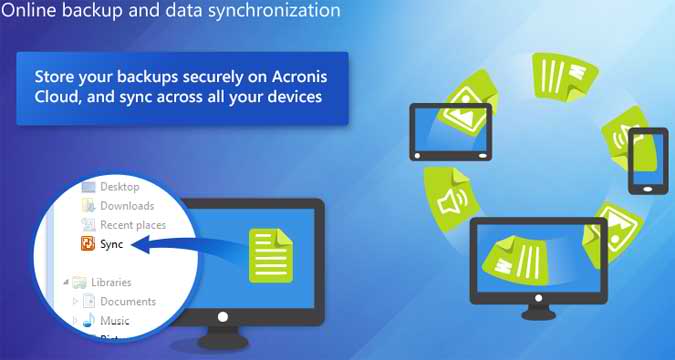 This screen shows the options available to access your files stored online. You can use any web browser or you can install the mobile app on virtually any of your devices to access your data.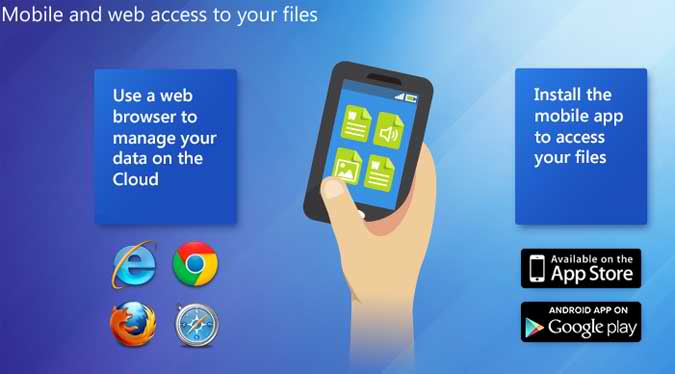 The Acronis Cloud also allows you to Publish and share your files to the whole world or share a file or folder securely with a friend or colleague.
True Image Still has the other features that make the software great in the Tools and Utilities tab. Tools like Try & Decide, Clone Disk, Rescue Media Builder, Startup Recovery Manager, Acronis Secure Zone and many other tools are still available.
This review of Acronis True Image shows some of the improvements and the fundamental usage of the program. We will have more reviews of the different processes soon. True Image continues to get better as more features are added making this backup software a very useful tool to own to keep your data safe.
Acronis True Image 2017
has been released and it is optimized for Windows 10 and the most recent Mac OS X versions. This version is between 3 times to 6 times faster than the competition. Through the years, True Image has been making it easier and easier to keep your data safe by backing it up. The 2017 version has simplified the process even more. 2 clicks is all it takes to do a full image backup of your entire computer. This version combines the features of the previous versions which includes dynamic disk support and Universal Restore allowing you to restore data to a different PC even if it has different hardware. Wi-Fi support has also been added when backing up to the Acronis Cloud even to a bare-metal PC. It easily backs up Windows, Mac, iOS, Android and even Facebook. Gotta keep up with the times. See our Acronis True Image 2017 review.
$49.99
More True Image Reviews
Clone a Laptop Hard Drive with True Image 2017
Acronis True Image Cloud Review
Image a Hard Drive with True Image 2017
Create a Bootable Rescue USB Drive with True Image 2017
Acronis True Image 2016 Review