Acronis True Image Cloud Review
Disclaimer: This post may contain affiliate links, meaning we get a small commission if you make a purchase through our links, at no cost to you. For more information, please visit our Disclaimer Page.
Acronis True Image Cloud is an application that allows you to use an online storage service and/or local media for safeguarding your most important files. In this review of Acronis True Image, a very important folder will be backed up and restored from the secure storage center and then a quick review of the mobile app in action backing up a smartphone.
Acronis True Image allows you to save important files to a secure remote location or to a local backup media and recover them when the need arises. Because files are stored on a remote storage, they are protected even if your computer gets stolen or your house burns down. So the risk of data loss as a result of fire, theft, or other natural disasters is practically eliminated. If something happens to your backup image, PC, or external storage device, you can get your most important files back. This review will focus on the online backup and restore process.
When the program is opened, you are presented with the following screen. If you wanted to backup your Entire PC to Acronis Cloud, you would simply click on the backup now button and this review would be over but we want to explore the program a bit more. Clicking on Entire PC or Acronis Cloud gives you more options.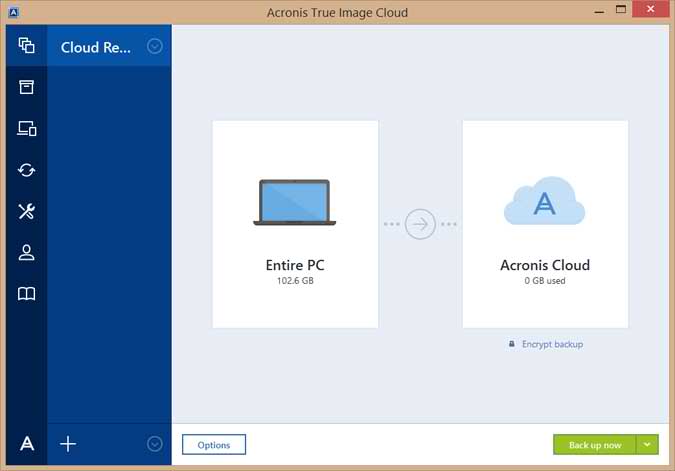 Clicking on Entire PC gives you the option to backup the Entire PC which is the easiest and most complete backup of your data, Disks and Partitions and Files and Folders are the options. For this review, the Files and Folders option is selected. I drilled down to a little folder called WAB. That is where this website is stored and it is kind of an important folder.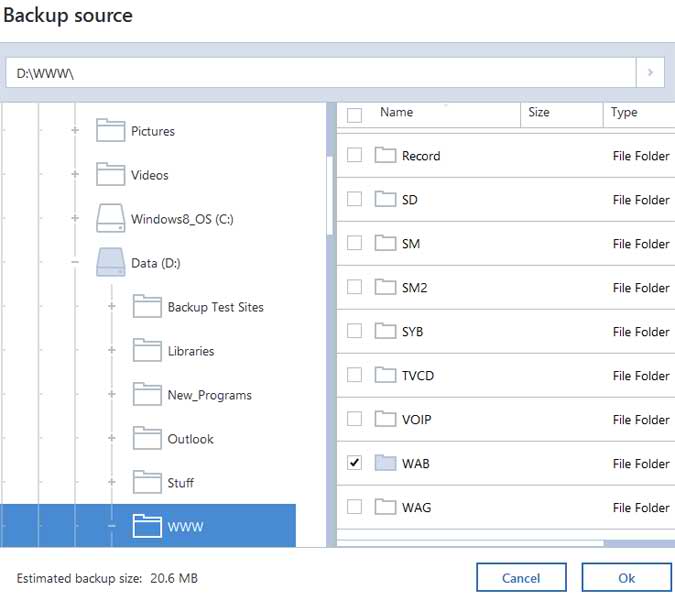 Clicking the OK button brought up the following screen telling me what it was going to do. I could click on the Backup Now button and go for the gusto but that's not what I do.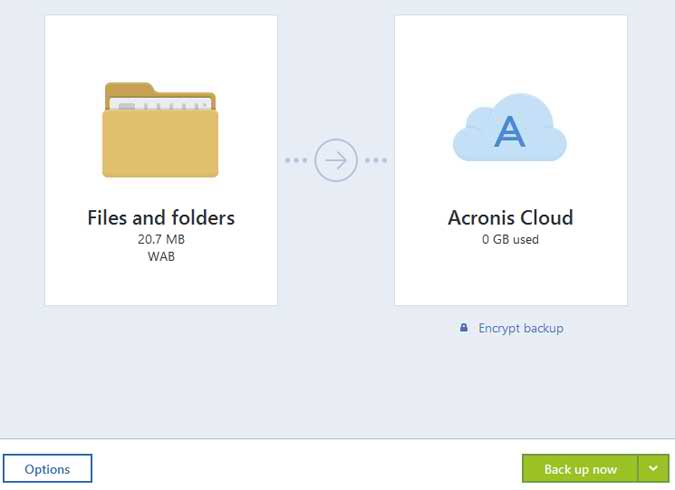 The Options button looked interesting so I gave it a click. This is the screen where you can schedule the online backup job, get notifications, set exclusions and some advanced settings. Looks good to me so I smacked the Backup Now button.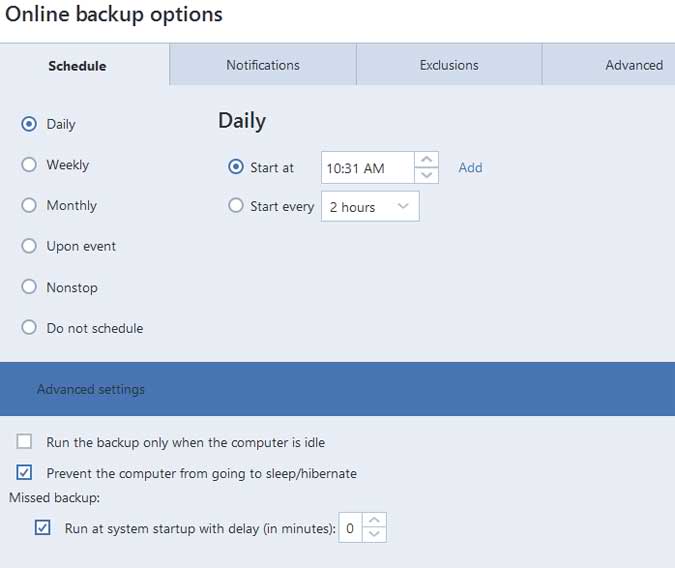 When it started it told me so. I could close True Image and even shut down the computer and it would resume upon startup. Nice.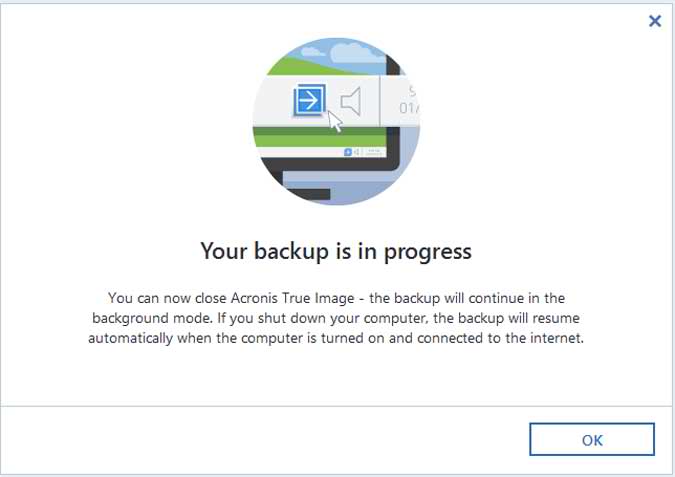 When the backup job finished there was a new button called Recover Files. Clicking it brought me to the Acronis Cloud. Here I can download the backup files, copy the link and even share the folder if I chose to.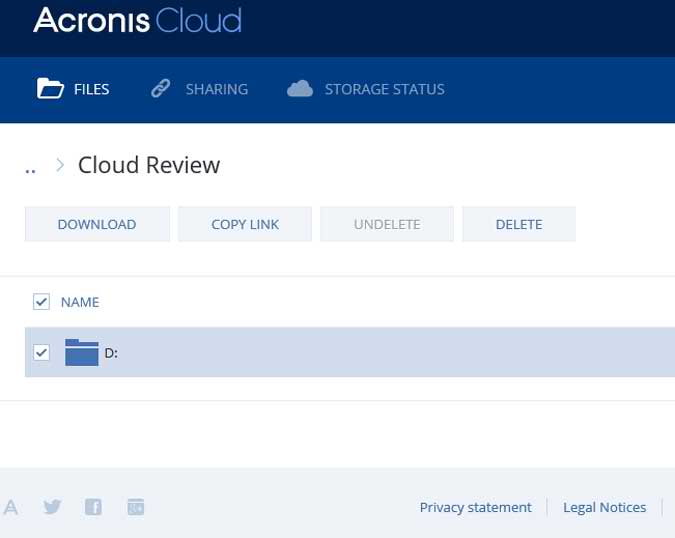 Clicking the Download button allowed me to save the file just like any other file downloaded from the Internet. I restored it to a folder called Test Recover. It restored in a .zip format. Unzipping the file showed a successful recovery of all of the files used to create this website. It is good to know that I can always recover the files if the need ever arises.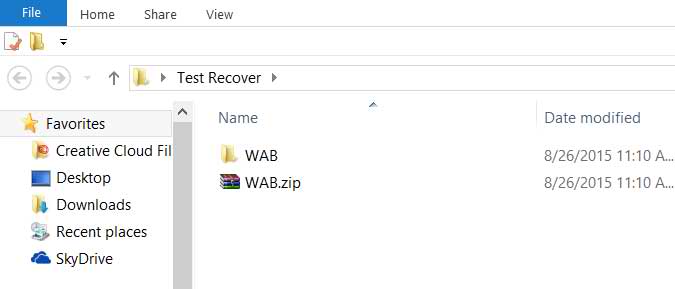 True Image Cloud Device Backup
Acronis True Image Cloud has a mobile app that lets you back up and recover the data stored on your mobile devices. Back up your photos, contacts, events, and more. Use any device to view, download, and recover your mobile data. If you get a new smartphone or tablet, all of the files are easily downloaded to the new device.
For a quick review of the Acronis device backup I just chose to backup my contacts. Here are a few screenshots of the app in action.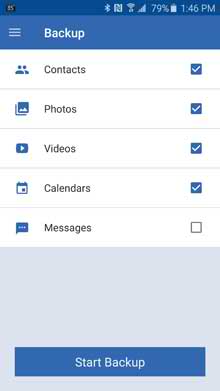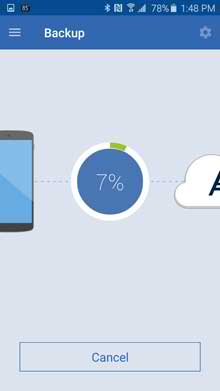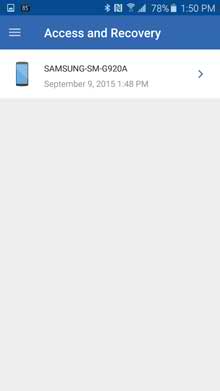 When the backup was finished the contacts are easily recoverable from the phone or from a PC or other device. Just log into the Acronis Cloud and select the backup job from the dashboard.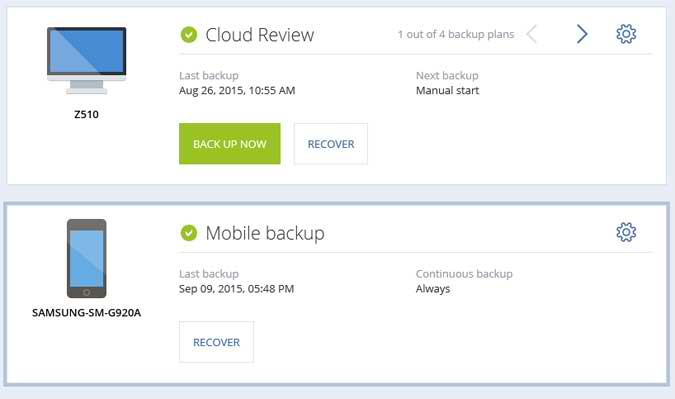 From there you can download and recover all files or just one contact.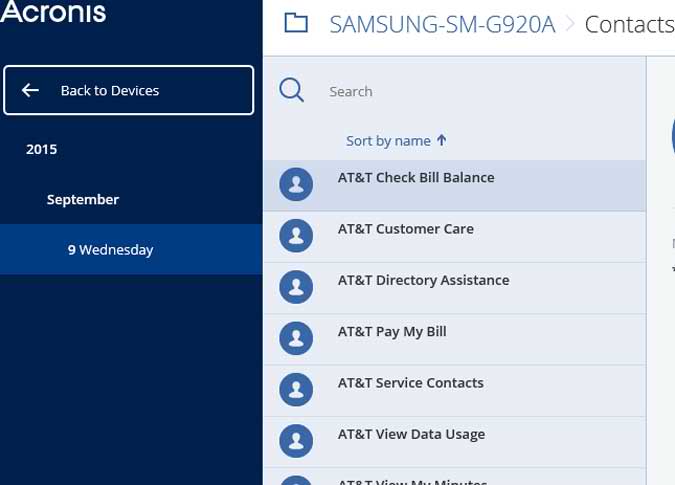 Acronis Online Dashboard Management
You can back up data only from the current computer. You can specify what data to back up, what data to exclude from the backup, schedule the online backup task, and recover data from the Online Storage. In addition, you can delete from the Online Storage files and folders you do not need anymore.
You can recover your data from the Acronis Cloud on any computer with a Web browser without the necessity of installing the software. Simply go to the Acronis Online Backup Web site, log in to Acronis Online Storage, select the computer from which you backed up the files you need to recover, and then download the files to your current computer.
Every time you back up the same file, Acronis True Image Cloud creates versions of the file on the Online Storage. When recovering the file you will be able to select the version that you need.
As with all of the Acronis products we have reviewed, Acronis True Image Cloud gets an honorable Brontobyte on a scale of bytes to Brontobytes.
You can save documents, photos, music, and more from a PC and devices on one account. If a computer or phone crashes or you lose a backup, no problem… Just log in from another computer and retrieve your files from Acronis True Image Cloud.
Acronis True Image 2017
has been released and it makes it easier than ever to back up your computer and devices. With just 2 clicks of the mouse, you can do a full image backup of a computer. It doesn't get much easier than that. This version added many new features including the ability to backup an unlimited number of iPhones, iPads, and Android mobile devices with Wi-Fi to your computer, it even backs up your Facebook stuff. It is 3 to 6 times faster than the completion when backing up to an external drive and 25% faster than the previous version when backing up to the Acronis cloud. The 2017 version still has all of the other useful features that are essential in a complete backup program. Clone Disk, Try&Decide, Bootable Rescue Media Builder and Startup Recovery Manager are readily available.See the Acronis True Image Review here.
$39.99 for 1 Computer Subscription
$69.99 for 3 Subscriptions
$79.99 for 5 Subscriptions