Review of the Carbonite Online Backup Solution
Disclaimer: This post may contain affiliate links, meaning we get a small commission if you make a purchase through our links, at no cost to you. For more information, please visit our Disclaimer Page.
The Carbonite online backup service offers unlimited online backup for one flat fee for home users or a business class online backup solution. At this time, Carbonite has backed up over three billion files and much more importantly, restored over 300 million files that may very well have been lost forever if it wasn't for Carbonite.
We wanted to see how the Carbonite online backup solution worked so we put it to the test in this review.
Just stop on over to the Carbonite website
, sign up and download the program and execute the downloaded file. After executing the Carbonite setup program, the following screen appears giving you the option to use the default options or the advanced settings. I chose to use the advanced settings.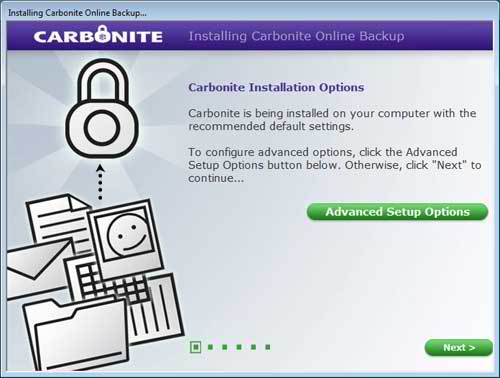 The following Carbonite Advanced settings screen allows you to manage your encryption key. By default, Carbonite manages the encryption key so you only have to remember your username and password. I have enough to remember so I chose to let Carbonite manage the key and clicked Next.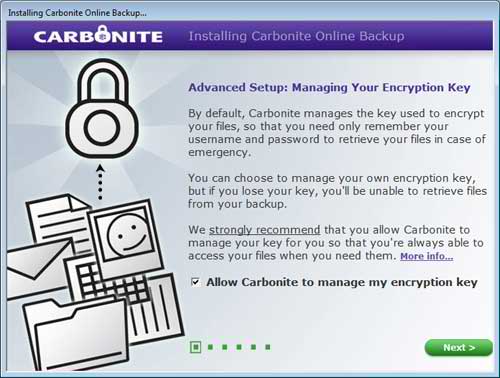 Then I was congratulated for the successful installation of Carbonite and given the option to backup my files automatically or manually. I chose to manually choose what files to back up later.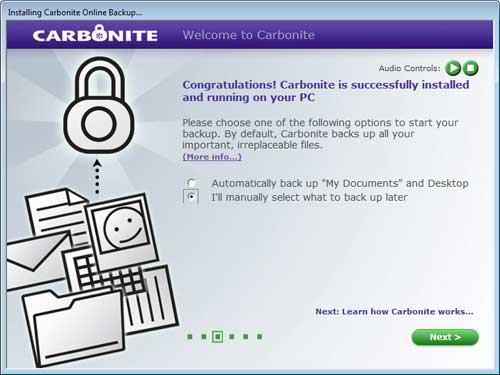 The next screenshot shows some information about how the Carbonite online backup solution works. It looks quite easy to use. Carbonite adds colored dots to your files and folders indicating the backup status. A green dot on a file means that it is already backed up. A yellow dot means that that file is pending the backup operation. No dot means that the file is not selected for backup. You can simply right click on any file or folder to add or remove it from the online backup job.
Carbonite works silently in the background to keep your backup up to date and the files are encrypted before transmission to ensure that only you can access the data.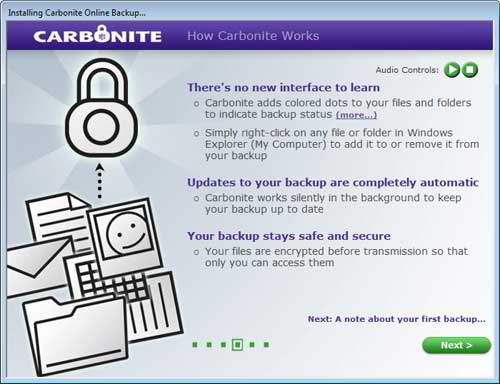 Then there is a note about your first Carbonite online Backup. Depending on the amount of data you are backing up. The first backup may take some time but future backups should only take minutes. The reasoning behind this is that most home Internet connections 2-3 Gigabytes per day and are designed to download files faster that uploading them. The first upload to the Carbonite servers may take some time but the restore will be lightning fast.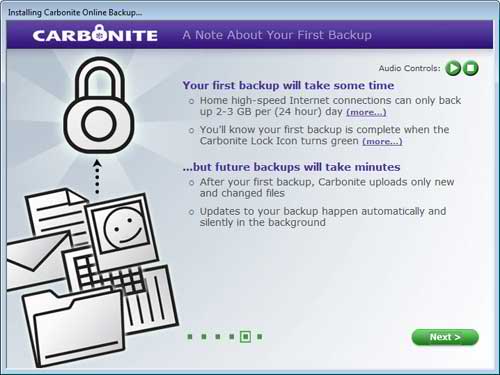 When the Carbonite installation was complete, I was alerted that I didn't have any files or folders selected for backup. Looks simple; just right-click on any file or folder to tell Carbonite to back it up.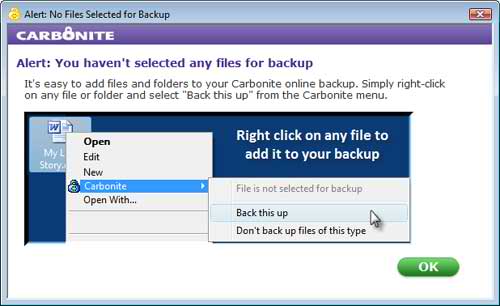 I chose to back up a very important folder called WAB. That is the folder that the What's A Byte website is stored in. So I right-clicked and told Carbonite to back this up.

This screen shows the backup in progress. Notice that I am still able to work while the backup is performed.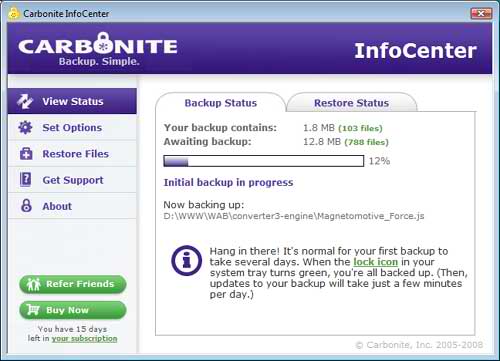 The online backup completed in about five minutes but it was only about a 15 Megabyte folder. When it was done I deleted the folder. It was there and now it's gone.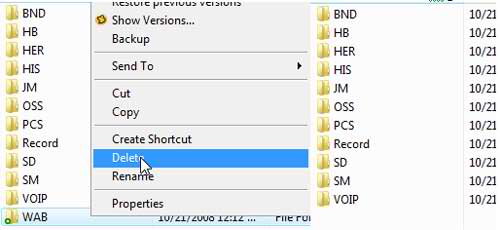 The restore process is just as simple as the backup process. From the Carbonite main menu, I just chose the Restore Files tab and selected the backed up folder to restore. I told it to restore it to the original location. Hope this works!

This is the restoration in progress.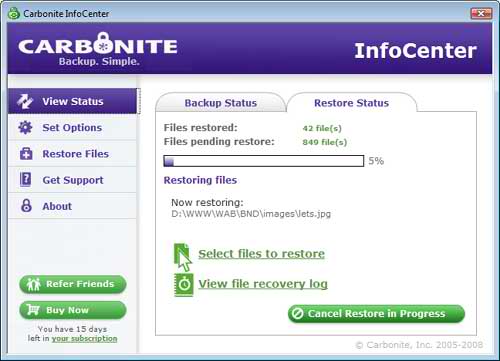 I was alerted when Carbonite was finished restoring the WAB folder and checked to see if it was indeed there. It was. Whew!
Carbonite offers to update the backup job automatically or you can set the job to go off at any time you see fit. I set this backup job to execute every day at midnight. There are many other options that you can give your backup job under the advanced scheduling options.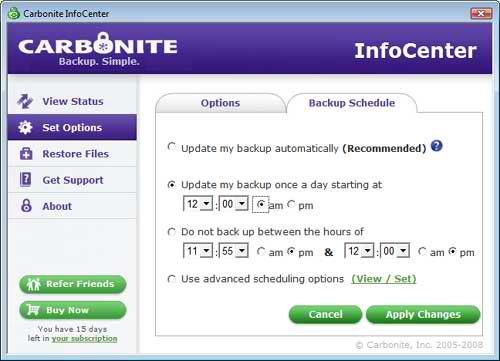 This review of the Carbonite online backup service proved that it could be a lifesaver if you were ever to lose, delete or corrupt a file and need it restored quickly and securely.
Carbonite Online Backup now offers remote file access. With this exciting new feature, Carbonite customers enjoy the convenience of accessing their backed up files by logging into their account on the Carbonite.com website. Whether they're traveling on business, away on vacation, at school, or in the office, Carbonite customers can now securely retrieve single files over the Internet—anytime, anywhere.