Disclaimer: This post may contain affiliate links, meaning we get a small commission if you make a purchase through our links, at no cost to you. For more information, please visit our Disclaimer Page.
A Deep Dive Into AnyTrans
AnyTrans is a file manager application specifically for iOS devices (iPhone, iPad, etc.). Its competitor is iTunes — so right off the bat, you know it's going to be pretty good!
The application can copy all types of media from your PC, iMac, or Macbook and place them onto your phone and vice versa. You can also manage and create separate backups of everything (including messages) on your phone with the touch of a button. Oh, it integrates with iCloud too which is cool!
Keep in mind though, we've found that it isn't a substitute for iTunes. However, it will manage most of the regular management activities that iTunes may have been doing for you up until this point.
Before we get into the rest of the review, let's take a little look at the history behind AnyTrans, shall we?
AnyTrans: The History
AnyTrans has been developed by the company, iMobie, which was established in 2011. This business's sole purpose is to help both iOs and Android users simplify their digital file management.
The application we're talking about today was developed with iOS users in mind over a year ago now. So, let's see if it cuts the mustard by diving into this AnyTrans review.
Who's It For?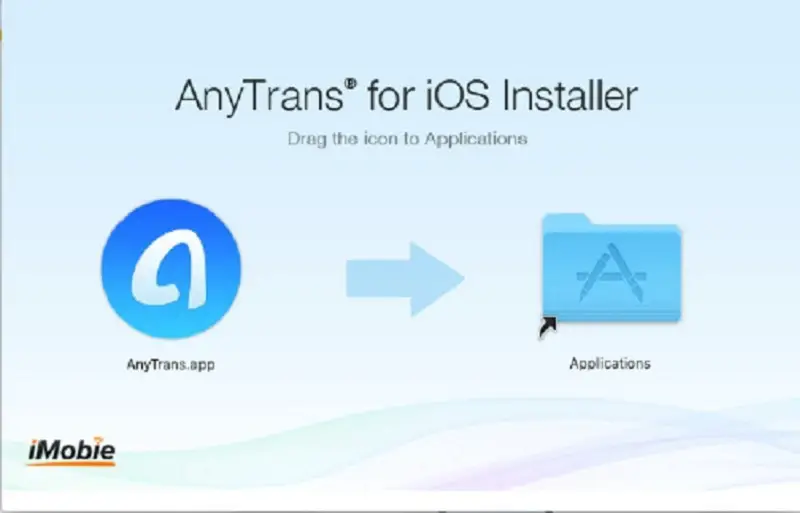 AnyTrans is for anyone with an iOS device. If you use an iPhone, iPad, iPod, iCloud, or iTunes, then AnyTrans might be the way to go for all your file-management needs. But we'll get into the specifics of who this application was made for, to make your download decision easier.
This Product Is For iOS Users Who…
Want an easy way to manage their files and messages.
Want a simple way to transfer their data from one device to another.
Are willing to spend money on the full application to gain access to all the features.
Want a lot of features alongside basic file management.
Don't have a lot of experience when it comes to transferring and managing their files or communications.
This Product Is Not For People Who…
Are on a budget (we're going to talk about this in more detail later on).
Don't need to transfer files from one device to another.
Don't want a lot of extra features in their file management application.
Have a lot of experience when it comes to transferring and managing their own files or communications. For example, software developers and data architects will most definitely know some incredibly quick, backend ways to sort their files out.
What We Like About AnyTrans
As you might have guessed from the above sections, there are lots of things that we like about the AnyTrans application.
In the file management application sector, there are almost too many programs. This makes it super hard to pick since, unless you download a load of them and try them out, you won't know which one is best.
Well, we've done just that! From the few that we tried, AnyTrans was the one that came out on top. Of course, everything has downsides (which we will talk about later), but overall, this application is brilliant (in our humble opinion).
Right, no more yapping! We will jump straight into everything we liked about this bit of kit.
The Abundance of Features
Seriously, there are so many features that it nearly made our head explode. You could spend hours playing around with it and you'll find more and more features that you previously overlooked. It's like a gold mine, and we're definitely here for it.
The features include the following:
Category export for photos and videos
Transfer music across all sorts of devices
Backup messages easily
Print messages
Manage apps from your computer
Manage your phone's contact list
Transfer WhatsApp conversations
Supports 1-click iPhone to iPhone backup (this helps loads when you buy a new device)
Ringtone maker
Download media
Mirror, take screenshots, or record your screen
iCloud explorer
Crazily enough, this is not an exhaustive list of all the features that are packed inside the app. We've been exploring all it has to offer and there are simply too many features to list. If you've been searching for an all-around stunning file management system, then you'd be hard-pressed to find a better solution.
It Supports Multiple Languages and Has a Cool Bonus Feature
English
German
Spanish
Arabic
French
Chinese
Japanese
Inclusivity has really come to light over the past few years — more so than ever before. iMobie made an extremely good moral move to include a bunch of languages. Not only does this ensure that more people feel involved and valued, but it also drastically increases their target market. Win-win!
Now, the cool bonus feature is one that is really not necessary. But, it's loveable nonetheless.
You don't need your file manager to make the aesthetic of your device. However, AnyTrans allows you to pick from five different designs so you can ensure that your user experience is as seamless as possible.
You can choose from the following:
Space Black
Rose Pink
White Christmas
Space Gray
Classic White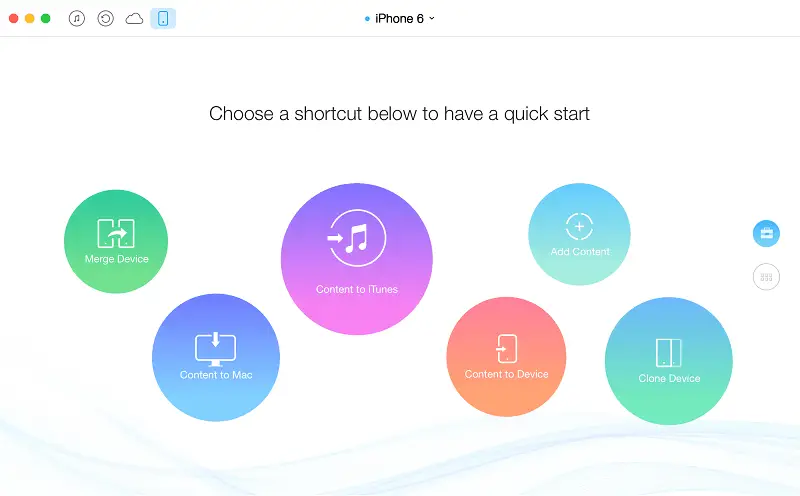 It Has Been Internationally Certified
This world — including the internet — can be a cruel place. Because of this, people have become increasingly wary of software that they've never heard of before or applications that are made by unknown brands.
To tell you the truth, this is a good way to be. But, it can also be rather detrimental to finding programs that might work well for you.
So, the question is, how can you tell if an app is a scam or if it's legit? We have one word for you — certifications.
If large awarding bodies have approved the program, you're safe. After all, these big brands aren't going to taint their flawless brand by backing something that will bring people harm.
AnyTrans has achieved the following certifications and accolades:
Apple Certified Developer
McAfee SECURE Authentication
Money-Back Guarantee
BBB Accredited Businesses
Site Authentication with Norton
100% Clean
Over 16 million people have downloaded the app and have said that it has made using iOS devices better
It Works With 27 Data Types
If you have ever worked with file transfer or management software before, you will probably know that some programs only support certain types of media. This is fine if you are focused solely on a specific media type, but, for most people, it's not enough. Hence why AnyTrans can deal with 27 different forms. These include the following:
Music
Audio Books
Movies
Playlists
TV shows
Music videos
Podcasts
Ringtone
Voice memos
iTunes U
Calendar
Contacts
Messages
Voicemail
Books
Notes
Safari history
Safari bookmarks
Camera roll photos
Photo libraries
Photo videos
Photo streams
Photo share
Apps from the AppStore
iCloud
JB system
System
Backup
Storage
We think this covers pretty much everything you have on your phone, right? You would be hard-pushed to find a file type that you can't transfer with this program.
You Don't Need Any Tech Knowledge
Arguably, this is one of the best parts of AnyTrans!
It's frustrating when you're trying to transfer your data from one device to another and you feel like you need a tech background in order to get the job done. Or, at the very least, you need to call Apple Support to ensure everything goes smoothly.
Well, this application has taken all the tricky stuff out of the process. Technically, it's still in the process, but you don't have to worry about it. The program takes care of it all for you.
There is a flip side to this, however. What's that, we hear you ask? Well, if you are very technologically inclined, you might become frustrated with the lack of control you have over all the details.
Overall, we prefer not having to deal with all the nitty-gritty technical stuff. It just gets the job done, and we appreciate that.
The User Interface
Nowadays, every application needs a fantastic UI (user interface) to be successful. Otherwise, it just gets left behind while the other apps land on cloud 9. Thankfully, AnyTrans has managed to keep up with the times. You are almost guaranteed to love it.
In the newest version, the interface is very attractive. Not only is it simply laid out, and oh-so user-friendly, but it is also incredibly modern. The clean lines and crisp white background help it do this. It's certainly a very clever design.
As we mentioned earlier, you can customize the color scheme however you so choose. This makes it even more attractive since you can ensure it matches your aesthetic.
Alongside this, you can find all the features really easily. Obviously, there's no point in having a file management app that looks great but doesn't actually serve its purpose. Luckily, the developers have combined style with function and not fallen into the style over substance trap.
Supporting multiple languages is always a good idea in this day and age. The developers over at iMobie seemed to have recognized this since you can use the app in all of the following languages:
What We Don't Like About AnyTrans
Okay, this would not be a review if we didn't mention all of the things that we didn't like. To tell you the truth, we haven't used a single piece of software or a product that has no downsides. Negative aspects are just a part of life (yup, it's sad but true).
Here, we are going to take an in-depth look at three of the disadvantages you may well face when using this application.
To give you an idea of what we'll be talking about, have a look at this little list of the negatives:
The lack of a free version
You can't actually edit your iTunes library at all from within the program
You have to keep your device unlocked for it to work effectively
With that being said, let's jump right into the juicy details.
There's No Free Version
Technically, this isn't quite true. The AnyTrans app is, in fact, free to download. However, you won't be able to use all of the features without paying for the program. The bad thing about this is that you might not know whether it's worth your well-earned cash.
Thankfully, iMobie gives you a free trial. But even with this, you won't be able to use all the features without limitations. Instead, you'll only be able to transfer 30 objects per day for the first 3 days. That's it.
Still, don't let that put you off. It's worth taking the free trial to figure out whether you want to spend your dollars on it.
Here's the difference between the trial and paid version:
| Trial | Paid |
| --- | --- |
| Create a backup (full or incremental) | Create a backup (full or incremental) |
| Automatic and wireless iPhone backup | Automatic and wireless iPhone backup |
| WhatsApp, Viber, and LINE chat backup | WhatsApp, Viber, and LINE chat backup |
| | |
| Download videos or music to your iDevice or computer | Download videos or music to your iDevice or computer |
| Turn music into your ringtone | Turn music into your ringtone |
| Download iOS apps from & your computer | Download iOS apps from your computer |
| Transfer 30 items per day for 3 days | Transfer files between your phone and computer |
| Transfer 30 items per day onto your iPhone for 3 days | Turn your iPhone into a file storing device |
| Transfer 30 music and photo files between your devices per day for 3 days | Transfer photos etc. across your devices |
|   | Move data from your iOS or Android to your iPhone |
|   | Move data from iCloud or Google Cloud to your iPhone |
|   | Sync data from iTunes to your iDevice or download them onto your computer |
|   | Restore your entire backup if need be |
|   | Move your LINE, Viber, and WhatsApp chats to your new iPhone |
You Can't Edit Your iTunes Library From The App
While you can transfer music from your iTunes library across all your devices, you won't be able to edit anything in this library from the AnyTrans app. This can be pretty frustrating, especially if iTunes is the main aspect of your device that you're trying to backup.
On the other hand, you can compile your music on your phone without ruining existing songs. All you have to do is use the handy-dandy drag and drop tool to do this. It's as simple as 1, 2, 3!
iMobie claims that it frees you from iTunes restrictions. This is true but also not so true. Your music will flow a lot better across your devices, however, you won't be able to juggle your libraries around or remove songs that you're not so keen on.
You Need to Keep Your Device Unlocked
We thought we'd save the worst one for last. Yep, the transfer does not go very smoothly if your iDevice is set to auto-lock after a specified length of time. This is rather unfortunate!
This fact alone tends to drain your battery like you wouldn't believe. You'll have to be okay with this in order to like using this program. Ultimately, we felt that it wasn't too much of a big deal since we just charged our devices afterward. But it largely depends on how much time you want to dedicate to the whole process.
At the end of the day, this fact didn't put us off since the rest of the application is so smooth. It's a personal preference thing!
PROS
It has a very crisp, clean, streamlined interface
It's very easy to control your files from the app
You don't need any knowledge or experience to use the application
It manages 27 types of data
It comes with a money-back guarantee
It supports 7 different languages
You can do a wireless backup whenever you feel like it
It makes it really easy to move photos and/or videos between your Windows computer or Mac and your iPhone or iPad
You can download videos from the web straight to your device
CONS
You can't add to your iTunes library from AnyTrans
There isn't a free version
You need to have the iTunes desktop app for it to work properly
You can't edit your iTunes library from this app
It's the most reliable when your device is unlocked all the time
What's Included?
Since it's a digital download and not a tactile product, there isn't anything included as it were. However, you do get a bunch of features within the application itself. These include:
Backup iDevice data — This includes all data, incremental data, and air backups.
Ability to sync iPhones and iPads to your computer — You can choose whether you want all or some of your data to be transferred.
Add files to your iDevice from your computer or iCloud.
Extract data from iCloud or iTunes — You can add media files using this tool as well.
Money Back Guarantee — If you're not satisfied, you can always get a refund within 60 days.
Now, let's have a detailed look at all the features this app comes with. Ready? Excellent, let's go!
Overview Of Features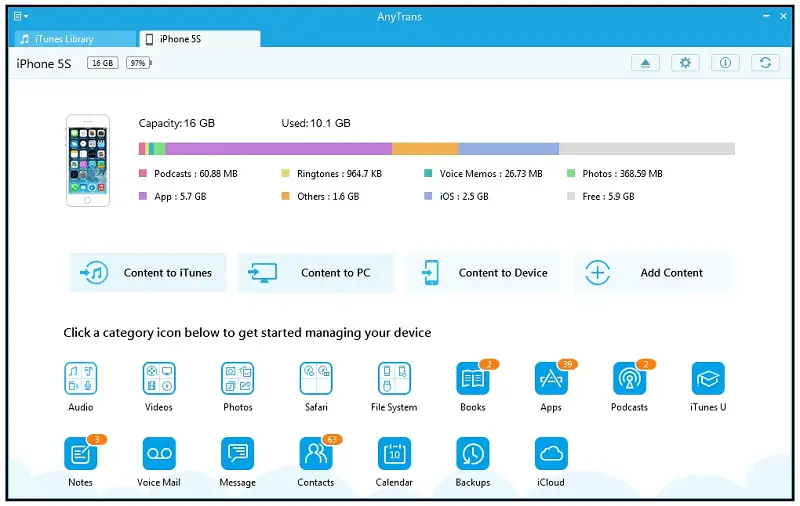 You can already tell by now that there is a load of features packed inside this application. Since there are so many, we won't be able to look at each one. So, we are going to cover the following to give you a nice overview:
App and File Management
Air Backup Manager
Sync and Transfer
Ringtone Management
iCloud Explorer
Android to iPhone File Transfer
Ability to Mirror Your Screens
Message Manager
Clone Your iPhone
Media Downloader
Right, let's introduce you to the main (yet amazing) features.
Air Backup Manager
The air backup manager is one of those super special features that we've been waiting for. It seems to have taken a while for it to be included in any applications like this. But it's better late than never!
With this function, there is no need to keep connecting and disconnecting your iOS devices with your computer cable. You can backup your iPhone, iPad, or iPod Touch wirelessly instead.
As you might imagine, you do have to be on the same network for it to work.
To do this, just head back to the "Backup Manager" tab and click on "Air Backup Preference". Then, you can select the checkbox next to "Enable Air Backup for Current Device" and away you go. It'll change your backup life!
Sync and Transfer
This feature lets you transfer your content between your iPhone and your computer. Obviously, every file management system will have this functionality. But not all of them do it well. AnyTrans, however, works pretty flawlessly. Oh, and it's incredibly easy to do. Check it out:
Step One: Find a USB cable. This is the quickest way to use this feature.
Step Two: Plug the USB cable into your iPhone and your computer.
Step Three: Head to the AnyTrans app and open it.
Step Four: That's it! You can transfer anything now. From photos to music and more, the world is your oyster.
We honestly don't think this whole system could be any simpler. It's just a case of plugging the cable in and pushing a button. What more could you ask for?
Ringtone Management
Making your own ringtones nowadays is far trickier than when we all used Nokia bar phones and sending each other music took days (it felt like days anyway!).
AnyTrans decided to take back some of this ease by integrating a custom ringtone maker into their already feature-packed program. In short, it allows you to make ringtones from any song you have stored on your iOS device.
To tell you the truth, this feature is a little harder to use than the others we have talked about. It's more tucked away than you might expect. We found it in the end though!
The thing is, we didn't realize that you have to back up your device first before you can make the ringtones. Once you have though, it's just a case of clicking on the "Ringtones" panel.
iCloud Explorer
We really love this feature. It allows you to browse your iCloud files from any device. Yep, you heard us correctly!
From the dashboard, you are able to manage your iCloud setup like you would with any iPhone, iPad, or iMac. It's just a case of dragging and dropping items where you want them to appear.
Android to iPhone File Transfer
iPhone and Android run on completely separate operating systems. Therefore, transferring files between the two is not a simple feat. The developers of AnyTrans, however, have done their best to make it less complicated.
You can choose between 4 different methods to transfer your files from Android devices to an iPhone.
Transfer data with the Move to iOS app.
Move your Android data to your iPhone directly with AnyTrans.
Sync your mail, calendars, and contacts from your Android device to your iPhone.
Sync your photos, videos, and music to your iPhone by using iTunes.
The method you decide to go with is completely up to you. Just ensure that it makes sense to you. After all, file management software is supposed to make your life simpler, not more complicated!
Ability to Mirror Your Screens
Mirroring your screen isn't something that everyone wants or needs to do. However, if you are doing a presentation, you need to get your point across. This is usually most effective when you are sharing your iOS screen with the group.
To tell you the truth, this isn't a feature that we see in all file management software. Nonetheless, we're happy it's included in AnyTrans. Why? Because it's relatively easy to use (unlike other screen mirroring applications we've tried in the past).
Here's how you use it.
Step One: Laun the app on your computer.
Step Two: Head to the "Screen Mirroring" option on the left panel. You'll find it under "Utilities".
Step Three: Make sure your iDevice and computer are working on the same WiFi network. If they're not, you will have to change it before you carry on.
Step Four: On your iDevice, go to the "Control Center".
Step Five: Tap on the "Screen Mirroring — AnyTrans_YOURNAME" option and you're done!
Message Manager
Do you use Whatsapp? Have you ever bought a new phone and wanted to get your Whatsapp messages on your device? The answer to both of those questions is probably yes. You will have also found that it was virtually impossible to do in a standard way. As frustrating as this is, we have a way around it.
Yup, it's AnyTrans. You can use this app to transfer your Whatsapp messages and groups to your new iDevice with a simple push of a button.
All you have to do is go to the "Social Messages Manager" on the AnyTrans dashboard. It's located under "Backup and Restores." After you've clicked it, you'll see a notice that says, "Transfer Whatsapp Messages Between iPhones". Then, input both device names and it will make the switch for you.
Clone Your iPhone
As you continue to use the application, you will come across this nifty feature. With it, you will be able to instantly make a copy of your current iPhone on a new one.
For example, if you buy the latest Apple phone but don't want to go through the hassle of setting everything up again, AnyTrans can clone your entire setup. All you have to do is click a button and you'll have an identical version of your old phone. That means all your settings and information will be the same!
When you clone your iDevice, the following file types will move across:
Personal Information — books, apps, voice mail, messages, contacts, call history log, calendars, bookmarks (in Safari only), and notes
Your Media Data — ringtones, audiobooks, voice memos, music, playlists, home video, TV shows, music videos, time-lapses, slo-mo, camera roll photos, photo stream, photo library, panoramas, albums, bursts, podcasts, iTunes,
Media Downloader
Are you a music lover or more of a video watcher? Regardless, you will benefit from the media downloader. This is a definite game-changer (for us at least). With this feature, you don't need to spend hours downloading all your media to your device. You can let AnyTrans do the work instead. You won't even need to sit through a bunch of ads!
Currently, the app supports the following video and music formats:
MP4
M4V
WMV
MOV
RMVB
AVI
FLV
RM
MKV
MP3
M4A
Mp4B
WMA
WAV
It works just like the other features too! Open AnyTrans on your computer and connect your iDevice to the computer via a USB cable. Then, click "Media Downloader" from the left panel. It's under the "Utilities" section. After that, you click on the media websites it displays and you can download whatever you wish.
Review Summary
Overall, this is a great option to go with for all your iOS file and app management needs. Its functionality and accessibility are fantastic, and you won't believe just how many features we haven't talked about. There's so much to discover with this application, we've only just touched the surface.
We honestly wouldn't be without this solution, having used it for a while now. It'll change your file-sharing life.
Frequently Asked Questions, Answered
Is It a One-Time Payment?
This depends on what license you purchase. There are four to choose from:
Single license one year (which lasts for a year)
Single license (lifetime)
Family license (lifetime)
Business license (lifetime)
With the three latter plans (single lifetime license, family license, and business license), you receive lifetime updates and access to the app. However, if you go with the first option, you have to renew it every year.
Is It Safe?
In a word, yes! It has been deemed 100% clean and safe by both McAfee and Norton. Plus, the application is SSL-secured.
What Operating System Does It Work With?
It supports both Windows and Mac at the moment. This includes the following:
Windows 10
Windows 8
Windows 7
Windows Vista
macOS Catalina
macOS Mojave
macOS High Sierra
macOS Sierra
OS X 10.11
OS X 10.10