Disclaimer: This post may contain affiliate links, meaning we get a small commission if you make a purchase through our links, at no cost to you. For more information, please visit our Disclaimer Page.
When purchasing a new iPhone or iPad, the first thing that most users will do is to find interesting apps and games. With million apps and games on the Apple App Store, it's a good place to start to search for what you need.
However, it's easier to find apps that you need with some specific search terms. For example, if you need an application to assist you in editing photos, just search for "photo editor". A lot of useful apps will be shown on your iPhone or iPad screen immediately.
But what about finding games?
When you want to play some games on your iPhone or iPad, you might not want to access the App Store and search for something you really don't know about. For instance, if you find games by type such as action or puzzle, it will show you thousands of results. You might get confused and don't know which games you should download, install and play. It can look like a jungle.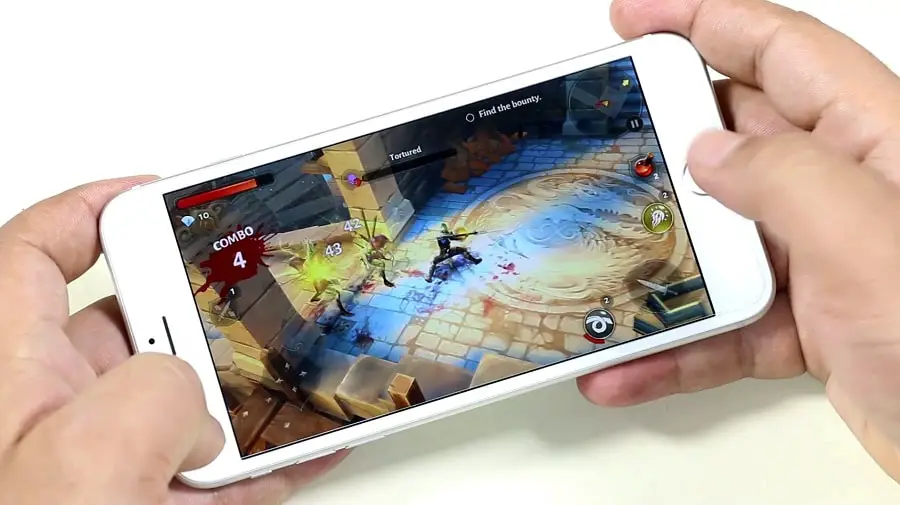 Don't worry! Let me help you.
I have collected and listed the top six interesting games for iPhone and iPad. You only need to search for the name in the App Store to download, or simply click on the links below.
1. Hitman Go
Have you ever played any Hitman games before? Most of them will let you go to a museum or a party, find the target and kill them.
However, you will discover a big different with the Hitman Go. You will not only go around and kill the target but also need to resolve puzzles to pass the level. Those puzzles will become harder in the following levels.
Don't worry! It's not too complicated to get through. Visit here to download and play this Hitman game while you're sitting on the bus.
2. Downwell
According to GameGeekNews.com, Downwell is a good game for people who are looking for and love an addictive challenge. With this game, you have to jump down, and use guns in your boots to kill as many enemies as possible.
The purpose is to live as long as you can and collect the gems. It looks like a simple game to relax, right? If you want to play it, visit here to download.
3. Drop7
With a 7 x 7 grid and the falling numbers, you have to match those numbers with the others to make them vanish. It looks like a tedious game, right? But after knowing the rules, it could be a good game to play when you're free.
Indeed, it is good game and I often play it when I need to wait for someone or something. A few levels of Drop7 will make you feel better while you're waiting.
4. Three
This is a basic game to play on your iPhone. All you need to do is to swipe left, right, up and down to move same numbers and combine them to bigger numbers. Just keep moving, combining and your total score will rise.
Like many other puzzle games, Three has a very simple user interface. It's a good game to play when you have free time or waiting for something or someone. It's also a great game for users who like competing with friends for high scores.
5. Final Fantasy IX
Have you ever played Final Fantasy VI and VII yet? Both are excellent, right? If you love this series, you might want to give Final Fantasy IX a try. It's one of the most underrated and charming games.
If you have not played this game before, download it now, and it will keep you occupied for hours while sitting on the bus. However, if you are looking for a quick and casual mobile game, then Final Fantasy IX isn't for you because it takes a lot of time to complete.
6. Super Hexagon
The first time I played this game, I died in a second because I couldn't escape. You must move to escape from the flow of geometric shapes. If you don't move, or can't escape, you will die.
If you play well enough, you will die in a minute, maybe a few extra seconds. The reason is that the flow goes faster, and faster as it follows the music.
Want to try? Visit here to download it from the Apple App Store.
Those are good games for iPhone, iPad that I would recommend you to try if you are looking for games to play in your free time. The list does not cover everything , and I always welcome your contributions. In the meantime, take a look at the list of 158 best iPhone, iPad games from Macworld.co.uk.