Disclaimer: This post may contain affiliate links, meaning we get a small commission if you make a purchase through our links, at no cost to you. For more information, please visit our Disclaimer Page.
You may have heard of the Lenovo Vantage Service if you use a PC. After all, it's one of the most popular apps on Lenovo devices and usually comes preinstalled. This article explores some details about this service, including what it does and if you can remove it from your PC.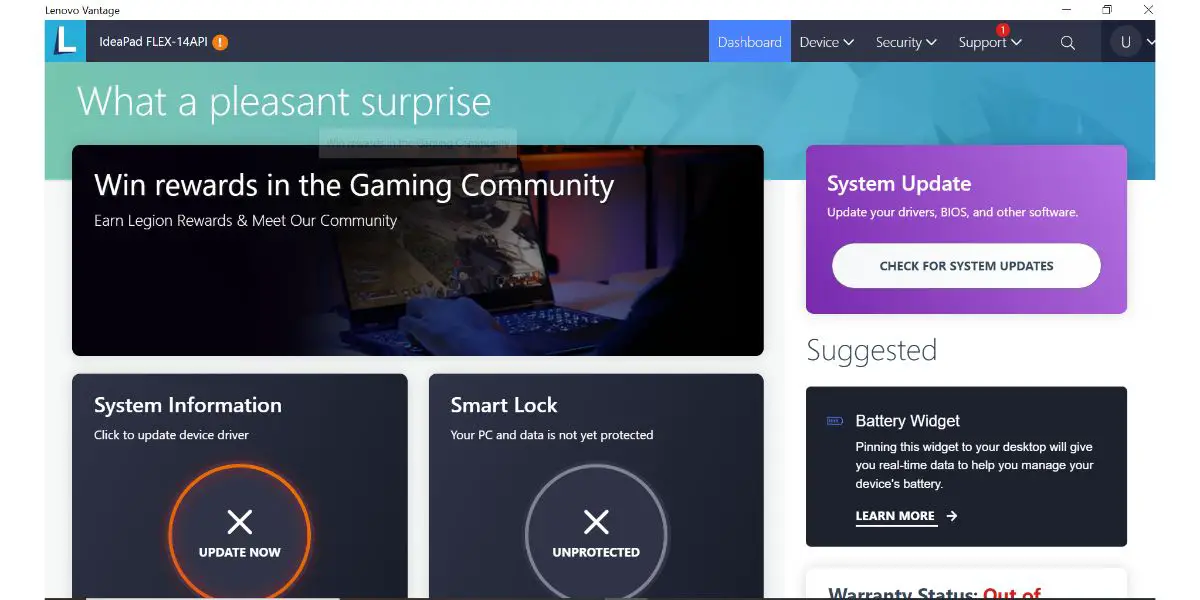 What Does Lenovo Vantage Do?
Lenovo introduced the Lenovo Vantage Service a couple of years ago to increase the performance of its PC lineup.
In a nutshell, it's an application that allows users to diagnose, configure, and update their Windows PC. To do this, it has a series of tools that control and facilitate different aspects of the software.
Lenovo Vantage enhances your PC's functionality and keeps it secure. It also runs diagnostics that help boost your computer's speed and efficiency and keep it updated.
Most of Lenovo Vantage's functionality is similar to the features on many other Windows PCs. However, the application is still a standalone service that allows Lenovo PC users to enjoy some extra features for free.
Let's explore a few of these features.
It Enhances Your PC's Functionality
While Lenovo Vantage Service is an excellent tool for PCs, it's not exactly new technology. After all, several other applications with the same functionality have been available to PCs since computers went mainstream.
Most of these typically perform one or two tasks to ensure your computer runs optimally.
However, Lenovo Vantage Service condenses different features and functionality into one tool that ensures your computer always works perfectly.
Therefore, you can access all the necessary tools to keep your PC running smoothly with one application instead of multiple platforms. This single management system means there will be far less clutter on your PC, further improving performance.
It Keeps Your PC Secure
One problem that PCs continue to have is security. And whether you're using your device while it's connected to the internet or offline, keeping your data as secure as possible is essential.
Today, PC security has gone beyond just preventing malware or viruses from infecting your computer. It's become a crucial part of everyday life to safeguard yourself against identity theft, scams, and several other cyber crimes.
The Lenovo Vantage Service goes beyond just improved PC performance and includes functionality to help protect user data. The service detects unsafe Wi-Fi networks through its advanced algorithms, prevents data exposure, and safeguards your information against hackers.
It also includes a cloud-based security feature that protects all your private data, allowing users to locate, track, and recover stolen or lost PCs.
And while malware might not be a hot topic today, it's still a problem. Fortunately, the service also has a malware removal feature that eliminates all viruses and malware it detects on your PC — ensuring these harmful programs do not affect your PC in any way.
It Improves PC Speed and Efficiency by Running Diagnostics
All PCs lag after a while. And while high-quality computers will take some time before showing signs of lag, they'll eventually slow down too — albeit not as much as cheaper brands.
This lag is often due to viruses and other harmful malware, network issues, and the accumulation of junk files.
Lenovo's Vantage Service improves PC speed and efficiency by regularly cleaning up any junk that accumulates on your PC and deleting it permanently to ensure it doesn't take up valuable space on your device.
It also automatically optimizes Windows settings regularly to make the PC faster. But that's not all it does to help improve efficiency. It also automatically fixes network issues, including problems with latency, bandwidth, and ping rate.
The program also slightly alters your browser's settings so you can move through websites more quickly. Check out this article to learn how bandwidth affects internet speed and more about the service's impact on your internet experience.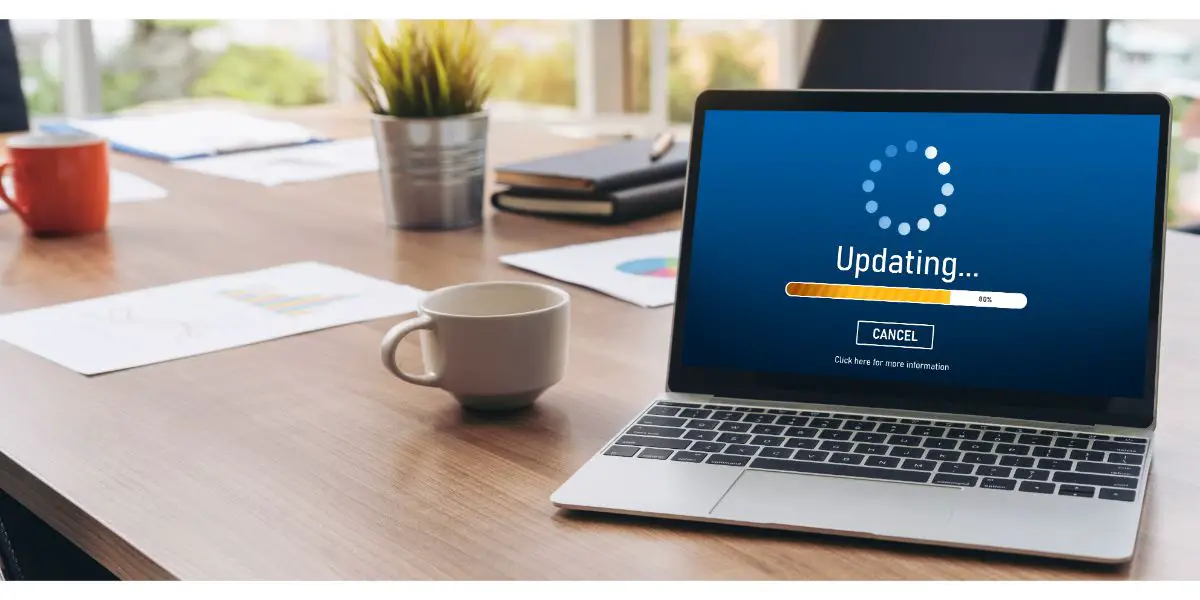 It Automatically Updates Your PC
Keeping your PC updated has always been an excellent way to ensure optimum PC performance. You usually have to perform this process manually — especially for application software.
Lenovo Vantage Service handles this process on PCs. Therefore, you always get the latest system updates and security patches from Windows.
So if there are any updates to make, it'll let you know and prompt you to perform the update. This feature ensures that hardware devices like your touchpad and CPU run at their best with the best software possible.
Can I Remove Lenovo Vantage Service?
Many PC users prefer to keep their computers free of out-of-the-box files and programs. And despite its many features, it's not strange that some users might decide to uninstall Lenovo Vantage Service from their PCs. But can you remove the service from your computer?
You can remove Lenovo Vantage Service from your computer. The process for uninstalling is pretty straightforward and won't harm your computer in any way. However, you must be logged in as an administrator on your PC to remove the program.
Here are the steps for removing Lenovo Vantage Service on your PC:
Go to the "Programs and Features" screen on the Control Panel.
Right-click on "Lenovo Vantage Service."
Click on "Uninstall."
You can return this software anytime by downloading it from the Microsoft store.
If you have an issue with Lenovo vantage automatically opening when starting Windows 10 or 11, but don't want to uninstall it, follow these steps below:
Open Lenovo Vantage Application
In the upper righthand corner near the search icon, you'll see a profile pic. Click on it, then select "Preference Settings"
In the "Other settings" tab, you"ll see "Startup Behavior", Click it to unselect it
Here you go! You can now enjoy the app's benefits without the annoying startup pop-ups!
Is It Safe To Update BIOS Through Lenovo Vantage?
BIOS (Basic Input/Output System) controls several of a PC's fundamental operations, particularly concerning the computer's operating system.
It's an incredibly crucial part of your device, and like other software programs, it needs regular updates to function optimally. But is it safe to update BIOS through Lenovo Vantage?
It's safe to update BIOS through Lenovo Vantage. There's virtually no risk when updating it this way, and the entire process is done in simple-to-understand steps. However, ensure your battery is charged and your PC is plugged into a power outlet before starting the update.
Keep your PC plugged in throughout the update to prevent unplanned shutdowns, which typically result from low battery power and can lead to system crashes and other problems — especially since BIOS plays such a pivotal role in OS operations.
Here's how to update BIOS through Lenovo Vantage:
Open the Lenovo Vantage application and search for "System Update." Alternatively, Click on the Windows menu and search for the option if you can't find the shortcut on your desktop.
Click on the "System Update" option. This will initiate a scan for the latest BIOS updates.
Select the relevant BIOS update for your PC and click "Install Selected Updates." Ensure you pick the most recent option. The installation process should begin immediately.
Follow the prompts on the screen. You might need to grant Lenovo Vantage Service some administrative access in this step.
Restart your PC. This process might happen automatically immediately after you select the relevant BIOS update for your computer.
It's that easy!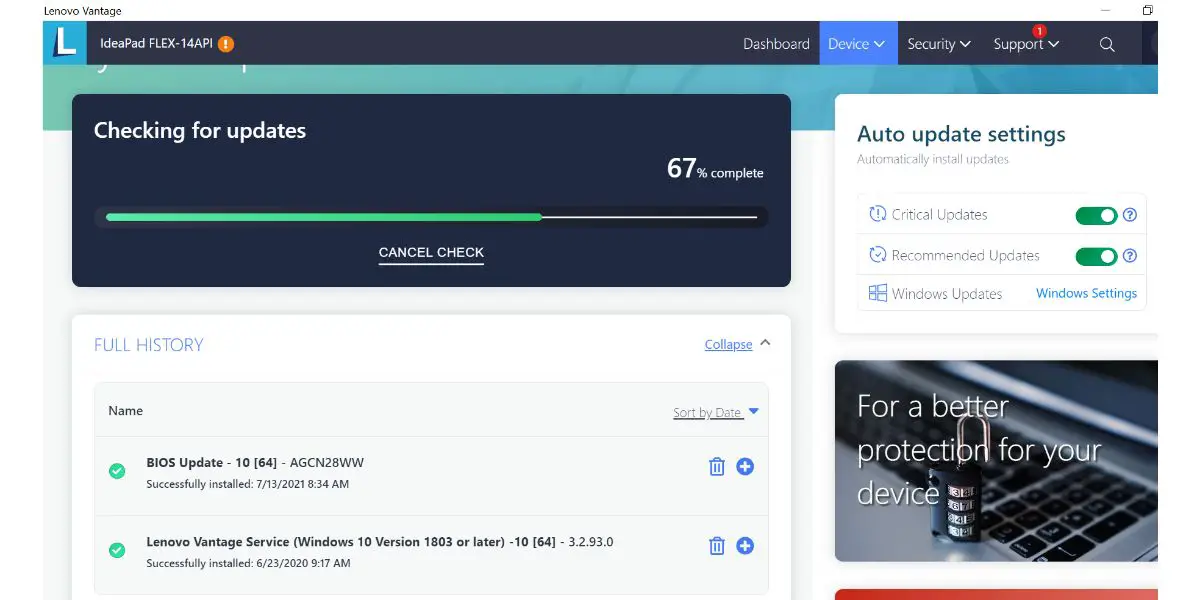 The Bottom Line
Although Lenovo Vantage includes some annoying promotional content, the application is helpful if you're a PC user. It's also removable and easy to reinstall if you're unsure of its benefits.