Disclaimer: This post may contain affiliate links, meaning we get a small commission if you make a purchase through our links, at no cost to you. For more information, please visit our Disclaimer Page.
The internet is essential, providing a platform for communication, expression, and interaction in general. Unfortunately, this powerful tool that facilitates world progress also has a dark side. It can be a vortex that sucks people into harmful or dangerous experiences for adults and kids alike.
Offensive content, adult materials, online grooming, and cyberbullying are dangers children face on the internet. Adults are also prone to similar hazards, including scams and all other distractions. These reasons, amongst others, call for regulating internet use.
Blocking the internet on a smartphone is an effective way to regulate internet exposure. If you or your kids have smartphones, you know how handy they are and how addictive they could be. So, creating a safe browsing experience on them is crucial.
You can block the internet on a smartphone conclusively by disabling and removing the network access card. Any other "block" is temporary, and a determined person can get around it. Regardless, smartphones, ISPs, and third-party apps offer means to block the internet on a smartphone.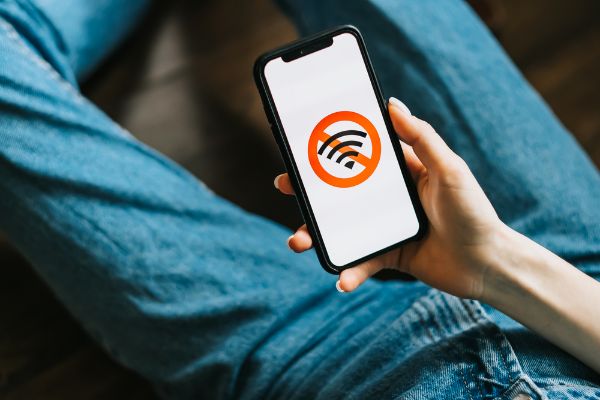 When you're removing the network access card on a smartphone, there's no other definitive way to block internet access on it.
Since this is cumbersome and may damage the device, it's best to block the internet by using these other methods means:
Block Websites From Your ISP
Your Internet Service Provider (ISP) can view your time spent online and browser history. They can block websites from smartphones and any other device that uses the network. If you block a website through your ISP, it applies to any device connected to the router, including the TV.
However, you may have to pay extra fees to block websites through your ISP. Some ISPs offer blocking options with internet plans, which may be cheaper this way.
Use Router Accessories
Adding extra devices to your router is one of the easiest ways to block harmful content from smartphones. Router accessories filter content, show users' online behavior, and view the search history.
They also limit your child's screen time and enable you to stop the internet at your discretion. Examples of router accessories include Amazon eero Pro Mesh network, Gryphon, Circle Home Plus, etc.
Block Websites via Browser Extensions
Browser extensions allow you to block unproductive and adult websites from smart devices such as phones, tablets, and laptops. You can protect your data from leakage, block a domain, redirect websites, close the browser tab after a specified time, etc.
Extensions include Pause, WasteNoTime, Freedom, LeechBlock, etc. It's as easy as opening the smartphone's browser, adding the extension, and blocking inappropriate websites with a few clicks.
Turn on Microsoft's website blocking feature
If you happen to have a phone that can run Windows, Microsoft has an in-built feature in Windows 10 for blocking websites. In Windows 11, it's the Windows Defender Firewall.
You must have a Microsoft account to use this feature, and here's how to enable it:
Open Settings
Go to Account and select Add family members
Add your child and their Microsoft account
Microsoft sends an invitation to your child
After your kid accepts the invitation, Open your settings
Click on Family and other users
Scroll down to Manage family settings online
Pick your child's account and scroll down to Content restriction
Turn on the option to Block inappropriate content
Use parental controls
These are device-specific options or software that allows you to monitor your child's internet use and exposure. You can implement them within search engines, chat software, your ISP, video streaming sites, etc. In addition, parental controls prevent your kids from accessing unsuitable, illegal, or inappropriate content online.
Apart from a device's in-built option, you can use parental control apps. Examples include Boomerang, Mobicip, Fenced.ai, and Norton Family.
Although you put these measures in place, today's children are pretty tech-savvy and can outsmart these boundaries. Disabling or blocking the internet isn't foolproof. If you don't want your children to use the internet at all, here are two measures to apply:
Jailbreak/root the smartphone to disable Wi-Fi, mobile data, Bluetooth, and other internet access means.
Get them to use phones with no internet access, like Nokia "brick phones."
How to Block or Restrict Internet on Android
The methods in the previous section can block or restrict internet access on Android devices, but here are more Android-specific ways:
Blocking internet access.
Go to Settings on the device.
Open More or More networks.
Click on Cellular or Mobile networks.
Select Access Point Names.
Click on the selected APN (it should have a green circular button in front).
Select Options to see a drop-down menu showing Edit access point (Name, APN, Proxy, etc.).
Click on APN and type "xyz."
Select the top right-hand menu option and click on Save.
Now, you've changed the mode or path that connects to the internet. It'll be impossible to connect to the network carrier even if you turn on mobile data.
Remember to write down the original APN name when you turn on the internet. Alternatively, you can remove and insert the sim card again or call customer care to get the name back.
Use DNS Server for Android
You can block websites from an Android using a DNS server to keep your kids from misusing their phones.
Open the Wi-Fi settings on the phone
Select the network you want to set the DNS with
Choose the Modified network to see a drop-down list
Select Show advanced options
Click static from the IPv4 setting
Enter the DNS server in both DNS1 and DNS2 fields
Save the changes
Turn on Safe Search Mode on Google
When searching for content on Google, the Safe Search Mode filters all the inappropriate/adult content.
It's applicable in all web browsers, and you can enable it by this process:
Log in to your Google Account
Go to your Google homepage and find the Settings option on the bottom right corner
Open Settings and click on Search Settings (it's the first option)
Enable SafeSearch and save the changes
Set parental controls
Sign in to your Google account on the device or use your child's account
Open the Play Store app and click on the three dots at the top left
Scroll down and select Settings
Find and choose Parental controls
Create a PIN code and re-enter it as requested
This will turn on the setting, allowing you to put restrictions on each category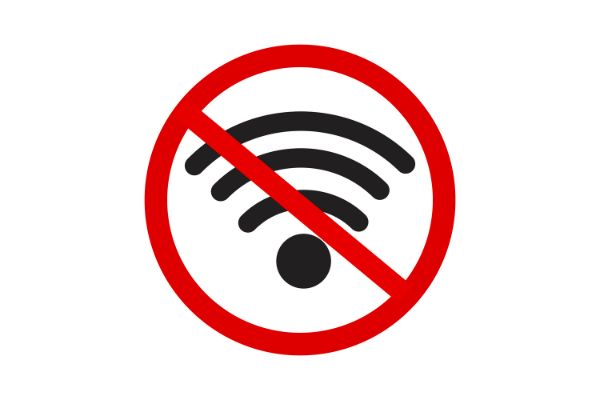 How to Block or Restrict internet on an iPhone
You can set restrictions on an iPhone by using Screen Time or other apps. Screen Time is Apple's own monitor app to help you see how much time is spent on that device. It's used for people to be away from their phones more to be productive or to help with parental restrictions.
Here's an outline on how to disable the internet:
Go to Settings and tap on Screen Time
There you'll see features such as setting app limits, communication limits, which apps are allowed and what content restrict
Select Use Screen Time Passcode if you want to create a passcode. This is recommended if you don't use your phone much or leave it around at home often.
Since this is used for Parental controls, make sure your child has an iPhone as well and go to set up Screen Time for Family
Now to go to Hit Content & Privacy Restrictions
If required, Enter the password
Turn on Content & Privacy
From here, you can explore the different contents, restricting access as you desire.
Here are a few more restrictions to explore from the Content Restrictions page:
Select Web Content > select Limit Adult Websites or Allowed Websites Only; for Web Content.
For Siri – open Content Restriction > select Web Search Content and block Siri from searching the web when you ask questions or choose Explicit Language to prevent Siri from displaying explicit language.
Unfortunately, tech-savvy kids can bypass the Screen Time features following videos on YouTube on ways to get around it.
You can get the upper hand by downloading these apps to block websites on an iPhone:
Freedom: It restricts apps, blocks websites, and sets screen time. This is a paid app that starts with $8.99 a month, but the yearly plan brings down the cost to $3.33 a month
Zero Willpower: It blocks only websites, and it does so automatically. Facebook.com, Reddit.com, Instagram.com, etc., are some sites it blocks automatically.
BlockSite: Allows you to create a website block list and what's great is that you can schedule the times where the websites are blocked. Some great things about it are that there are reports to see which categories are visited the most and that there's an option to sync to other devices. BlockSite also have a chrome extension if you're interested.
These are only a few examples. They all have one thing in common: they aren't parental control apps, but rather productivity apps that work similarly by blocking sites for a certain period of time and providing statistics on which sites are viewed.
The extensions listed in the browser portion of this article are also worth investigating.
There may be tutorials on how to bypass some parenting applications, but there may be no solutions to bypass certain productivity programs. Remember that these applications may not have all the functionality that a parental restriction app has.