Disclaimer: This post may contain affiliate links, meaning we get a small commission if you make a purchase through our links, at no cost to you. For more information, please visit our Disclaimer Page.
I can count all the things that I don't like. Choosing headphones for myself used to be one of those things.
It's not that I hate headphones, it's quite the opposite actually. But it's easy to get overwhelmed choosing between a plethora of different types of headphones with each type having different features of its own.
Believe or not, most people find it hard to pick the perfect headphones. Not anymore. Here is a simple-yet-complete infographic which will help you buy your best headphones so far. Scroll down this infographic to read some detailed points.
Here are some of the important takeaways from this infographic.

Technical terms regarding headphones
Most people don't buy suitable headphones for themselves for a very basic reason. They don't understand the jargon and terminologies related to headphones like frequency, impedance, sensitivity, etc. These specifications are much more important than you think. Below are some of the most important headphone specifications.
Frequency – In simple terms, it's the frequency response generated by a headphone. 20-20,000 GHz is the accepted range among headphones because this is the range that can be heard by a human ear. The first number represents the bass of that headphone while the second number represents treble. Although there are other headphones that have a bigger frequency range, like 5-35,000 GHz, this doesn't guarantee that they will sound better.
Impedance – Impedance is the resistance of the headphone which the current, provided by an audio source, needs to overcome, for that headphone to produce any sound. High impedance headphones are usually used for studio purposes while low-impedance headphones are used with mobile devices.
Soundstage – Soundstage is a phenomenon that is usually loved by audiophiles. Basically speaking, it means that while you're listening to music, you'll get a feel of the sound like it's a music concert.
Sensitivity – Sensitivity defines how loud the volume a headphone can produce if compared to another headphone at the same volume level. High-sensitivity headphones can produce a large expanse of music at a relatively less volume level.
Sound Drivers – Drivers are probably the most important hardware in your headphone. They convert an electrical signal into a sound That's why it's the drivers which decide how a headphone will sound. Full-size headphones usually have 20mm-50mm drivers while earphones – small headphones – usually feature 20mm to 50mm sound drivers.
Open and Closed-back headphones – These are two variations among on-ear and over-ear headphones. Open-backed headphones have the back of their ear cups opened and the reverse applies for closed-back headphones. Both have their own advantages and disadvantages. Closed-back headphones are good for loud environments. Open-backed headphones, on the other hand, give a more natural sound.
Different form factors
Most headphones around the market have one of these forms.
Earbuds/ In-Ear Headphones
Earbuds and in-ear headphones belong to the earphones category of headphones. Both these headphones have two small earpieces that we place inside our ears. Although they are interchangeable, earbuds are slightly different than in-ear headphones. While in-ear headphones stick deep inside our ear canal and perform an airtight seal, earbuds only rest outside our ear canal.
This is the reason why in-ear headphones usually have better noise isolation than earbuds. Also, earphones are cheaper and portable than other types of headphones. Apart from this, if you're someone who wears glasses, then earphones are more comfortable for you than full-sized headphones.
They have some disadvantages as well. The major drawback of these headphones is the low-quality sound when compared to other types of headphones. These headphones can also fall out from your ears while you're moving. That's why they're not so good for exercising.
Best In-Ear Headphone/Earbuds – Sennheiser Momentum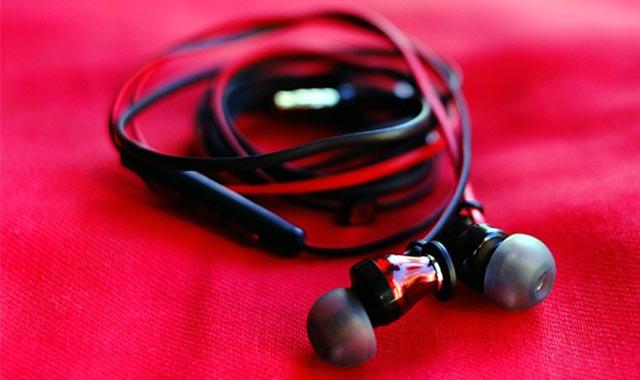 Sennheiser momentum in-ear headphone has been chosen as best in-ear headphone / earbuds in an earphones review by List Enthusiast. Here are some of its key points:
Key Points:
Dynamic drivers for good sound quality.
Beautiful and sleek design.
In-line remote controls which work for both Android and iPhone models.
Flat cable that cannot be easily broken.
Strong bass and clarity.
On-Ear Headphones
On-Ear headphones are bigger than earphones. They have small ear cups that go over your ears but don't entirely cover them. On-ear headphones usually come in an open-backed design where they leak sound both ways.
Many people buy on-ear headphones because of their comfort level. Since they don't completely cover your ears, your ears won't get too hot. Also, their open-backed design is very good for exercise purposes. And they're more portable than full-size headphones.
They have a few disadvantages too. First, you can't use them in loud environments because of their open-backed design. Although their sound is very good, you won't get as much bass as in over ear headphones.
Best On-Ear Headphones – MEElectronics Atlas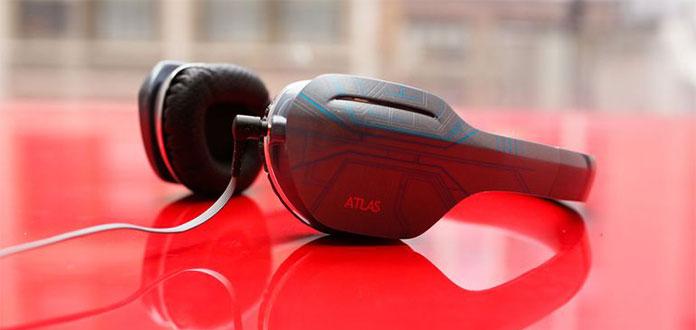 Key points:
Flat cable that is tangle-free and detachable too.
Audio quality is good but not so great, and sub-par noise isolation.
Beautiful design and comfortable to wear.
Its earpads are collapsible.
At almost $50, these headphones are a very good deal for their money.
Here's the full review of MEElectronics Atlas.
Over Ear Headphones
Over-ear headphones are also known as full-size headphones. People call them this because they have large ear cups that completely cover our ears. They also come in both open and closed-back design.
These headphones have many advantages. For starters, they form an airtight seal due so you will get very nice noise isolation. Their ear cups also have a large amount of cushioning which makes them comfortable for most people and they're ideal for home usage.
Here are some the drawbacks of these headphones. They are not so portable as other types of headphones. Some over-ear headphones can make your ears very hot.
Audio-Technica ATH-MSR7 – Best Over Ear Headphones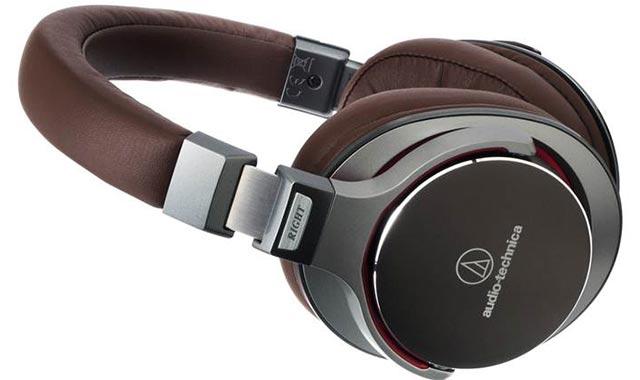 Key points:
Sound output is pretty flat which means Bass, Treble, and Clarity frequencies are all equal. That's why it can be useful for studio purposes.
Elegant design and comfortable for long sessions.
Not so great headphones for Bass lovers.
No inline remote controls.
A little more affordable than other premium headphones.
You can read the full review of MSR7 here.
Wireless headphones
As their name suggests, wireless headphones are… wire-less. Since you're not bound by wire, you can roam freely in your house. Most wireless headphones use Bluetooth technology to not only help you listen to music but also to pause/play or change track, without even touching your smartphone/audio device.
These headphones have drawbacks of their own. The main problem with these headphones is that you would have to recharge them after every day or so. Also, their sound quality is not as good as wired headphones.
Best Wireless Headphones – Bose QuietComfort 35
Key points:
Very comfortable and Fold-up design.
High-quality mic for making calls.
Very Long battery life, but battery isn't user-replaceable.
No AptX (a new technology that provides high-quality sound over Bluetooth and you can't turn off ANC (Active Noise Cancellation)
It can also work in wired mode.
Great sound and excellent noise isolation.
Here is the full review of QuietComfort 35.
Special-purpose headphones
Aside from all these headphones types, there are also some other types of headphones that serve some specific purpose.
Sports headphones – Sports headphones are usually used by people during workout sessions. Earphones and on-ear headphones are useful in this scenario since they're lightweight. Many sports headphones are built with water-resistant material which makes them sweat-proof.
Gaming headsets – These headphones are made for online gamers who need to talk with their partners during online games. The reason they're called headsets — not headphones — is because they have a built-in mic. These headphones usually have a good noise isolation.
DJ headphones – DJ headphones usually have extra emphasis on bass. They usually come in over the ear design. They also have extra-cushioned ear cups and made with durable material.
Bluetooth headsets – If you want to make or receive calls while driving, then Bluetooth headsets are a must for you. Bluetooth headsets are usually made in mono-ear design which means you'll only wear 'em in one of your ears.
Important points to note while choosing headphones
Comfort – Comfort is a very important factor. But here's a problem: What is perfect for me, might not be as good for you. It's because comfort level varies from person to person. That's why it would be preferable if you wear a headphone for at least 15 minutes before buying it. Why? Because many times a headphone appears to be good but then starts to hurt your ears after some time.
Durability – Before buying any headphone you should consider its durability too because it's painful to spend $200 on a headphone and throw it away less than a year after buying it. In general, over ear headphones are more durable. If you are buying an earphone, make sure its cord is tough enough.
Portability – Portability is another key factor. Earphones are probably the most portable type of headphones. In the case of full-size headphones, consider fold-up headphones. These are the headphones that can collapse from the center of the headbands.
Sound Quality – The most important factor while buying any headphone is how it sounds. Like many other things, every person likes a different type of sound quality. Some want clarity while others crave for extra bass. But a general rule of thumb is to get a headphone that gives you "natural" sound, not those that only have exaggerated bass in them.
Conclusion
Ok, that's it. These were some of the little-yet-important details you need to remember before buying any headphones. Now it might be the case that you know an extra trick or two that I have missed. If that's the case, do mention it in your comments.