Disclaimer: This post may contain affiliate links, meaning we get a small commission if you make a purchase through our links, at no cost to you. For more information, please visit our Disclaimer Page.
As a writer or blogger, it is important that your computer is always fast, in order to help you to complete your blogs and articles quickly. One of the reasons that your PC is slow is that it may have a cluttered registry. Before you even begin learning the various methods that you can use to clean the registry of your computer, it's necessary that you understand the concept of the topic at hand. As such, it's important to, first of all, examine the definition of the word "Registry" thoroughly.
The term just refers to the place where relevant data and information, meant for the operating system of the computer, is stored. Further functions of the registry include storage of details of the tasks undertaken by the computer, DLL files, and drivers that are used by a host of applications, and lastly storing information meant for multiple users.
Over the course of time, you will need to execute varying tasks that will cause changes to your registry, eventually filling it up with data. The sole reason why your computer might be performing slowly is that even if you can extract the software accurately, the registry will still keep some of the files. With that in mind, here are some of the processes to be taken to ensure a clean and stable storage unit or in this case, registry.
Steps You Should Follow While Cleaning Your PC Registry
1. Launch The Windows Registry Editor
The first step to having a clean registry, resulting in a fast performing computer, is quite easy. Go to your Task Bar or Menu Bar, click on your Start button, then under accessories, click on "Run". You can also open the "Run" dialog box by pressing Windows + R.
After you have done this, a dialog box will appear. It will require you to type the name of the program, Internet resource or document. By that, you have to type "regedit" in the text field.
Next, press Enter on your keyboard, or hover the mouse cursor over to the dialog box and click on "OK".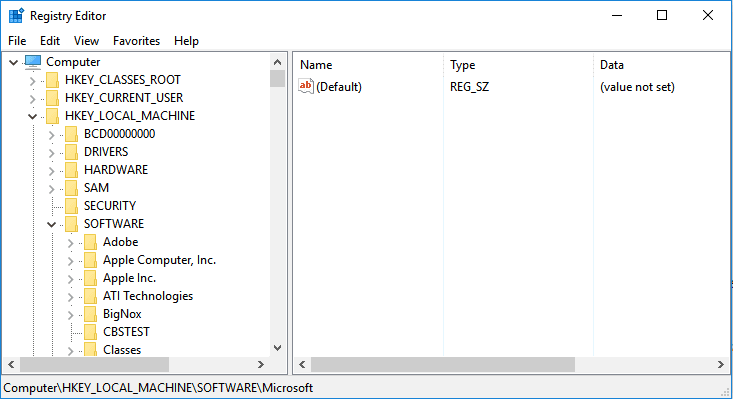 2. Before Making Changes, Back Up Your Registry
This step will provide the user with a way undoing any changes done on the registry, especially if they cause more harm than good to other installed software, and most importantly to the computer's operating system. The next step to cleaning up your registry requires that you follow some set procedures.
First, after you have launched the Windows Registry Editor, click on the "

File

" menu, and then from the pop-up window that emerges, select the option "

Export

".
From the "

Export Range

" located at the bottom left-hand corner, select "

All

".
Next, choose an appropriate and easy to find location for the information you want to backup. Then, in the file name text box, enter the name you want to call your backed up information or data.
Lastly, click on "

Save

".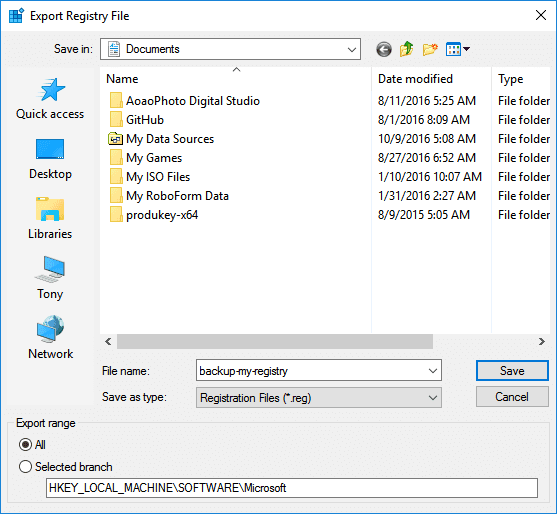 3. Learn All There Is To Know About The Registry Editor
Two panels divide the program. The left window pane is designed to show the whole registry tree, and the right window pane is used to relay individual values. It is important that you understand this step first because it will help you to understand the other procedures that follow.
4. Browse To Eliminate Old Applications
Here, you can get rid of listings of applications which no longer exist on your computer. The first measure to take is expanding the "HKEY_CURRENT_USER" key, which looks like a folder.
To do this, you will need to click on the plus sign next to the key. Once you have done this, within the list that appears after expansion, select the software key and follow the same procedure.
The next procedure is to search for keys that bear the name of the application's developers, the company name or the actual application name. The last method, for the application, highlights a key and then press Delete.
5. Conduct A Search Of Applications By Their Name, Either Executable Or Folder Name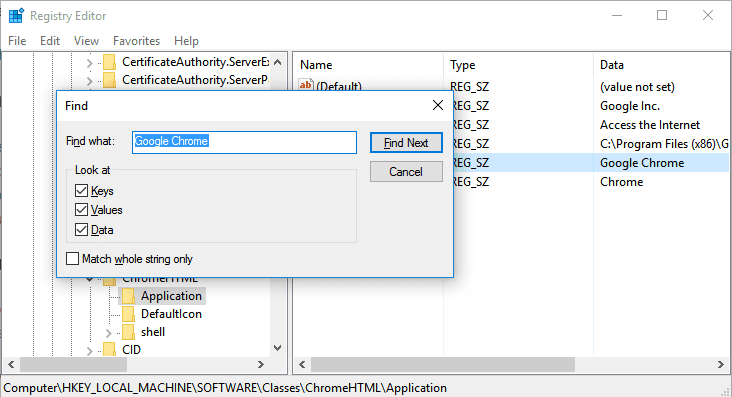 It is necessary that you do this to remove listings of already uninstalled applications.
Begin the process by opening a find dialogue box by pressing the Ctrl + F keys on the keyboard.
Under the find what text box, enter the text used to search for application listings, and then click on the "OK" option to start the search.
After completion, the value or key will be highlighted once found.
Finally, once the appropriate value or key appears, select it and press Delete.
To continue, press F3 on your keyboard to find the next results of outcomes and repeat the procedure.
6. Remove Undesired Startup Items
Most of the widely used applications such as QuickTime Player, Real Player, and Adobe Reader, will go ahead to install a registry key meant for loading an update or other similar Windows processes.
In this step, we will use a similar procedure to the above, which involves expanding keys, to arrive at the set destination below and then select values on the right ride of the panel.
HKEY_LOCAL_MACHINE\SOFTWARE\Microsoft\Windows\Current Version
7. Close The Program When Finished
So as not to affect the remaining programs still running on your computer, close the registry program once you are finished using it. If you need to use it again, just follow the same procedure and guidelines.
Some Fast & Straightforward Registry Cleaners To Use
The steps above may seem too technical and tedious so, is there an easier way to do this?
Of course! Some programs can do the above tasks almost automatically. Here are three most popular programs:
CCleaner
CCleaner is arguably the widely used window system optimization tool, and it comes with a varying degree of features, one of them being a freeware registry cleaner. Piriform developed CCleaner in 2003 and was initially known as Crap Cleaner. It is available for use on all versions of Windows. An important point to note about the CCleaner is that even before you begin taking steps to cleaning up your registry; it first makes sure that you have backed up your data.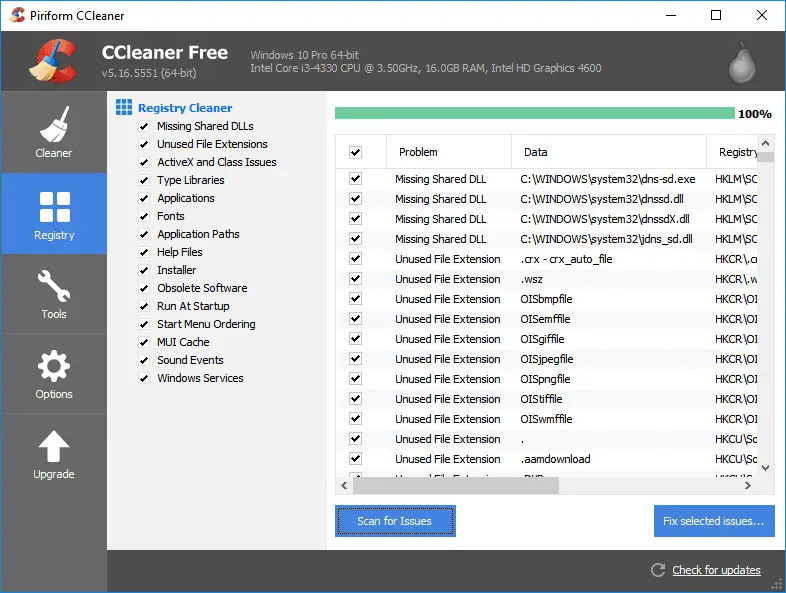 CCleaner cleans up temporary files, which can be safely deleted without affecting your PC. It also cleans the browser history, Recycle Bin, caches, and cookies. An additional feature present in newer versions of the program is that it can uninstall software, add or remove startup programs, and erase system restore points. Using this software is easy since all you have to do is follow the on-screen wizard.
Registry First Aid
Registry First Aid can help you tidy up your registry and has proven that it can do a fantastic job. It offers functions such as: checking the registry for errors, compressing the registry, registry back-up, and restoration. It is developed by Rose City Software, a software solution company that offers many utility software for PC management. Unfortunately, it does not accomplish too much in its trial (evaluation) version. Nonetheless, the evaluation version offers two options for use: Beginner User and Advanced Power User. The Beginner User mode displays safe items for users to avoid causing damage to critical system files while the Advanced Power user mode displays deep registry problems with options on how to handle them.
However, at the cost of twenty-eight dollars, you can enjoy the full benefits of the Registry First Aid. The interface is also clean and easy to navigate, and it can find thousands of incorrect entries in a span of twenty minutes.
[right-related slug="clean-my-mac-3″]
Similar to CCleaner mentioned above, using Registry First Aid is also quite straightforward. All you have to do is follow the on-screen instructions, and the wizard will guide you through every step.
SpeedZooka
SpeedZooka is a program developed by PC. Zookaware for PC optimization that includes a complete suite of tools that fix errors and speed up your PC. It comes with an easy to use interface, with no unnecessary add-ons, and all you need to do is point and click. The registry cleaning operation is performed in a three step process: Scan, Detect, and then Repair. There are basic and advanced modes that can toggle on or off, depending on the user's knowledge on computer registry handling. However, the basic mode suffices for most registry cleaning operations.
SpeedZooka comes with a 100% error removal guarantee! Making use of the advanced system report, working on bugs is as easy as forwarding this report to customer support. Adding the fact that the program is completely free of bloatware, SpeedZooka is one of the best, easy to use registry cleaning applications available!
Conclusion
There are many advantages to having a fast computer. Especially so for writers, you would not want your PC hanging when you have got lots of writing orders or crashing after you have written for hours! For more information on computer applications that will help you maintain and keep your computer clean, ready for work, visit here. Clean your system today and say goodbye to slow computers!