Disclaimer: This post may contain affiliate links, meaning we get a small commission if you make a purchase through our links, at no cost to you. For more information, please visit our Disclaimer Page.
The PS5 DualSense controller is one of the best controllers for PC as it is incredibly comfortable to use, and isn't it always good to get a little more use out of your gamepads? It's also fun to play PC games with a controller rather than a mouse and keyboard, particularly if your rig is in your living room. So, how do you connect your PS5 controller to your PC?
If your PC supports Bluetooth, you can connect your controller using a wire or without it, in which case you connect via Bluetooth. You can also connect your controller using a USB-C to USB-A cable or a USB-C to USB-C lead, depending on whether your PC has a USB-C input.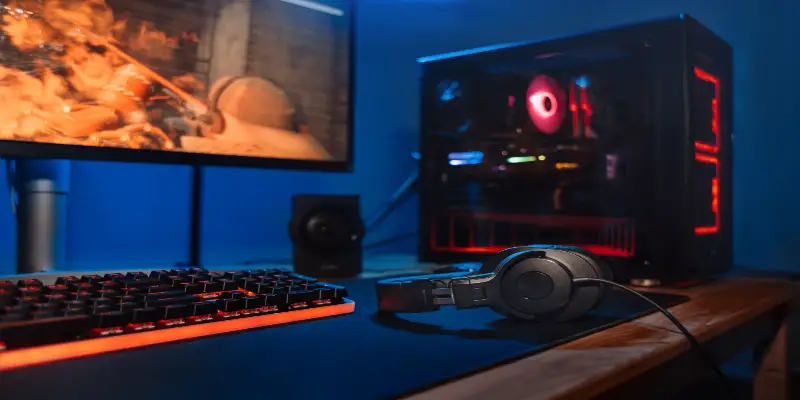 If you've ever wanted to play your favorite games on a PC with a PS5 DualSense controller, it's pretty simple to do so.
Though the advantages of using a keyboard and mouse are clear, especially in FPS games, some genres simply play better with a controller, and Sony's controller is an excellent choice.
Is There A Way To Connect A PS5 Controller To A PC?
DualSense on the PlayStation 5 is a fantastic controller. It feels, unlike any other controller I've used before, thanks to its advanced haptic motors and "adaptive" triggers. That is when I'm using it on a PS5.
If you use your PS5 DualSense controller on a PC, however, keep in mind that adaptive triggers will not function, and you won't receive haptic feedback.
Some games, but not all, will manage to display the right PlayStation button prompts.
There are other fantastic features; however, for example, it recently added LED customization to its list of features, which already included trackpad, gyro, and rumble.
Although adaptive triggers are still not supported at the time of writing, who knows what the future holds?
The DualSense wireless controller for the PlayStation 5 (PS5) has adaptive triggers that work better with PS5 games, but that doesn't mean it won't work with your PC. You can link the PS5 controller to your Windows 10 PC and use it to play Steam games.
You can use a USB cable or Bluetooth connection to link the DualSense controller to a Windows 10 PC. Wirelessly connecting the controller to your PC is easy, but the controller's Bluetooth compatibility is lacking. If you're connecting your PC to your Steam account, you'll want to use a USB cable.
Plugging in your PS5 DualSense Controller with a cable is the simplest way to connect it with a Windows 10 desktop or laptop.
You can use the USB cable that comes with the PS5 or any other USB-A to USB-C cable to make this connection. You can also use a USB-C to USB-C cable if your PC has a USB-C port.
However, if you prefer a wireless connection, you can establish one using Bluetooth if your computer has a Bluetooth receiver.
Check to confirm by clicking the speech bubble icon in the bottom-right corner of the taskbar to open the Windows Action Center and look for Bluetooth. If it is not there, you can get a Bluetooth dongle to help you achieve the connection.
However, not all games support the DualSense controller. Instead, it's up to developers to add controller support during development, which doesn't always happen, particularly for games they never released on the console.
The good news is that Steam supports Sony's current controller while playing PC games, and you can also use it to play games that aren't supported, thanks to Steam's custom button mapping technology. Here's how to go about it:
Step 1: Go to Settings > Controller > General Controller Settings in Steam.
Step 2: To use the DualSense in supported PC titles, allow both Generic Gamepad Configuration Support and PlayStation Configuration Support in the Controller Settings menu.
Step 3: Click the device (a generic controller) and then Define Layout for titles that aren't supported.
Step 4: To get PS button prompts in supported games and enter your custom button mappings, select PlayStation 4 from the dropdown.
Step 5: Save the controller and give it a name.
You should now be able to use the DualSense controller in both controller-supported and unsupported games on your PC.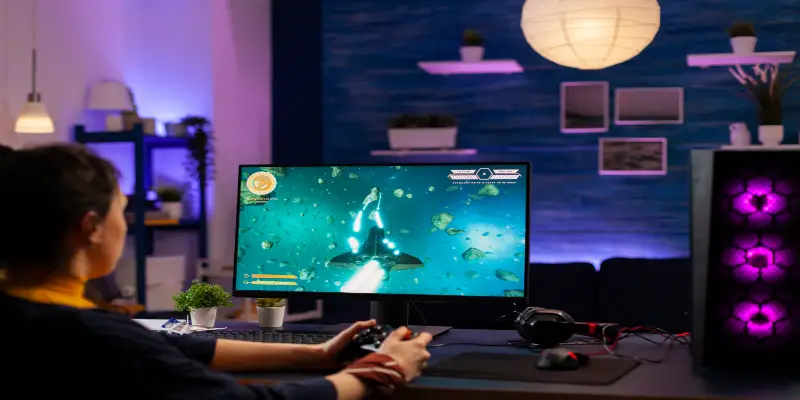 How Do I Connect My PS5 Controller To A PC?
You can connect your PS5 controller to your PC through the USB cable method or Bluetooth method, both of which I have explained in detail below:
Connecting The PS5 DualSense Controller To Your PC via USB
Since the DualSense uses USB type C instead of micro USB like the DualShock 4, you'll need a USB-C to USB-A cable. Simply plug the cable into the controller and your device and wait a few minutes. Windows will detect it automatically.
You may also use a USB-C to USB-C cable if your PC has a dedicated USB-C port. The following is a step-by-step guide to help you achieve the connection.
Step 1: On Windows 10 PC, open the Control Panel and check to see if your PC has detected the controller. To do so, press the Windows key, type "Control Panel," and then press the Enter key. The Control Panel app will open.
Step 2: Click on "Hardware and Sound," on the Control Panel Menu, then click on "Devices and Printers."
Step 3: You will see the DualSense controller as a "Wireless Controller." under "Devices."
Step 4: Launch the Steam app on your PC. On the top-left corner, click on "View" and select "Settings."
Step 5: The "Settings" menu will pop up. Select the "Controller" tab, then click on "General Controller Settings."
Step 6: You should be able to see your DualSense controller, "PlayStation 5 Controller," at the bottom of the pop-up page.
Step 7: To allow compatible Steam games to use the PlayStation controller layout, check the box next to "PlayStation Configuration Support" in the same window.
Connect The PS5 DualSense Controller To Your PC via Bluetooth
If you prefer to be wire-free, you can link your DualSense controller to your PC through Bluetooth.
If your PC or laptop doesn't have a Bluetooth receiver built-in, however, you can pick up a range of inexpensive Bluetooth USB dongles, such as the Tiny USB 2.0 Bluetooth Mini Wireless Adapter.
Press and hold both the central PS Button and the Create button for three seconds before the lightbar in the middle of the controller begins to flash to connect the PS5 DualSense controller via Bluetooth.
After that, you'll need to go through the Bluetooth settings on your PC. In Windows 10, go to the bottom-right corner of your screen and press the speech bubble button in the taskbar.
This brings up the Action Center, where you will click on 'Bluetooth' and then 'Wireless Controller.'
If you receive a prompt for a pairing code, enter 0000. And that's it! You have connected your PS5 DualSense controller to your PC via Bluetooth just as you like it. Wire-free!
You can play your favorite PC games on one of the most comfortable and feature-packed gaming pads on the market once you learn how to use a PS5 controller on a PC. Unfortunately, the controller does not support audio.
If this occurs, simply tap the Speakers icon in your taskbar, select Select playback unit, and then select your headphones or speakers, if you like, from the list.
Although the PS5 controller will function and allow you to configure them in some games, you might not be able to do so in others. You can get around this issue by using Steam.
Why Won't My PS5 Controller Connect To My PC?
Have you tried linking your controller to your PC, and it just won't connect? This could result from one or more of the following reasons.
You may have connected the controller to a different device. Pairing your controller with your PS5 or another console will not pair it with your PC.
Bluetooth compatibility issues with your controller. Bluetooth devices and other artifacts in the vicinity will obstruct the wireless signal.
There are issues with the USB-C cable. It's possible that you're using the wrong cable or that it's broken.
There could be issues with the USB ports. The controller and your PC's ports may be dirty or could have spoilt.
Internal hardware issues with the controller. The battery or Bluetooth sensor, for example, may not be in working condition.
Firmware that is no longer supported. If your PS5's machine software is out of date, it may trigger a variety of issues.
Always make sure your PS5 controller is fully charged and appropriately paired with your PC when connecting.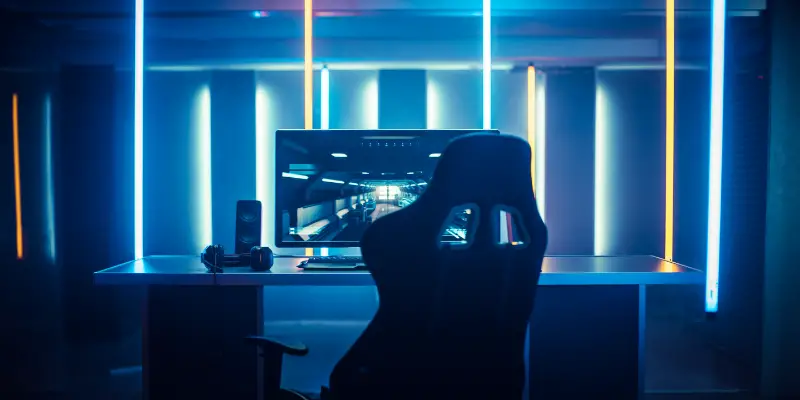 Is A PS5 Controller Worth it for a PC?
If you're only looking for a controller for your PC, I wouldn't recommend it. It's only worth a shot if you already own a PS5. Getting it to function correctly can be a hassle, and some games will let you use it but insist on displaying Xbox keys.
There is software available that allows you to play around with adaptive triggers, but it's more of a set it and leave it, and you can't use it to play your games.
The PS5 controller will work just fine on Steam, but it's not an assurance for other launchers. Haptic feedback is also not a guarantee in new and upcoming games. Since this is a maybe, it may not be a good use of your money.
How Do I Charge My PS5 Controller On My PC?
You can charge your PS5 controller, also known as the DualSense controller, using a standard USB cable, much like the PS4 controller. However, unlike the PS4, you can only charge the PS5 controller using the new USB-C standard, which has several benefits.
A metal jacket encases the portion you insert into the controller, which covers the controller's USB socket and reduces the risk of damage. You can also connect the cable into the socket either way with USB-C, so there's no need to worry about damaging the cable or slot when plugging it in.
You can buy either USB-A to USB-C cable or USB-C to USB-C cable to charge your controller on your PC as you play. The PS5 contains both a USB C socket and a USB-A socket on its front. However, USB-C to USB-C cables are more expensive than USB-A to USB-C cables.
One of the most appealing features of USB-C is the ability to charge your controller quickly. What does quick charging imply for you? What advantages does it provide?
Simply put, the controller charges much faster than previous controllers.
According to the DualSense controller's leaked specifications, every five minutes of charging can get you 30 minutes of gameplay. That means a one-hour charge would get you six hours of gaming out of your controller.
What's more, you can charge your PlayStation 5 controller not only from a wall outlet but also from your PC when you're playing.
Conclusion
It's pretty simple to attach a PS5 controller to a PC or laptop. You should keep in mind, however, that connectivity is minimal. Despite the fact that you can connect them in a variety of ways, they don't go too well together. The gaming experience just won't be as pleasant as that on a PlayStation 5.