Disclaimer: This post may contain affiliate links, meaning we get a small commission if you make a purchase through our links, at no cost to you. For more information, please visit our Disclaimer Page.
If you've ever gone to sleep or left your residence only to start worrying whether you locked your garage door or not then you need a smart opener. Having to get out of your bed or going back home can be so annoying at times. Therefore, is it possible to convert a garage opener to a smart one?
You can effortlessly convert a door opener to smart, however, first you need to buy the adapter kit. Download and then install the myQ application and a sensor. Plug in a smart hub, switch on the sensor, then identify a door opener to the application, finalize by opening and locking your door.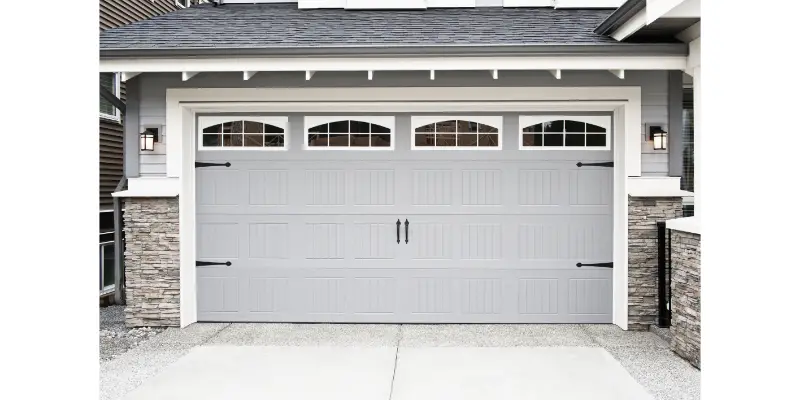 In case you have an outdated door opener, then it may be time for its replacement. And if this is the case you can opt for a smart opener. This guide will take you through every important detail about a smart opener to enable you to secure your home.
Is a Smart Garage Door Opener Worth It?
A smart opener is worth investing in. There are tons of benefits associated with it compared to the disadvantages.
Advantages of Smart Door Opener
Tracking of Those Getting In and Out of Your Home
With a smart opener, you'll ensure your kids get home on time and also safely. You will have a whole record of the time the garage was either opened or locked. Some openers are incorporated with dual audio powered by a smartphone application.
This enables you to record your visitor's arrival instantly. If you are not ready to give your home's key, then you can use a smart garage opener. This will give your guests approved access to your residence.
The best thing is you don't need to give them a code since you allow them to get in on a schedule.
There Is Protection of Your Deliveries
Packages are at a high risk of getting stolen and damaged due to harsh weather. When you have a smart garage entrance opener, keeping the packages safe can be easy. Some work together with Liftmaster door openers and this ensures your deliveries are well protected.
Hence, if you possess a Liftmaster, you'll open the garage entrance remotely for the persons doing deliveries. For instance, those from Amazon. Your residence's garage door opens up and the delivery person places the package in the garage.
After delivery is done, the garage door shuts. And with a garage opener merged with the security camera, you may watch as delivery takes place from wherever you are.
It Is Convenient
This is the most notable advantage of installing a smart door opener. The moment the door opener gets initiated, you will not have to think about having the garage's remote batteries run out. You won't also be concerned about the remote getting lost.
As long as you have a digital gadget and an internet connection, you can always unlock your garage door.
Security to Your Home
You can prepare your door to be able to open it before you reach home. Thus, there isn't time to waste as you wait outside for your door to unlock. And once you arrive home you can just get in.
Moreover, you can know if the garage is open even when you are not at home since you will get an automatic notification on your phone. There are garage door openers with the extra potential of connecting to a residence's security system.
Drawbacks of a Smart Door Opener
Having a smart door opener comes with very few flaws. However, they are less compared to the advantages.
There is a high cost involved.
The installation process is time-consuming.
You aren't supposed to toss away the door remote. Many smart door openers are mostly designed based on the idea that the main method of unlocking and locking the door will be by use of a remote opener.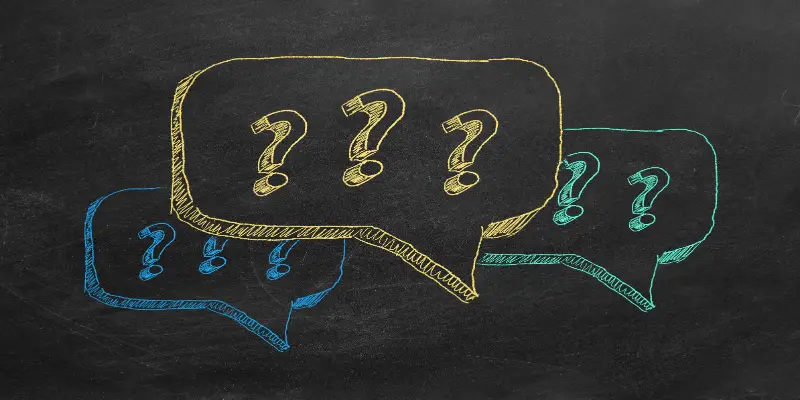 Do I Need a Smart Garage Door Opener?
You certainly need a smart door opener for your garage. Moreover, this is due to the lots of benefits gained. With the advancing technology, several components of your residence are more secure, convenient, and streamlined than they were before.
For instance, the indoor lights, thermostats, and doorbell. And with the current models of the smart door opener, you can control and monitor the garage entrance. You can do these from any place with the help of your smartphone.
A smart door opener for a garage does a lot more than only lowering and raising the door by using your remote just like different models. While the common opener devices give credible operations, a smart door opener introduces you to unmatched advantages. Those that streamline your life and intensify your home security.
What Does a Smart Garage Door Opener Do?
There are lots of things that a smart door opener does for your property. And this is what makes it something you need to consider for your garage door. Here are the most important tasks a smart door opener does;
Providing Security to Your Home
A garage door is normally an unnoticed point of entry into a home. In most cases, when you reckon on your garage, one of the main things that never cross your mind may be security. The intruders do have an option of the valuables kept in the garage even before they get to your door.
This could be electronics, bikes, vehicles, and many more. However, a smart door opener can give many different features regarding security and you can choose from them. A smart opener will enable you to protect all your stuff.
This is regardless of if your emphasis is on streaming the security cameras with nighttime vision. And also the notifications you receive on your smartphone when the door gets unlocked without your permission.
Helps Detect Smoke and Harmful Gases
There are lots of awful accidents that happen because of the buildup of carbon monoxide gas in the garage. This can not only harm the people who are inside the garage, but it also impacts the rooms that are above. With a smoke detector on a smart opener, you can know if there is smoke or even fire in the garage.
Besides, the opener has sensors detecting carbon monoxide gas. This also transmits a message to your smartphone to make you aware of the harmful levels the gas reached. Your phone application enables you to unlock your door from any location.
Hence you can allow the harmful fumes to flow out and you'll probably save lives.
Helps You Park Your Car With the Help of Lasers
This will help you avoid hanging around as you watch things you didn't plan for. Hence, you will identify where you can park the car any time you need to. The lasers will help you out.
These are provided as elements to several smart door openers. The lasers can automatically switch on as you get into a garage.
You Get Notifications of the Weather Changes
You can get a smart door opener with sensors for monitoring the temperatures. This is an incredible feature for the winter and summer seasons. Apart from letting you know a door is open, it also tells you if the temperatures are getting too cold or hot in the garage.
This can be more useful if you kept some food or the other delicate kinds of stuff in the garage. When the winter season is almost there, you will need to use the garage more often. You may want to safeguard your vehicle from heaps of snow or evade freezing.
You can avoid stumbling around for a door opener that may often appear misplaced or even, opening the garage door the traditional way. You can have a smart door opener that you will carry with you wherever you go.
Easier Accessibility
If your family members arrive home suddenly or you have visitors, you can be able to open the door by yourself from the place you are in. You can even go ahead and approve some individuals to get in one after the other. This can happen more frequently.
Whether you need to maintain people out or permit them into your home, a smart door opener offers you a large number of choices to remain in control.
You Get to Know Those Coming In
You can hear and have a glimpse of the visitors who get into the garage. There are camera alternatives and you can even talk to the people there through the accessible microphone and speaker connections. This enables you to offer friendly and warm salutations or give them some instructions.
This is very helpful if you have those visitors needing help to get in or in case you may want to guide the repair person.
You Get to Be More Relaxed
Converting a garage opener to a smart one will help you be at peace and comfortable. You will relax when you know you did not accidentally leave the garage door open. A smart door opener enables you to confirm anytime whether your door is closed or open.
It can also notify you through your smartphone if you left your door open. And depending on wherever you are, you can shut it up.
Enables You Prepare a Schedule
In case you have people who always come to your property at specific times daily, you can come up with a set schedule. This will be of help as your door will be always opening and closing at a given time of the day every week. You need to make the settings once and prior.
And you'll be ready to allow either your housekeeper or children in and out.
Are Smart Garage Door Openers Safe?
This depends on the type of brand you acquire. If you get the right one then it will serve you well. Buying from a reliable manufacturer like Chamberlain means it is safe just as the conventional garage door opener.
And with an inexpensive brand, it may not invest in the security application.
Thus, this leaves safety holes in the smart opener. When it comes to technology, any stuff that connects to the internet can get hacked. This is something you may have already encountered and a smart garage door opener is not an exception.
Though the possibility of it getting hacked is very limited. And in case of hacking via the Internet, the person who did so will not recognize where you reside, not unless he or she can access your account.
In case hackers can unlock the garage entrance and locate your home, then they'll have to be near enough to accomplish the process.
Therefore, there are minimum chances for them to get to your home before you even if you are away the entire day. Besides, the hackers aren't aware of whatever is inside the garage. They also don't know whether the entrance to your home is open or not or if there are dogs around.
Therefore for a person to hack the garage door opener, it will need much work against a small reward.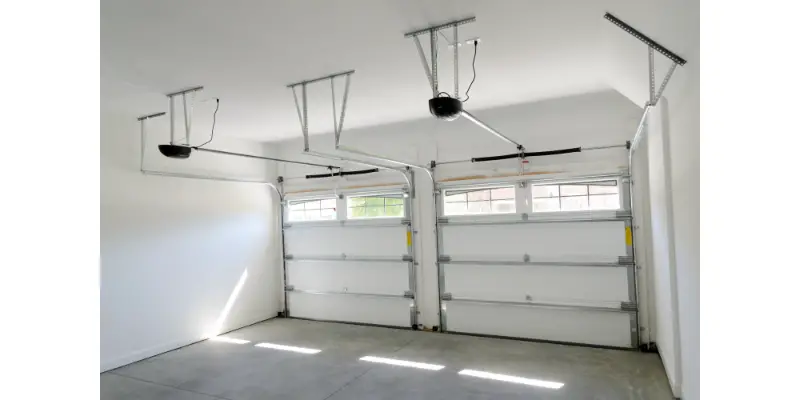 Can I Convert My Garage Door Opener to Smart?
You can easily convert your garage do opener to smart and there is a process you can follow to do it. Check out the following easy-to-understand process.
Buy the Adapter Set
The adapter kit is known as myQ smart hub and it is less than a hundred dollars. It acts as an actual link between the door opener and your android phone. On the other hand, you can opt for a Chamberlain.
This enables you to gain accessibility to Apple Homekit. It generates most of the things to smart home gadgets under primary control. And with it, you can regulate the security cameras, thermostat, door locks, and lights among others.
This is alongside the ability to open a door using the installed app. It can be utilized remotely from anywhere or also in your house.
Download and Then Install myQ Application
You can get the software from the Google play store or App store. Both downloading and installation can take some minutes. And when it's ready and working well it gives a wide spectrum of instruction for the installation.
This can be helpful in the event you lose track during the tutorials and you wish to have some additional information.
Embark on Sensor Installation
After getting the hardware you will need, and software already installed on a smartphone, you can start the installation of a smart garage hub. Consider installing a sensor for the garage door and you can get it with the bought kit. Tighten it to the panel which is at the top of the interior of a garage door.
Ensure you do not ignore this stage since the posture of a sensor will notify the hub if the door is opened or closed. Remember that if you fail to install a sensor, the application will not function. The reason being, it'll not receive data on the door's position.
Plugging In the Garage Hub
You do get the smart hub connected to a power line. Go on to plug this device in. After it's done you can then put it on your residence's wifi network.
Ensure you choose a password for it. The moment all these are done, the application you installed on an android phone will move on to the configuration stages. And this process is automatic.
Take note that the software gives clear instructions and thus you won't have to experience any issues.
Connect the Hub to the Garage's Ceiling
This is indicated in the given instructions. Attaching the device to the ceiling will prevent any signal interference between an opener, sensor, and smartphone. In any case, there is an elevated shelf in your garage which gives an evident line of sight onto other elements, this is just okay.
And if you don't, you will have to fix the hub to a ceiling as it is indicated. The essential brackets, other hardware, and screws are all given.
Sensor Activation
When done with positioning the smart hub, you need to undertake the sensor's activation onto your garage door. It's not complicated, just press the switch on the sensor. Wait for a red light to turn on and after it appears, you'll hear a beeping sound.
When this sensor gets online and you can hear the sound, the smart hub reacts to ascertain it is in contact with the given sensor. The reaction is through the beep. If you are not able to hear the beep and get the red light, consider removing the sensor's faceplate.
Withdraw its battery and then reset it. Chances are, this will help you sort out the issue.
Identifying a Door Opener to the Application
You need to confirm the model of your door opener to the software. Then submit the details of the learn switch color on the door opener to the smart hub through the application. When all is done, the app instructs you to get rid of those on the door.
It proceeds to notify you to press learn to switch on the door opener. You'll do this until led light appears and shows it is in the learning mode. At this stage, the application notifies you the hub is conforming with the door.
And the door can unlock and lock as the two tools familiarize themselves with each other. After the door experiences the movements and shuts, and the smart hub close down then everything is now set. Proceed to open and shut the garage door using the smart opener from any part of the world.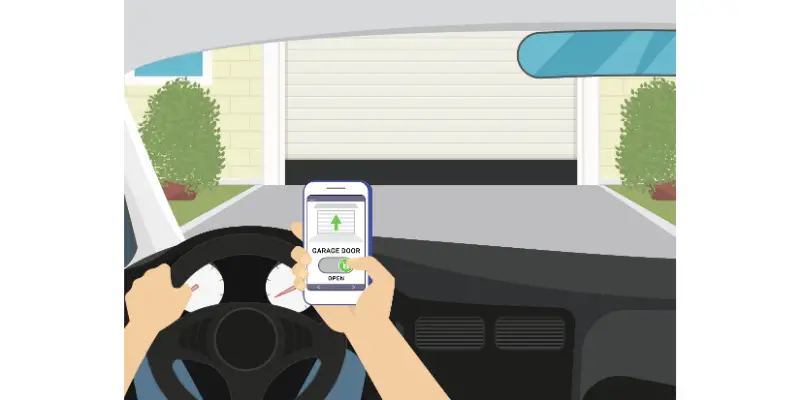 Can I Program My Garage Door Opener to My Phone?
It's possible to program a garage door opener to your phone. However, what you need is an android smartphone and the right software/ app that you will use to connect the phone to your garage door opener. You'll also have to access a Bluetooth receiver.
Proceed to download a compatible app and then pair it with the Bluetooth receiver.
Conclusion
As you can see, you can easily convert your garage door opener into smart. And a smart garage door opener has lots of advantages and perks. Therefore it makes your residence worthwhile.
Your mind will also be at peace. With voice recognition, wifi, and also the convenience of being able to control the smart opener via software you'll appreciate its installation.