Disclaimer: This post may contain affiliate links, meaning we get a small commission if you make a purchase through our links, at no cost to you. For more information, please visit our Disclaimer Page.
A useful and step by step guide to help you fix System Thread Exception Not Handled error on Windows OS.
When you use Windows OS, there would be many annoying issues and errors you may face, and Blue Screen Of Death (or also known as BSOD) is one of them. It's a common error in Windows and often suddenly occurs on your computer when something goes wrong. When a BSOD shows up, it means your computer is already shut down and frozen at the BSOD screen (a blue screen with error message and stop code), and a restart is required. Your Windows PC may automatically reboot itself, depending on the configuration of your computer.
Sometimes, it will automatically repair itself, reboot the whole Windows operating system and start Windows normally, but most cases, it doesn't. The blue screen error will be appeared there permanently, or you encounter a restart loop. The loop will start from a blue screen with error message and stop code. Then your computer will reboot itself, try to start Windows OS, and then the blue screen appears again. Repeat!
Related Article: Fix Thread Stuck In Device Driver BSOD Error In Windows 10
Ways To Fix System Thread Exception Not Handled Error
In most cases, this error occurs because the graphics card driver is outdated. You need to upgrade the driver of your graphics card to the latest version. However, there are other problems could cause this error, such as damaged hard drives, corrupted drivers, BIOS corruptions, corrupted Windows system files or missing Windows registry entries.
Luckily, I have found a few good ways to fix this error, and according to users from Microsoft community, as well as the readers of this blog, these ways are helpful.
Fix Corrupted Drivers To Fix System Thread Exception Not Handled BSOD Error
If there is any problem with drivers on your computer, it could cause the System Thread Exception Not Handled error. If you still able to access into your Windows computer (it's boot into Windows OS normally, after the BSOD occurred), you can go to "Device Manager" to check and find corrupted drivers.
When the error driver is detected, let's uninstall it and replace it with the new one, or upgrade to the latest version.
In the next step, you can find error drivers or hardware with corrupted drivers. You should update these drivers to the latest version, or uninstall and replace them with the new one.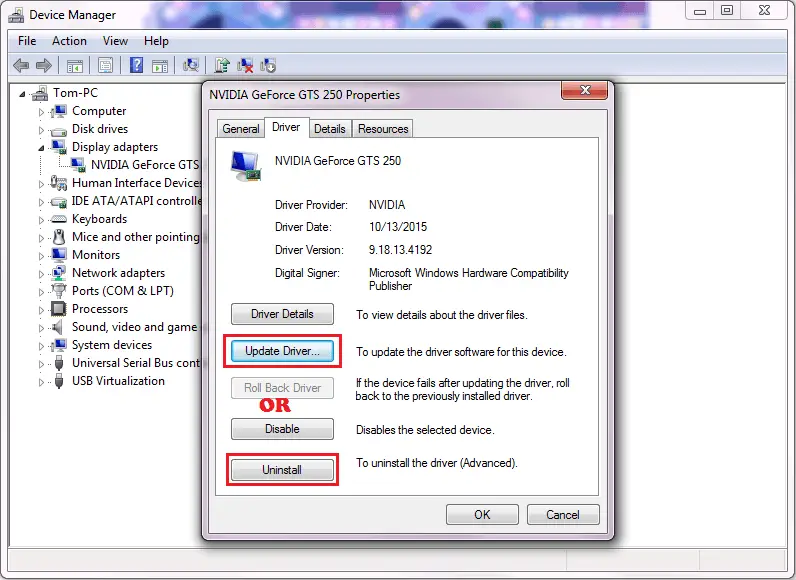 What To Do If You Are Unable To Access To Windows OS?
After the BSOD error is displayed, your computer will be automatically restarted. However, you fail to access to the Windows OS, and your computer keeps getting restarted over and over again (a restart loop as I mentioned above).
In this case, you must access to your computer in Safe Mode, and then uninstall the graphics card driver. Once the uninstall process is done, you have to download the latest version of the graphics card driver from official website, and then install it onto your computer.
Enter Safe Mode On Windows 8 / 8.1 And Uninstall Graphics Card Driver
According to reports from users, the system_thread_exception_not_handled error occurs on Windows 8 / 8.1 frequently. So, I will tell you the way to enter Safe Mode on Windows 8, 8.1 and uninstall graphics card driver to solve the system thread exception not handled error.
Tip: You can also use BSOD analyzing tool, such as BlueScreenView or WhoCrashed to scan for minidump files on your Windows PC and find out what reason caused this annoying problem.
Step #1:
Restart your computer, press and hold the Shift key, and press F8 key a few times, until you see the Recovery screen. Click on the "See advanced repair options".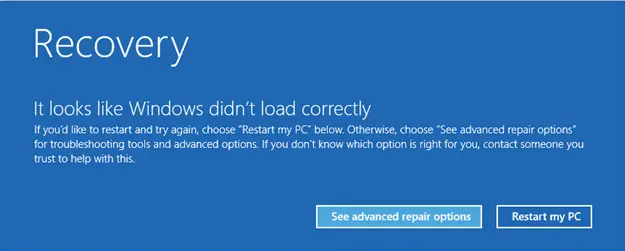 You could also access to the Troubleshoot screen (below, in step #2) by using a System Repair pen drive (or a DVD), and press the F8 key.
Step #2:
Click on the Troubleshoot button -> Advanced options -> Windows Startup Settings -> click on the "Restart" button.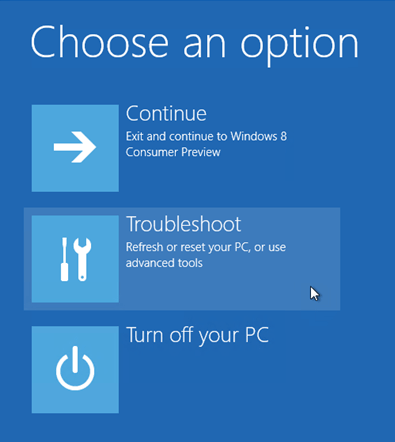 Step #3:
After your computer is restarted, it will be held at "Advanced Boot Options" screen, allows you to select "Safe Mode", "Safe Mode with Networking", or "Safe Mode with Command Prompt".
Just select "Safe Mode" to access to your Windows computer.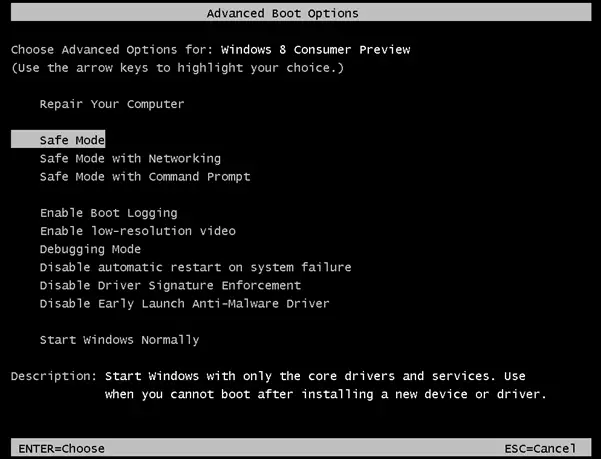 After accessing your computer, go to Device Manager (mentioned above) to uninstall graphics card driver. And then restart your computer to allow the changes to take effect. Once you are able to access to your computer normally, download the latest version of the graphics card driver from official website, and install it onto your computer.
Search And Repair Corrupted System Files In Windows OS
Any corrupted system files on your Windows OS could lead to this error, as well as many other issues. In order to resolve them, you can use CHKDSK command to check and verify your Windows system files to make sure there is no corrupted file. This command is also helped to repair any corrupted file if found.
Firstly, launch the Command Prompt as Administrator by pressing Windows key + X and then press A key.
Next step, type:
CHKDSK C: /F /R
and then press Enter.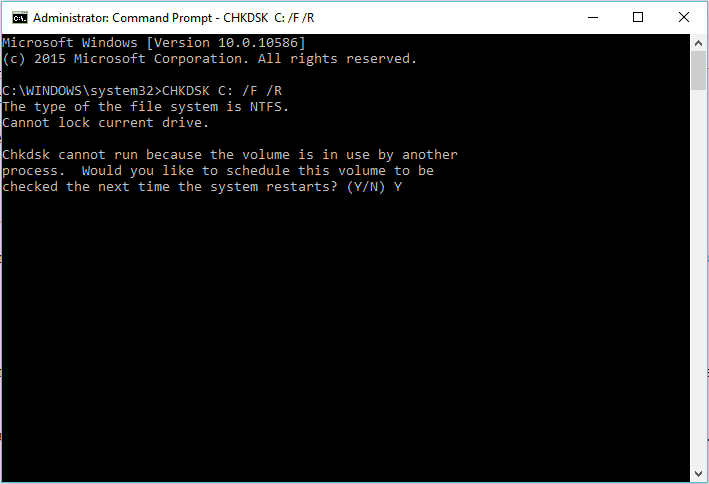 In the next step, type Y and press the Enter key.
After that, reboot your Windows PC.
Your Windows computer will boot up, and start to check and verify the whole system to find any corrupted file.
It might take a while to complete, so please don't turn off the PC while it's checking and verifying.
Scan And Fix Windows System Files To Resolve System Thread Exception Not Handled Error
Sometimes, scanning and fixing Windows system files will help to fix many errors on your computer. To do so, open the Command Prompt program as Administrator by following the way I mentioned above.
Next step, type:
SFC /scannow
and then press the Enter key. It will automatically scan and fix any error on your Windows PC. Wait for the process is completed and then reboot your PC.

Another Useful Tips That Might Also Help
If the BSOD error comes with the system file (for example, System Thread Exception Not Handled (dxgkrnl.sys)), you can copy this file name and search it on the carrona.org website. It will show you the name of apps or built-in functions that have this .sys file. By that, you can easy to determine the cause of the problem and find ways to fix System Thread Exception Not Handled error quicker.

After finding it, you can uninstall that driver to resolve the issue. Then reboot your computer and reinstall it again. Sometimes, your driver is corrupted and cause this irritating error.
If you aren't able to boot into your Windows PC, access Safe Mode to do so. You can also boot your computer from a Recovery drive, access Command Prompt and execute the following commands:
C:

cd Windows\system32\drivers

ren dxgkrnl.sys dxgkrnl.old
If your screen shows a different .sys file, replace it with the right one.
After performing the commands above, restart your Windows PC. It should boot up successfully now. Then, download and install the driver that you have renamed (removed) with the above commands.
You can also try to use Windows System Restore or Backup and Restore features to roll back or restore your Windows computer (in the case of these features are enabled).
Also, as I mentioned above, damaged hard drives, BIOS corruptions, or missing Windows Registry entries could lead to this error. So, you need to verify if your hard disk drive is still working or not, as well as reset or reinstall BIOS settings to solve this issue. For issues with Windows Registry, you should use some analyzer applications to scan and verify your Registry like TuneUp.
If you have any question about the system_thread_exception_not_handled (aka System Thread Exception Not Handled) error, feel free to ask by leaving your comment below.