Disclaimer: This post may contain affiliate links, meaning we get a small commission if you make a purchase through our links, at no cost to you. For more information, please visit our Disclaimer Page.
Subscribing to an IPTV is only a step in getting an IPTV service to work on your TV. Before paying for a subscription, you must get a set-top box or install an IPTV app, and ensure you're buying into a legal service.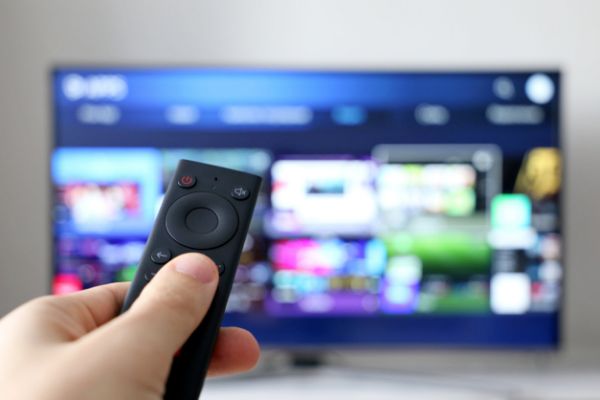 What Is IPTV?
An IPTV refers to any service that lets you stream TV content, but not over regular satellites or cables, but the internet. It stands for Internet Protocol Television, and Internet Protocol is the same technology that connects computers over the web.
There are legal and illegal parts to IPTVs. Generally, people almost always mean the illegal part of it when they refer to anything as an IPTV. While you should generally be wary of anything illegal, subscribing to legal IPTVs is a convenient way to enjoy the content you love.
IPTVs have their fair share of disadvantages, but that's when you go illegal. Other than the fact that it requires a decent internet connection to function properly, IPTVs are in every way better than your cable or satellite TV.
Some examples of IPTVs include the legal ones that mostly provide video-on-demand like Netflix, Hulu, or Disney+ and the not-so-legal ones that you should probably stay away from, like The Cable Guy. The more popular services likely have an app that you can also install on your other devices and is much easier to set up.
Throughout the rest of this article, you'll learn some of the best ways to subscribe and set up IPTV on your favourite devices and some of the reasons why you may want to avoid paying for illegal ones.
How Much Does It Cost to Subscribe to IPTV?
Before getting started with the entire process, it's important to have an idea of how much it would cost to subscribe to the average IPTV service.
While people try to adjudge the costs using the cost of subscribing, that's not all there is to IPTVs. If you're planning to set it up on your TV, you may need to get a set-top box that will enable you to stream content over the internet.
If you're switching over from cable TV, that will be an additional cost. Since that won't cost you an arm and a leg, it's not worth sweating over.
In addition to the cost of acquiring a set-top box, you'll only need about $10-$20 per month to subscribe to a IPTV streaming service. The cost is a little barrier to entry here; the real work starts with starting to set up an IPTV.
If it's for your phone, you can easily jump into Google Play, install a few apps, and it will be up and running. But we're talking about a "non-smart" TV here. Surely, there are a few hurdles to cross before you'll be able to start streaming IPTVs seamlessly on your TV.
Is It Easy to Install IPTV?
If you're not a very determined techie, you may be worried about screwing something up while trying to set up your IPTV. That isn't a legitimate worry. Unless you break something, it's almost impossible to screw up your IPTV setup, at least not permanently.
Even if you run into a few problems during the setup, you can always solve them by searching Google or YouTube. If you follow my tutorial below, however, you'll never have to try solving any problems by typing frantically into Google.
With that out of the way, let's get into the nitty-gritty of trying to subscribe to an IPTV service and getting it to work on your TV.
How to Subscribe to IPTV
While this part of the article may mention things that may be illegal in your jurisdiction, we won't take any responsibility for anything you do as a result of this article. This is only for educational purposes, and we recommend always using a legal solution for your streaming needs.
With that said, you'll almost always need a set-top box if you're subscribing to an IPTV on your TV unless you have a smart TV. Even with some smart TVs, you'll need a bit of tinkering to get the most popular IPTV apps to work.
If you use your PC or laptop as your main TV, you don't need to buy any additional hardware. Your computer can sideload all of the necessary IPTV apps, and the only thing you'll ever have to worry about is the subscription fee.
Without further ado, let's get into the process of setting up an IPTV and paying for a subscription to start streaming IPTV on your TV.
Get a set-top box
Unless you own a smart TV, you'll need a set-top box to get started with streaming IPTV on your TV. If you're not sure about what to buy exactly, go for a recent Android TV box. They run every TV app on Google Play, and you can be sure the IPTV service for you is already present there.
There are many Android TVs out on the market, and it doesn't matter what you get as long as it can run apps made for Android TV. However, you should note that you get what you pay for. Your $50 ultra-cheap TV box may be unable to output anything over 480p.
Once you get your Android TV box, you can connect it to your Wi-Fi and hook it up to your TV. This will give you access to the expansive library of apps available on the platform, which brings us to the next step.
Get an IPTV service.
Your Android box is useless per se; you'll need an IPTV app to get its full potential. Without the apps, no content will be delivered to the box, and the box won't decode anything to play on your TV.
There are many IPTV apps available for Android TV, but you may want to exercise caution while choosing. There are as many illegal apps as there are legal IPTV apps, and you can get into legal trouble by getting your content primarily from an illegal source.
Illegal services never carry a tag showing they're illegal; you must examine the characteristics and decide if the service is legal for yourself.
From experience, most IPTV services that aren't available in the store are mostly illegal. Those free ones that bombard you with ads whenever you try to enjoy a show are most probably illegal, too, so you always have to keep an eye out.
Subscribe to the IPTV service.
Since this post isn't sponsored, I won't be recommending any IPTV services. With the template I provided earlier, you should be able to narrow down a good IPTV app. Once you do that, you can start thinking about paying for a subscription.
Before subscribing, however, try hunting for reviews across the internet. It's also recommended to choose one that's in your home country, as it will make it easier to receive the streams with no lags or content restrictions. Another thing to note is to do some research on what shows or movies are on the service.
Also, avoid paying for an IPTV service using Bitcoin, at least for now. Bitcoin is popularly used by illegal services to evade regulatory scrutiny, and you don't want to get involved with the police.
If you think the service is fine, you can pay. After paying, you should receive something known as the m3u link, which you should keep carefully, as you'll be needing it to get the content you paid for.
Connect your TV to the IPTV service using the m3u link.
After subscribing to an IPTV service, write down the m3u link and open your preferred IPTV app on your Android TV. After signing in, there should be a button that lets you add a playlist; click on that button to continue.
After clicking to add a playlist, you should see an input field that lets you enter a URL. You should enter your m3u link in this field to continue. After a bit of processing, you should get back to the homepage that should now be populated with channels from your IPTV service.