Disclaimer: This post may contain affiliate links, meaning we get a small commission if you make a purchase through our links, at no cost to you. For more information, please visit our Disclaimer Page.
Many new parents value a WiFi baby monitor and consider it essential to parenthood. Some of the new parents list it in their registry list because they believe that it'll give them peace of mind. It has many features that can help you track your child's activity. But with all of those features, how much data does it consume per day?
A WiFi baby monitor uses an average data of 2 GB per day. Although some brands consume 850 MB per month. If your internet provider offers limited data usage, buying the baby monitor with 850 per month data usage is a good deal.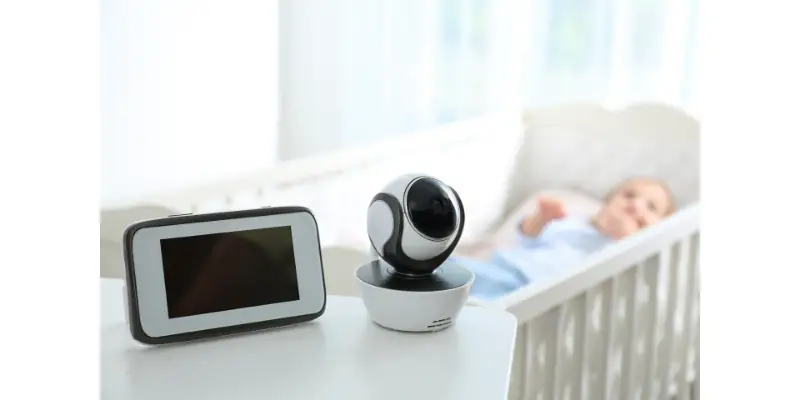 There's a lot of things to explore about WiFi baby monitors. Keep on reading to understand if it's worth it to buy.
Are WiFi baby monitors worth it?
Baby monitors in general are worth it whether it's an audio type, a video type or a WiFi type. Yet, a WiFi baby monitor is worth having more than the other types if you're a working parent who needs to leave the house for work. It allows you to check your child even when you're away.
Baby monitors allow you to check your child even when you're busy doing something else. It also allows you to move from one room to another while carrying the device. With a baby monitor, you can do your household chores without worrying about your baby.
The WiFi capability of the baby monitor allows you to access the videos captured by the device wherever you are. You can access it through an app from your phone. Yet, manufacturers add several features that an audio type and video type don't have.
However, not all WiFi baby monitors are worth it to buy and safe to use. You still need to weigh the pros and cons of buying a specific brand before completing a purchase. When buying a baby monitor, it's important to take note that you need to assess the features of the monitor if it'll be helpful in everyday monitoring.
Sometimes, we get overwhelmed with so many features then we end up realizing that we don't need them.
WiFi baby monitor features that are worth it
When buying a baby monitor, you need to check the specification of the camera. The camera must be clear even during the night or when you turn off the light. Even if your baby monitor has other added features but the camera is not clear, there's no point in buying it.
You also need to consider the flexibility of the installation. You must be able to mount it on the wall or you can place it on a table. It's a lot better if the monitor has a floor stand, which is high enough to cover the entire crib and gives you a nice view.
The added features of a WiFi baby monitor can be either helpful or not depending on your need. It can't be helpful if you rely too much on the baby monitor and not checking your child physically. If you have the chance to check your child physically, do it. Don't rely too much on the data you're seeing.
Improved technology
In the past, there were cases when some features of the baby monitor didn't work the way they should be. The baby monitor projected false data such as oxygen level and heart rate. The faulty device displayed a low heart rate of the baby when the truth is that the baby has a normal heart rate. Because of it, the manufacturers stopped selling it in the market.
Fortunately, other manufacturers today, addressed the problem and developed a better sensor to get the data for analytics. So, most products that you'll buy today have better technology than in the earlier years.
Consult your doctor
If there's one thing that you must not forget is to ask for a recommendation from your doctor. You can get useful advice that can help you decide what to buy.
Your doctor can tell you if the features of the baby monitor are also ideal for a hospital setup. Some products released in the past do not pass the hospital-grade standard. So, consulting your doctor can help you in this stage.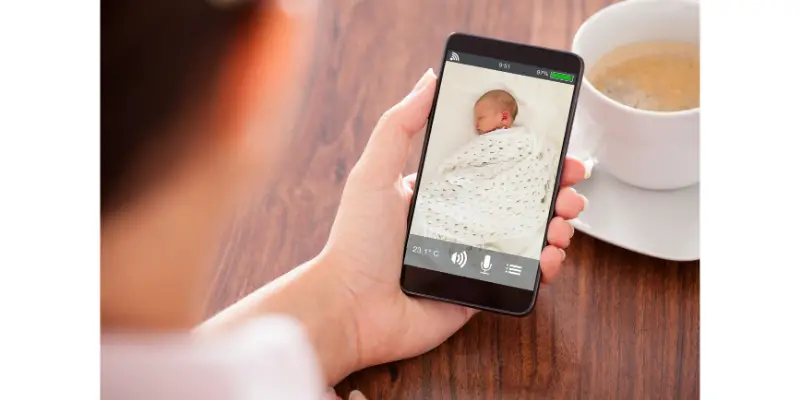 How does a WiFi baby monitor work?
WiFi baby monitors work like a video monitor. Yet the difference is that a WiFi baby monitor requires you to use a WiFi connection. You'll need the WiFi connection if you want to watch your child when you leave the house. The main components of this type of baby monitor include a baby camera, WiFi connection, smartphone or tablet, and a baby monitor app.
The first thing you need to do is to install the baby monitor in your child's room then connect it to a WiFi connection. The WiFi helps to transmit data to your smartphone or tablet via the app compatible with the brand of the baby monitor.
The good thing about this baby monitor is that you don't need to have a separate device to bring when you leave home. You can directly access the video on your phone. You can also access your baby's room on any device as long as it has the installed app.
Take note that the WiFi connection must be within the range of the baby monitor so it can gather videos that you can view. Don't forget that you need the internet so that you can access the videos on your phone.
WiFi baby monitor complex features
The WiFi baby monitor has a secured connection, which has wireless encryption and firmware protecting the video feed. It has no delayed connection so you can watch your baby in real-time.
Make sure that the device has a 2.4 GHz frequency to get a clear connection. It allows you to access video history so you can check other videos that you weren't able to check in real-time. It has a subscription service that allows you to share your videos with other people.
The videos captured by a WiFi baby monitor camera get projected through the app you downloaded from your phone. It means that if you use your phone for other purposes, you can't see what's happening to your baby in real-time. And that's the reason why some parents prefer the video baby monitor because it has a dedicated device.
However, not all baby monitors are the same. You need to weigh the features of each baby monitor based on your needs. If you don't have any idea about the features of the baby monitor, here are a couple of the best products on the market.
Nanit Pro Complete Baby Monitoring System
The Nanit Pro Complete Baby Monitoring System comes with a small breathing band and multi-stand. This is an advanced version of the baby monitor because it can do so many things. It doesn't only allow you to see, hear and talk to your baby but it provides a sleep tracker that you can check every morning.
It can also check the breathing motion of your child from any position. It also alerts you when it detects a different breathing pattern.
Nanit Pro's sleep tracking feature stands out among its competitors. It provides a timelapse of your baby while sleeping. With this feature, you can see what happened during the night in seconds. It can also monitor the temperature and humidity of your baby's room.
Cubo Ai Plus
The Cubo Ai Plus is another WiFi baby monitor with a different feature perfect for a newborn child. It has a face detection technology that provides an alert when an object covers your baby's mouth and nose. It also notifies you when your child has faced down, rolled over, cried, or distressed. You can also talk to your baby with its two-way audio feature. The baby monitor features built-in night vision allowing you to see your child even in the dark.
It has an 18-hour sleep playback feature and sleep-analytics, which is similar to Nanit Pro. But what makes me love this baby monitor is its ability to capture the gestures of your baby. It can detect your baby's smile and big moves. The baby monitor captures it and automatically saves it on your app. It also has lullabies that are handy when your baby needs one.
With the favorite products I shared with you, you probably understand that a baby monitor is way different than a CCTV. It has many features that provide the information you need to keep your child safe. Take note that some non-WiFi baby monitors may have the same feature. Yet, the WiFi baby monitor is much better if you often leave the house.
Is it safe to have a WiFi baby monitor?
It's safe to use a WiFi baby monitor, There's no incidence yet that it has faulty wirings that lead to fire, which can harm your child. Therefore, you don't need to worry about the hardware of the monitor. On the other hand, you're maybe asking yourself if a WiFi baby monitor is secure. Well, the answer is a yes and a no, depending on how you use the monitor.
Data security
If you don't set a strong password on your WiFi connection, there's a possibility that hackers can attack the baby monitor. You need to avoid using the default password. Instead, change it immediately. If two-factor authentication is available, use it to increase the security of the baby monitor.
Check the devices connected to the WiFi and set passwords for each if possible. Always check the default settings of the devices then activate the security features. When you don't use the baby monitor, turn off the remote access. Just like any other WiFi device, if you use the security settings, the baby monitor is safe to use.
Automatic updates
You must also check for security software updates and firmware updates when available. Don't skip these updates because it protects the baby monitor. If available, you can enable the automatic updates.
Updates are necessary because it fixes bugs that are present on your firmware. Such bugs can affect the performance of the baby monitor, which can lead to slow transmission of data. It can also lead to the projection of wrong data from your device.
Automatic updates can save you money because you don't need to buy new firmware. All you need to do is to connect to the internet to get an updated firmware.
Protecting the router
If you want to protect the data from your baby monitor, the first thing that you need to secure is the router. It's the first line of defense that most hackers attack. In most cases, it's the owner's fault that makes it easy for hackers to attack the router.
There are three ways to hack a router which include attack via unauthorized internet access, attack via remote access, and attack via local access. The possible attack happens because the configuration of the router has been changed intentionally by the owner. Because of it, the hacker can find a loophole to attack the router.
The attack via internet access happens when you intentionally change the settings of the filter that a router has to access some programs or games. The filter helps the router to avoid accepting unauthorized incoming traffic. But if you tweak the filter's setting, hacking may occur.
Your router is also prone to attack via remote access when you enable Allow Setup over WAN. It's the same thing that happens when you tweak the filter, you're making the router vulnerable to hackers.
Another way to make your router vulnerable is when you don't put a password. If someone within the WiFi range discovers that your router has no password, an attack can be possible.
So, if you have a doubt that your baby monitor is easily hacked, you don't have to. WiFi is safe until you make some tweaks and not add a password to it.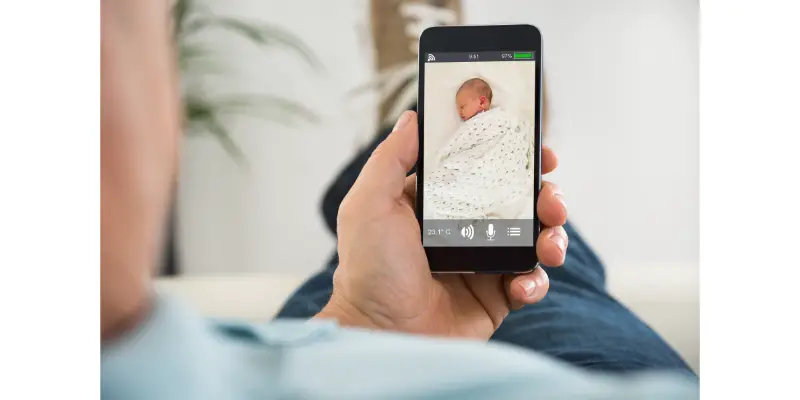 Do WiFi baby monitors work without WiFi?
As the name implies, WiFi works with an internet connection. Without it, a WiFi baby monitor won't work. However, you also need to keep in mind that you need to have a strong internet connection to avoid delays on the camera feed to your device.
Some users don't like using WiFi baby monitors because of the delay. One reason is having a poor internet connection in the room where the baby monitor is installed. So, if your baby's room is a bad spot, you can change the position of the router or you can use a powerline adapter. But if it still doesn't work, you can opt for a non-WiFi baby monitor.
A non-WiFi baby monitor or popularly known as a video baby monitor has the same basic features as the WiFi baby monitor. You can see your baby remotely and you can also talk to your baby. However, you can't use it when you leave the house. The range only covers the area of your house. Because it has no WiFi connection, a bad spot in your baby's room won't affect its performance. It's also safe because hackers can hardly make an attack on a video monitor.
But if you want the advanced features of a WiFi baby monitor, you may not get it on a video monitor. Some video monitors don't have a playback option, recording, and programmed lullabies. Yet, you can find a decent video monitor that can give you the basic features that you need.
Will WiFi Baby monitor slow down my Internet speed?
The internet speed may slow down if there's interference in the frequency. The interference can occur if there's a device present near a WiFi connection that operates in the same frequency.
For example, a microwave oven has the same frequency as WiFi. So, if your device runs near a microwave oven you just turned on, interference may occur even though you have a strong internet connection. Wireless devices such as garage door openers or walkie talkie can also slow down an internet speed.
A baby monitor is a wireless device that can interfere with a WiFi signal. So, using it can slow down the internet. But in this case, we're talking about a "WiFi" baby monitor. So, instead of focusing my discussion on internet speed, let's focus on why WiFi gets slow.
2.4 GHz vs 5 GHz
WiFi connection has two main spectrum bands including 2.4 GHz and 5 GHz. The 2.4 GHz is slower than the 5 GHz and you can notice it when the WiFi travels on a longer range. On the other hand, you can notice that the 5 GHz gets faster in a shorter range. You can find a router that runs a dual-band frequency. If you have this kind of router, you can set it up with a different name and password.
Bandwidth activities
Your WiFi connection may slow down when you send a large amount of data to a network. When you download a large file or stream a movie, you're sending a large amount of data to the network, which slows down the WiFi connection.
Router model
If your router is not up to date, you may need to buy a new model. An old model can't keep up with the standards of the new versions of WiFi. Always check the label of the router to ensure that your router runs on WiFi technology. You also need to know that the router supports 802.11ac, which is a synonym for wireless AC. You can also opt for the WiFi 4 technology or 802.11n.
Proper router placement
It's always recommended that you put your router in an elevated position to get a better signal. Just make sure that there are no objects or appliances that will block the signal. Most of the time, this is the easiest solution for a slow WiFi connection but it's overlooked by some users. So, if you're experiencing a slow connection, checking the position of the router is a good solution.
Outdated network adapter
Regularly check the network adapter or driver if it's updated. If you're using Windows 10, it allows your computer to update the driver automatically through the Windows Update. However, there are times that you need to go to the manufacturer's website to get an updated version.
It's necessary to update the driver to avoid incompatibility on the WiFi setup. The incompatibility may lead to a slow connection.
How much data does a WiFi Baby Monitor use?
The average data usage for a WiFi baby monitor depends on the brand you use. The Arlo Go camera has an average data usage of 850 MB per month while the Nanit camera has an average usage of 2 GB per day. This is the average usage for the BEST setting. For the ECO setting, the average usage is less than 1 GB per day.
If you're using a WiFi baby monitor, make sure that your internet providers offer unlimited data usage so the monitoring won't get interrupted.
Conclusion
Baby monitors are worth it to buy. You just need to understand your current need so you won't splurge your money buying the wrong one. The best type is the WiFi baby monitor because you can check your baby even if you're miles away. But still, it really depends on your needs. If you're on a budget, an audio baby monitor will do.