Disclaimer: This post may contain affiliate links, meaning we get a small commission if you make a purchase through our links, at no cost to you. For more information, please visit our Disclaimer Page.
Tablets are great for a lot of things, but they've always lacked a mouse and keyboard. You can't really play PC games on a tablet and you can't do some tasks that require a mouse. So can you connect to a keyboard and mouse on it?
It is possible to use a keyboard and mouse on a tablet. You can do this by connecting the keyboard and mouse to the tablet using USB on-the-go (USB OTG) or wirelessly if the devices are Bluetooth enabled.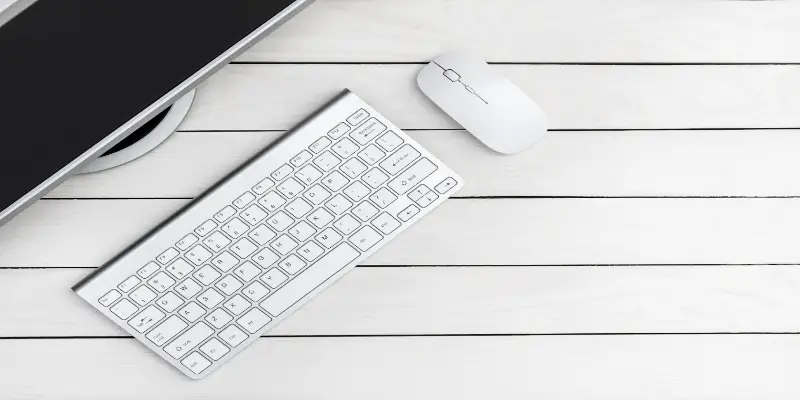 In this article, I discuss tips that can help you connect and use the keyboard and mouse comfortably on your tablet. Read on to learn.
Can You Connect A Keyboard And Mouse To A Tablet?
Ever wanted to use a physical keyboard and mouse on your tablet? Well, today may be the day you can actually do it.
This is important since even though tablets have come a long way in trying to replace laptops and desktops in everyday tasks like taking notes, they still lag in one critical area, which is typing.
With the ability to connect these two accessories to the tablet, you easily overcome the challenge of "thumb typing," which is slow, and type fast using a physical keyboard and mouse.
Therefore, it comes as a big relief to all tablet lovers to learn that it is possible to connect a keyboard and mouse to a tablet.
This has been made possible by a USB keyboard or a Bluetooth keyboard in the case of a keyboard. And USB mouse or Bluetooth mouse in the case of connecting a mouse to the tablet.
Since tablets don't have a full-size or standard USB port, you need a USB adaptor when the peripheral is connected. In this scenario, USB on-the-go (USB OTG) comes in handy.
USB OTG is a cable that enables two devices to communicate with each other without the need to connect them to the computer.
Can You Connect A Keyboard And Mouse By Wire?
It may be a fun thing to "touch type" on your tablet while writing your notes, but your options are a bit limited compared to typing on a physical keyboard- like we usually use on PC.
Fortunately, you can connect a full-size physical keyboard and a mouse to your tablet using a wire.
Since tablets have USB-micro ports, you can't plug in a USB device directly into it; you can use a USB on-the-go cable to convert the ports into standard- full-size connectors external devices commonly use.
If you are unsure that your tablet supports USB OTG, you can check on the maker's website or opt to use a free app like USB OTG Checker, which you can find from the Google Play Store.
You can buy these cables for a few dollars on online stores or any accessory store near you.
It is important to note that if you wish to connect a keyboard and mouse to your tablet simultaneously; you need to use the OTG hub. But if you are connecting only one device, you only need a USB OTG cable. Thus, ensure to have the correct hardware to achieve your aim.
Having confirmed that your device supports USB OTG, you are good to go. If you bought your device in the last three years, the chances are high that it's USB OTG compatible. I'll explain to you how to go about this process. Read on to learn.
Follow the steps below to connect your tablet to a keyboard and mouse by OTG hub/cable.
Connect the keyboard/mouse to the USB connector and your tablet to the micro-USB connector.
The keyboard/mouse will connect to the tablet just as it connects to the computer.
Open any app and begin to type on the keyboard, and the texts will appear.
You can now use all the keys and shortcuts on the keyboard as you want.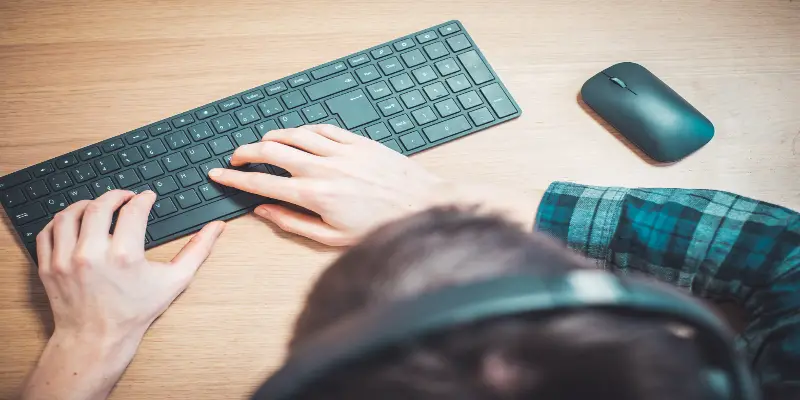 Can You Connect A Keyboard And Mouse By Bluetooth?
Connecting external devices to the tablet by USB OTG isn't always an ideal solution. This is because many devices don't support USB OTG cables. Also, carrying cables around add a lot of clutter to what should be an easy-to-carry portable device.
Thus, if you are that person who hates carrying many wires in your bag, or your tablet doesn't support USB OTG, you are still lucky. It is possible to connect a wireless Bluetooth keyboard/mouse directly to the tablet.
If you are purchasing a keyboard or mouse to use with your tablet, you'll probably want to buy Bluetooth-enabled devices for compatibility and convenience. I recommend that you use a smaller device for easy mobility.
The following is what you should do to connect the keyboard and the mouse to your tablet:
First, fully charge the keyboard and mouse, install the batteries if the batteries power them, and turn on the pairing mode. You can switch on the pairing mode by pressing the power button for 10 seconds or by following the instructions highlighted in its manual.
Turn on Bluetooth on your tablet and look for other devices that are also on. Pair the devices (keyboard and mouse) once you locate them. Suppose you are prompted for a code, type "0000" to pair. This number is the most commonly used code by Bluetooth devices.
You can now use it once it's tethered to the tablet, but you'll have to reconnect every time you want to use it.
The moment it's tethered once, it becomes easier reconnecting the device in the future. All you have to do is to power on the Bluetooth connection on both the tablet and the device, right-click on the Bluetooth icon and select "connect."
How To Use Keyboard And Mouse On Tablet?
Keyboard
The keyboard should work just fine when you connect with the tablet, following the steps I highlighted in the discussions above. You'll have to type on the texts field to confirm that it's working.
You should be able to type at a reasonably increased speed on a physical keyboard and see more of the screen by doing away with the need for an on-screen, touch keyboard.
Just like they do on the computer, many keyboard shortcuts should work the same. For example, Alt +Tab for switching between recent apps and Ctrl + C, X, and V for copy, cut, and paste.
Mouse
Using a mouse on your tablet is a little different than using it on your computer. You may have to adjust some of the settings to use it comfortably.
I'll guide you through the process you have to go through to ensure that the mouse operates fine on your tablet. Follow the steps below.
Open the Settings app. Its icon resembles two silver gears.
Scroll down and tap on accessibility next to a blue icon with a person inside a circle.
Tap touch. It's below "Physical and Motor" in the accessibility menu.
Tap AssistiveTouch at the top of the touch menu.
Select custom actions. You can select custom actions for double-tap, single-tap, and long press.
Tap on the toggle switch next to "Always Show Menu." AssistiveTouch is always on when using the mouse on your tablet by default.
Adjust the mouse's speed. Use the slide bar below "Tracking Speed" at the bottom of the AssistiveTouch menu.
Tap on the pointer style to customize the mouse cursor.
Tap on devices to show the list of devices you have connected to your tablet.
Tap on your mouse to display the mouse button functions.
Select custom mouse button functions.
When you connect the mouse, you'll see a mouse cursor appear on the screen. You use this cursor to navigate through the tablet's interface, allowing you to click on things that you'll normally tap for action.
The mouse works just like it operates on a computer. Also, you can still touch the screen for action while the mouse is connected.
Conclusion
USB OTG cables are good options to connect the keyboard and mouse to your tablet. However, wires add a lot of clutter to what should be light and portable device. Also, some devices are not compatible with USB OTG.
Therefore, an ideal way to connect the keyboard and mouse to your tablet may be by Bluetooth. You may have to consider buying Bluetooth-enabled devices for convenience.