Disclaimer: This post may contain affiliate links, meaning we get a small commission if you make a purchase through our links, at no cost to you. For more information, please visit our Disclaimer Page.
How often do you use Instagram? As for me, I use this free application daily, about three or five hours a day to take and upload new photos and videos to my Instagram profile. The only reason I spend hours with this application is that I'm running an online small business, and most of my customers come from this place.
For who don't know about Instagram yet, it's a free mobile app that lets users take photos or record videos and then upload to its social network site, like what you do on Facebook or Twitter. If you want to try out, it's now available to download on iTunes App Store or Google Play Store.
The purpose of this article is to show you these most useful Instagram tips and tricks that will help you master this mobile app and its social networking platform.
How To Get Started With Instagram
In order to register a new Instagram account, you can download the Instagram mobile app from the iTunes App Store or Google Play Store. If you are using Windows Phone, there is also a version of it to download as well.
When the download process has finished, touch the Instagram icon to launch it. In the next step, tap "Sign Up", provide your email and then tap "Next" to sign in with your Facebook account. After you have created a new Instagram account, you can use Instagram from any devices you want, including smartphone, tablet or even your computer.
You can also use your desktop web browser, visit https://www.instagram.com and then sign up for an Instagram account.
There are a few things you need to do to get started:
Add Instagram Profile Picture
Choose an image to upload it as the profile photo for your Instagram account from your smartphone. Tap your profile photo and then tap the blank circle to select an existing photo to use as the profile picture, or take a new one. If you are running this Instagram as a company or behalf of business, I would suggest you don't use a person photo. Instead, use the logo of your business would be greater.
Update Instagram Profile
From the "Edit Profile" section, you can decide how your Instagram profile looks like. For example, how do you want your name showed, as a real or pseudonym? Display your website URL, as well as, display your Instagram bio. The Instagram bios are important. It will attract more users to visit your Instagram profile and help you gain more potential visitors, which can be turned into customers.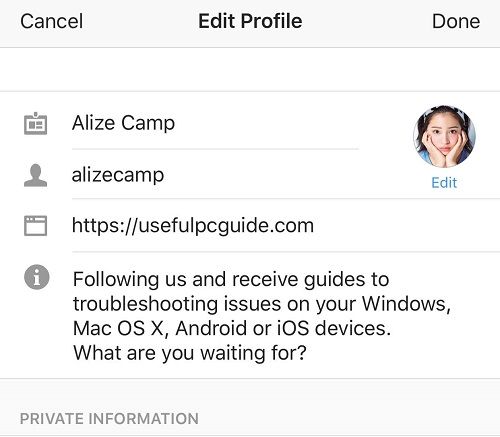 Find People On Instagram To Follow
So, you have created your Instagram account and updated it with great information – such as profile picture, external website, and Instagram bio. Everything is perfect. What's next?
By now, many of your friends are already using Instagram. To connect with your friends on Instagram, go to your profile tab, look at the top-right and then click on the gear icon.
In the next step, choose "Find Friends" in the "Options" setting. From here, you can easily search for friends from Facebook or Twitter and then "Follow" your friends on Instagram. There are much more there, just find out yourself.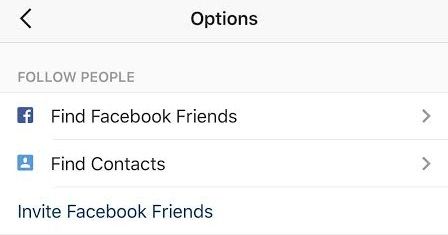 Upload Your First Photo Or Video On Instagram
In order to upload your first photo or video, look at the bottom menu of Instagram app and then tap on the camera icon. You can either take a new photo, record a new video, or select one from your gallery – and then tap "Next" at the top-right of the screen of your device.
In the next step, you will be able to apply filters of Instagram as well as adjust the photo in many methods.
Hit Next to move to the next step and add an Instagram caption, tag other Instagram users or add the location. Then hit Share to publish your photo or video on the Instagram social networking site.
20+ Instagram Tips & Tricks You Must Know
Since it's created in October 2010 by Kevin Systrom and Mike Krieger,  Instagram had gained popularity very quickly and attracted many users to come and use the application. Nowadays, Instagram has 400 million active users and still growing up day by day.
From that point, it seems that this is a great place for business owners who are looking for potential customers. However, to gain more clients and more successful, you have to know how to use Instagram as an expert and master this mobile app to lead you to success.
In this article, I will show you show 20+ tips and tricks that will help you use Instagram easier and doing what you need to do quicker with advanced features.
How To Make Your Instagram Photos To Be A Perfect One
The first & good thing that Instagram attracts users is its filters and editing tools, which help to make your photos better. You can select a picture to upload, apply any filters from the list to this picture, as well as adjust the size, brightness, contrast, structure, color, fade, shadows and much more.
Many mobile photo editing apps are available out there, such as Snapseed, VSCOcam, Aviary, or even Adobe Photoshop Express. However, if you don't need features like on Photoshop and just want to make your photos look better than the original, then Instagram filters and editing tools would be enough.
You Can Upload Both Square And Landscape/Portrait Photos
If you were using Instagram at the time it was launched, then you knew Instagram only let users upload square photos. Instagram has kept this restriction for years and just lifted it in August 2015.
Since then, you can upload both square and landscape/portrait photos. In order to choose the original aspect ratio of your photo, just hit the icon in the bottom-left corner of the picture. And then switch between the square ratio and landscape/portrait ratio.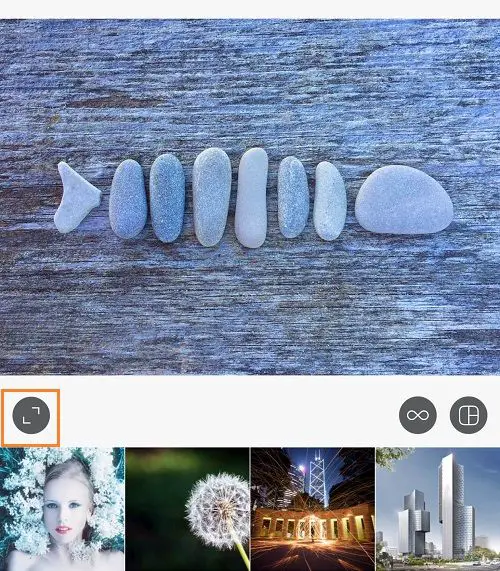 How To Tag People On Instagram
If you are uploading a new photo to Instagram and want to tag someone, just tap on the picture and type the name or Instagram username of the person you want to tag and then select it. That's it!
You can also upload the photo and then edit it to tag people there. Simply select the photo you want to tag people, choose "Edit" and then tap "Tag People". There would be a search form in the next step to let you find the person you want to tag. Just tap on the person you want to tag from the list. That's it!
How To Mention Other Instagram Users In Caption Or Comment
If you want to mention a friend in the caption of your photo, type the "@" character in the front of your friend's username. For example, if the username of your friend is "tonyblair", then you need to type: @tonyblair to mention your friend.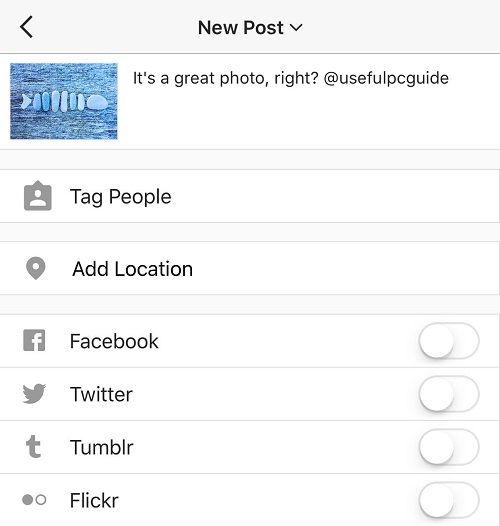 After that, your friend will receive a notification to tell that you have mentioned him/her. This method also works in the comment section, when you want to reply to someone, and want them to receive a notification about your comment.
How To Like, Comment, Or Send Photos And Videos
In case you don't know, to like a photo or video of your friends on Instagram, you can double-tap it or tap the Heart icon below the picture. To unlike, double-tap or tap the Heart icon again.
To leave a comment on a photo or video, tap the Bubble icon and then type what you want to say in the comment box. This is the place you can use the method that mentioned above to mention someone, with @ in the front of their Instagram username.
If you want to send a photo or video to your friends, click the Arrow icon, then tap on the friend you want or search for them in case they aren't there. It will prompt you to write a message. Once you have done with writing the message, tap "Send". The content you have sent to your friend will be turned into a private message between you and that person. You can send one photo or video with the same message to multiple users as well.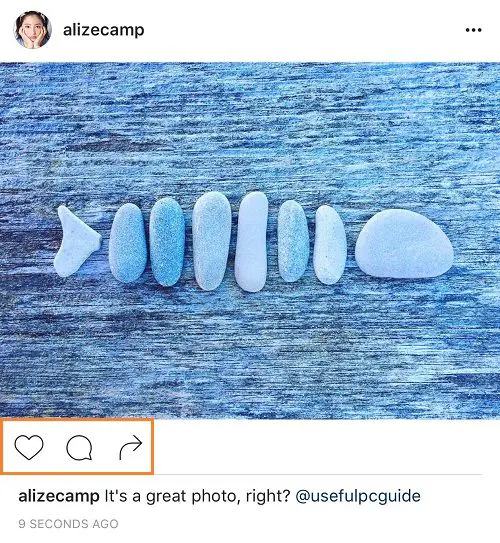 How To Make Photos And Videos Private
By default, anyone can view your photos and videos because it's public. But if you want to mark your photos and videos private, just go to your Instagram profile, choose "Settings" and then switch on the "Private Account" option.
From now on, only who followed you can see your photos and videos. You also need to decide to approve or decline requests from people who want to follow you.
Link Instagram To Twitter Or Facebook Accounts
There is an option in Settings > Linked Accounts that allows you to connect all of your social networking accounts with Instagram and then post photos & videos to these accounts as well.
There are many accounts you can choose to connect, including Facebook, Twitter, Tumblr, Flickr, Swarm, Ameba, Vkontakte and OK.ru. Every time you upload a new photo or video to Instagram, you will be able to select which photos or videos you want to share to each of the connected social networking accounts. This is just an option, after connecting Instagram with your other social networking accounts, you can choose to share your post to these sites or only public on Instagram.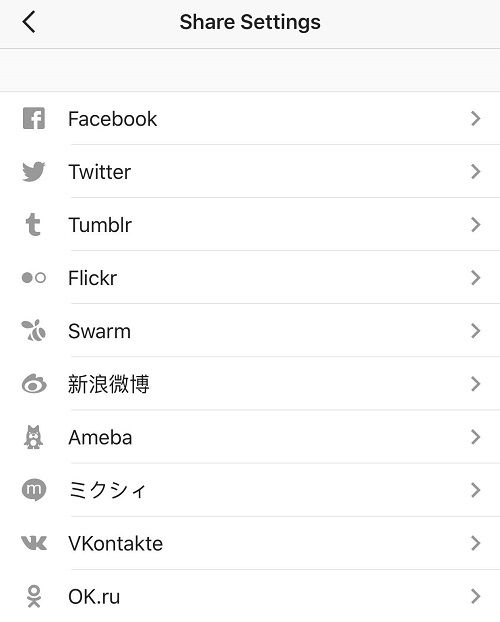 How To Embed Instagram Photos On The Web
If you want to share your uploaded photo from your Instagram to your blog, just go to Instagram on your web browser with this address:  https://www.instagram.com. Then find the photo you want to embed on your website, click on the "three dots" symbol and then choose "Embed" option.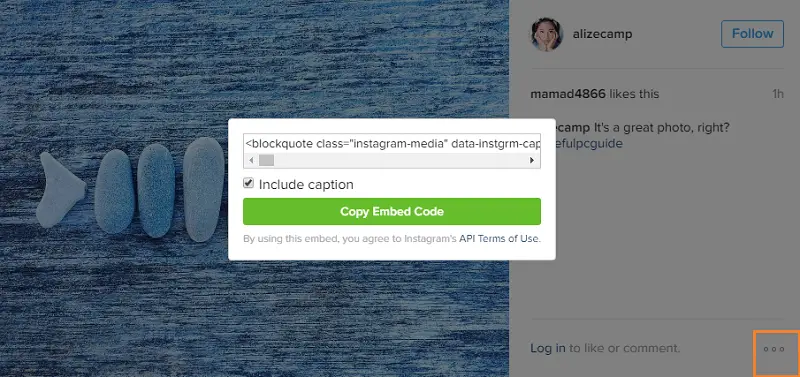 You can copy the code there and paste anywhere you want to show off the picture. However, if you have set your content to be private, the photo won't display.
How To Remove You From Being Tagged In A Photo
If your friend has tagged you in a picture and you want to remove this tag, then just select that picture and choose "Hide from My Profile" or choose "More Options" and then select "Remove Me from Photo".
That's it!
How To Send A Direct Message
From the homepage section on the Instagram mobile app, click on the Drawer icon at the top-right of the screen. In the next step, click on the "+" icon at the top-right of the screen to compose and send a new message or photo/video to a particular person or group of people.
If you want to delete a message, just slide it to the left and then choose "Delete".
How To Use Instagram Popular Hashtags
Like on Twitter, the hashtags (#) is an excellent way to get new Instagram followers, as well as, share your photos & videos with more people. By choosing the right hashtags, it will help you connect with other users who have the same interests on Instagram. You can read this article to learn how important of the hashtag is.
Access Instagram Through Web Browser
In the past, Instagram is only available through the mobile app, and there is no way to access it through a web interface. However, you can now go to https://www.instagram.com, sign in with your Instagram username and password and use your Instagram from the web browser.
Unfortunately, you can only search and follow users on Instagram, as well as edit your profile from the web-based version. Instagram doesn't allow us to post a new photo or video yet.
How To Share A GIF Picture On Instagram
With the help of GifShare, you can now share GIF pictures on your Instagram account, as well as, other social networking sites. From this app, you can find GIFs or upload a new one from your camera roll. It accepts GIF, MOV, MP4, M4V and MPG file formats.
Visit here to download GifShare from the Apple App Store. It's now only available for iOS users.
How To Manage Multiple Instagram Accounts
Before February 2016, you can only use one Instagram account on one device. But now, you can manage up to 5 accounts on one device at a time.
To add another Instagram account, go to Settings > Add Account and then fill in your username and password of the new account and then tap "Login".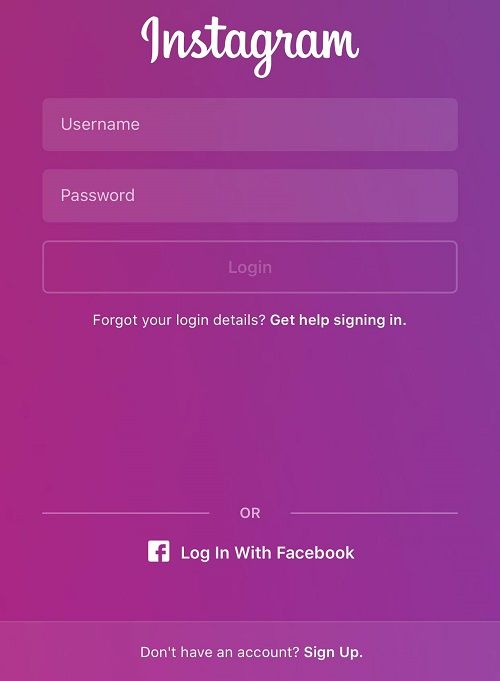 To switch between your Instagram accounts, go to the profile page, then choose your Instagram username and select the account you want to use from the pull-down menu.
Add A Border To Your Instagram Photo
Want to add a border to your Instagram photo, but you don't know how to do? I bet that many of you don't know about this feature yet.
In order to add a border to a photo, choose it to upload, hit Next and then tap on the Instagram filter you want to use. Then tap on that filter again and again.
A new option will be shown up, tap on border icon that located on the right side. This option is only available for photos with filters. You can't add a border to a non-filtered photo.
Create Time-Lapse Or Looping Videos
When you tap on the camera icon to select a photo or a video to upload, or taking/recording a new one, you might recognize two icons on the right side. That are an infinite loop icon and a rounded square icon.
The infinite loop icon takes you to the Instagram's Boomerang app, which allows you to take a burst of photos that up to 20 frames. Then combined and make a creative video, like an animated GIF. This creative video will be saved to your camera roll. You can select it to post to Instagram.
Meanwhile, the rounded square icon will take you to the Instagram's Layout app, which allows you to create a collage photo from multiple photos. You can easy to reposition pictures and resize the boxes.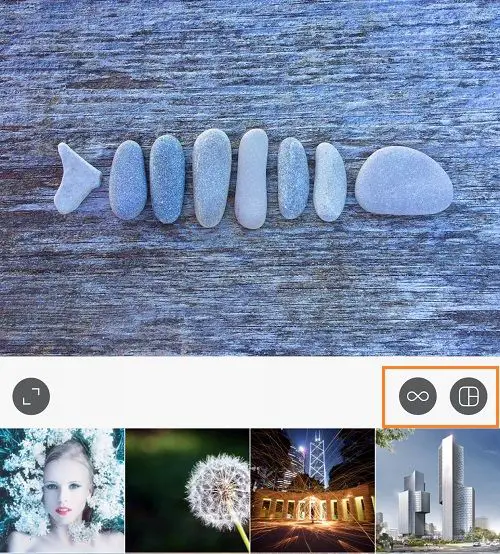 Both photo apps work as independent apps, so you will have to download them before using.
There is also a third-party app called Hyperlapse, which is only available for iOS users. This app lets you record a video and then allows you to adjust the playback speed of it – from 1x to 12x. Like many other apps, the video will be saved to your camera roll, where you can choose to upload to Instagram, as well as, other social networking sites.
Cool tips & tricks, right?
Whether you are a beginner or an expert, these tips & tricks are useful and worth to learn, assuming you don't know about it yet.
If you have any other cool Instagram tips & tricks, please share with me by leaving your comment below.
This article was published as a contribution from Alize Camp, a tech writer who love to write about computing, mobile and social media. You can contact her via Instagram here.