Disclaimer: This post may contain affiliate links, meaning we get a small commission if you make a purchase through our links, at no cost to you. For more information, please visit our Disclaimer Page.
Each year, Laptop Mag hands out titles to the best and worst companies in the mobile computer industry.
And for the second year in a row, the magazine has awarded Lenovo the title of Best Laptop Brand.
Wow!
If you follow the industry, you understand how impressive that is.
In 2015, they were listed as #6. In 2016, they were #4.
But over the past 12 months, Lenovo's products received a record-breaking 10 Editor's Choice awards from the Mag, leaving no doubt about who the industry's best company is.
What is is about these laptops that the experts love so much? How did they manage to climb the ranks and unseat major players like Apple and HP? What makes Lenovo's laptops better than the rest?
Related Article: The Best Gaming Laptops of 2019
Here are some of the things that earned Lenovo the best laptop brand title.
Jump to:
---
Consistent Innovation
Any power user will tell you: Over the past few years, laptops have gotten significantly better.
Their graphics are better than ever. They're being equipped with powerful processors. And, perhaps most importantly, they're getting smaller and easier to travel with.
No company is leading the laptop innovation charge quite like Lenovo.
For a great example, look no further than the E-Ink Panel on the Yoga Book C930. This screen-based keypad can transition from traditional keyboard to an illustration pad to an e-reader… all at the press of a button.
As people to love to see companies push the needle, we love to see stuff like that.
But their innovative models don't sacrifice power, either. Their ThinkPad X1 Extreme, for example, packs an NVIDIA GeForce GTX and up to 1TB of storage while being only ¾" thick.
How they were able to do it, we can't say. But we're definitely excited about it (and to see what else they roll out in the future).
---
Affordability
One of the biggest problems with laptops is that they're expensive, especially if they're designed for gaming.
After all, it costs quite a bit to manufacture a mobile computer with several hundred gigs of SSD storage and a graphics card that can process images as fast as games throw them.
But, Lenovo shows us that laptops don't have to cost $3k. This company offers a handful of decent gaming rigs that you can buy for less than two grand. You can get the price of a Chromebook, but the features of a Microsoft Windows desktop.
The ThinkPad X1 Extreme is perhaps the best example. This laptop costs around $1,600 and gives almost every other competitor a run for its money.
But, they also have a few models that are even more affordable. The Legion Y530, just to name one, goes for less than $800 and can game for hours without wearing out at all.
This company gets that not everyone can shell out a car-sized payment for a computer. They've responded by making some products that are both high-quality and affordable, and we applaud them for that.
---
Long Battery Life
We're constantly in search of the laptop with the longest battery life.
While there are a handful of competitors in the mix, the newest Lenovo ThinkPad X1 is definitely toward the top.
Depending on the type of work it's doing, this computer can run for as long as 13 hours without slowing down. If you're just using it for casual things (typing, browsing, etc.), this thing will go for around 15 hours.
That's unheard of.
But, it's a huge sell for those of us who take our computers on the go and may not always have access to a power outlet.
With most Lenovo laptops, you won't have to worry about charging for at least half a day.
---
Stylish and Sturdy Designs
Aesthetics are important. People tend to forget that.
You can have the most powerful laptop in the world, but if it's a bulky, 1993-looking computer, it's never going to feel right.
Lenovo gets this. That's why they make some of the best looking laptops out there. The company's sleek, stylish designs prove that a computer can provide a high-end experience and look great, too.
But, these aren't dainty computers. Just because the IdeaPad series looks like a titanium-coated car, for example, doesn't mean it's as fragile. These are sturdy machines, built to be tossed in your backpack and taken on the road.
And if you're looking for something even more durable, Lenovo has you covered. Their ThinkPad Ultrabook is one of the most rugged laptops on the market. It's thick, plastic shell looks more like a piece of gym equipment than a laptop casing.
---
Free Shipping
In addition to making some of the best laptops and selling them at some of the most affordable rates, Lenovo also offers free shipping on all orders and returns.
Typically, you'd have to pay at least $15 to have a computer shipped to you. But, Lenovo saves you a few bucks by covering it themselves.
And if you happen to change your mind or find something wrong… they'll pay for you to ship it back.
---
5 Best Lenovo Laptops
Here are a few of our favorite Lenovo products right now:
1. Lenovo ThinkPad X1 Carbon (6th Generation)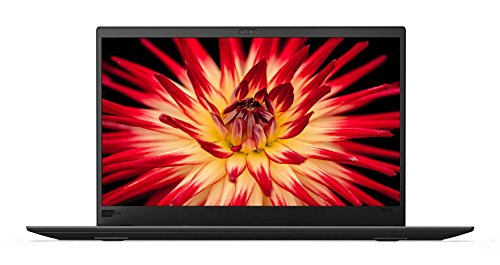 Specs
Processor: Intel Core i5-8250U
Operating System: Windows 10 Pro 64
Hard Drive: 512GB SSD PCIe
Memory: 8GB
Display Type: 14.0″ FHD (1920 x 1080)
Graphics: Intel UHD 620
Camera: 720p HD with ThinkShutter
Wireless: Intel Dual Band 8265 AC & Bluetooth 4.1 with vPro
Price: $1,610.10
A Compact Laptop that's Built to Last
The newest iteration in the ThinkPad series, the Lenovo ThinkPad X1 Carbon (6th Generation) is one of the best laptops available on the market right now.
Not only is it lighter than most mobile computers (only 2.5 lbs!), but it's sturdier than most PCs.
Just because it's a compact model doesn't mean that its performance suffers, either. The Intel Core processor offers 35% higher performance than previous models, and the battery runs for as long as 15 hours.
It's so popular in the corporate community that the Consumer Technology Association voted it the Best Business Laptop at their annual CES Conference in 2018.
In addition to the specs, we also love the fidelity of the Dolby speakers and the gorgeous full HD display. It also has every port you could image, from Thunderbolt to USB-C, so that you can connect all of your favorite displays and devices.
2. Lenovo Yoga Book C930

Specs
Processor: Intel Core i5-7Y54
Operating System: Windows 10 Home
Hard Drive: 256GB SSD
Memory: 4GB
Display Type: 10.8″ QHD (2560 x 1600)
Graphics: Intel HD 615
Camera: 2MP
Wireless: Lenovo 802.11 AC & Bluetooth 4.1
Price: $1,049.99
An Innovative Design with Powerful Capabilities
When you interact with the Lenovo Yoga Book C930, it's easy to see that all of Lenovo's innovation efforts have paid off. This is truly one of the most unique, mid-range, mobile computers available today.
It has superior audio and graphics capabilities that make it perfect for work and play alike. But, it also features a touchscreen and a 180-degree hinge mechanism that allows it to lay flat so you can use it in tablet mode, the hinge also makes it more durable than most other computers.
The most significant feature on this laptop is the E-Ink Panel, which can transition seamlessly from a keyboard to a notepad.
It even has a built-in stylus charger/storage cubby that makes it perfect for illustrators, designers, and anyone who depends on a digital pen to do their work.
3. Lenovo ThinkPad X1 Extreme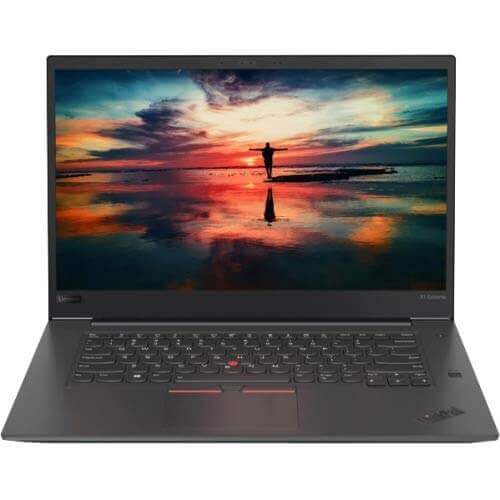 Specs
Processor: Intel Core i7-8850H (6-core)
Operating System: Windows 10 Pro
Hard Drive: 256GB SSD
Memory: 8GB
Display Type: 15.6″ FHD (1920 x 1080)
Graphics: NVIDIA GeForce GTX 1050Ti 4GB
Camera: 720p HD w/ThinkShutter & integrated mic
Wireless: Intel 9560 & Bluetooth 5.0
Price: $1,673.10
A Locked-and-Loaded Gaming Machine
The Lenovo ThinkPad X1 Extreme is by far Lenovo's strongest contribution to the gaming world. It supports several monitors, is VR-ready, and is capable of running for long hours without any signs of tiring.
Unlike most of the gaming laptops out there, this one is super compact. Less than an inch thick and only 3.75lbs, you can toss the ThinkPad in a backpack and take it wherever you need to go.
4. Lenovo Legion Y530

Specs
Processor: Intel Core i7-8750H (6-core)
Operating System: Windows 10 Pro
Hard Drive: 1TB Hard Disk Drive
Memory: 8GB
Display Type: 15.6″ FHD (1920 x 1080)
Graphics: NVIDIA GeForce GTX 1060GB
Camera: 720p HD w/integrated mic
Wireless: Lenovo 802.11 AC & Bluetooth 4.1
Price: $788.49
A Powerful and Inexpensive Laptop for Gamers
The Lenovo Legion Y530 is slightly more affordable gaming rig than the ThinkPad X1 Extreme. But, it's still souped it up with a 1TB hard drive, an NVIDIA GeForce GTX graphics card, and an Intel 6-core i7-8750H processor.
On top of that, it has a built-in cooling mechanism that will help you to keep your CPU and GPU temperatures down, even after several hours of gaming.
The one misstep here is that the laptop is equipped with a hard disk drive instead of a solid state drive. But, the integration of an HDD as opposed to an SSD helps to keep the price down.
As a result, you can get this pretty sweet gaming rig for less than $800, which isn't a bad deal in our opinion.
5. Lenovo IdeaPad 720S

Specs
Processor: Intel Core i7-7700H
Operating System: Windows 10 Home
Hard Drive: 512GB PCIe SSD
Memory: 8GB DDR4
Display Type: 15.6″ FHD (1920 x 1080)
Graphics: NVIDIA GeForce GTX 1050GB
Camera: 720p HD w/quad-array mic
Wireless: Lenovo 802.11 AC
Price: $1,099.99
A Hyper-Slim Laptop with High-End Performance
We have to admit:
The Lenovo IdeaPad 720S is one of the best-looking laptops out there. Its aluminum casing is created through the same process used to sculpt raw diamonds into gemstones. The angled edges and slate grey finish give it a look you'd only find on a luxury car.
And it has dynamic capabilities, as well. With a high-end NVIDIA graphics card, 512 gigs of solid-state storage, and an Intel Core processor, this laptop can handle everything from games to video editing.
---
Don't Let the Bigger Brands Fool You
For most people, a new laptop is a big investment.
We understand that it might be your first instinct to put your money into a bigger brand like Dell, HP, or Apple.
But, the fact of the matter is that Lenovo laptops are on-part with any of the mobile computers made by these companies.
Not only are they equipped with top-notch parts that make them perfect for work, school, or play, but they're also reasonably priced and built to last.
In the years to come, we expect Lenovo to continue to release cutting-edge products into the space. So, if you don't buy one this time around, be sure to keep this company on your radar.