Disclaimer: This post may contain affiliate links, meaning we get a small commission if you make a purchase through our links, at no cost to you. For more information, please visit our Disclaimer Page.
By default, when you download and install a new Mozilla Firefox browser on your computer, you can only use it with one profile. The Firefox browser stores user data – including bookmarks, settings, saved passwords, history, cookies, and everything else – in one location, a specific folder named "Default". That's the reason why you need to sign out your Facebook or email account before logging into another account.
Now, you don't need to do that anymore, because you can create as many Firefox profile as you want. And run multiple Firefox profiles at once. Each profile has a separate profile folder, and won't conflict with the others.
It's a good idea to set up different browser profiles for personal use, work, private browsing or testing purposes. With multiple profiles, you can easy to log into one website with different accounts. For example, open two Gmail accounts at the same time never been easier, and you don't need to sign out any account.
See Also: How To Permanently Disable Browser Extensions For Maximum Security?
Google Chrome also has this feature, and it appears to use to choose. But in the Firefox browser, it's hidden. To use multiple profiles in Firefox, you need to enable it with a simple trick. This method also works with other Mozilla products, such as Thunderbird email client.
Enable And Launch Firefox Profile Manager
There is no way to access Firefox Profile Manager within the browser like in the Chrome. To enable and launch it, you will have to start Mozilla Firefox with the "-p" option in the shortcut.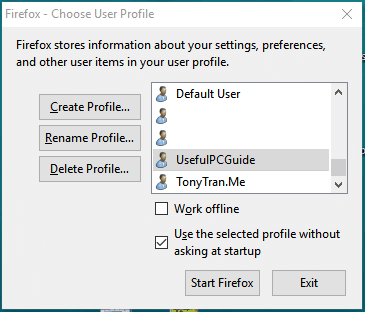 Has a Firefox shortcut on your desktop? Just right-click on it and select Properties. Next, add the "-p" at the end of the target field and then click "OK".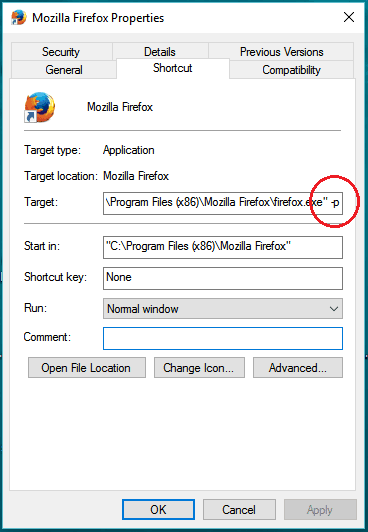 Next step, right-click on your My Computer icon and then choose Properties.
On the left side, choose "Advanced system settings", select "Advanced" tab, and then click on the "Environment Variables" button.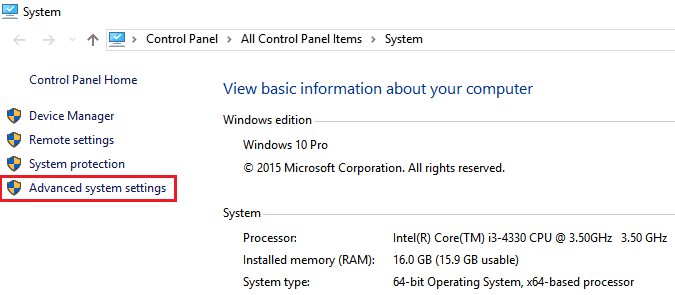 Another window will show up, click "New" in the System variable section.
Type: MOZ_NO_REMOTE as the variable name, and "1" as the value, and then click three "OK" buttons to save the change. You will now be able to create and run multiple Firefox profiles at once.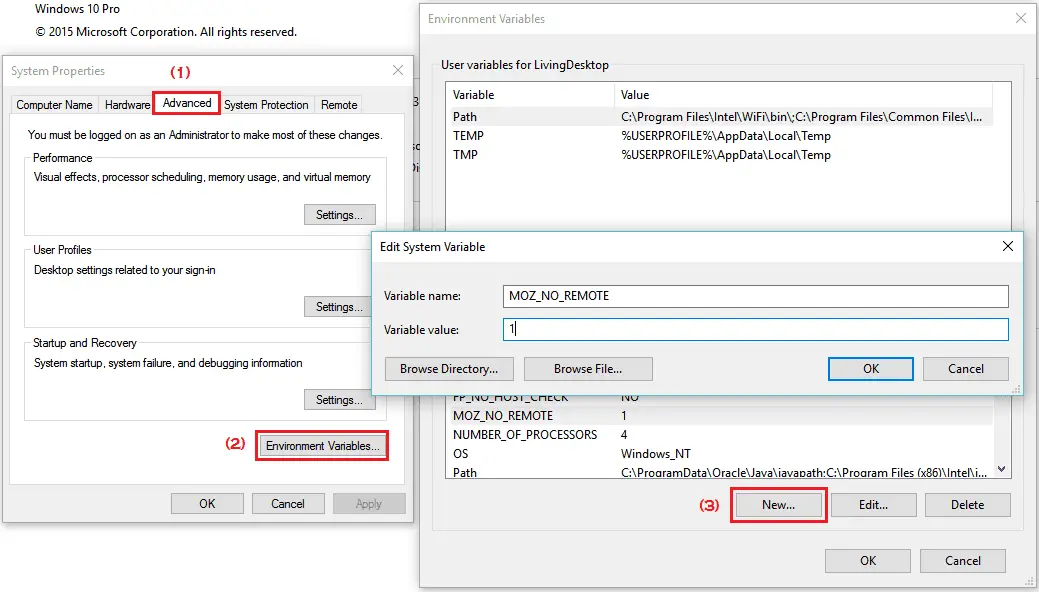 How To Create And Run Multiple Firefox Profiles At Once?
After that, click on the shortcut to open the Firefox Profile Manager. You will see three options to create a new profile, rename a profile and delete a profile.
To create a new Firefox profile, hit the "Create Profile" button > Next, and then choose the name and location where you want to store user data. You can select any location to keep your Firefox user data, even in a USB flash drive or memory card. Once you have created, no way to change this location, but you can backup and restore it to another place.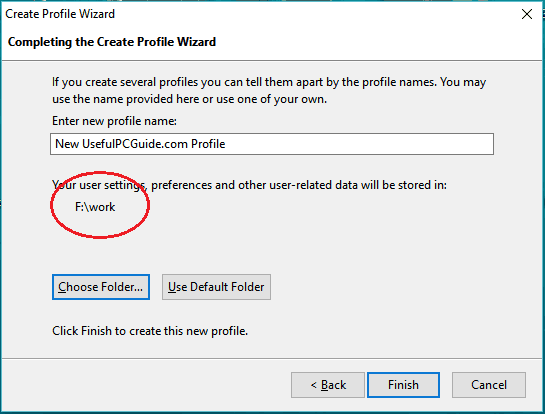 There are two options to delete a Firefox profile: delete profile without delete files, and remove the profile and remove files.
How To Create Separate Shortcuts For Each Firefox Profile?
Along with launching a selected Firefox profile from the Profile Manager, you can create a shortcut for it and the launch it by clicking. To do so, simply add an extra option to the target field: "profile name". It's the name of the selected Firefox profile. For example:
"C:\Program Files (x86)\Mozilla Firefox\firefox.exe" -p Default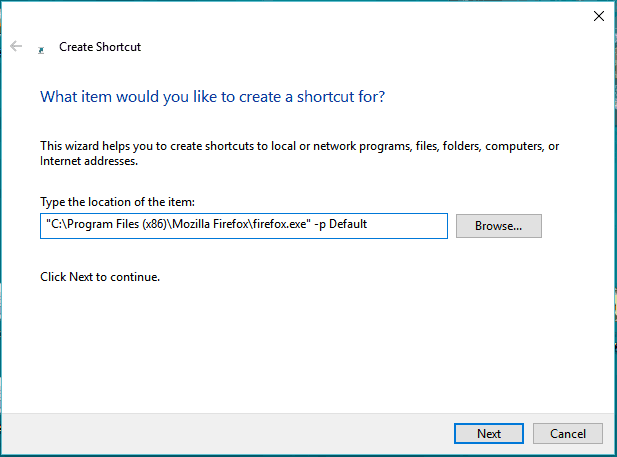 If there is a space in your Firefox profile's name, enclose it in quotes. For example:
"C:\Program Files (x86)\Mozilla Firefox\firefox.exe" -p "Default name"
Please remember only use "Program Files (x86)" if you are running Windows 32-bit. If you are using Windows 64-bit, the location should be:
"C:\Program Files\Mozilla Firefox\firefox.exe" -p "Default name"
Have something wanted to ask or add to this guide? Leave your comment below.