Disclaimer: This post may contain affiliate links, meaning we get a small commission if you make a purchase through our links, at no cost to you. For more information, please visit our Disclaimer Page.
Windows is a good and friendly operating system for most of us. But it has a lot of BSOD (Blue Screen Of Death) errors that can annoy you. The Page Fault In Nonpaged Area is one of the most common BSOD errors in Windows.
When this error occurs, it will automatically stop your computer and turn the background of your screen into blue. In the display of your computer, it will show error messages with stop codes.
Sometimes, the "Page Fault In Nonpaged Area" error occurs on your computer and it might be solved automatically. But if this error appears frequently, then your computer is having a serious problem. You need to figure out the cause of the problem and then fix it.
What Is The Cause Of Page_Fault_In_Nonpaged_Area Error?
According to the information from Microsoft, this error occurs when your computer asks for a page from the RAM memory or hard drive, but it wasn't available. A few antivirus or internet security may cause this error too.
A few weeks ago, one of my friends faced this error in his Windows 7 computer. He had been checking on the Internet all day, looking for a solution to help him fix this error. He got this error on his computer five times, and it happened randomly whether he was playing a game or surfing the Internet.
After helping him to determine the cause of this error and fix it, I want to show you a few good solutions which may help to fix the "Page Fault In Nonpaged Area" error on your computer.
How To Fix Page Fault In Nonpaged Area Error In Windows?
In this article, I will give you a few solutions that you might use to fix this error and get rid of the problem.
Uncheck Automatically Manage Paging File Size For All Drives
Sometimes, the Virtual Memory may be causing this error on your computer. To fix it, you have to disable "Virtual Memory" from System Properties of your Windows OS.
Firstly, right-click on the My Computer icon on your desktop and select Properties. If you are using Windows 8, 8.1 or Windows 10, it might have a different name like "This PC".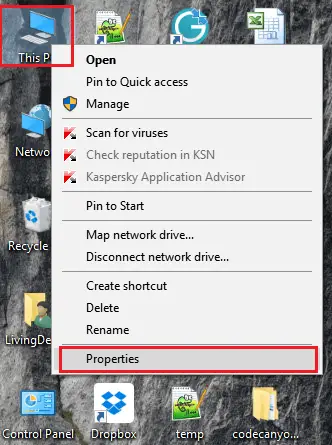 On the left side, select "Advanced system settings".
Select the "Advanced" tab and then select the "Settings" button inside the "Performance" section.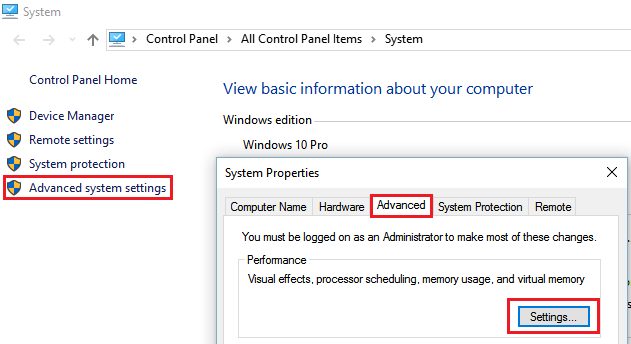 Inside the "Virtual memory" section, select the "Advanced" tab, and then click on the "Change" button.
Uncheck the box named "Automatically manage paging file size for all drives", and then select "No paging file" and click on the "OK" button.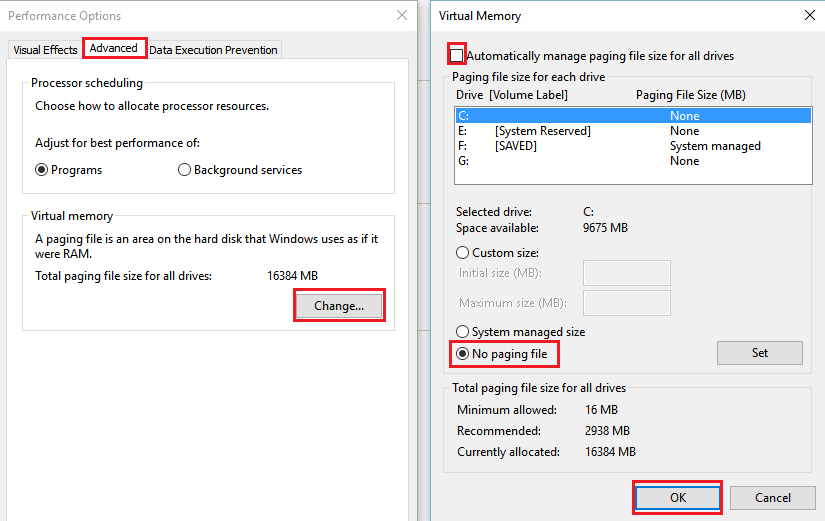 Restart your computer for the change to take effect.
This solution can help you fix the "Page_Fault_In_Nonpaged_Area" (Page Fault In Nonpaged Area) error on your computer. In most cases, this BSOD error won't appear again.
If this method doesn't help you to fix the problem and the error remains, please move to the next solution.
Also Read: Fix IRQL_NOT_LESS_OR_EQUAL Error In Windows.
Solve Page Fault In Nonpaged Area Error With Windows System Restore
There are two ways you can use to restore your computer back to the good configuration. With this method, your computer will automatically roll back to the previous working point, before the error occured.
To apply this method, reboot your computer. Press and hold the F8 key on your keyboard until you see the Windows Advanced Options menu. Just select "Last Known Good Configuration" and press Enter.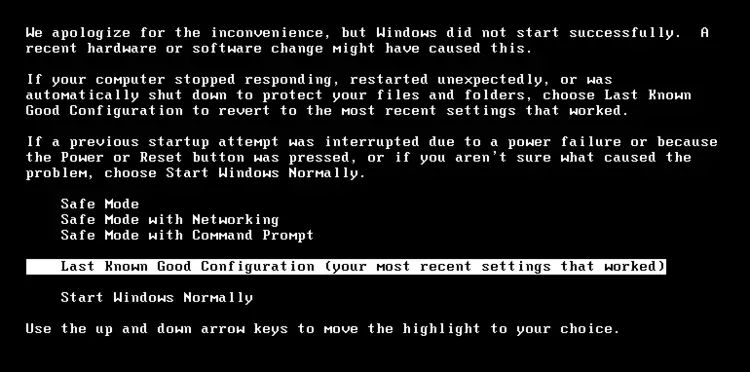 Next, reboot your computer again and press the F12 (or maybe F2 or F10; try both of them if the F12 key doesn't work). In the next step, disable "Memory Cache", and then Save and Exit.
Next, after accessing your computer, press the Windows + R key and type "cmd.exe" to open the Command Prompt program. In the Command Prompt program window, type:
chkdsk C: /f /r
and press Enter.
Your computer will automatically find any problem on your hard drive and then fix it.

Sometimes, you have to restart your computer to process the command. Windows may also ask the Administrative privilege to run the chkdsk command. Please run the Command Prompt program as Administrator.

If you are able to log into your Windows, you can go to your "Desktop", right-click on "My Computer" and select "Properties".
In the next step, select "System Protection" and click on the "System Restore" to restore your Windows. In case you don't know how to do it, visit here to see detailed steps.
Also Read: Fix System_Thread_Exception_Not_Handled Error.
Find and Disable Faulty Device and Its Driver
If you recently installed or updated any driver before getting this error, it could be the reason that caused this error. The driver is required to run all hardware on your computer. But if the driver is corrupt or isn't compatible with the computer, it can cause this error.
To fix this, go to Control Panel and click on "Device Manager". Next, find any faulty driver in there and uninstall it. If you have recently installed or update any driver, you should uninstall it to test if it's the cause or not.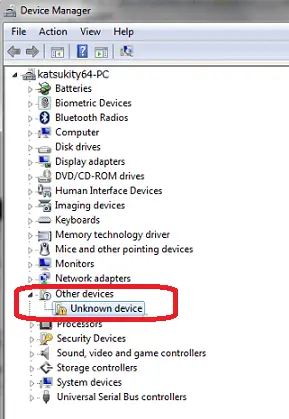 If the "Page_Fault_In_Nonpaged_Area" error occurs on your computer because of a faulty driver, go to the official website of the manufacturer, find the latest driver and then download and install into your computer. If after installing the new driver, the problem is occurring again, contact the manufacturer and ask for a solution to solve this problem.
Also Read: Fix DPC_Watchdog_Violation Error In Windows.
Repair Corrupted Windows System Files
If any Windows system file is corrupt, it can lead to many errors, including a few BSOD errors. To solve the problem, you have to repair these corrupted system files in Windows.
Firstly, open the Command Prompt with Administrative privilege (Run as Administrator). Next, type:
sfc /scannow
and press Enter. Windows will automatically scan, verify and fix any corrupted file on your Windows computer.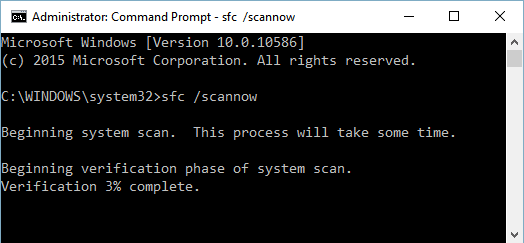 Sometimes, it will require you to boot into "Safe Mode" to use the SFC command. Simply reboot your computer, press and hold F8 key and then select "Safe Mode with Command Prompt", type:
sfc /scannow
and press Enter.
Tip: According to a few reports from users, uninstalling antivirus / internet security programs or remove and re-insert RAM memory also helps to fix the "Page Fault In Nonpaged Area" (or also known as Page_Fault_In_Nonpaged_Area) error. I would suggest you try these methods if none of the methods above are useful to help you solve the problem.