Disclaimer: This post may contain affiliate links, meaning we get a small commission if you make a purchase through our links, at no cost to you. For more information, please visit our Disclaimer Page.
With a PlayStation network, you can play and download online games and watch various streaming services across multiple devices. You can constantly keep track of your records and achievements on the network. And once you are done, you can sign out of your account whenever you like.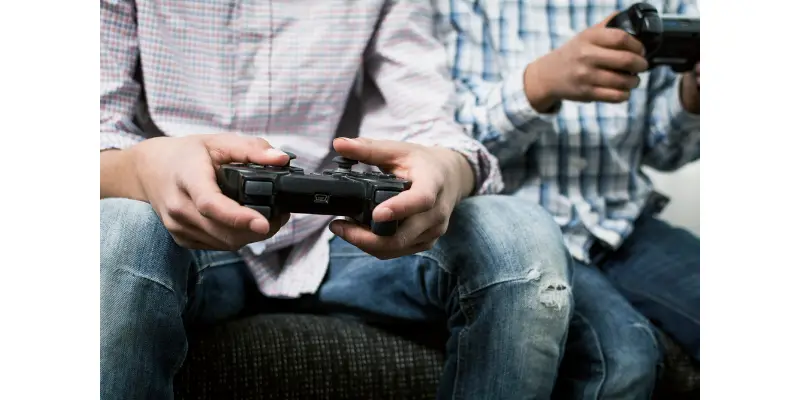 How to sign out of the PlayStation network on all devices?
The most commonly asked question we face is how to sign out of the PlayStation network on all devices. The reason is, many times, you use your PlayStation account on multiple devices which are sometimes not yours, and if you want to stop the access from your device, the only option you have is to sign out from all logged devices.
To sign out from all connected devices, you have to sign in on your existing account. After you have entered your account, you will find a settings option in the menu bar. Right-click on that option and a new window will open. On the left sidebar, there is an option called security.
Click that security option, and a new tab will take you to your desired place. On the bottom right side, there is a button naming Sign Out on All Devices, which is the button for signing out from all devices. If you click on that button, a confirmation message will pop up, and click Ok to proceed.
Can you watch Netflix on PS3 without the PlayStation network?
Yes, you can watch Netflix on your PS3 without the PlayStation network. If you have a banned PS3 or do not want to update the PSN, then you should try this trick. But, you will need a PlayStation Network account to download the Netflix app. After that, use a proxy app on your computer or router to block the PSN server.
If your console's PSN fails to detect an internet connection, then this trick will surely work. You just need to block the PSN from detecting any online activities.
How to delete trophies on the PlayStation network?
You might be someone that likes to start their journey completely fresh. As such, you might want to remove all the records or your trophy collection on the PSN and start all over again. But can you?
The answer is yes, you can delete or hide your trophies on your gaming account.
Nowadays, we are busy comparing our performance with other online players. Sometimes this gives us fake pleasure if our performance meets our expectations. But, most of the time, we cannot compete with others due to our poor performance. And then we think about hiding or deleting our trophies.
Another reason you may want to hide or delete your trophies is when you do not want to brag or show off your trophies to other players. Sony has set different levels and trophies to boost the gaming experience and to create competition among the players. This is good for healthy competition.
However, if you want to hide or delete your trophies, there is an option available to do that. To delete the zero completion trophies among all platinum trophy sections, you need to select Trophies from the function screen. After that select the game you want to hide its trophies, and press the OPTIONS button to bring up the menu section with a delete option.
Doing this will remove the trophies with zero completions. Note that this trick only helps trophies with zero completion, and if you have trophies with some level of completion then this trick will not work.
There is another option to hide your trophy section from other players. To do that, you need to go to the Privacy Settings option and hide the trophies from other online players. This small act of rebellion will help you to focus on your daily life more than a virtual game.
Do PlayStation network gift cards expire?
All gift cards do expire after some period, and the PlayStation network gift card is not exceptional. Most of the time expiration period is stated on the back of the card. But, in the PSN gift case, the expiration period is not stated on the card. That is why most consumers get confused.
There are many controversies about the PSN's gift card, but the most trusted source says that it has only one year of validation. That means, if you do not redeem your gift card within one year, then it will expire.
However, in the United States, there is a law for gift cards in some states. According to the law, there can be no expiration for gift cards, and in most states, the minimum expiration period is five years. If you are living in the USA then you do not need to worry about the expiration time.
As it depends on where you are living, and the law of that country, it is not safe to say anything about the expiration. Moreover, Sony or the third-party seller does not mention it beforehand.
In my opinion, if you do not want to take any risk, it will be wise and safe to redeem the gift card after buying it as early as possible. There is no expiration for your account's funds. Claim the gift card and keep the funds on your PSN account.
Another less secure but effective way to avoid any unwanted circumstance is to buy the gift from any authorized or legitimate seller. The seller, especially Sony, is responsible if your card does not work.
If you are staying in the United States and your card expires, it is against the law in some states. Sony will need to pay or reissue the gift card for this. That is only possible if you buy it directly from Sony or any authorized seller.
Buying a gift card from a third-party seller is not a good decision because, if any unwanted situation arrives, Sony may claim that the third-party seller is responsible for this.
For these reasons, I would recommend you claim the gift card in your account wallet, and after you deposit the fund you do not need to worry about anything
Is PlayStation plus worth it?
PlayStation Plus is a subscription service from Sony which unlocks many online aspects of your gaming console. It is more like Netflix except you can only use it for online gaming and much more. A Sony gaming console without a PlayStation Plus subscription is more like a PC without an internet connection.
If you subscribe to Sony's PlayStation Plus service, it will unlock many premium services, like online multiplayer gaming, exclusive discounts on the game store, SharePlay for online streaming, 100GB of Sony's cloud storage, free games to play every month, etc.
Your gaming experience will be limited if you do not subscribe to a PlayStation Plus subscription on your console. You cannot play online multiplayer games with your friends or create gaming lobbies, which is the true purpose of your console gaming.
Another noteworthy feature is you will get one or two free games every month for your PS4 or PS5. You can download and play the games anytime you want without spending a fortune.
Game streaming is one of the major focuses for PC gamers. For console gamers, Sony brings a SharePlay feature to share your screen, and gameplay with other online players. They can watch your gameplay or can join and be a part of your gameplay. This feature brings much more fun for online players.
To sum up, I must say, a PS Plus subscription is worth every penny you pay even if you are not a regular online player. The services and the features you will get after the subscription is way more than what you pay.