Review of Acronis True Image
Disclaimer: This post may contain affiliate links, meaning we get a small commission if you make a purchase through our links, at no cost to you. For more information, please visit our Disclaimer Page.
The newest version of True Image has just been released with some nice new features and user interface updates making it faster and easier to keep your data safe and secure through local and Acronis Cloud backups. See the new True Image 2017 review here. The new version combines the features of the previous version into one neat little package. It offers support for dynamic disks and Universal Restore allowing you to you to backup and restore to different hardware.
The backup to the cloud feature is not new but it promises a 50% faster upload speed. Backups can be scheduled with a destination of local media or the Acronis cloud or both for a safe, secure redundant backup plan. The new user interface is simplified to make backing up easy even to the novice computer user and it still has all of the power tools available for the power user that likes more control over the backup process.
This review of True Image for PC will focus on some of the new features and touch base on some of the original features of the powerful backup software as we create a new backup job.
The first thing of note is the classy new user interface. It makes it quite simple to back up your entire PC, Disks and Partitions or just your files and folders as shown below.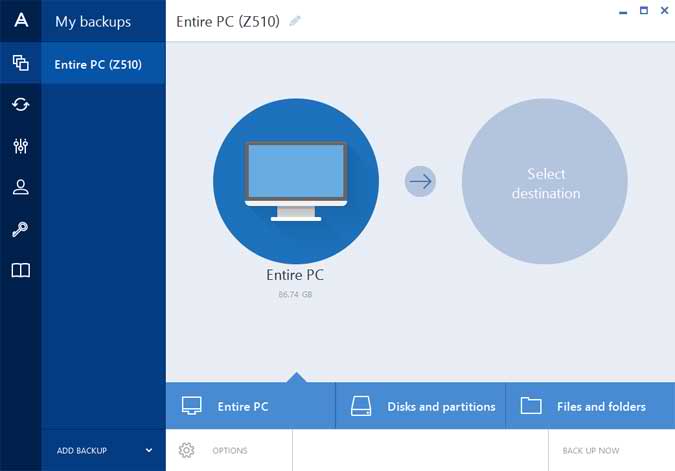 If you choose to backup the Entire PC, True Image backs up the Operating System, programs installed, system settings and all of your personal data. If a restore of the entire PC is needed, simply choose the date of the backup you want recovered and it will restore all data to the original location. There are limitations to this form of backup such as not being able to select specific partitions and the default destination cannot be changed. To avoid those limitations, choose the Disk and Partitions solution.
This option allows you to select individual partitions to backup and they can be restored separately as well.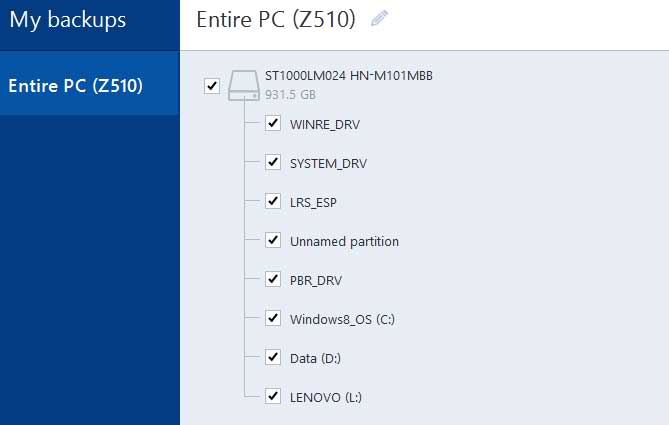 Maybe you just want to backup individual files and folders. True Image allows you to do that as shown below.
That is the options chosen for this review. I am just going to do a quick backup of the Desktop and Documents. Choosing that option then gives you the opportunity to select the destination for the backup job. I can choose an external hard drive, the Acronis Cloud or browse to a different location.
I browsed out to the external drive and created a new folder. At this point you could also choose to encrypt the backup or click Options to schedule the job, I just Smacked the Backup Now Button.
When it was finished, it told me so. And now the option is there to Recover files which is just as easy to do as backing them up was. Simply click the recover files button and choose which files or folders to recover and it is a done deal. It does not get much simpler than that to backup your data.
This review of Acronis True Image just shows the basics of what the program is capable of. There are many other tools available in the program including the option to Sync folders to the Acronis Cloud, Clone a Disk and of course the ever so faithful Rescue Media Builder that can get you out of a big jam if your computer will not start. We will do further reviews on those tools in the near future.
Acronis has continued to improve True Image through the years and this new version is no exception. The ease of use and familiar user interface makes it easy to keep your data safe and secure.
Acronis True Image 2017
has been released and it makes it easier than ever to back up your computer and devices. With just 2 clicks of the mouse, you can do a full image backup of a computer. It doesn't get much easier than that. This version added many new features including the ability to backup an unlimited number of iPhones, iPads, and Android mobile devices with Wi-Fi to your computer, it even backs up your Facebook stuff. It is 3 to 6 times faster than the completion when backing up to an external drive and 25% faster than the previous version when backing up to the Acronis cloud. The 2017 version still has all of the other useful features that are essential in a complete backup program. Clone Disk, Try&Decide, Bootable Rescue Media Builder and Startup Recovery Manager are readily available. See the Acronis True Image 2017 Review.
$39.99 for 1 Computer Subscription
$69.99 for 3 Subscriptions
$79.99 for 5 Subscriptions
More True Image Reviews
Clone a Laptop Hard Drive with True Image 2017
Acronis True Image Cloud Review

Create a Bootable Rescue USB Drive with True Image 2017
New Features of True Image 2017
Acronis True Image 2016 Review