Disclaimer: This post may contain affiliate links, meaning we get a small commission if you make a purchase through our links, at no cost to you. For more information, please visit our Disclaimer Page.
With the Internet, you can easily talk with your friends and family through many messenger applications, such as WhatsApp, Viber, Facebook Messenger, or LINE. However, if you are looking for an app that allows you to communicate with other PCs in the same LAN network, those apps aren't for you. It requires an Internet connection to send and receive messages.
In this post, I'm going to share with you a program that helps you to communicate with other PCs in the same LAN network. Called as Softros LAN Messenger, this application will allow you to send and receive messages among PCs in the same LAN network. You can also do group chat, as well as file transfer and remote desktop.
Unlike other LAN messenger apps, this program doesn't require a server to run. It's very easy to install and use. All you need to do is just download, install on each computer and then use. There's no need for assistance from IT staffs.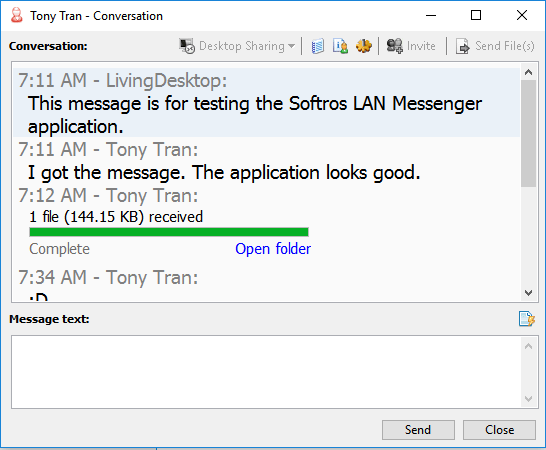 As for security and privacy, Softros LAN Messenger always encrypts data with AES-256, which you can use to exchange messages or files without worrying about leaking problem. If you need an application that allows users in the same network to communicate with each other (such as in the same office or company), then this is a good program to consider.
Along with the encryption feature, Softros LAN Messenger also has many other great functions, including group chat, offline chat, file transfer, remote desktop, and much more.
Read this Article: How To Officially Update Windows XP After It's Dead For Years
How To Install And Use Softros LAN Messenger On Your Computer
To get started, you can visit this download's page to select the version of Softros LAN Messenger and then download it to your computer. This program is available in three major platforms, including Windows, Mac OS, and Android.
Once the download process is complete, click on it to launch the setup wizard to install it on your computer. You need to install this application on all PCs to communicate with each other.
The program will automatically scan and recognize new PCs in the network.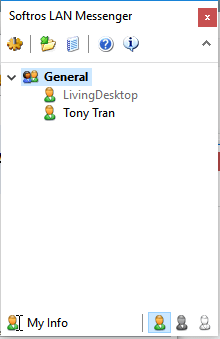 To chat with any computer, just click on it from the list and start chatting, or sending files.
To send a file, you can drag and drop it to the chat window.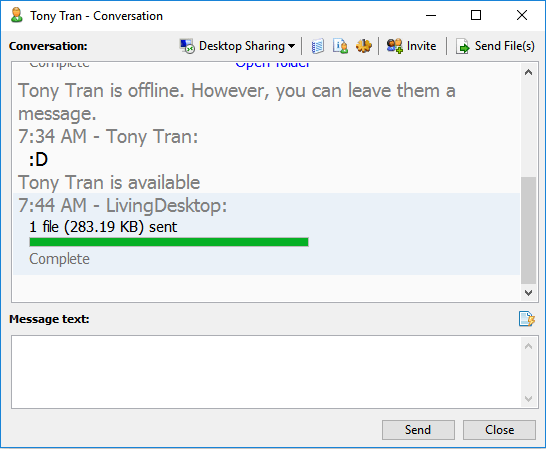 Or click on "Send File(s)" in the left corner. You can even send a folder to other PC without any problems.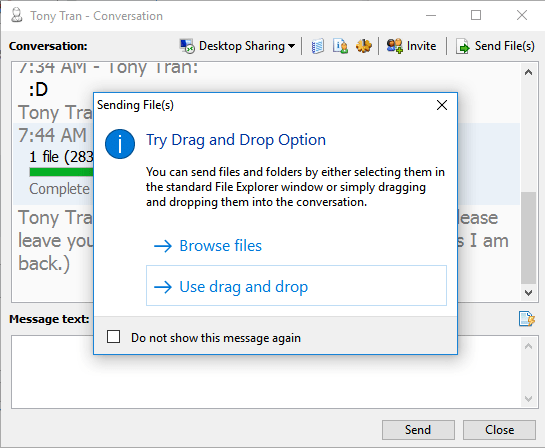 The good point of Softros LAN Messenger is that you can send offline messages to a recipient. Those messages will be delivered when the recipient is online. The application doesn't require a server to store those offline messages because it's based on the serverless architecture. You don't need to have a server to use it. Softros LAN Messenger is a standalone P2P (peer to peer) based application.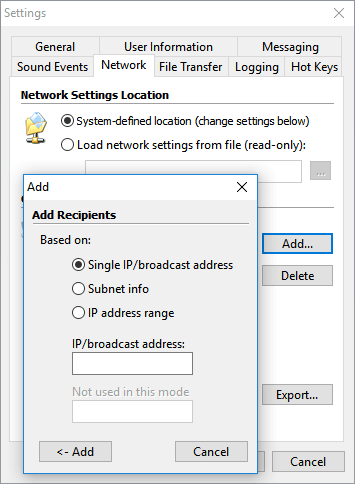 Having multiple LAN networks with different subnets? You can also combine all together to be a single messaging environment. For further information regarding set up and use Softros LAN Messenger, watch this video from YouTube.com.
Read this Article: How To Remove Ads On Your Windows 10 Lock Screen
Conclusion
Softros LAN Messenger comes with many useful features that most users are looking for when finding a LAN messenger program, such as individual & group chats, file transfer, encryption, or offline messages.
Despite the fact that you have to pay for a license (Windows version), however, it's still a good LAN messenger program that I would recommend you to use. You can download it to use for 30 days for free before making your decision.